The keen will observe that the 2020 McLaren GT is not the Surrey-based automaker's first foray into the grand touring car market. The outgoing 570GT (reviewed here) was based on the Sports series, while the new GT is a vehicle of its own, not necessarily restricted into any of the brand's three major lines. While a brutal Canadian winter is definitely out of the typical McLaren's element, the folks in charge of the Toronto-area press fleet were eager to demonstrate the new grand tourer's capabilities, and lent it to us for a few days of cold-weather testing.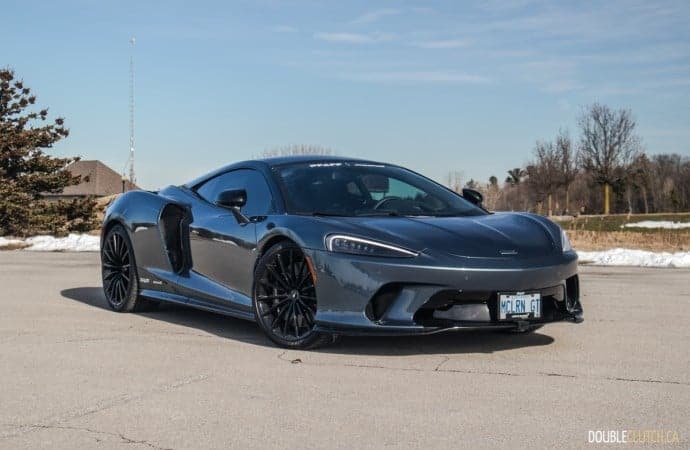 At just over 3,300 pounds, the McLaren GT uses a version of their twin-turbocharged V8, massaged to 4.0-liters. It's now codenamed the M840TE and pushes 612 horsepower at a screaming 7,500RPM and 465 lb-ft. of torque, sent to the back wheels. It can hustle to 100km/h from a standstill in 3.2 seconds, making this a ridiculously fast car. There is some turbo lag evident, but the seven-speed dual-clutch transmission is exceptionally snappy and changes gears with the ferocity and speed of a cheetah.
Being a grand tourer, the GT remains a brilliant all-around supercar. With the handling and powertrain switches left in their most comfortable settings, the car remains reasonably comfortable and exceptionally smooth, with decent visibility (out the front) and a well-damped ride. That said, even in the car's softer settings, I would recommend leaving the transmission in manual mode and using the wonderfully satisfying paddles. If left to its own, the gearbox is sloppy and often confused, especially in low-speed traffic situations.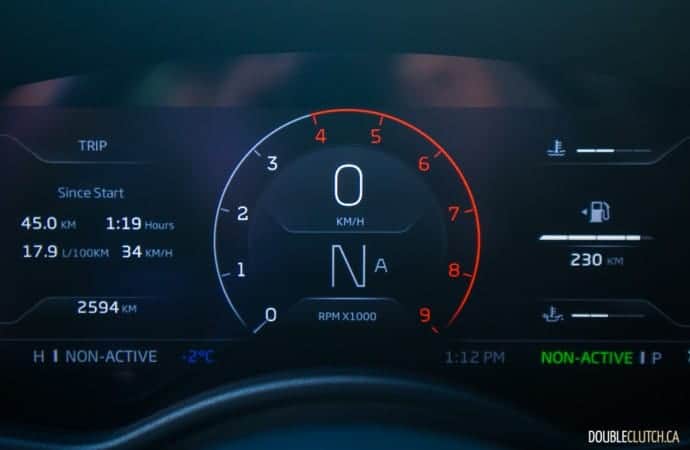 The McLaren's steering is hydraulically assisted and really does reflect the GT's supercar personality. Handling is razor-sharp and the GT goes where pointed, and for those who opt for the most possible control with minimal intervention, the stability control systems can be fully defeated. The steering is beautifully weighted and really does deliver a more engaging experience than all of the artificial electrically-assisted nonsense that's available elsewhere on today's market.
Damping is also right on point, as we have experienced in other models with the adaptive dampers; the current crop of McLarens exhibit incredible body control that's bordering on wizardry. An active exhaust system keeps the baffles fully open in Track and Sport settings, but the GT is still notably quieter than the 720S (reviewed here), which itself is still not quite as dramatic as an Aston Martin or Lamborghini. Even still, while other supercars focus on style, the current crop of McLarens remain some of the most focused performance cars in the world at any price point.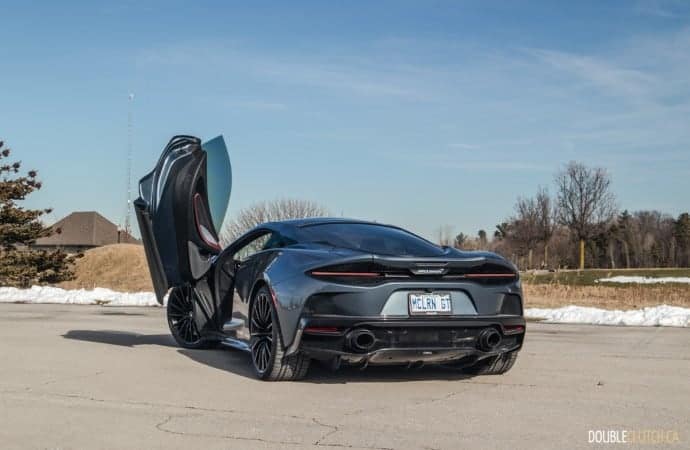 Fuel efficiency is remarkably good for a twin-turbocharged V8 supercar. While city commuting rendered a very-expected 20L/100km, on longer highway hauls we saw averages of 12.0L/100km or slightly better. During our test week, we fueled the GT's 72-liter tank with 94-octane fuel, however McLaren suggests that in a pinch, 91-octane premium would suffice without issue.
While rivals like the Audi R8 (reviewed here) and Lamborghini Huracan offer all-wheel-drive, the GT stays true to its supercar roots with a conventional mid-engined layout with rear-wheel-drive. The carbon-fiber cell shared with the 570S and 600LT has been adapted specifically for the new GT, and given the name MonoCell II-T. This setup modifies the rear end to allow for a reasonably practical cargo area that can swallow 419-liters of your things. While it technically can fit a set of clubs for a day of golf, the McLaren's cargo area is shaped a bit awkwardly to hold traditional suitcases.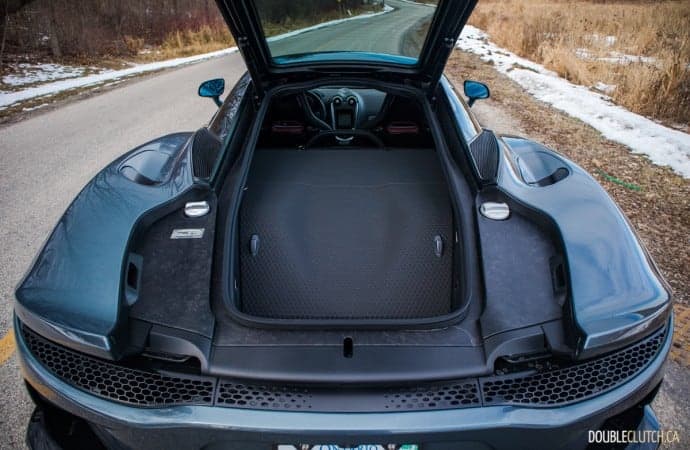 Cargo practicality aside, the McLaren GT remained surprisingly compliant during a serious winter storm. Our test vehicle was fitted with a regular set of Pirelli Sottozeros, rubber we don't consider to be competent on its own. Regardless, even digging through a few centimeters of snow and slush, the GT had no issues getting going with proper modulation of the throttle, and composing itself to get through the day's commute. The stability control is eager to kick in and limit throttle, but it's easy to keep the rear end in check and get to where you need to go. If ground clearance is an issue, the electronic nose-lift system will raise the front end.
The new GT's interior remains supercar-quirky, though the seats are superbly comfortable for longer stints. They offer decent adjustability, but the controls are a bit convoluted. The MSO Electrochromic Panoramic Roof is magical in its transition between tinted and fully transparent, and adds a welcomed brightness to the cabin. The infotainment system is vastly improved over the previous iteration, but still remains slow to operate, confusing and on multiple occasions refused to boot up at all. Bluetooth streaming audio is on board, however there's no Apple CarPlay or Android Auto connectivity.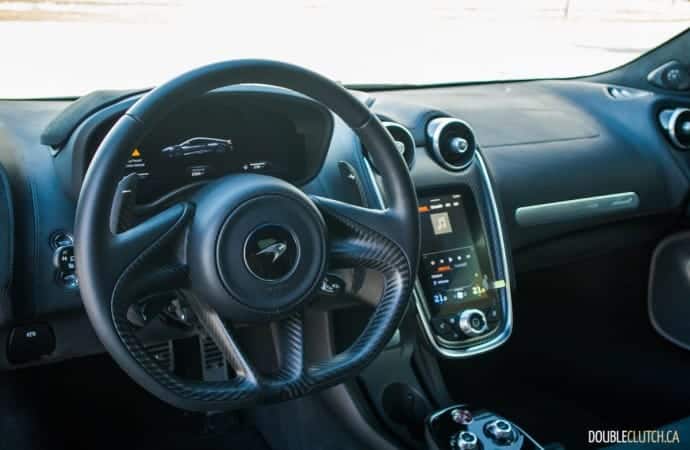 Our GT test vehicle was spec'd with a Pioneer Package, Carbon Ceramic Brakes, Sport Exhaust, forged alloy wheels, MSO Electrochromic Panoramic Roof, MSO Carbon Fiber interior components, a Premium Package, and a few other things. This is a great spec for a grand tourer, with all of the options the typical buyer would want, coming in at $321,258 before taxes. The last 570GT we tested came in around $275,000, so the pricing isn't too far off. Plus, the new GT is substantially more car for the money.
While the 570GT successfully pulled off what it set out to achieve, the 2020 McLaren GT is the brand's first bespoke grand touring supercar. It offers more livable driving dynamics in a multitude of situations than any other model currently offered by McLaren, with enough practicality to haul that golf bag without scuffing the passenger seat or door sills. Even though most buyers won't be driving these in sub-zero conditions, the GT proved to be perfectly competent in an authentic Canadian snowstorm, something that can't necessarily be said for much of the Italian competition.

See Also:
2019 McLaren 720S Spider
2019 McLaren 720S Coupe
2017 McLaren 570GT