Let that sink in for a minute –  SUPERCHARGED. When you think about it, bolting a supercharger onto a motorcycle only seems natural for Kawasaki since they have been supercharging their jet-skis for quite some time now. A lot of technology is packed into the H2 SX SE+, making it a very capable bike in the corners, and in a straight line. There isn't much that the 2019 Kawasaki H2 SX SE+ can't do comfortably, and that's just fine.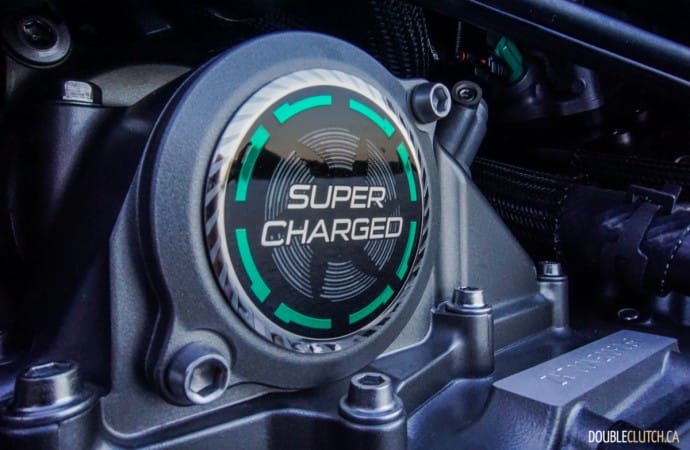 Right off the hop, it clearly is a variant of the H2, so appearance is mean and aggressive. It demands respect even when on its kickstand; there's something about the H2 SX that will surely make drivers nervous when they see it in their rear view mirror. The riding position is fairly comfortable; there's a mild forward lean, allowing you to keep most of your weight on the seat, with a slight bit of weight being distributed forward on your hands. The foot peg position is a little high for what I'd expect to see on a sports tourer, and there's a gel seat cushion that adds to overall comfort. The ergonomics and geometry of the H2 SX SE+ feel just slightly more aggressive than the average sports tourer, but this bike is anything but that.
The two most notable differences that the SE+ model has over its SX SE counterpart are the Advanced Electronic Suspension, and equally as exciting, the Brembo Stylema calipers we first saw on the Ducati Panigale V4 as well as the Aprilia RSV4. KECS (Kawasaki Electronic Control Suspension) was previously seen on the 2018 Ninja ZX10R SE; it adapts to the road conditions in real time, and adjusts damping electronically to suit speed, suspension stroke speed as well as deceleration and the pitching that occurs under braking. The KECS also works in unison with the KIBS (Kawasaki Intelligent Braking System) rendering you to be able to brake fairly aggressively in corners.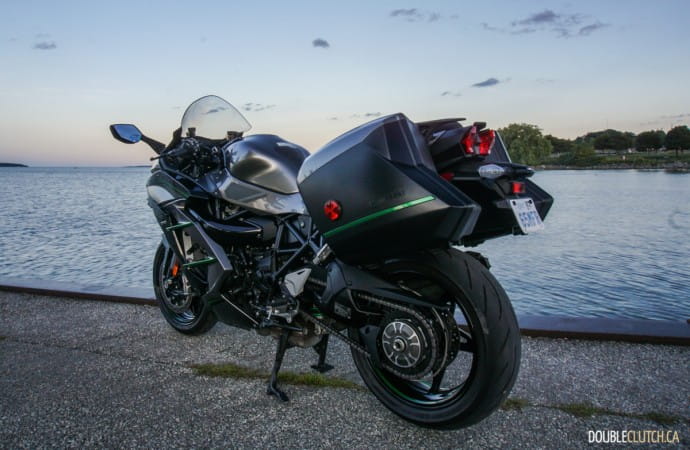 Where a traditional bike with mechanical suspension would tend to stand up when you engage the front brake while in a corner, the H2 SX SE+ allows you to get as much braking power applied to the discs as possible. This way you're able to brake confidently in the corners without fear of having the bike behave in a way that could cause issues such as standing up mid-corner, or low siding the bike from accidently locking up the tires. The KECS also adjusts damping in real time to aid with braking in corners.
There are four ride modes on the H2 SX SE+; Sport, Road, Rain and Rider (manual). Each mode factors in the suspension, traction as well as limitations governed by the Bosch IMU (internal measurement unit) that monitors the engine, chassis and angles. One other neat feature with the electronic suspension is that you're able to select on the TFT colour instrument panel whether you have loaded luggage, a passenger or both. The bike electronically adjusts the suspension accordingly.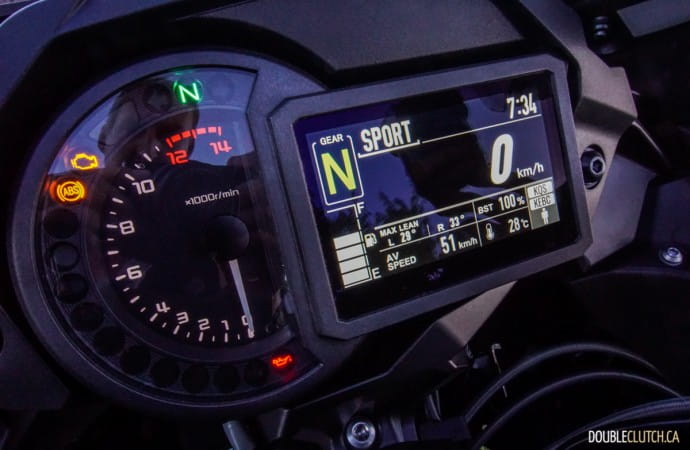 The Brembo Stylema calipers are definitely something to get excited about. Without getting too technical, these are better in every way than the previous Brembo M50 units. Stylema calipers are a Monobloc design and are the company's latest high-spec street calipers. They're more efficient, can cool quicker and are more responsive than the previous generation M50 style caliper. Paired with KIBS, the H2 SX SE+ undoubtedly has more than enough stopping power, giving you peace of mind that you can stop on a dime, even in an emergency braking situation.
To speak of some of the tech that's packed into the H2 SX SE+, you're able to connect your phone to the bike, allowing you to monitor things like fuel economy, performance numbers such as lean angles, and more notably you're able to change rider modes from your phone. One good example as how this can be a good thing is if you're parked for lunch and it starts raining, you're able to change the ride mode to the "Rain" setting so when you hop on the bike, you're able to hop on and go, rather than wasting time sitting in the rain trying to change ride modes.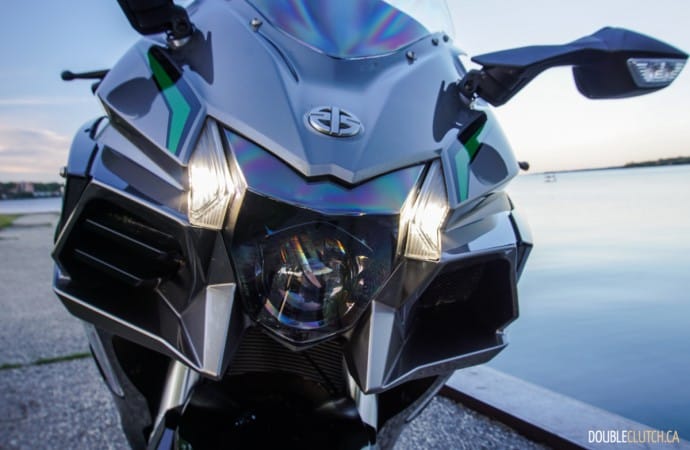 The TFT Colour Instrumentation is very customizable, with four different home screens you can choose between. It allows riders to monitor lean angle (both left and right), throttle position, multi directional G-force, brake pressure, and boost pressure. The H2 SX SE+ is also fitted with cruise control, heated grips, and KQS (Kawasaki Quick Shift) that allows you to change gears without letting off the throttle and without having to use the clutch; this feature is also dual direction for both up-shifts and downshifts.
Riding experience on the H2 SX SE+ is superb, comfort and power come together in a way I've never experienced before. Whichever gear you're in, whatever RPM you're at, this bike has power, and lots of it. It packs 206 horsepower and 101 lb-ft. of torque, to be exact. The whine of the supercharger is intoxicating, and when you load the boost and let off the throttle, you can hear the boost pressure being vented into the atmosphere via the diverter valve. That sound alone is enough to put a smile on your face time and time again.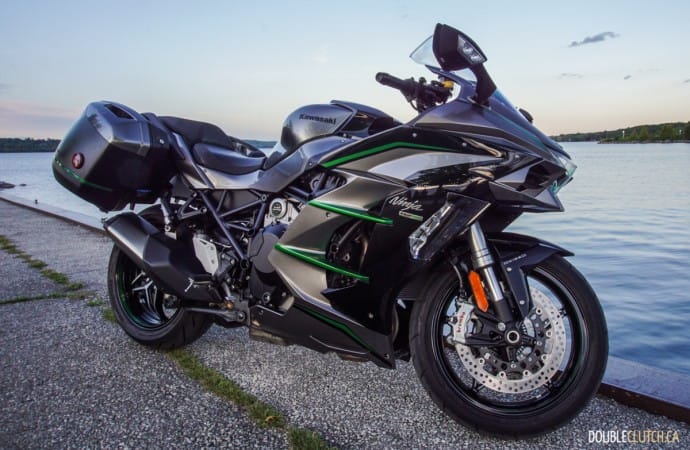 All this power comes with great responsibility mind you; it is very easy to get into trouble fast on this bike. Because the disposition of the bike is so smooth and effortless; it's kind of like going out for a drink with the boys. One minute you're having a good time, the next you find yourself in the VIP room with the bouncer demanding you pay copious amounts of money, and you don't even know how you got there so quickly.
The weight of the H2 SX SE+ comes in around 577 pounds (curb weight), which makes it far from a lightweight. Still, the power and torque more than makes up for the added weight. This model also comes standard with a center stand and hard lockable saddlebags that require no tools for an easy removal, so the weight is well placed.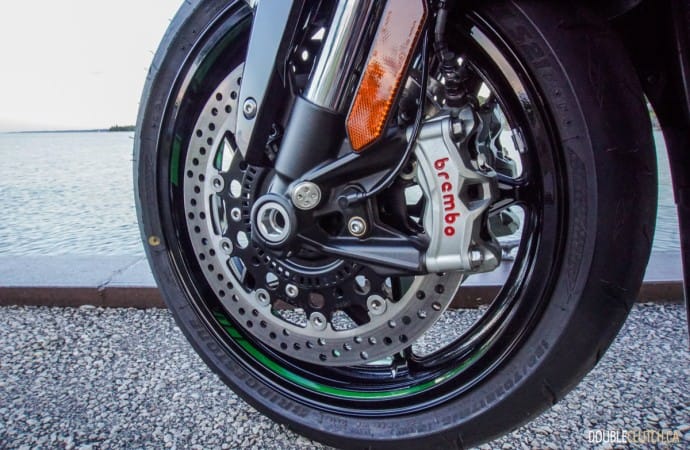 The 2019 Kawasaki H2 SX SE+ retails for $28,999, $3,600 more than the H2 SX. When you factor in all the extra things you get with the package, it's money well spent. All the tech is included, as well as Kawasaki's new highly durable paint that allows minor scratches to heal themselves. This is one bike that will be a future classic

See Also:
2018 Kawasaki H2 SX SE
2018 Kawasaki Ninja 400 ABS
2017 Kawasaki Ninja ZX-10R