Here it is, the bike that those critical of the asymmetry that's long been associated with BMW motorcycles have dreamt for; the new, the improved, the symmetrical: the 2020 BMW S1000RR.
Symmetry was being asked for by many people since the debut of the very first S1000RR back in 2008 – and I'm not all that sure why. Having lopsided headlights was just one of the many, many ways that the BMW stood out amongst the crowd of super bikes that littered the market. Whether you liked those lights or not, the performance of the bike was simply undeniable. Now, by a stroke of (good/bad) luck, performance is the reason the 2020 model sees itself adorned with symmetrical headlights. Well, performance optimization through weight savings.
Weight savings is a major part of the 2020 S1000RR's ethos. BMW managed to shave 24 pounds from the previous model, which sounds baffling at first, but once you see the bike up close a few of the ways they did this become more obvious. Sure there are the symmetrical headlights, but there's also a lack of a dedicated taillight. Instead BMW has fitted LED signals at the rear which serve as a taillight, brake light, and signals all at once.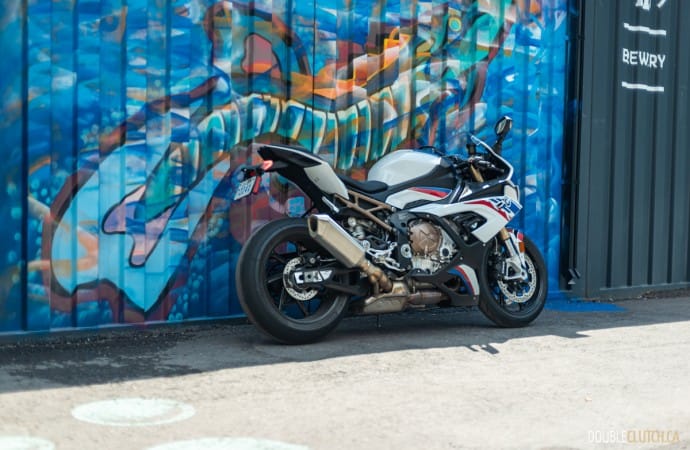 BMW even goes as far as to change the shifter into forged carbon. At least, I want to believe that it's forged carbon and not plastic. Less obviously, the frame has been redesigned to be thinner, forcing the engine to provide additional structural rigidity. The engine itself is also lighter, largely thanks to a new camshaft that sheds 3.5 pounds while adding in shift cam technology previously found in the R1250GS.
BMW's mission in this redesign was to produce a bike that is not only more powerful than the outgoing model, but also lighter and somehow easier to ride. Adding power? Seems simple enough. Making it lighter is more complicated but not impossible. Making it easier to ride than the last one takes some work – the outgoing model is far easier to ride than it should be. I'm happy to report that the latest take from Germany hit the mark on that. On the road, the S1000RR is ridiculously easy to manage thanks to the host of electronics fitted, all of which are easily accessible and customizable in the beautiful new screen.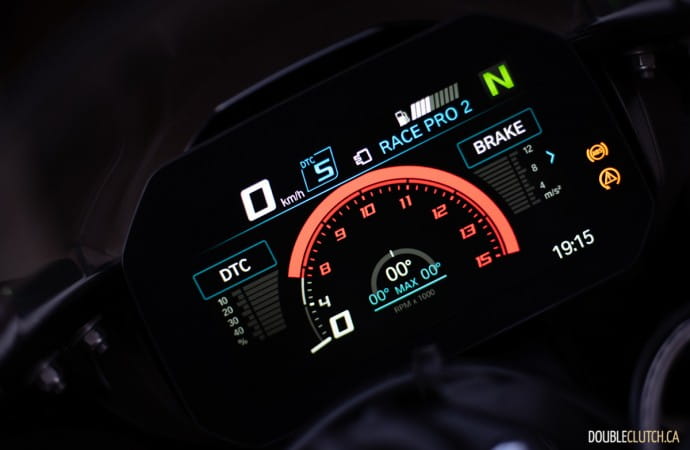 A seriously good ride-by-wire system makes throttle modulation impeccably easy and smooth. Torque reduction in lower gears prevents any drama if you somehow manage to whiskey throttle, and the quick-shifter (dubbed Shift-Assist Pro) is so consistent that you'll barely feel the need to use the clutch after takeoff. Most of the up/down quick-shift units I've come across are really only smooth when under heavy throttle; this one delivers smooth gear changes even with the throttle barely applied.
The amount of tech packed into even the base model is impressive, but BMW was nice enough to toss me the keys to an S1000RR with the M-Performance Package. I'll lead by saying that the fact that there are M logos on BMW bikes now infuriates me. There's no connection between Motorrad and BMW's M division to me, aside from them starting with the same letter. The M brand has become increasingly watered-down and almost a meme in the car world. BMW, please just stick with "HP" for bikes.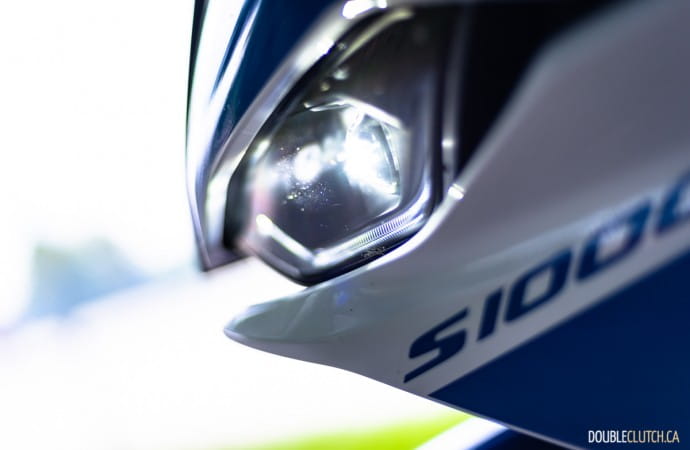 Naming semantics aside, it's an impressive add-on for the bike, carrying a $4,875 price tag. You'll get a set of beautiful carbon-fiber wheels, a bunch of M bits (seat, battery, swing-arm pivot, and rear height adjustment), and access to Ride Modes Pro. The wheels look absolutely stunning when they aren't covered in brake dust, but to me the best part of this package is the Pro modes. This option lets you put the bike into "Race Track" mode, giving you further access to set up and fully customize three ride modes to make the bike as timid or aggressive as you'd like.
The level of customization is seriously impressive, giving you access to fine tune your engine output, engine braking, traction control, wheelie control, ABS, and dynamic suspension settings for each mode. You'll only be able to access them when the bike is set to "Race Track" mode in the settings, which turns off all connectivity functions, but I didn't find much use for those anyway without any GPS fitted.
When you get through the many different pages of settings on the display and actually get the bike on the road, you'll be in for a treat. The S1000RR is still absolutely lightning fast, and often deceptively so – cruising at highway speeds feels like you're puttering down a side-street at 45 km/h. Hard acceleration doesn't seem to shake the back wheel loose even with traction control set as low as it goes without shutting it off completely.
The wheelie control lets you hover the front end a couple inches above the pavement and keep it there with no fuss at all. Turn in takes almost no effort. The brakes bite hard and the suspension knows exactly when to firm up to take that shift in weight. It's way, way too easy to ride the S1000RR hard, and it certainly can inspire too much confidence in a novice rider.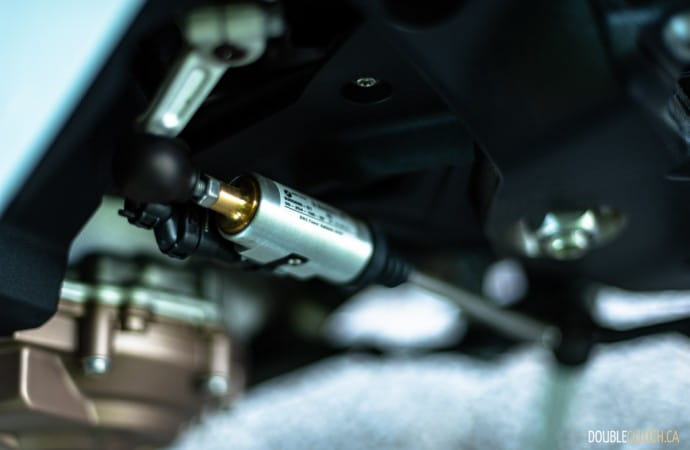 While the ease of control and precision likely produces faster lap times, it does make me feel a lot less brave to throw my leg over a 207-horsepower superbike, and it translates to a bit of a sterile riding experience. Nothing about riding the RR feels nearly as horrifying as it most certainly should. There's a lack of urgency in how the bike responds to inputs that makes it feel oddly numb. As an example, acceleration is visceral once you've hit about 9,000RPM, but up until that point it feels like the bike is holding itself back. When hopped back onto my own trusty S1000R, it felt torquier and with more available power – almost like the RR had lag by comparison.
Don't get me wrong, it's still a blast to ride, but I would struggle to take full credit for any lap times set with it. The S1000RR's brain and engineering is just so good that seems to be doing too much of the work for me to claim all, or nearly any, of the fame. It's almost akin to me playing Spiderman on Playstation versus actually being him. The game makes jumping and swinging and diving off of skyscrapers simple and easy, while in reality I would likely miss 90% of my web shots, get stuck swinging into a tree, and plummet to my death if I could even make it close to the top of a skyscraper. For $20,100 base ($24,975 as tested) the 2020 BMW S1000RR makes you a hero, but with great power, comes great responsibility.
See Also:
2017 BMW R nineT Racer
Road Trip: 2017 Ducati Multistrada Enduro