An area that often gets overlooked in the plug-in hybrid segment is its handling.
Mitsubishi, once the fastest growing automaker in the U.S. back in the 1990s, has seen a reduced model line up in recent years. The entry level Mirage, which comes in both sedan (reviewed here) and hatchback form, is the company's only non-SUV offering. By focusing its energy on SUVs, the segment that has taken the auto industry by storm, Mitsubishi hopes to be able to execute on the company's goal of 30% market-share increase by 2019.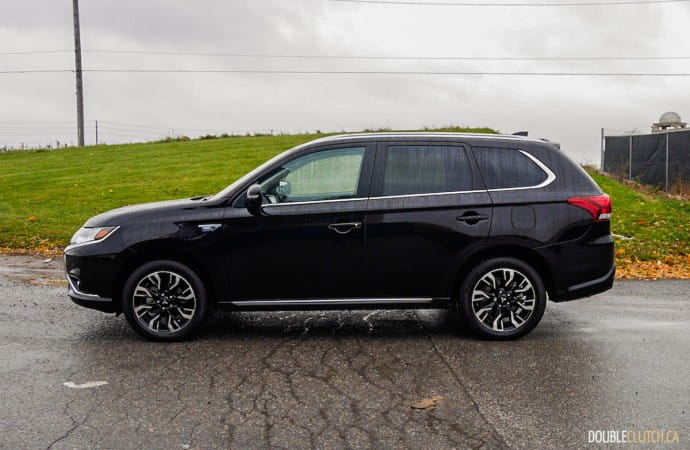 Mitsubishi introduced two new models to its line up for 2018, the Eclipse Cross (reviewed here), and the Outlander PHEV (Plug-in Hybrid Electric Vehicle). Mitsubishi boasts that the Outlander PHEV is the world's best-selling plug-in hybrid SUV, and we decided to borrow one for a weeklong test to know whether the Outlander PHEV lives up to the accolade.
The 2019 Mitsubishi Outlander PHEV GT S-AWC arrived in our office painted in the Labrador Black colour. The Outlander is an impressive looking vehicle, with the black and chrome colour scheme giving it an upscale curb appeal. The Outlander has a low and elongated appearance compared to others in its segment, and along with the design of the 18" alloy wheels, its side profile looks more similar to a crossover than it does to a traditional SUV.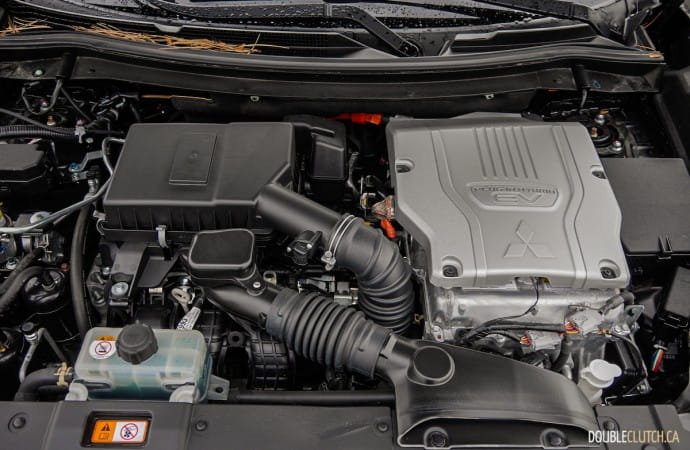 As the model name suggests, the Outlander PHEV has a hybrid powertrain that is powered by both a 2.0L gasoline engine that produces 117 horsepower and 137 lb-ft. of torque at 4,500RPM, as well as a Twin-AC synchronous permanent magnetic motor which produces 80 horsepower to all four wheels, and 101 lb.-ft. and 144 lb.-ft. of torque to the front and rear wheels, respectively. These motors are paired with a single speed, fixed reduction gear transmission, delivering instant electric power to all four wheels using a Super All-Wheel Control (S-AWC) system.
Driving the Outlander PHEV in the city is an effortless task. The twin electric motor setup provides immediate acceleration off the line, and the Outlander can stay on pure electric power for up to 35 kilometres. When needed, the Outlander PHEV will seamlessly switch between series hybrid mode where it's powered by the electric motor while the engine works to generate additional electricity, and parallel hybrid mode, when the Outlander is driven by the engine with the motor supplementing when needed.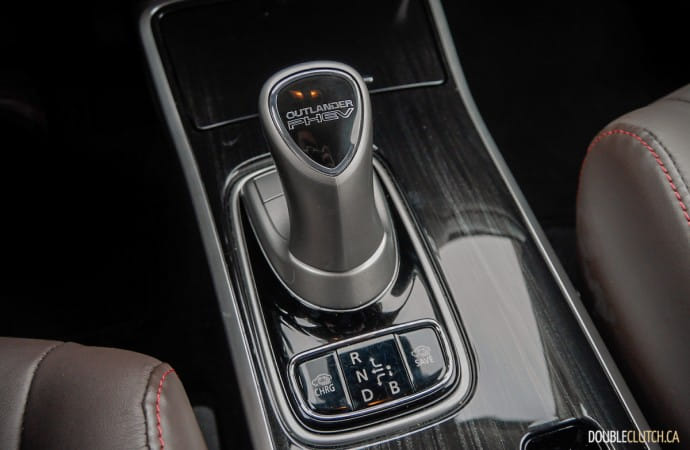 The single speed transmission does an excellent job at connecting the complex power system to the road by providing a silky smooth ride. For those who intend to bring their recreational equipment along with the Outlander PHEV, it is worth noting that it has a maximum towing capacity of 1,500 pounds.
An area that often gets overlooked in the plug-in hybrid segment is its handling. The Outlander, while not exceptional, can more than hold its own against most gasoline powered rivals. The steering weight feels decent on the hands and offers more road feel that I had expected. The Outlander PHEV's steering response is considered average amongst other compact SUVs, and that is not a terrible thing as no one intends to buy an Outlander for auto-crossing.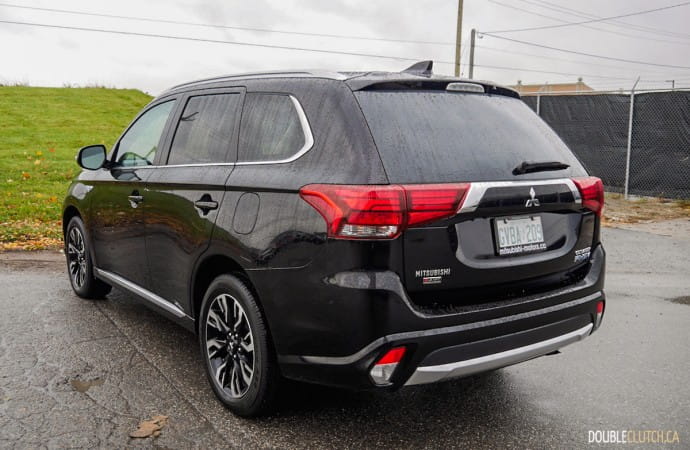 The Outlander PHEV is equipped with regenerative braking, which allows the battery to be charged using the kinetic energy generated during deceleration when you let off the accelerator pedal. For cars equipped with regenerative braking systems, the ride can become jerky as it is effectively braking whenever it is not being asked to go. However, Mitsubishi managed to deliver smooth response on the Outlander PHEV at its default regenerative braking level, and its sensitivity can be dialled up or down using the paddles behind the steering wheel.
Fuel economy of the Outlander PHEV is rated at 3Le/100km city, 3.4Le/100km highway, and 3.2Le/100km combined. These figures translate to gasoline litres equivalent of 9.4L/100km city, 9L/100km highway, and 9.2L/100km combined according to Natural Resources Canada. During my week of driving, which consisted of 483 kilometres of city and highway driving, I consumed 35 litres of fuel and 72 kilowatt hour of battery.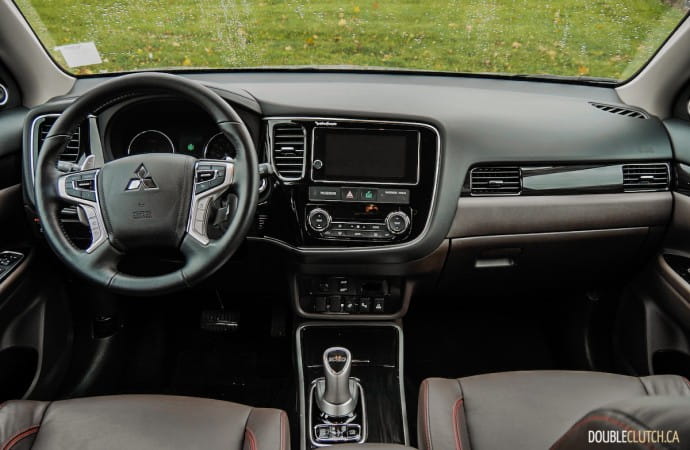 No matter how you want to interpret the numbers, which can get quite tricky and confusing once you factor in cost of electricity and how much it consumed, the Outlander PHEV option was able to provide an extended range over its gasoline powered competition and most importantly, less frequent trips to the gas station. The drive range was greatly aided by the fact that the Outlander PHEV will hold 43L of regular fuel.
The Outlander PHEV, in the top of line GT S-AWC trim, is a well-equipped vehicle. My tester was equipped with leather seating surfaces, heated and power adjustable front seats, 360-degree surround view camera, and a 710W Rockford Fosgate Punch stereo. It also comes with a comprehensive safety suite including Forward Collision Mitigation with Pedestrian Detection, Lane Department Warning, Rear Cross Traffic Alert, Blind Spot Warning and Lane Change Assist systems.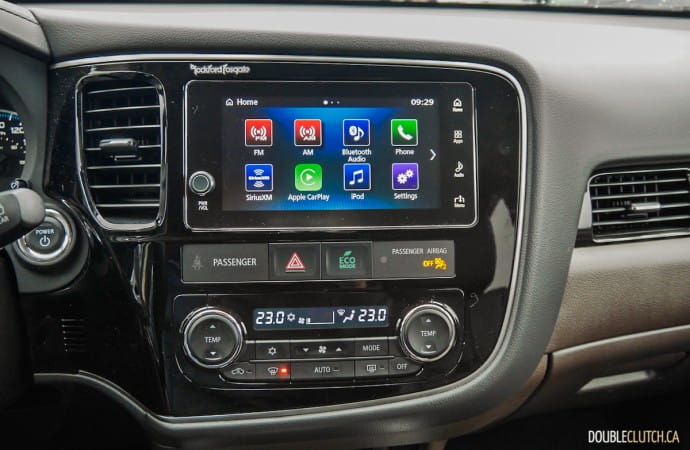 Unfortunately, Mitsubishi's effort fell short when it came to execution of the interior layout and the intuitiveness of its interface. There was too much hard plastic inside the cabin, and the leather-seating surface failed to feel premium in any way. In fact, my tester's front seating surface had shown quite a lot of wear even though it only had 10,000km on its odometer.
The layout of the buttons felt a bit impractical, too. For example, the switch to turn on the heated steering wheel is located far away at the bottom of the centre console and the button to put the car in park is partially obstructed by the shifter lever, making for an awkward reach at the end of every trip. One good thing is that the 7" touchscreen is fairly intuitive, and if you are an Apple CarPlay or Android Auto user, the native Mitsubishi interface will not matter much.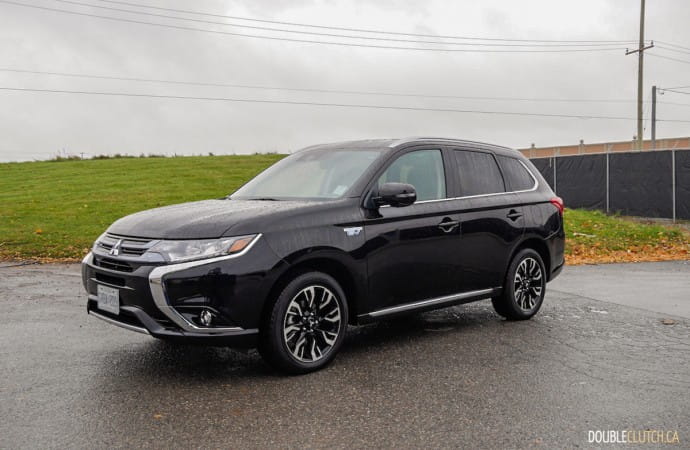 The 2019 Mitsubishi Outlander PHEV GT S-AWC comes fully equipped at $49,998. The price for my tester went up by $200 for the Labrador Black colour, bringing the as-tested price to $50,198. Mitsubishi Canada typically offers various dealer incentives to entice buyers to visit their showroom, and they continue to offer one of the best warranty programs in the auto industry, which includes five years or 100,000kms basic, and 10 years or 160,000kms on its powertrain and main drive battery.
One interesting part is that regardless of trim level, you can add on different aesthetic enhancements such as front, side, and rear air dams, tailgate spoiler, floor or shifter LED illumination onto the Outlander to create a personalized look. This level of customizability was popular in the 2000s before automakers moved onto all-inclusive packages that could sometimes force you to take on unnecessary options just to get the look you want, and it is refreshing to see Mitsubishi has continued to offer it for their vehicles.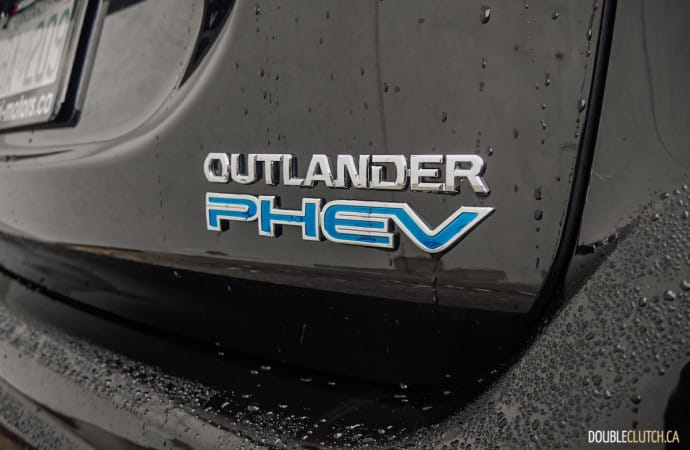 In terms of competition of the 2019 Mitsubishi Outlander PHEV GT S-AWC, there really is none. The Outlander PHEV is currently the only plug-in hybrid compact SUV in its segment, as plug-in hybrid SUVs are usually offered in the luxury segments such as the Mercedes Benz GLE, and Volvo XC60. Given the current trend, it is expected that there will be more and more plug-in hybrid SUVs entering this market, but for now, the Outlander PHEV is the only choice if you would like to have a mainstream compact SUV that is not solely dependent on fossil fuel.
The Outlander PHEV is not without its flaws, and there are many of them. However, the smaller environmental footprint, decent driving dynamics, and excellent warranty program is probably enough for now for Mitsubishi to keep the title of the World's Best Selling Plug-in Hybrid SUV.
See Also:
First Drive: 2018 Mitsubishi Outlander PHEV
2018 Mitsubishi Eclipse Cross GT S-AWC