These days the modern-retro motorcycle is becoming all the rage, and just about every manufacturer seems to have a model that they've fitted a tail hump or bikini fairing onto. While some may consider it to be pandering to a fad, I've found a ton of joy in just about all of the modern-retros that I've spent time riding. Perhaps some of their charm is amplified as a result of their retro looks tricking your subconscious into underestimating their performance – "Oh that bike looks old so I bet it rides like an old bike". Silly subconscious, you're about to get introduced to the 2018 Kawasaki Z900RS Cafe and yourself rewired.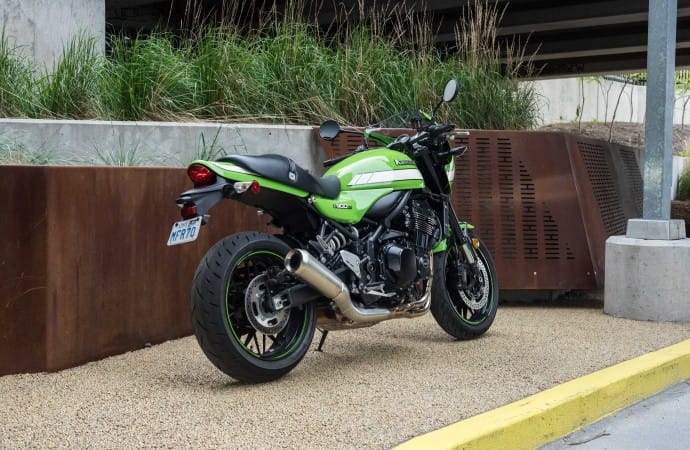 For those who don't know, or didn't want to jump to conclusions, the Z900RS Café is basically a redressed Z900RS with obviously new bodywork, exhaust, and a cluster. Personally, I think it looks completely jaw-droopingly gorgeous, despite what some other (less aesthetically inclined) folks may say. It's worth saying immediately that of the many bikes I've ridden, this one by and far attracted the most attention from both the motorcycle community, and the general public at large.
Seriously, after the first few days I learned that anytime that I had an errand to run, it was going to take at least 5-10 minutes longer than anticipated because of the unavoidable conversations that total strangers would strike up the second they see this bike. Whether it was a 62-year old gentleman approaching me immediately as I arrived at the MotoSocial to talk about how he used to ride a ZRX1100 (which the Z900RS rather obviously takes some modernized styling cues from) and toss his granddaughter into the saddle for a photo, or one of the construction workers ripping up my neighbours driveway… just about everyone I crossed paths with loved this bike and wanted to talk about it. A lot.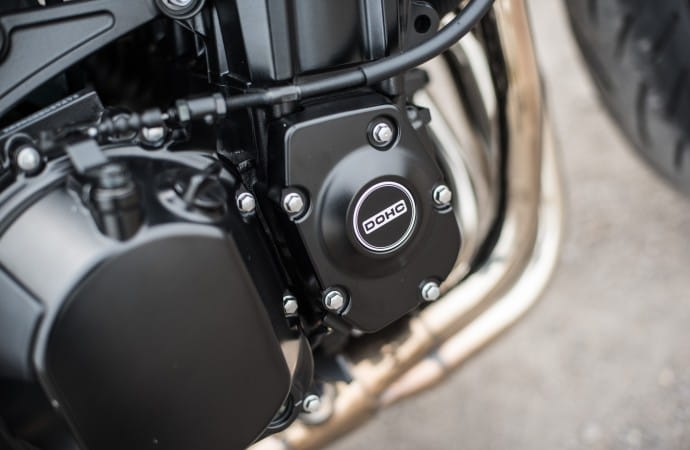 Although I could continue to blab on and on about the styling of this bike and how beautiful it is, the reality is that the second you see one in the real world, you'll instantly understand all I'm trying to say and more. If you don't, well…. you're either wrong or being paid to say otherwise.
"But Theron, I have eyes, why don't you tell me about how it rides?" Well reader, I'm glad that I put those words in your mouth so I can tell you! The Z900RS Café rides almost as great as it looks. Feel free to judge this book by its cover; to hell with what your grade school teachers used to say. But seriously, it's a treat to ride. While the engine is detuned from the standard Z900RS's 125hp down to 119hp, I doubt anyone will miss it. The Café has plenty of gusto for getting you into and out of trouble, while the standard traction control package will do a great job of keeping rear-wheel slip in check. The power isn't intimidating, and certainly doesn't make you feel like the back end will kick out where peak power and an apex meet. 900cc seems to be a sweet spot for this – heaps of highway power, with city manageability. I was equally comfortable during a commute as I was carving corners in the countryside.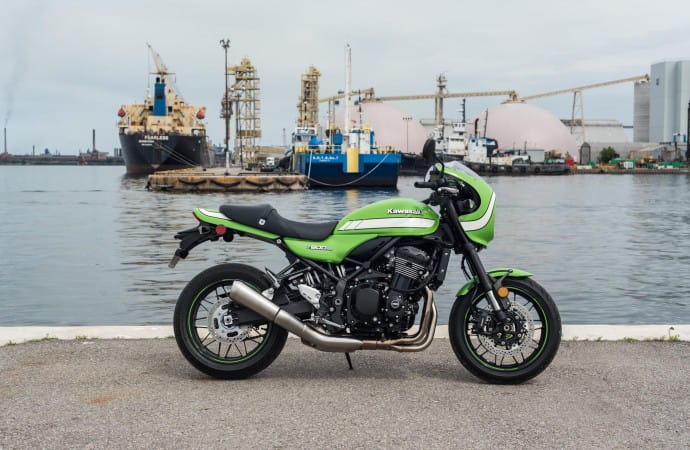 Riding position is relatively upright, which doesn't exactly lend to the "Café" nameplate on the bike. Typically you'd think a bikini fairing, cool paint job, and a set of clip-on handlebars would come standard on a café bike, with excessive back pain as optional. Not the case here on the later two of those accessories/features. The Z900RS Café gives you the looks of the old and the comfort of the, well, comfortable. The fairing provides a decent amount of wind protection during regular riding, and is even better while fully tucked.
I also found that the windscreen didn't cause any sort of distortion when tucked behind it, which is a problem on some bikes with those bubbled windscreens. The seat is also plenty plush, and does a great job of holding you in place during spirited acceleration – that is, assuming you aren't a passenger. While there is clear support for the rider, preventing backward motion, the passenger section of the seat tapers downwards a bit, which made me overly cautious when riding two-up.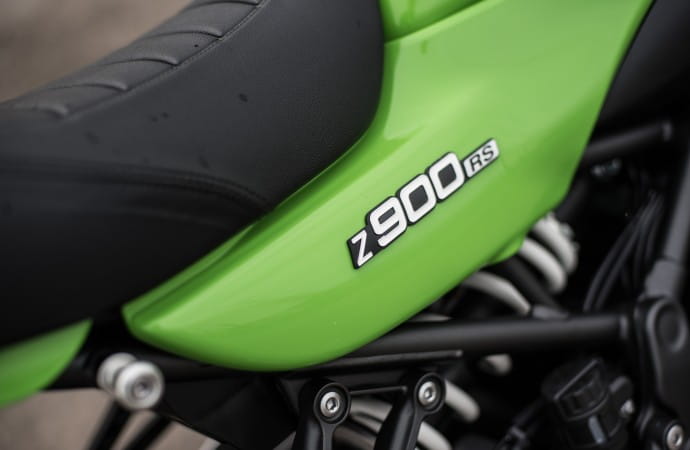 This bike just inspires so much confidence that you want to constantly wring it out. That urge comes from not only the confidence, but also the sound. Sweet audible lord, this bike has to be one of the best sounding bikes to leave the factory this year. Turns out, when Kawasaki's marketing reps were walking me through the bike, they weren't kidding around about the fact that this bike was turned for sound in an actual sound booth. I rolled my eyes at first, and then I rolled on the throttle in low second gear. Euphoria. Absolute euphoria. I don't think I've ever short-shifted a bike as much as this one, but the low-mid rev range just is pure euphony. Some may think the clutch is a tad lighter than it needs to be, but believe me, the engineers are saving you from carpal tunnel. You're going to unnecessarily shift that much.
Basically, if you want to look good, sound good, feel good, and be the centre of attention just about anywhere you ride, this is a bike you want in your garage. Forget anyone who says it looks like it's been styled after Mike Wazowski, that charming little one-eyed green fella from Monsters Inc. Forget anyone who says modern retro bikes are just for hipsters. Forget anyone who says this is just a re-skinned Z900RS. They're all just jealous of you and your beautiful-to-look-at, beautiful-to-hear, and beautiful-to-ride 2018 Kawasaki Z900RS Café. Besides, if you were that much of a hipster you'd probably be spending the $13,599 on beard oil and Pabst.
See Also:
First Ride: 2017 BMW R nineT Scrambler