For as long as I've been with the DoubleClutch.ca team, I have advocated the minivan for vehicle recommendations that seat more than five people. A close friend of mine has constantly pointed out the intriguing argument of the third-row capable SUV much like the 2018 Acura MDX Elite SH-AWD. From a seating standpoint, it can definitely haul up to seven people, standard fare for most minivans, but the Acura badge and appointments do bestow a certain level of implied luxury and performance.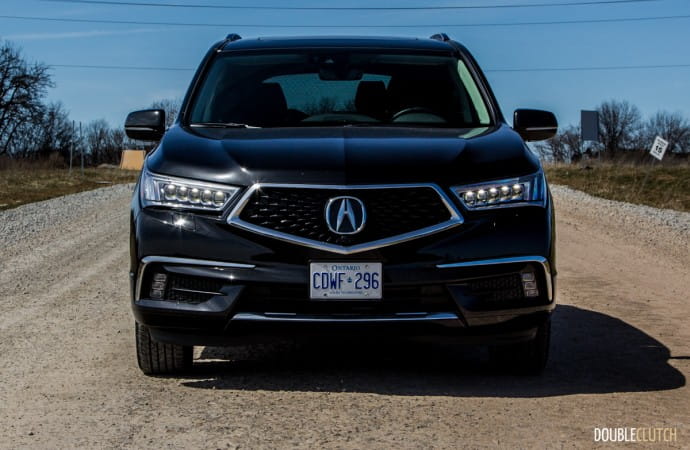 On the exterior, Acura has eliminated the front beak on the MDX as part of a slow roll-out of the new unified front grille that is likely to spread across its entire lineup. For now, it remains a look on the MDX, TLX and RLX and in this writer's opinion, makes for a cleaner looking front end that has acquired a more brutish yet elegant look. The slight bulge in the hood and the slightly angled, almost rectangular LED headlights make for a 'stare down' look as opposed to a squinting frown. This look is replicated in the rear where the tail lights are carved into the body with no frills or overly complicated aero. Everything looks functional and it works. Clad in a Crystal Black Pearl paintjob, the MDX's size is befitting of its looks.
Getting into crossover reveals a softer side of the vehicle with wonderfully supportive driver's seat clad in brown leather. There's just enough bolstering so that you're not sliding around in any cornering activity, but not enough to invade your personal space. Firing up the 3.5L direct injected i-VTEC V6 with 290 horsepower and 267 lb-ft torque, simply requires a press of the crimson start/stop button. When pushing this, the driver's heated, 10-way adjustable power seat and steering wheel whirr to life going to the last set position. For some, hearing the power mechanisms do this might be a downer but for me, it was somewhat mechanically pleasant to hear everything come to life.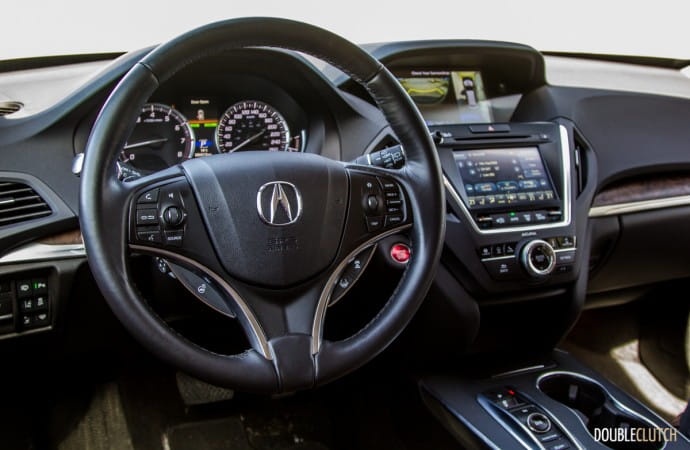 Sight lines are deceptively good given how big of a vehicle this MDX is – this is a trend that continues throughout the vehicle's inherent design. With a proper driving position in place, one can easily gauge the front corners and blind spot checks, even with the thick B pillars, are still doable though the equipped Acura Blind Spot Information system (BSI) makes that somewhat irrelevant. Everything is well within reach from the driver: the HVAC controls, volume controls (both on the wheel and an actual volume knob) and infotainment controls via the use of a giant center mounted knob.
The choice of using buttons to replicate a lever style shifter while initially unusual, is still intuitive thanks to the fact that the drive modes are still in the same order one would find them in a lever style pattern. This saves room in the interior and actually makes it a more usable space. Splashed in very precise and sparing amounts across the dash are deep brown handcrafted wood panels which accentuate the brown leather used in our tester. It is a rather handsome and mature look that would be akin to a classic cigar room. Those sitting in the third row however, might go slightly green with envy to have a seat elsewhere in the vehicle as this row is fairly flat and not as well padded.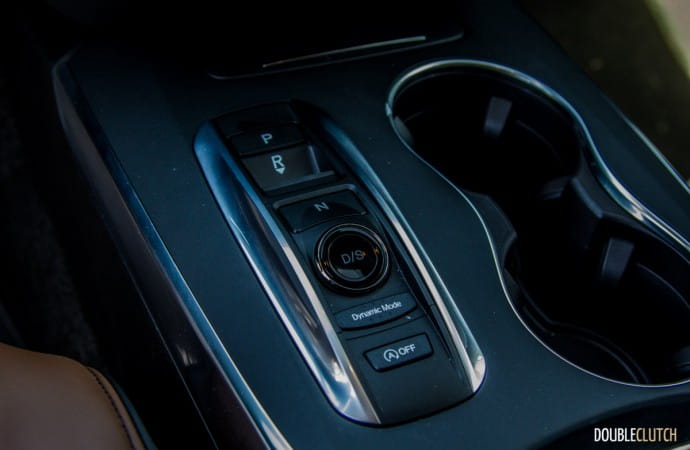 The reason for this design is that the third row folds flat to bring the storage area behind it to respectable levels for an SUV. At only 447L behind the third row (with most of it being height), the MDX might seem a little small but drop the third row and it triples to 1230L. Should you require even more storage, dropping the second row now doubles that number to 2575L. This makes the MDX very versatile and to my SUV loving friend's point, effectively matches most minivans for versatility.
Going back to the infotainment system, while it does support both Android Auto and Apple CarPlay, the upper of the dual screen infotainment displays which houses the smartphone interface, is not a touch screen. This means you have to use the aforementioned knob to scroll or push up or down the different touch points on Google or Apple's interfaces. It is not intuitive and downright distracting to use while driving. Thankfully, the work around for both is to use voice activated controls but even then, there may not be an exact command for what you could have easily done with a touchscreen.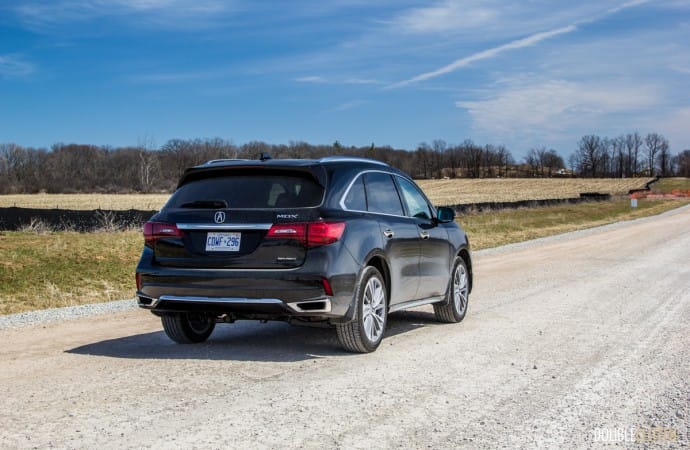 Driving the MDX reveals a wonderful deception – this small tank can both haul with authority and thanks to the Super Handling All Wheel Drive (SH-AWD), it can hustle through some of the twisties seemingly defying the laws of physics. The V6 is smooth and torquey, yet still offering lots of high-RPM pull. A nine-speed automatic transmission (paddle shifters are there should you decide to control the shifts) allows the vehicle to stay close to or within its optimal powerband. The SH-AWD system however, is utter magic when put into motion. With the ability to send power both front and rear but also left to right (up to 100% to a single side), this means the MDX can literally pivot itself on a turn by simply powering out one side and leaving the other to freely rotate.
On top of that, the MDX has a very tight steering rack that allows for the vehicle to access ridiculously tight turn circles, which meant parking in the confines of the city or in an underground parking garage is actually easier than some sedans. AcuraWatch, which provides an array of driver safety and assistive technologies, combines sensors in both the front and the rear and a 360-degree view. I found myself in at least one situation where I had to back out of a parking spot with one side being a full wall covering on coming traffic and the system very early warned me of an approaching vehicle and a pedestrian. It works.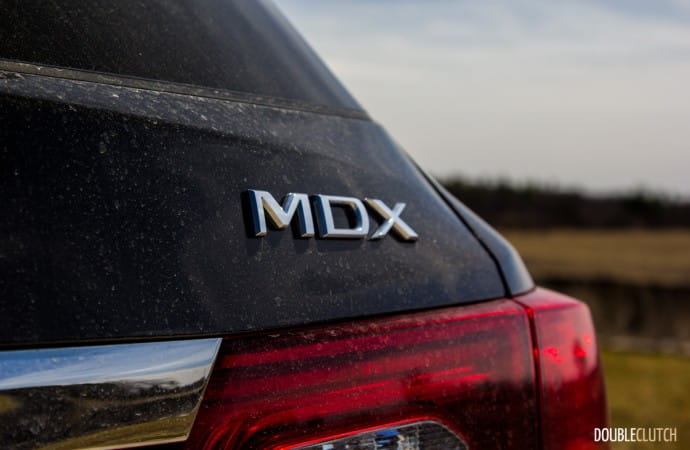 In terms of efficiency, the MDX's V6 is offically rated at 12.2, 9.0, and 10.7L/100km (city, highway, and combined respectively) and in my week of it with most of the weekdays spent crawling from traffic light to traffic light and one weekend hauling across the town, I managed to yield 11.7L/100km. This is reasonable given that even in my highway driving, it was still bumper to bumper traffic so it is perfectly reasonable to hit those official numbers.
At an as tested MSRP of $65,362, this fully loaded MDX is the bang-for-buck player in this segment of luxury crossovers. With competitors like the slightly more powerful BMW X5 (reviewed here) or the slower Audi Q7, the MDX commands attention should you be as equally detailed in your search for where to put down your hard earned cash. Whereas the Germans have thrown a lot of potentials for different variants and options which can easily balloon the final sticker price, with the MDX, Acura has pared down the choices at a very solid price given what you're getting. Suddenly, that minivan is looking mighty vulnerable as the defacto family hauler and I can totally see why.
See Also:
2018 Mercedes-Benz GLE 550e 4MATIC
2018 Land Rover Discovery HSE Td6