A couple years back, I was lucky enough to spend some time with the then-new Kawasaki H2, which while supreme in its own right, didn't exactly feel like it had a ton of practical applications beyond bragging rights. It seems that perhaps one or two of the engineers at Kawasaki thought similarly, and came to the conclusion that a 250+hp, supercharged, missile on rubber just didn't make a ton of sense on most roads. So, they decided to somehow take that platform, and make it more practical. What they came up with is the 2018 Kawasaki H2 SX SE.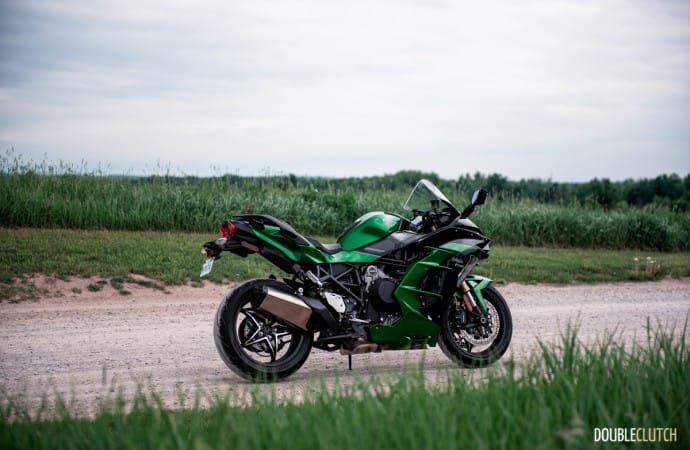 While it shares the looks, most of the frame, the supercharger, and the nameplate of the "regular" H2, the SX and SX SE both have an engine that has been almost entirely reworked. The casing is the same, but all of the internals are pretty much brand new. Since so much of the regular bike's power was far from (legally) usable on most public roadways outside of Germany, Kawasaki engineers have tuned the SX variant towards the low to mid ranges which should theoretically give it better street-ability, and as a result, the SX has shed a significant amount of horsepower while gaining a few extra pounds.

Weighing in at 573 pounds wet, the bike is outputting a measly 210hp and 137 Nm of torque. This sees the SX gaining a bit more torque from its 134 Nm predecessor. Although it may not seem like much of an addition, this makes the acceleration of the SX feel far more unbridled and immediate than its black-chromed father. This bike is blindingly fast. It's supposed to be a "Sport Touring" but I'd swear this classification and moniker are there pretty much solely for insurance purposes.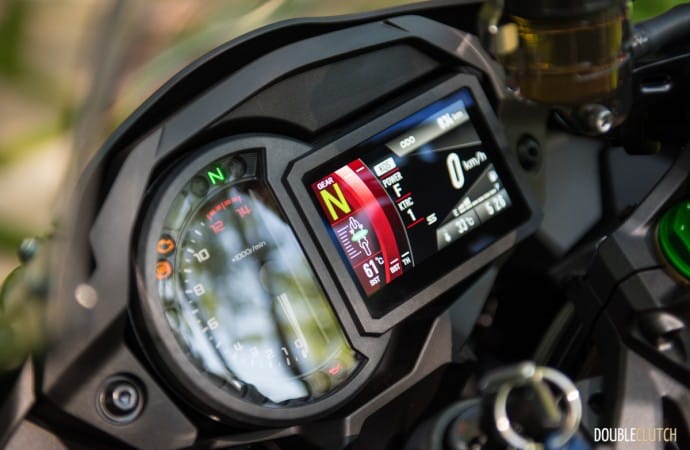 Despite the incredible acceleration, the H2 SX maintains the ability to unleash the fury of supercharged hellfire entirely on your own terms. Traction control and power levels are easily accessible while on the move, and throttle response is tight, but accurate. For a ride-by-wire it's incredibly connected, and if any throttle lag exists at all, I couldn't notice it. The added benefit of this setup is that it allows for the Kawasaki quick-shifter system to be installed, which allows for clutchless up and downshifting. It isn't as smooth as some of the other quick-shifters out there when just riding casually, but it's effective on aggressive upshifting under hard acceleration.
Thanks to the much-needed LCD display that you get with the "SE" version of the H2 SX, a ton of information is available at a glance, although it's sometimes arranged in an odd way. The display has two possible configurations that can be changed by accessing the bike's settings menu while stationary. The "Normal" configuration gives you all the essentials; speed, gear, trip info, and fuel economy, while "Race" adds things like lean angle, boost and throttle gauges, boost temp, and a gimmicky front/back g-force meter.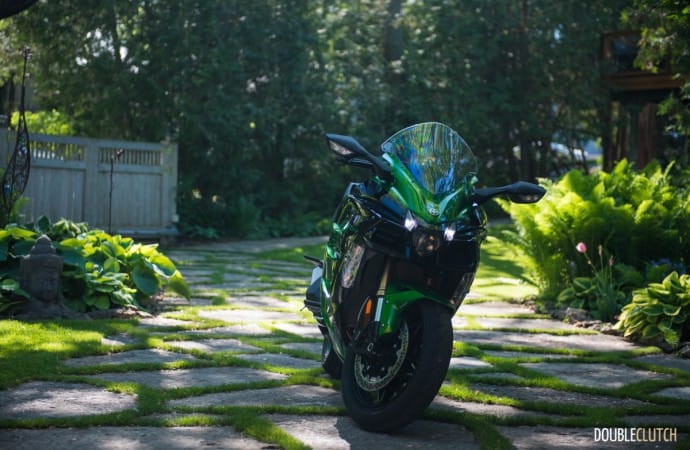 Each configuration also has a day and night mode, which you can easily swap between with a "Mode" button on the right handlebar. While I love the display itself, it bugs me that you need to access a menu to switch between both of the possible configurations, while the "Mode" button gets dedicated to a function that an ambient light sensor can easily take care of for you
Kawasaki's press kit on the bike touts something along the lines of "superb efficiency" for the SX as a result of the retune and retooling of the engine. While it isn't something that I normally care about, I feel the need to point out that this bike isn't efficient on anything other than paper. There's no doubt in my mind that the efficiency Kawasaki claims is attainable in a controlled environment, but when it comes to actual riding, no human is going to be able to maintain that level of self control.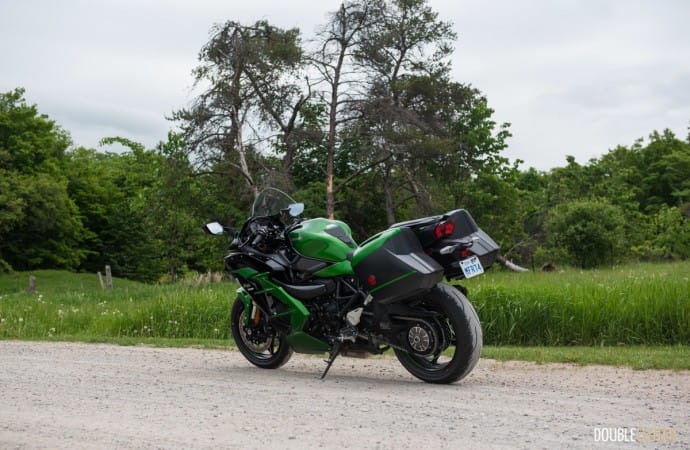 Alas, back on track. This is supposed to be a serious review on a serious bike by a serious journalist. Let's talk about the practicality that the SX brings to the table. First off, you can actually ride two-up on the SX thanks to the added passenger seat. Secondly, the riding position has been adjusted into more of an upright stance, which kept me comfortable for an entire tank of fuel. The fact that the rider's seat is quite plush, and plenty wide didn't hurt the comfort levels either. My favourite piece of practicality that the SX brings to the table is the option of saddlebags. Seriously, a supercharger and saddlebags?
While the alliteration makes me all kinds of randy, the fact that these two things can be combined in a modern motorcycle is just hilariously awesome. You can pack your bags, grab a passenger, and take this thing to the track for a weekend. You can go grocery shopping, and scramble your eggs on the way home. You can buy a piñata for your kid's birthday party, and show up with a piñata that's been broken in half because those probably aren't small enough to fit in a saddlebag. The bracket mechanism also works really well, and it super easy to attach/detach the cases.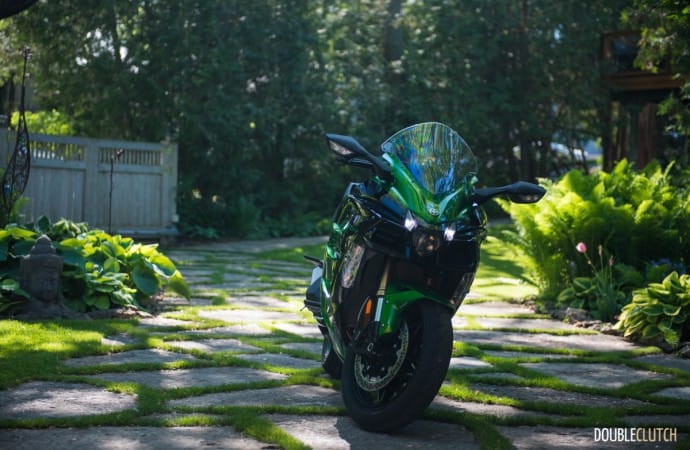 Despite the options this bike gives you, there are honestly some things I think that are truly missing for the price, and the caliber of rider this bike will attract. First off, why there's no steering dampener on a $25,000+ motorcycle is something I'm not sure I understand. The bike doesn't suffer massively as a result of this absence, but it should be there when you consider the speeds this bike is capable of. There also isn't electronically adjustable suspension that's fitted, even as an add-on.
When you look at a bike like the H2 SX on paper it makes little to no sense. It's a "touring" bike that looks like a sport bike that has a centre stand. It's got a 19L fuel tank that can be emptied faster than a keg of beer at a frat party. It's fitted with a supercharger but you can also fit it with saddlebags and convince your mom that it's slow and practical.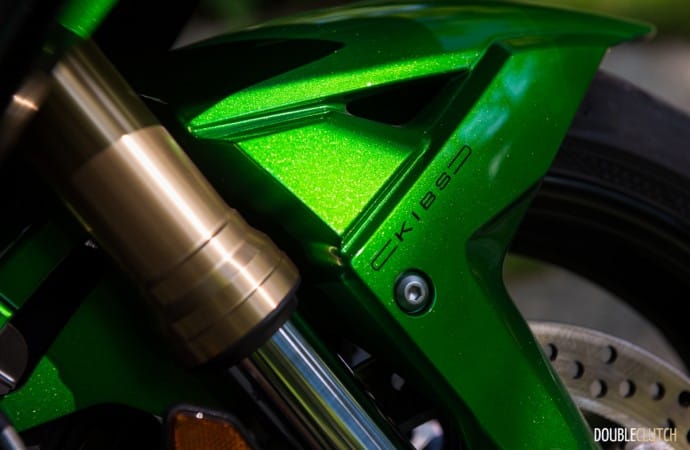 The H2 SX seems to contradict itself in just about every way you can think of, but that's what makes it such a great bike. You can get all the performance a proper sport bike has to offer, and the most important parts that a touring bike can serve up. It's sort of like getting two bikes for the price of, well, one very expensive bike. Technically this is a bargain and you should impulse-buy one for the savings alone. After one full twist of the throttle you honestly won't miss the $25,299.
See Also: