As it stands, Kia can assemble a good car, but they haven't quite had a model that has been able to show a significant amount of performance or driving engagement. Up until now, the compact Forte5 and Koup with a turbocharged 1.6-litre four has been the closest you can get. It's not a bad car, but is a lukewarm execution at best relative to the likes of the Honda Civic Si, Volkswagen GTI, or the Toyota 86 and Subaru BRZ twins. Enter the 2018 Kia Stinger GT Limited – while it's not a hot hatch or sport compact, the sport sedan's aggressive styling and fastback roofline (Tesla Model S? Audi A7? Porsche Panamera?) have raised eyebrows all over the automotive enthusiast world. On top of that, turbo V6 power and alleged good handling make for worthy buzz.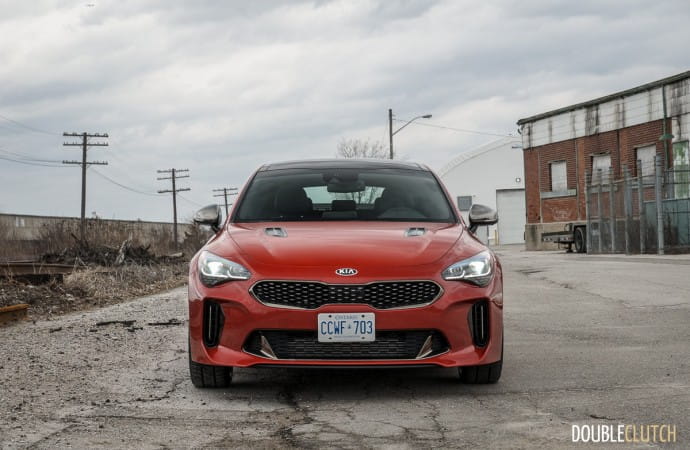 To create such product, Kia, together with Hyundai Motor Company, hired Albert Biermann, who was previously chief engineer for BMW M, and had a hand in designing legendary versions of the M3 (reviewed here) and M5 cult classics. More than ten years ago, Holden, the Australian arm of General Motors, did similar when they poached a series of BMW engineers to develop the VE generation of the Commodore. The end result was a rear-wheel drive sedan that was reminiscent of a well-sorted E39 BMW 5 Series. In North America, this was also known as the short-lived 2008 to 2009 Pontiac G8 GT. How is this similar to the Stinger? Well, it's priced similarly, sized similarly, makes similar power, and built up the hype similarly, too.
Starting at a base price of $44,195 and topping out at the as-tested $49,995 Limited trim, the Kia Stinger comes pretty well loaded. Across the board, there's Brembo brakes (13.8-inch diameter and four pistons up front), power leather seating (Nappa leather on the Limited), heated steering wheel, LED headlights, full-width sunroof, and a power liftgate.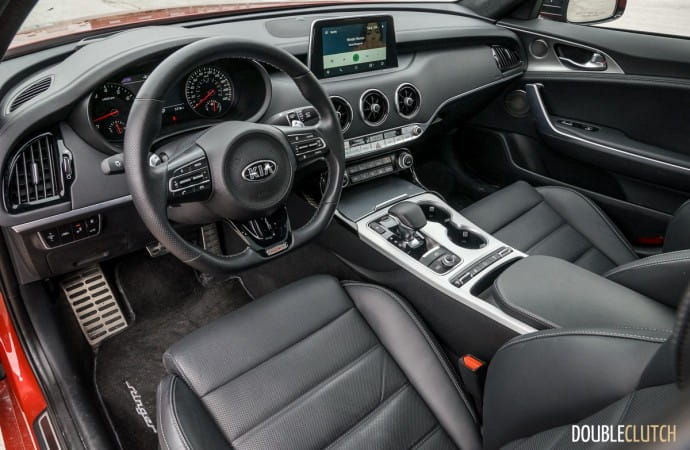 Also specific to the Limited are features such as directionally adaptive (swiveling) headlights, rain sense wipers, cooled front seats, heated rear seats, larger 8-inch multimedia screen with navigation and 15-speaker Harman Kardon audio, wireless phone charging, head-up display, lane keeping assist (with steering input), a 360-degree camera system, and forward collision warning with autonomous braking. All in all, it's a very well equipped package that should be very competitive against German rivals (BMW 3 Series, Mercedes C-Class, and Audi A4) that cost more while having smaller engines.
Providing motive power in both trims of the Stinger is a 3.3-litre twin scroll, twin turbocharged V6 that also will be seeing duty in the likes of the Genesis G70 and G80 Sport sedans, as well as the Genesis G90 flagship. This trickle-down use of engines in the Genesis-Hyundai-Kia umbrella is an absolute boon for the Stinger – the six's 365 horsepower at 6,000RPM and 376 lb-ft from 1,300 to 4,500RPM are a perfect match for the somewhat porky 1,889 kilogram (4,165 pound) GT Limited with all-wheel drive. With numbers like these, though, you'd never know how heavy it is, thanks to instant response and imperceptible turbo lag. It behaves very much like a naturally aspirated engine, except with much more low-end torque, and its response rivals that of the BMW turbo inline sixes. Simply put, it is one of the better powertrains out on the market today. Synthetic engine sound – the volume of which is configurable by the driver – is piped in, but sound pleasant enough and bolsters the Stinger's macho aura.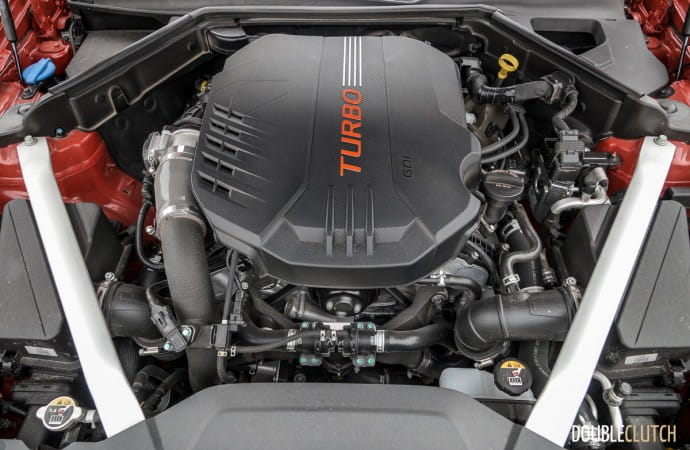 Coupled to the 3.3-litre twin turbo V6 is an in-house designed eight-speed automatic transmission. Sorry folks – there's no manual here – but the good news is that the automatic is just about the furthest thing from the stigma of the good old slushbox. Torque converter lockup happens almost immediately after launching, and shifts are lightning quick and perfectly timed when booting around town. In this regard, it's every bit as good as BMW's calibration of the ZF 8HP transmission, which is the current gold standard for eight-speed automatics. When the going gets quicker, however, the transmission isn't quite as sharp, but still beats out most other automakers' calibrations of the 8HP (Jaguar-Land Rover and Fiat Chrysler are two that come to mind). Gears are selectable by paddle shifters, although the shifter doesn't appear to have a dedicated manual mode.
In going with a forced induction V6 and not a 2.0-litre turbo four like everybody else is using (though such a configuration is available in base Stingers in the United States), fuel economy does suffer a bit, but is still quite manageable given the performance level offered up. Natural Resources Canada economy numbers are pegged at 12.7L/100KM in the city, and 9.6L/100KM on the highway. Observed consumption split the two ratings, coming in at 10.9L/100KM in mixed driving with a reasonably heavy foot. Fuel capacity is 60 litres, and premium fuel is recommended.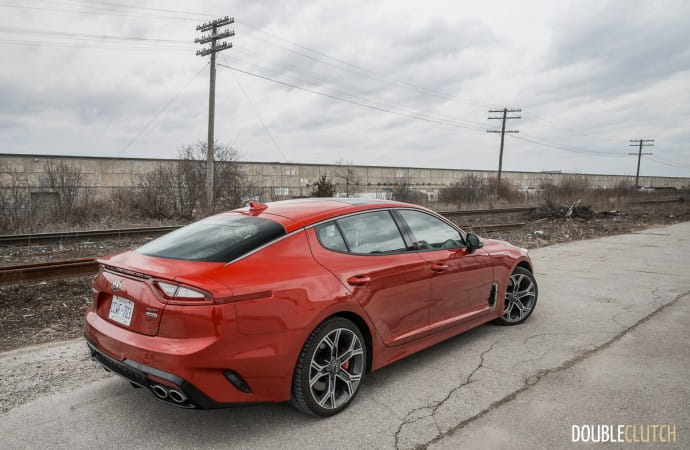 While the Americans get a rear-wheel drive variant of the Stinger GT, Canadians must make do with all-wheel drive only. Although this is good for inclement weather, the extra mass is a penalty to carry around in the corners, and one could expect the rear-drive Stinger to be more responsive on anything but a straight road. Even so, the all-wheel drive cars are great handlers in their own right. Macpherson struts up front and a five-link multilink rear suspension are coupled to adjustable dampers and an excellent electric power steering system.
Using the Drive Mode control knob near the shifter, preset modes of varying aggression are available, as well as a Custom mode. For most of the week on test, Custom was used, and the powertrain and suspension were set to their softest and most comfortable setting. Steering was cranked up to full stiff, which made for an overall package that handled and steered amazingly well, especially given the size and mass of the Stinger. Other adjustments include the previously mentioned engine sound volume, and thankfully, a setting to bias the all-wheel drive system more towards the rear. Somewhat annoyingly, however, the Custom mode needs to be selected by control dial every time the car is started.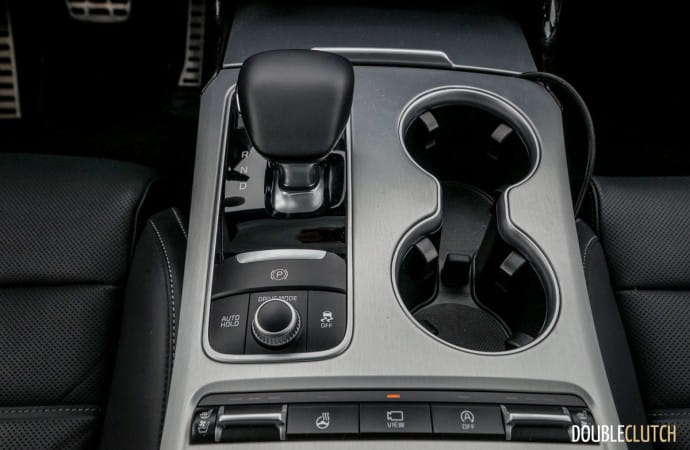 Out on the road, the firmly set steering felt like it was actually giving feedback, giving drivers more confidence to tackle corners as they see fit. For a few years, electric power assist steering was largely numb and overboosted – automakers have since figured it out, and the Stinger is a great example of this progress. Chassis response is also good, with generally neutral behaviour at the limit and a willingness to actually rotate into oversteer if provoked. In this regard, this performance Kia drives and performs every bit as well as its more expensive competition, including the BMW 340i xDrive, Mercedes-AMG C 43 4MATIC, and Audi S4 (reviewed here). It's certainly a bold statement, but you'll have to drive it to believe it.
Inside, ride comfort is firm but not excessively jarring. A supple land yacht, this is not – but other benchmark performance-oriented sedans will not do better here, either. The larger length (4,830 millimetres, or 190.2 inches) and wheelbase (2,905 millimetres, or 114.4 inches) of the Stinger translates into more legroom all around, with an airy cabin that's not nearly as claustrophobic. Cargo space is also a strong point, and the power hatchback opened up to provide 660 litres (23.3 cubic feet) of capacity. Seat comfort on longer trips is only average thanks to the firmer cushions, but the bolstering will hold passengers well in the twisties.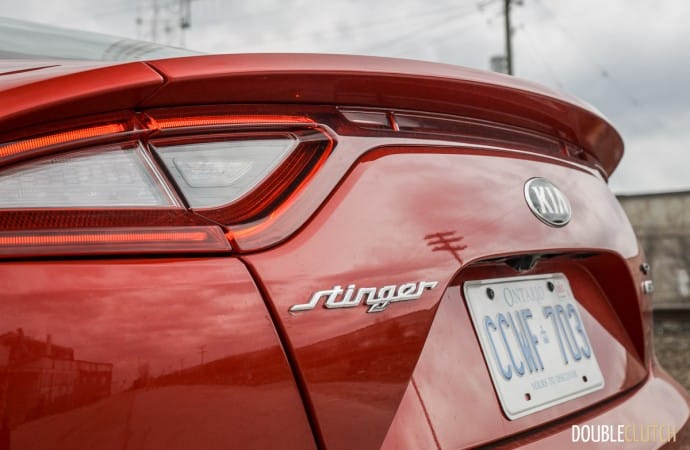 As for the dashboard and multimedia, the Stinger GT is fairly standard fare corporate Kia in terms of layout. The circular heating and air conditioning vents are reminiscent of Audi, which isn't necessarily a bad thing. Android Auto and Apple CarPlay smartphone connectivity are included in all trim levels, with the Limited also getting on-board navigation. There are just enough buttons to separate common functions, allowing operation with gloved hands and eyes maintained on the road. The gauge cluster has a central screen displaying all sorts of information to the driver, including G-forces and a much welcomed oil temperature readout. The 300KM/H speedometer is a bit busy and hard to read, but thankfully, the head-up display of the Limited trim simplifies things for the driver.
When considered as an overall package, the 2018 Kia Stinger GT Limited is a fantastic value – and dare we say already – possible Car of the Year contender at DoubleClutch.ca Magazine. Yes, some may balk at the fact that it's a $50,000 Kia, but those who do so completely fail to acknowledge the car for what it is. It's a solid performer with a fantastic powertrain, aggressive looks, great suspension, and an uncanny ability to put a smile on your face. As a premium and sporty sedan, buyers of German marques are going to have to spend up to $20,000 over and above the Stinger GT Limited price tag in order to achieve similar results. This delta drops to the $10,000 range for those cross-shopping with Japanese or other Koreans, including the likes of the Infiniti Q50 Red Sport or Genesis G80 Sport (that uses the same engine). Rear-wheel drive (in Canada) or manual transmission availability would have been nice for the sake of the purists, but realistically, consumer demand is driving the bus here. All automakers in this segment would be wise to pay attention to the Stinger: if you snooze, you will lose.
See Also:
First Drive: 2018 Kia Stinger GT