What does a supercar truly stand for? Is it the abundance of power available almost anywhere in the powerband, capable of neck-breaking acceleration? Is it the sexy looks that will have passerby going out of their way to take photos of your ride, even while driving? With the new breed of plug-in and hybrid supercar technology, all of that is brought together with the versatility of electric power and actual real-world efficiency. I took a road trip in the fall to Calabogie Motorsports Park near Ottawa, ON to attend a track event with the all-new Ford GT. My choice of wheels for this trip was the very intriguing 2018 BMW i8 Coupe, the last of this generation before the updated model hits Canada later this year.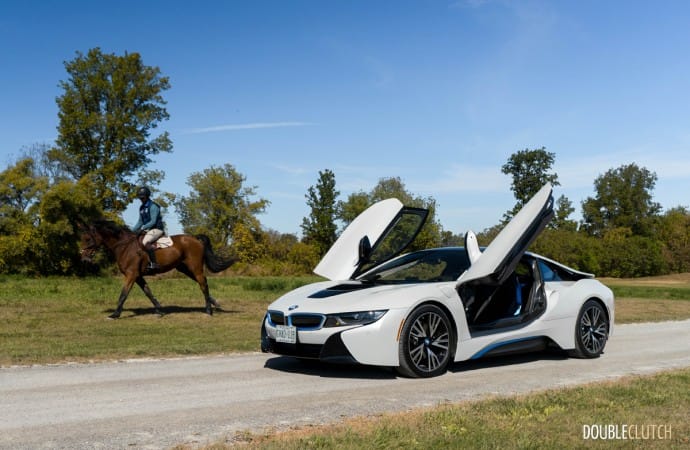 Out of all of the vehicles we've tested over the years, the i8 is particularly memorable as one of the most attention grabbing. This only extrapolated as I left the urban core and hit Highway 7, the scenic way to Ottawa. It's not only the more fun route, passing by many of Ontario's small, hidden towns, but it takes no longer than the ever-boring 401. After stopping for fuel and a snack just east of Peterborough, I arrived back at the car to find a small crowd around the car, all enthusiastic folks just wanting to learn more about it.
The thing is, based on the way the i8 looks, you'd assume it packs some sort of large-displacement engine. This is the only area in which the car disappoints – the main engine, which powers the rear wheels, is a 1.5L turbocharged three-cylinder sourced from the standard MINI Cooper. Powering the fronts is a 129-horsepower and 184 lb-ft. electric motor. When all is said and done, this "supercar" makes a combined 357 horsepower and 420 lb-ft. of torque. It may not seem like a significant number, but considering the i8 weighs less than 3,400 lb., it really is quite quick.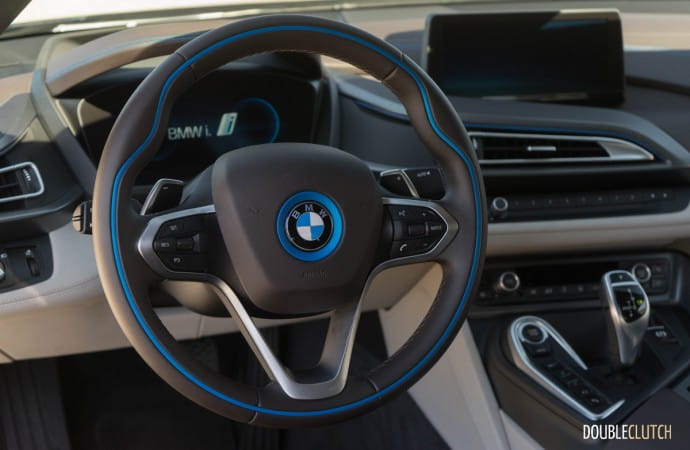 Slapping the shift lever over to the left engages "Sport" mode, which does a lot more than in any of BMW's other applications. It immediately kicks on the gasoline motor and dramatically changes the noise. The engine, located behind the driver, can be felt, and while it doesn't sound like a traditional supercar should, the i8 feels futuristic and like something out of an Iron Man movie. The transmission is a six-speed automatic and makes almost theatrical noises on both upshifts and downshifts.

The low center of gravity means the i8 handles like an absolute dream. This may be part of BMW's i-Performance line, dedicated to producing the perfect balance between efficiency and performance, but it handles like it's on rails. The steering is effortlessly light, but there is some semblance of feedback. The i8 goes exactly where it's pointed, and should you desire a little bit of oversteer, the stability control is fully defeatable for this purpose. The rear tires are 215-series, so they're particularly narrow even when comparing to the likes of BMW's own 330i (reviewed here), but enough grip is there when you need it.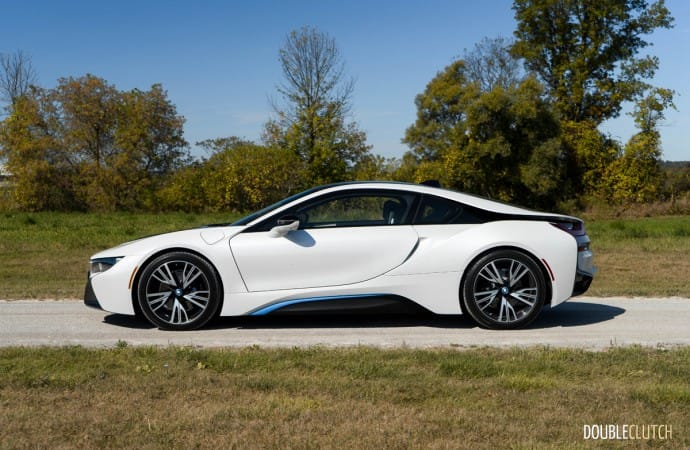 If you plug the i8 into the wall, BMW claims it can see an EV-only range of 38km. We actually surpassed this estimate in our testing, and saw up to 42km. However, since my test consisted of a long distance haul, the overall consumption was more important. Rated for 8.4L/100km city, 8.1L/100km highway, and a combined 8.3L/100km, I managed to keep the i8 at 7.0L/100km when operating as a conventional hybrid. This meant speeds averaging just over 80km/h, and operating on premium fuel. When completely drained, the EV-only range takes roughly 100km operating in "Sport" to recharge fully. One interesting fact is that the i8 can operate at speeds up to 120km/h on just electric power. The tiny fuel tank is capable of holding 42L of premium 91-octane fuel.
The i8 makes for a fantastic grand tourer, with excellent seats that are very supportive for longer runs. It's often forgotten that the i8 does have rear seats, though they are all but absolutely useless for anyone larger than a backpack. My camera case and overnight pack were quite comfortable for the duration of the drive. The wing doors are excellent for adding that extra bit of visual appeal, but the sill is quite high and there's really no graceful way to get in and out. Being a hybrid, it's quiet inside too, with great sound insulation and minimal tire and road noise making its way into the cabin.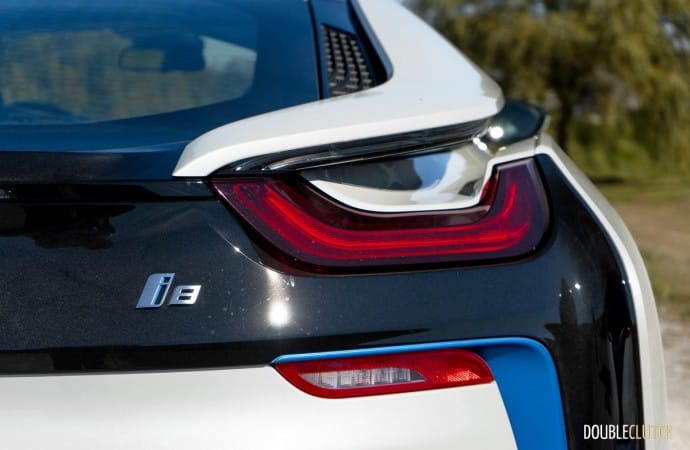 Pricing for the 2018 i8 starts at a reasonable $149,900 for the entry level model, which is considerably less than rivals from Great Britain and Italy. Our test vehicle had the "Halo Interior World" option package, which adds black brake calipers, a leather engine cover, a BMW Display Key, LED adaptive headlights, and premium leather for $6,700. An extra $8,000 will add the BMW LaserLight laser-beam headlights. All in all, this tester came in at $164,600 before the BMW destination charge of $2,245.
It may not be the conventional supercar, but the 2018 BMW i8 Coupe does make a compelling case for itself. There is a massive number of enthusiasts who want to drive a car that looks and feels like a million bucks – the kind of car that makes everybody wonder what you do for a living – and not shell out hundreds of dollars a month at the fuel pumps. If you stick some solid winter tires on it, the i8 can be driven year-round, even in the Canadian climate, adding to its list of capabilities. The i8 is a wholly different car from "rivals" like the McLaren 570S (reviewed here) or the Audi R8, but it offers quite a bit to the market it caters directly into.
See Also:
2017 BMW i8 Protonic Red Edition