The current iteration of the Mercedes-Benz E-Class is one of the best luxury sedans on the road today. It packs the latest in German technology and combines it with active safety and style, without compromising the prestige that the Mercedes-Benz brand is known for. The AMG versions of the E-Class have also been quite delicious, and even to this day I find a well-kept original E 55 AMG of the late 1990s a beautiful car. This is the new one though, and it's nothing like the original. The 2018 Mercedes-AMG E 63 S 4MATIC+ is a fire-breathing performance sedan that will send chills down every enthusiast's spine.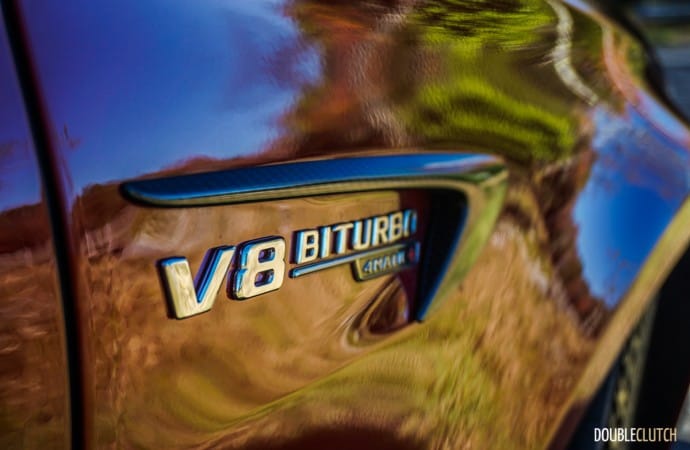 Let's get one thing out of the way first – performance. The new E 63 S can accomplish 0-100km/h in just 3.4 seconds, and onto a top speed of 300 km/h. This is courtesy of a monstrous 4.0L twin-turbocharged V8 that replaces the 6.2L of the last E 63. Paired to a new nine-speed automatic transmission, this motor pushes 603 horsepower between 5,750 and 6,500RPM and 627 lb-ft. of torque, peaking from just 2,500 to 4,500RPM.. The keen will observe that this is a more powerful car than the Mercedes-AMG GT S supercar, making the E 63 S a serious sleeper sedan.
Armchair critics on the Internet were quick to dismiss the E 63 based on its 4MATIC+ all-wheel-drive system, touting that a real AMG car needs to be rear-drive and naturally aspirated. While it's a perfectly refined luxury saloon when you need it to be, this trick all-wheel-drive system can actually send 100% of torque right to the rear wheels. An electronic locking rear differential system brings all of this together into a very controllable drift mode. In short, 4MATIC+ differs from standard 4MATIC in the sense that it offers completely variable torque distribution for both front and rear axles of the car.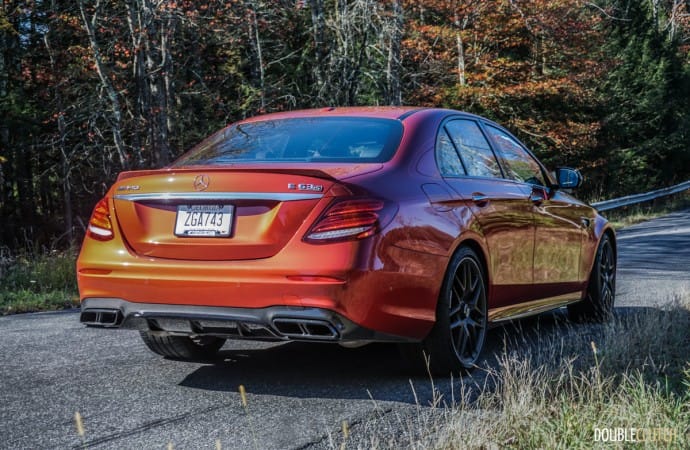 It's worth mentioning that while lesser vehicles such as the Ford Focus RS (reviewed here) also offer drift mode capability, the E 63 S can become a completely rear-wheel-drive vehicle, as opposed to the Focus' 70% number. In order to set up this mode, "Race" must be selected in the drive mode selector, ESP must be disabled, and the transmission set to manual shift. Once this is done, pulling on the wheel-mounted paddles will engage it.
Not only is it fast as all hell in a line, and capable of pulling off surprisingly controlled oversteer, the E 63 S rides almost as well as its non-AMG counterparts. Mercedes-Benz's Air Body Control air suspension system does a fantastic job keeping the big sedan planted, regardless of the environment. When in more athletic settings, the E 63 S is hunkered down and firm, with virtually no body roll exhibited. Leave it in "Comfort" and other than the larger wheels keeping it harsher, the AMG E-Class rides almost as serenely as an E 300 (reviewed here). This is not a bad thing by any means.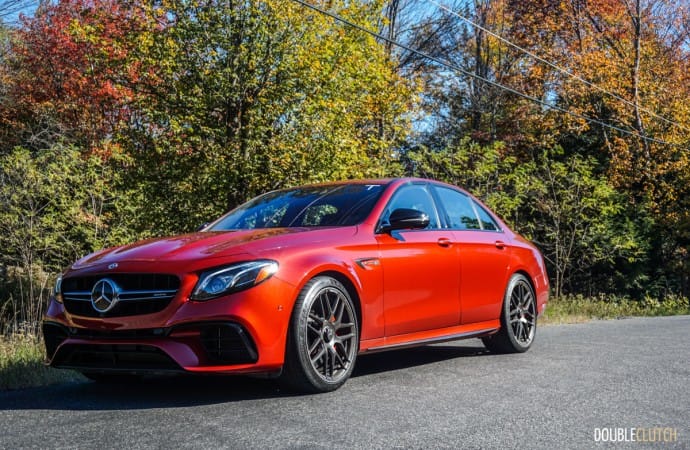 A 603-horsepower V8 with two turbochargers that can hit 100km/h faster than a McLaren 570GT (reviewed here) doesn't exactly scream "efficiency". Mercedes-AMG rates it for 15.5L/100km city and 10.6L/100km highway, for a combined rating of 13.3L/100km. Naturally, an AMG car should only see octanes higher than 93, and we observed 14.8L/100km over our brief test with the car. A massive 90L tank will keep you going for longer periods without needing to fuel up, and should you choose to take extended highway trips, your E 63 will cooperate, with ninth gear holding RPMs quite low and the economy hovering around 10.8L/100km all day long.
We have addressed the numerous upscale features of the current (W213) E-Class sedan (reviewed here), namely the top-notch materials used throughout the cabin, and the stunning dual 12.3" screens that come together to create a brilliant infotainment system. Some additional things worth noting include PRE-SAFE Sound, which can sense an impending collision and send out "pink noise" through the Burmester speakers to cushion your ears against the sounds of a crash. PRE-SAFE Impulse Side can detect potential side collisions and inflate the bolster in the front seats, protecting the occupants by reducing forces.
The E 63 S starts at $115,500 in Canada, a staggering $35,000 more than the E 43. Is it worth it? Heck yes, if all-out performance is what you're looking for. Our test vehicle was equipped with an $8,300 Premium Package, a $3,000 Intelligent Drive Package, a $2,500 AMG Driver's Package. The Designo "Hyacinth Red Metallic" paint is an extra $1,400, and the Burmester 3D High-End stereo is $6,900. When all's said and done, the E 63 S tested here came to $137,600. Fun fact – if you want carbon ceramic brakes, it's an extra $13,750.
At the end of the day, the 2018 Mercedes-AMG E 63 S 4MATIC+ is up against one very serious rival, and that's the new 600-horse BMW M5. In the past, the M5 was the more refined driver's car, while the AMG was the loud and brash tire-shredder. Things have changed, with Mercedes-AMG focusing strongly on technology that can ultimately help both achieve a faster track time, as well as put a massive grin on the driver's face. This is the ultimate sports sedan in the world right now, and it delivers an overall experience second to none in the segment.
See Also:
2017 Mercedes-Benz E 300 4MATIC