The 2018 Jeep Grand Cherokee SRT is a vehicle that should not exist. Then again, neither should wars, and world peace should be standard equipment on any planet we inhabit. That being said, what better way to dish out the smack down of freedom and groin-throbbing machismo than to shove a HEMI engine into a SUV and slap on tires as wide as most people's hips? Everyone knows what the Jeep brand brings but this model casts out most of what the stereotype is, and carves a whole new persona from the bones of the Grand Cherokee (reviewed here).
Fiat-Chrysler's Street and Racing Technology (SRT) team is the brains behind this Frankenstein's monster of a vehicle. Shoving in a throaty 6.4-liter HEMI V8 engine that generates a staggering 475 horsepower and 470 lb-ft. of torque seemed obvious, but then the SRT team coupled it with an eight-speed automatic transmission (yes, you have paddles too) and an all-wheel-drive system to move this massive behemoth around.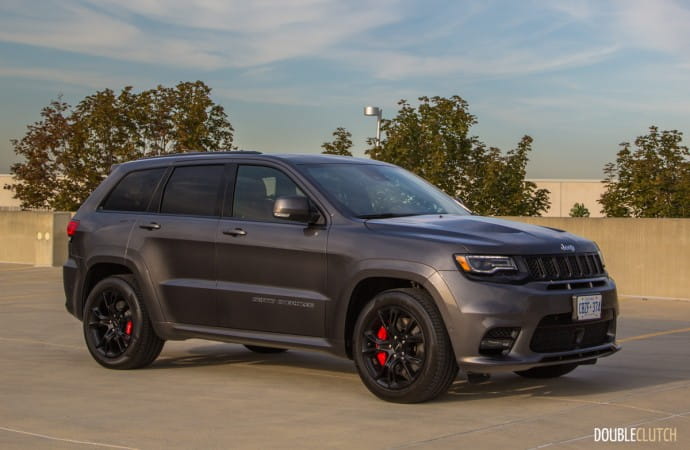 This ballsy move pays off by allowing this 5,200 pound vehicle to motor to 100 kilometers per hour in just 4.8 seconds with hardly a squeal. Every ounce of power is being sent through all four 295-millimeter-wide Pirelli P-Zero performance tires to simply grip and go. This Grand Cherokee will get up right in your face and crush the hopes and dreams of more than a few sports cars out there. On the downside of all this tour-de-force is that this vehicle is rated for 18.3L/100km in the city and 12.6L/100km on the highway. In my week with it, I could only muster 16.2L/100km combined, with 70% of the driving done in the city. Power comes at a price as usual, even though this V8 has cylinder deactivation mode.
"But does it handle?" you retort. Along with the P-Zero tires, the Cherokee is decked out with a firm but somewhat-compliant SRT suspension. This thug of a vehicle is capable of dishing out crushing lateral G-forces in the twists and turns to the point of user revulsion. Body roll is eerily minimal given the height and ride, and weight transfer is progressive and predictable. The optional Brembo brake kits on the SRT allow it to come to a dead stop from 100km/h in just 35 meters. This Jeep is a prime example of where the car's limits are considerably higher than most drivers' capabilities. Combined primal feelings of fear and arousal are likely key factors in any person's (sane or not) desire to push this vehicle's limits.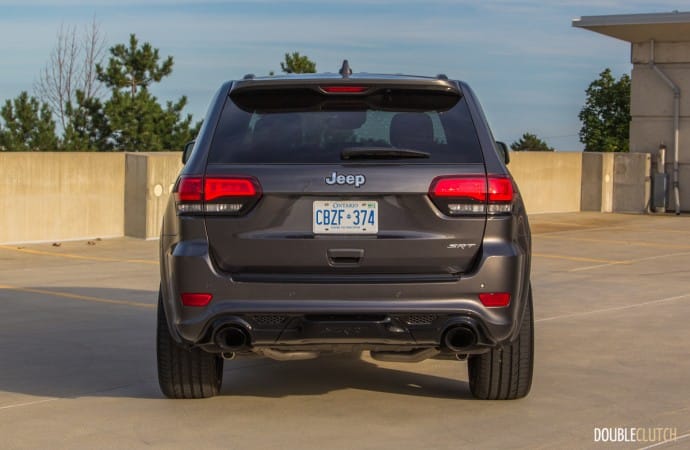 As bonkers crazy as the engine, transmission and suspension all are, the vehicle's exterior appearance is very subdued and almost plain. Aside from the bright red Brembo brake calipers on top of slotted rotors peeking out through the wheels and the massive exhaust pipes in the back, this SRT Cherokee is extremely stealth when standing afar. Go up a little closer and you'll find cracks in the stealth appearance: SRT logos in a few key places plus a massive vent tucked into the front of the hood. This vent is fully functional and its workload is quite visible when stuck in traffic on a hot day and the faint shimmering of all that heat the engine is dumping out can be seen. Run along the rear diffuser and the faint SRT logo can be seen on where one would normally be hooking on a trailer. Should you choose to do so, this vehicle is rated to tow up to 7,200 lbs.
"Fine, but is it actually good to daily drive?" you mumble in a wavering defence. The cockpit of our test vehicle was decked out in the optional Signature Leather-Wrapped Interior Package, which meant that all seating surfaces were wrapped in supple crimson red Laguna leather with a SRT logo embossed on the front seat backs. These seats are very comfortable and make for a good road trip which further adds to the Jekyll/Hyde complex of the Jeep's identity. The steering wheel is beefy, allowing for most hands to grip with confidence.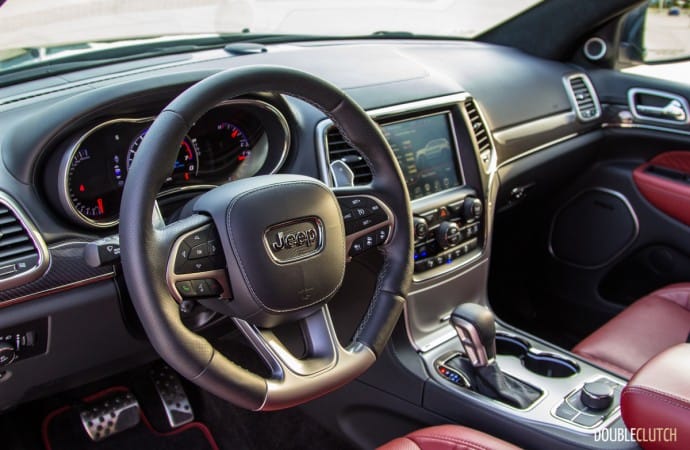 Plenty of Alcantara lines the pillars and roof, which adds a softness to the entire cabin and likely doubles as sound insulation since the cabin is extremely quiet and serene when commuting in bumper-to-bumper traffic. Turn on the 19-speaker optional Harman-Kardon audio system and the cabin floods with music with the 8.4″ UConnect touchscreen infotainment system. Bluetooth audio and telephone connections are standard as is compatibility with the Siri virtual assistant on iPhones, but Android Auto support is nowhere to be found. 
The instrument cluster is a combination of two analog gauges with a center mounted tachometer inlaid with LCD display. Slightly aggravating is the speedometer to the left of the tachometer which is roughly half the size with speed digits in a font that is practically illegible from normal driving position. Luckily, the LCD display can be toggled to show speed in the same size as the tachometer digits, but why put an unreadable speedometer especially in a vehicle that can get to illegal speeds as easily as this?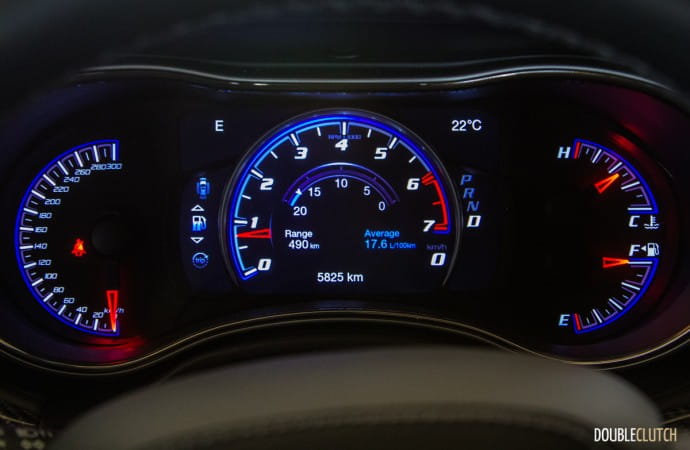 The rest of the cabin is thoughtfully laid out with window buttons, volume knobs and HVAC controls all in nice chunky dials which make for easy-to-locate and use even with heavy gloves. The armrest, whilst a little firm for my liking, is supportive and swallows up a considerable amount of gear when opened up. While this vehicle has an all-wheel-drive system, it does not have true 4×4 functionality and rightfully so, given that it is realistically a muscle car in SUV clothing. It does come with a handy dial down the center console that adjusts the suspension, steering wheel, stability control and transmission for various conditions and allows you to switch between presets of Track, Snow, Sport or Tow mode or allow the computers to make the decision in the ubiquitous Auto mode.
The sunroof spans beautifully from the front seats through to the rear seats which are comfortably spaced even for tall rear passengers, and headroom is a non-issue. Further adding to the luxuries of this tester was the optional Blu-Ray system with dual LCD screens (mounted on the rear of the headrests of each front seat), wireless headsets and a remote. There is even a 120 volt outlet for rear passengers to plug in other devices. Behind the rear seats is a cavernous trunk space that can easily swallow 1,027L of cargo. For the more practical buyer, that's at least four large suitcases piled two by two high with room to spare!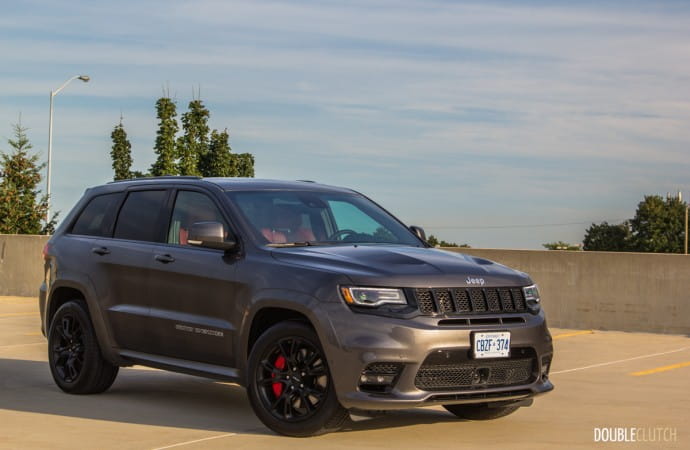 This trim of the Jeep Grand Cherokee rocked in at a MSRP of $91,235 as tested. Bear in mind this is up from the base price of $72,195 by tacking on the optional Granite Crystal Metallic paint ($195), rear entertainment center ($2,150), leather package ($6,995), SRT high performance audio package ($1,995), Brembo brake kit ($1,295), dual-pane panoramic roof ($1,695) and the forged wheels ($995). I would highly recommend the Brembos and forged wheels which are a steal for those price options.
Considering this vehicles performance, its natural competition would be the Jaguar F-Pace S (reviewed here), Mercedes AMG GLE 63, Range Rover Sport Supercharged, and the insane BMW X5 M. Notice the names of the competitors? That's right, you're now paying premium brand taxes which means considerably less value per dollar and upon closer inspection, less performance in some cases as well.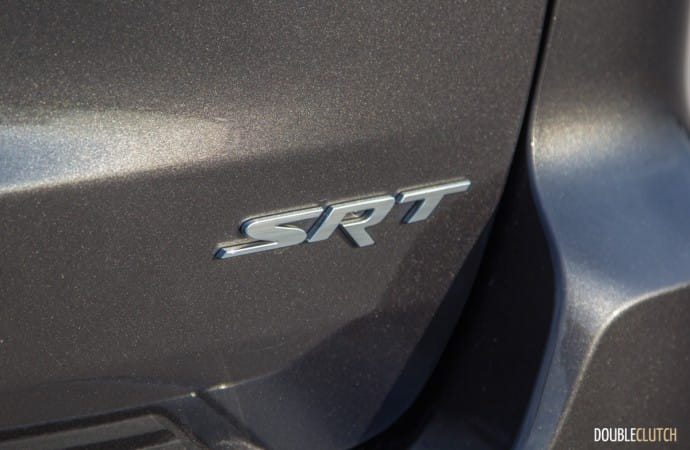 Fiat Chrysler has packed an insanely high-performance package with ridiculous value and the normal sacrifices that come with such power. For the literal high-power dad or executive, this vehicle makes an enticing choice given its balance of functionality, understated looks and brute force. Oh and it certainly carries the kids to and from soccer/hockey just fine as well. If you're in the market for a heavyweight fighter of a vehicle, it'd be an incredible error to overlook Jeep's hidden gem in the Grand Cherokee SRT.
See Also:
2017 Jaguar F-Pace 35t R-Sport