Offering a great deal to the buyer who values sporty driving dynamics and a legitimate athletic pedigree.
An entry point into the Porsche lineup, the Macan, introduced to Canadians in 2014, has been welcomed with plenty of popularity. The all-turbocharged lineup has plenty of choices, including the mouth-watering GTS (reviewed here) and the range-topping Macan Turbo. Many Porsche buyers opt for highly optioned cars, but there is something to be said about a value-oriented model designed with costs in mind and attempting to deliver similar levels of luxury, with the sporting pedigree of the brand. We picked up the keys to a 2017 Porsche Macan, in near base trim, to sample for a week-long test.
I've always been a huge fan of the Macan's styling, even moreso than its larger brother, the Cayenne (reviewed here). The Cayenne has always been reasonably attractive, but the combination of a two-box crossover design with the Porsche design language fits the Macan far better thanks to its 8cm shorter overall height. The base Macan still gets 18" wheels, though it's a style unique to this trim level, along with dual exhaust outlets and LED taillights. Bi-xenon headlights are part of an optional package, though LED daytime running lights are standard issue, along with fog lights.
The biggest differentiator for the base model Macan is the four-cylinder engine. Rather than employ turbocharged V6 engines like the higher trim levels, this example uses a version of the Volkswagen AG 2.0L inline four-cylinder. It's still turbocharged, but in this application it's longitudinally mounted. It puts out 252 horsepower, peaking between 5,000 and 6,800RPM, and 273 lb-ft of torque, available between 1,600 and 4,500RPM. This will pull the Macan to 100km/h in 6.7 seconds, though this test vehicle was equipped with the optional Sport Chrono Package that drops this time to 6.5 seconds.
Whereas other vehicles with this engine employ regular seven-speed S-tronic or DSG transmissions, or even the ZF eight-speed, Porsche remains unique in the sense that their PDK dual-clutch automatic is the only available gearbox. PDK, short for Porsche Dopplekupplung, is simply the best dual-clutch unit on the market. Shifts are lightning quick regardless of whether the car is in automatic or manual shift mode, and the transmission livens up the engaging nature of the Macan in general. There are also Sport and Sport Plus modes that adjust throttle response and shift points accordingly, but I found it ideal to leave the car in its standard setting on most occasions.
All-wheel-drive is standard in Canada, and when equipped with winter tires, the Macan will be pretty unstoppable. Engine response is sharp and linear, with only minimal turbo lag present. At any given time, the Macan feels like it's delivering more than its 252 horsepower, and it's quiet enough so it's not all that obvious that it's a four-cylinder, either. Unsurprisingly, the steering is all Porsche, with quick reflexes and well-managed body control even over pothole-ridden streets within the downtown core of Toronto. When cornering, body roll is minimal, and the meaty tires on optional 19″ wheels kept the car planted and ready to take on-ramps spiritedly if so desired.
Porsche gives the Macan estimated fuel economy ratings of 9.3L/100km on the highway, and a combined 10.6L/100km. The massive 75L fuel tank is reminiscent of the Audi Q5, meaning plenty of distance can be covered without needing to refuel, a benefit for those long road trips. Over my test of about 550km, I drove the Macan through a variety of scenarios including longer highway runs and in-town city driving. I averaged 10.8L/100km on 91-octane premium fuel. Given Porsche's recent trend towards their E-Hybrid fuel-sippers, I wouldn't be surprised to see a Macan E-Hybrid showing up in the next year or two, though nothing official has been confirmed yet.
The interior is Porsche-grade, with a perfect driving position for a crossover, easily found using the standard eight-way power seats. The center stack is full of buttons, but once everything has been found, it's very easy to remember where commonly used controls are located. The seats themselves are very comfortable, with Alcantara inserts and standard heating. A heated steering wheel is also standard equipment, along with three-zone climate control, a reverse camera with front and rear park assist, and Lane Departure Warning.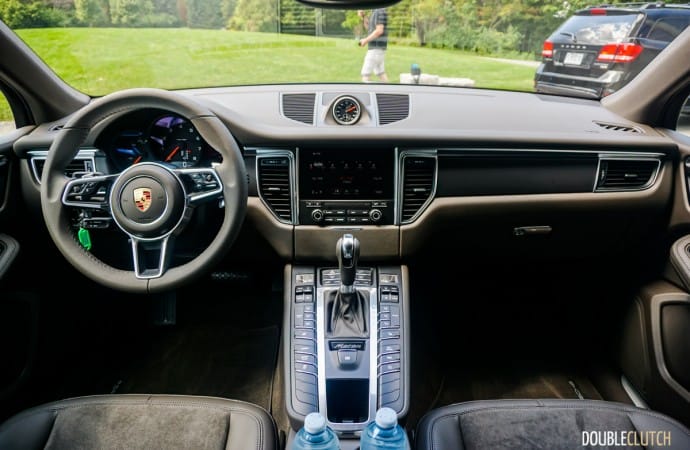 Infotainment is toggled using Porsche Communication Management, and its latest version is the best yet. The screen is brilliant to look at, very responsive to touch inputs, and fast when browsing playlists. Navigation is optional, though there is a hard button for it and the "Navigation not available" message is a bit of a reminder that you skimped out on some packages. It would be nice to see a different application of PCM without this for models equipped without nav. On the plus side, the touchscreen is a matte finish, resists fingerprints nicely, and is also clearly legible even in direct sunlight.
Visibility when driving is pretty good too, with excellent sightlines all around. For a sports crossover that has clearly prioritized styling, it's a refreshing change to actually be able to see out of the rear. A panoramic sunroof is optional, something we would have liked to see added, but it's part of a package that most Canadian buyers will opt for. Despite the base price of $52,700, the Premium Package Plus, which brings the sticker to just over $60,000, is the one you want. This will add the panoramic sunroof, ventilated front seats, Bose audio, and an intelligent key. Our test vehicle was optioned to the tune of about $57,000, with the Sport Chrono Package and 19″ Macan Turbo wheels ticked off.
The compact luxury crossover segment is rapidly growing, and with huge players like the Mercedes-Benz GLC (reviewed here) and the new Jaguar F-Pace (reviewed here), it's almost as if no poor choice can be made. The 2017 Porsche Macan offers a great deal to the buyer who values sporty driving dynamics and a legitimate athletic pedigree, something that none of the others offer. The new Mercedes-AMG GLC 43 will hold its own against the Macan with its boosted V6, and will offer a bit more interior space, but simply won't handle as well as the Porsche. It's a good time to be crossover shopping, and Canadians will soon be snapping up this model like hotcakes. Those who want to stay ahead of the curve – this is your car.
2017 Porsche Macan Gallery
See Also:
2016 Mercedes-Benz GLC 300 4MATIC