DENVER, COLORADO – In the race to build compact crossover utility vehicles (CUVs), just about everybody has been throwing in the proverbial kitchen sink in order to get a leg up on the competition. Aggressive (read: shorter) product life cycles and more than one mid-cycle update means things are serious. If you don't have a strong offering in the compact crossover segment, how does the automaker expect to make any money? Products like Honda's CR-V (reviewed here) and Mazda CX-5 (both just released this year) chase the volume customer in their own way – the former with progressive powertrain technologies, interior packaging, and value for money, and the latter with upscale design, inside and out, and class-leading driving dynamics (with the enthusiast in mind).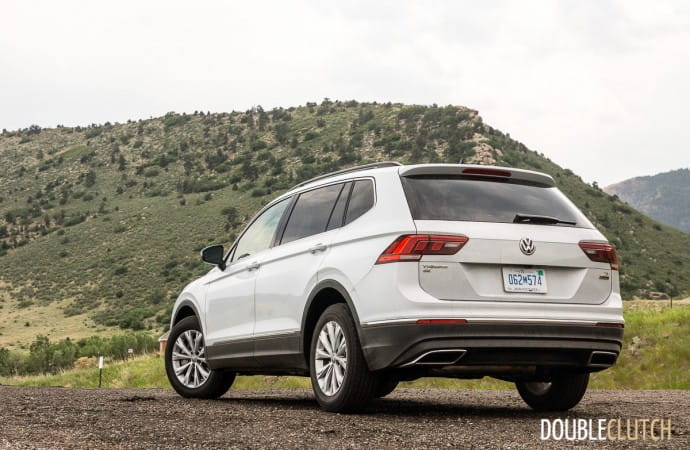 Volkswagen's Tiguan CUV has long been an attractive little "cute-ute", but if you look at some of its details, you'll see that it dates back to essentially the Mk5 Golf and Jetta platforms – back when both of those cars were still much closer in DNA. A CUV that dates back to 2007 is definitely old in the tooth, considering what everybody else has been doing. However, it did have the premium design and feel associated with "semi-premium" VW products are known for, and the agreeable styling helped keep sales afloat. In other words: it still managed to sell simply because it was a "right-sized" CUV that happened to look and feel nice.
The 2018 Volkswagen Tiguan finally gets a ground-up overhaul, joining the new "MQB" (Modular Transverse Matrix, in English) platform, which brings along a great number of benefits – both for VW and for consumers alike. The common platform is the basis for many of the Volkswagen Group's products, from the Golf, to the big Atlas SUV, and the Audi TT sports car. The Tiguan borrows those genes, and allows Volkswagen to spread out development costs, and take advantage of the latest premium engineering that spans a significant part of the overall automotive landscape. Volkswagen flew us out to Denver, Colorado to check out and dive deep into the all-new Tiguan.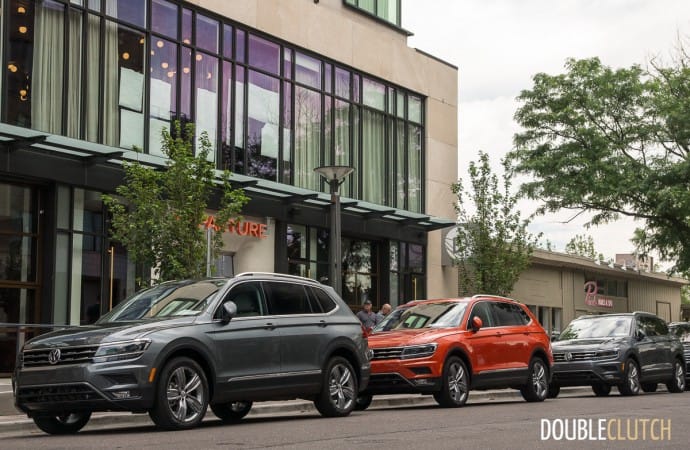 Like with the Atlas, VW sought to increase physical size as a good way of differentiating its products from the rest of the crowd. As a result, the new VW Tiguan is a whopping 270mm longer than the outgoing model (now up to 4701mm overall), and the longer wheelbase (up to 2790mm) allows for significant gains in second-row occupant knee room. What's interesting: the new Tiguan is actually available in two wheelbase lengths – the long-wheelbase variant is what's being brought to North America. The big news is the availability of a third-row bench, bumping capacity to seven passengers. While this third row looks good on paper, consider it a strict "emergency only" third-row. We suspect some buyers will want it simply for the "just-in-case" scenarios and peace of mind. VW themselves calls it a 5+2, rather than a full seven-passenger vehicle.
In terms of exterior styling, the new Tiguan features a more squared-off overall appearance, somewhat similar to the full-size Atlas. Some of the design elements on the larger brother seem to better work on the smaller Tiguan. Grey plastic cladding adds some visual contrast to the sides, and the wheelbase stretch really makes itself known if you look at the Tiguan, old and new. LED headlights are available on the fully-loaded Highline trim, though all versions get LED taillights (a situation reversed on the Atlas). Inside, premium and clean design is the clear intention, and VW's traditionally-strong phone connectivity options make another appearance. One nifty feature is VW's "Digital Cockpit", which is technology borrowed from Audi's Virtual Cockpit. The entire instrument cluster becomes a LCD screen that can be configured to display various real-time data, including navigation (if equipped), as well as entertainment status.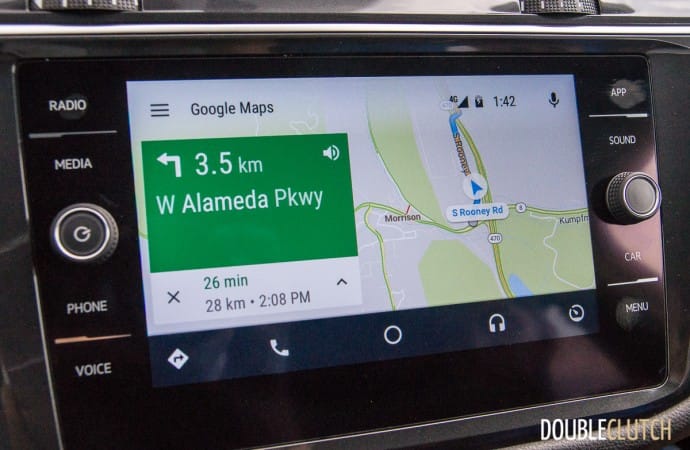 Under the hood, lives another version of VW's workhorse four-cylinder engine, this time called EA888 Gen3B. Displacing 2.0L, it utilizes direct injection and a single-scroll turbo to produce 184hp at 4400rpm and a hearty 221lb-ft of torque from 1600-4300rpm. VW geeks may point out that this engine actually produces less horsepower than in the previous Tiguan (200hp), but the torque figure is up, which matters more in the real world. Want some more good news? The 2.0L TSI engine in the new Tiguan is tuned to take regular 87-octane fuel – the previous engine asked for premium juice, yet it still produced less torque. What's changed for the Gen3B engine? It subtly changes up the traditional four-stroke Otto combustion cycle, by way of the Budack Cycle. This methodology closes the intake valve quite a bit earlier in the compression stroke, which helps improve the air-fuel mixture in the cylinder.
Power is sent to the front wheels by default through an eight-speed automatic transmission. VW's 4MOTION all-wheel drive system (based on a fifth-generation Haldex system) continues to be available, and we suspect most Tiguans available in Canada will be equipped this way. Under steady-state cruising, the 4MOTION system disconnects the rear axle from the driveline, reducing drag when you don't need the additional traction, and is able to spin up the rear axle quickly as needed.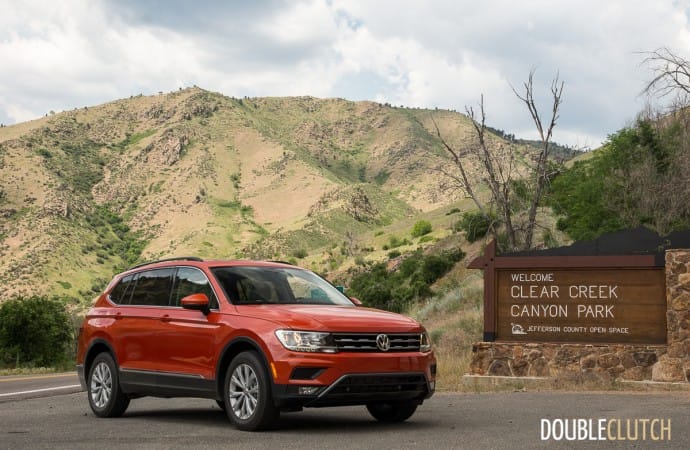 First impressions behind the wheel of the new Tiguan suggests a super-versatile crossover that a huge leap over the outgoing Tiguan. Most of this can be attributed to it simply being new, compared to the ten-year run that the old Tiguan was around for. The 2.0L engine comes onto full power fairly quickly, with just a hint of turbo lag. The eight-speed automatic smartly clicks through all the gears, and settles down to a gentle cruising speed – under 2000rpm at highway speeds. It feels better than the Golf Alltrack we've tested, thanks to the additional torque and wider gear spread offered by the eight-speed automatic transmission. We trekked out to the Rocky Mountain range just outside Denver to hit up some on and off-road courses, and the sheer elevation at times would see the turbocharged engine huffing and puffing for air. Some high-load situations saw the instantaneous fuel consumption readout max out at 5mpg at times, which translates to over 47L/100km! A comparable non-turbo engine would figuratively fall flat on its face, as it isn't able to take in as much air as it gets thinner.
When it comes down to numbers, Volkswagen Canada has not yet released pricing, but expect it to be competitive with the meat of the compact crossover segment (between $30,000 and $40,000). We also expect to see three Canada-specific trim levels: the base Trendline, mid-range Comfortline, and top-end Highline. Even the base Trendline is well equipped, with items such as 17-inch aluminum wheels, Android Auto and Apple CarPlay integration (which gives you satellite navigation, if supported by your mobile phone), Bluetooth, automatic headlights, and a handful of other items.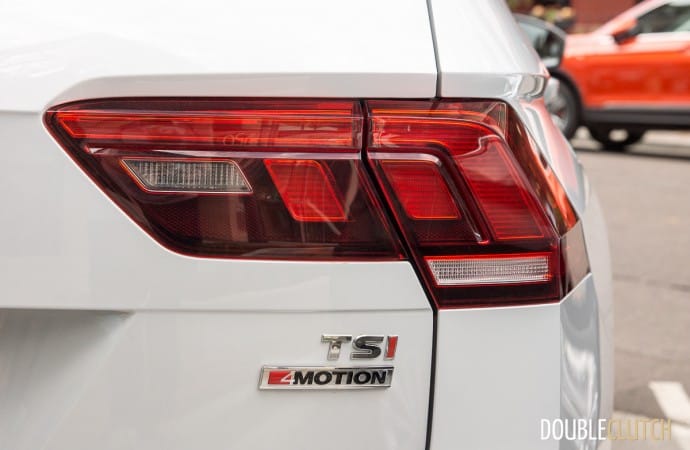 The mid-range Comfortline adds standard 4MOTION all-wheel drive, driving lights, panoramic sunroof, leatherette seating surfaces, keyless access, dual-zone climate control, and more chrome all around. We expect this Comfortline trim to be the volume model in the range. The fully-loaded Highline adds the aforementioned LED headlights, 18-inch wheels (with an optional 19-inch wheel coming later), premium Fender audio system, and the snazzy Volkswagen Digital Cockpit.
Fuel efficiency numbers have been released, however. In the city, the Tiguan with 4MOTION all-wheel drive is rated at 11.3L/100km, 8.8L/100km on the highway, and 10.2L/100km in a combined cycle. As mentioned before, the new Tiguan is more than happy to run on regular 87-octane fuel, and an idle start-stop system is included on all trims.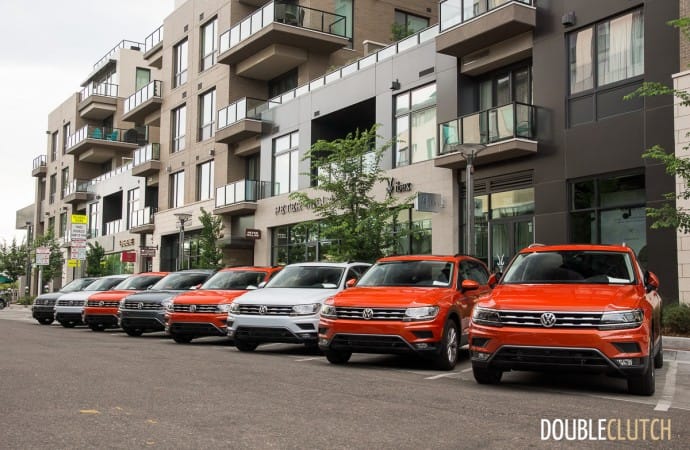 Bringing the 2018 Volkswagen Tiguan into the MQB family is the best thing that has happened to the nameplate, and it was a move that was sorely needed – four years ago. Even with current events keeping Volkswagen very busy, they have managed to keep their best engineers working on expanding the empire that is MQB. The generous size of the Tiguan lets VW stand out from the pack – somewhat. If you want to look at it negatively, you can consider the new Tiguan a good case of feature creep, but from the average consumer's point of view, the overall value for money factor is a win that is hard to ignore. Depending on how much of an enthusiast you are, VW's Golf Alltrack (reviewed here) may make more sense, but it doesn't have the trump card that the new Tiguan has: three-row seating – regardless of how tight it is. We look forward to getting our hands on the Tiguan during one our usual week-long road tests for more detailed impressions.
First Drive: 2018 Volkswagen Tiguan Gallery
See Also:
First Drive: 2018 Chevrolet Equinox