As warmer weather rapidly approaches, an umpteen number of nice cars and summer toys will hit Canadian roads for the summer driving season of 2017. These cars range from convertibles, to motorcycles, to more exotic and expensive options far beyond the reach of many. With such a small window to operate in, a buyer's choice needs to count, and with the possibility of year-round winter operation, a toy doesn't always need to get relegated to summer use only. With the 2017 Mazda MX-5 RF – the RF stands for Retractable Fastback – Mazda has added a more practical (and arguably sexier) variant to the MX-5 line of roadsters.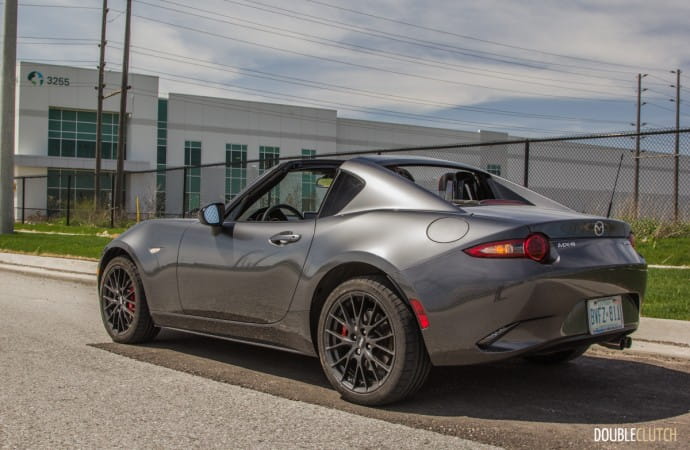 As huge fanatics and enthusiasts of the entire Miata/MX-5 lineup going all the way back to the original model from 1990, it was only fitting that a long term test of the MX-5 RF be conducted while the car was still hot and fresh this summer. We snagged this beautiful Machine Grey example in GS trim, complete with the $4,400 Sport Package. With red Brembo fixed four-piston calipers for brakes, 17-inch BBS dark forged alloy wheels, and heated Nappa and Alcantara-finished Recaro seats, it's the perfect piece of kit for the weekend corner carver. All told, the as-tested price came out to $43,500, or about $3,300 more than a similarly equipped soft-top MX-5.
If one chooses to liberate that bit of extra money from their wallet, they'll be left with a drop-dead sexy roadster, with flying buttresses on the C-pillar (no, it's not a Chevy Avalanche) in what is one of the hottest designs for 2017. The power top can be operated in twelve seconds and at speeds up to ten kilometres per hour. With the hardtop up or down, rearward visibility is sacrificed compared to soft-top equipped cars, and the MX-5's lack of a rear camera doesn't help. Either way, it's a small price to pay as form over function on the RF.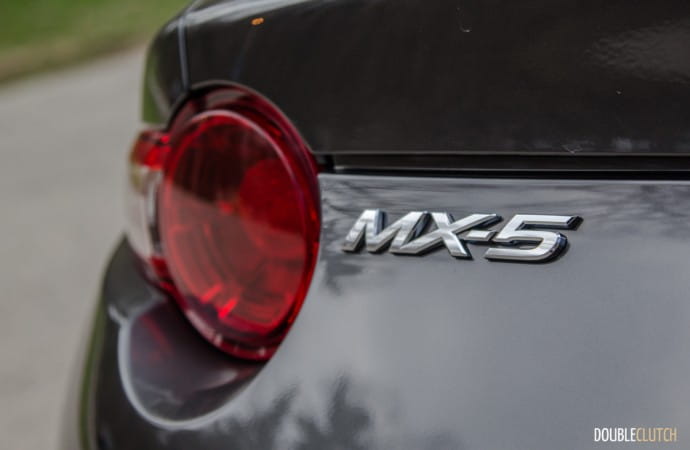 In the handling department, the DoubleClutch.ca Magazine team has teamed up with Michelin Canada once more to deliver some tire testing in addition to evaluating the MX-5 RF. For street, autocross, and track use, a set of 205/45R17 Michelin Pilot Super Sport was outfitted to the long-term tester. While the new-for-2017 Michelin Pilot Sport 4S is supposed to be the PSS' successor, it's not (yet) available in 17-inch sizes. In any case, the sticky Super Sports should be very well up to the task of performance driving while retaining comfortable and quiet road manners in daily driving.
After having the tires mounted by our friends at Burning Rubber Tire and Speed in Oakville, Ontario, the first road impressions of the tire are definitely living up to the expectations. Steering response is sharp, grip levels are very high, and the noise levels are akin to that of a much milder tire. The MX-5's handling balance is definitely tuned to lean more towards some oversteer at the limit, and the Michelins haven't changed that. Expect to see the RF tearing up local autocross events in and around the Greater Toronto Area, as well as lapping and instruction days held by the Pinnacle Advanced Driving Academy at Toronto Motorsports Park in Cayuga.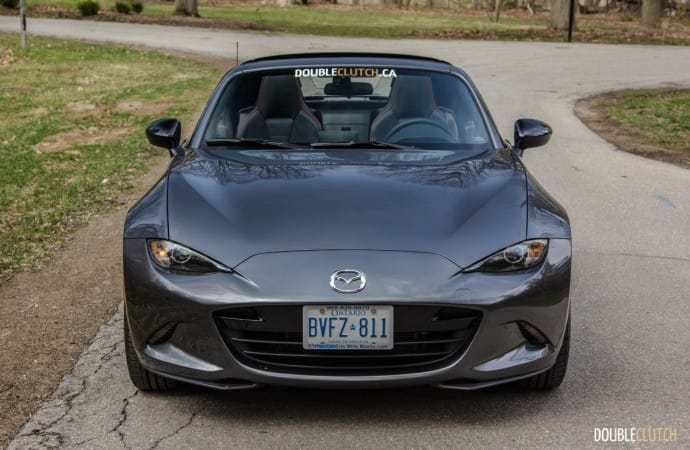 Powering the MX-5 RF is the same 2.0-litre, 155 horsepower SKYACTIV inline four-cylinder engine in the soft-top model. While it won't win any awards for sheer acceleration, it's certainly adequate and easily satisfies the adage that it's more fun to hustle a slower car quickly than it is to hustle a faster one slowly. The spring to 100 kilometres per hour is still done in less than seven seconds, so it's no slouch; power delivery is smooth and throttle response is excellent. The naturally aspirated liveliness is definitely a welcome characteristic in today's age of fast-on-paper but dull-personality turbocharged engines. The slick-shifting six-speed manual gearbox is also a real treat, with close ratios and perfect pedal placement for heel-toe downshifting.
So far, even after only a short time in the DoubleClutch.ca Magazine garage, it's shaping up to be a great summer with the 2017 Mazda MX-5 RF GS Sport. With all of the makings of a fun and dynamic machine, the return on the smiles per gallon will be very high on this little attention-grabber. Expect more updates in the coming weeks as other members of the team weigh in on their impressions of this car. Combined with the Michelin Pilot Super Sport tires on test with Michelin Canada, we will be able to weigh in with a little more detail than the usual one-week test period for most press cars. Exciting times lie ahead!
Long-Term Test Introduction: 2017 Mazda MX-5 RF