The reality of today is that most consumers who want more space than a sedan are gravitating towards the crossover. The "save the wagons" movement is popular among enthusiasts and purists, but the traditional station wagon is slowly becoming extinct. Every single global auto show sees the reveal of at least one new crossover or sport-utility, and often the absence of once-loved station wagons. The Europeans are thankfully and stubbornly holding onto their roots, and even launching new products such as the Volvo V90. Things are no different with the vehicle tested here, the all-new 2017 Audi A4 allroad quattro.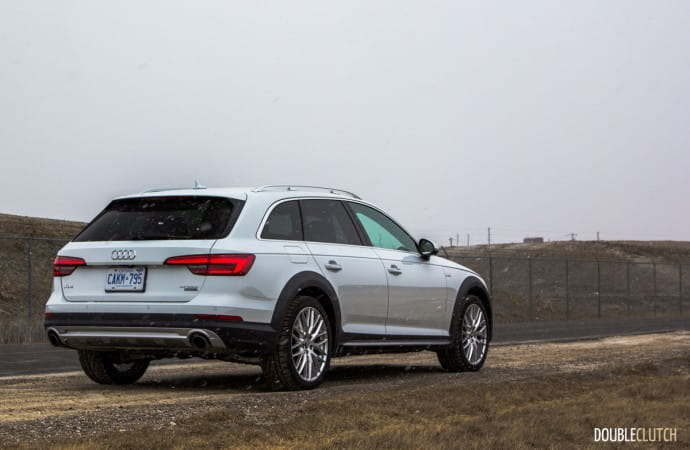 Subjective but somewhat universally liked, the A4 allroad (intentionally lowercase) is a thing of beauty. In North America, it's the only way to get a current A4 in station wagon form, as the Avant is not sold here. The allroad is a very attractive car, essentially an evolution of the outgoing model (chassis B8). Contrast body cladding goes right across the bottom of the car and over the wheel wells, making for an adventurous effect. This isn't unlike the Volvo V90 Cross Country (reviewed here), either. LED headlights are crisp and provide excellent visibility. Our S-Line test vehicle was wearing winter rubber around some sexy 19" wheels.
With no diesel currently offered in North America (for obvious reasons), the only engine choice for A4 and A4 allroad buyers is the 2.0L TFSI motor, a turbocharged inline four-cylinder that's inarguably one of the best boosted fours available today. It has been refined and updated over the years, and output is now 252 horsepower at 6,000RPM and 273 lb-ft of torque at 1,600RPM. Power delivery is very, very smooth and the motor has plenty of refinement. There is some turbo lag, but the power curve is more entertaining than BMW's 2.0L turbo four (reviewed here).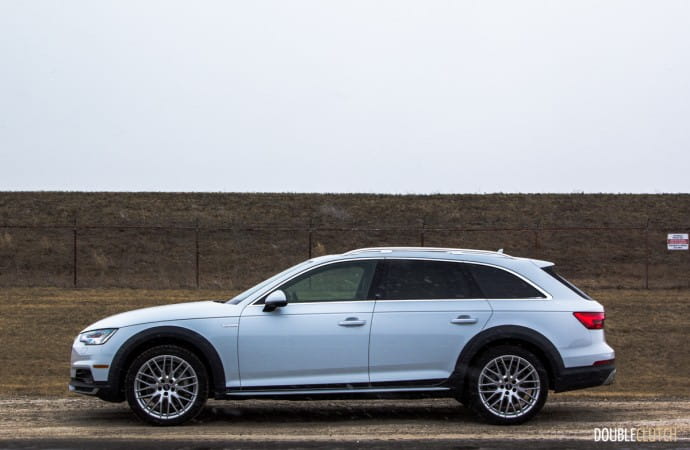 Other rivals such as the Volvo V60 Cross Country and BMW 3-series Touring (reviewed here) offer eight-speed automatics, though Audi has chosen the sportier path. The only available transmission in North America is the snappy S-tronic seven-speed dual-clutch automatic. It pulls off lightning-fast shifts and is faster to react than any eight-speed, and can also maintain low RPMs while cruising on the highway. The result is one quick wagon that, when in the "Sport" setting, makes a confidence sound on upshift and downshift alike. The A4 allroad weighs 150 pounds more than the A4 quattro (reviewed here), but the additional weight is barely noticeable.
There's a new all-wheel-drive system on this A4 allroad, and it's a fancier version of Audi's existing setup, branded "quattro ultra", sourced from Magna. Yes, it's all lowercase, because that's how the Germans want it done. The ultra setup can completely de-couple the rear driveshaft, thanks to two clutches built into the system. This saves fuel (up to 0.3L/100km overall) by keeping the car front-drive unless slip is detected. If required, quattro ultra can engage full all-wheel-drive in just fractions of a second. This is a full-time system and there are no buttons or switches to control it. All allroad models sold in Canada include this technology.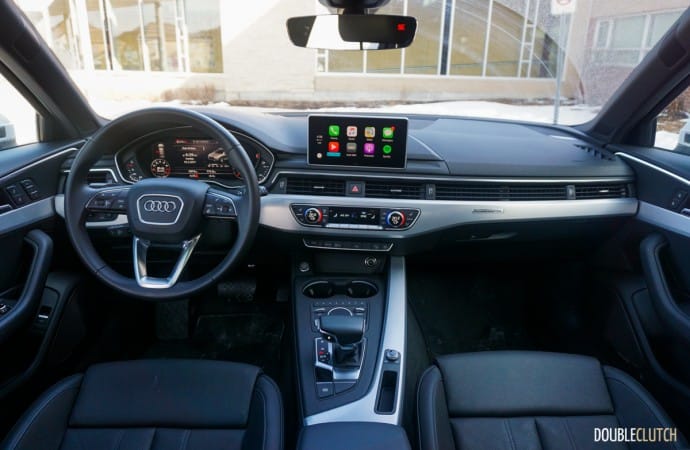 Steering is electrically assisted, but the A4 remains one of the most responsive cars in its segment. When the Audi Drive Select is set to "Dynamic", the station wagon is quite a bit of fun to drive. The speed-sensitive steering tightens up response when driving at higher speeds, rendering it satisfying to push the A4 allroad around corners. It loosens up when putting around the parking lot, so quick maneuvers and parallel parking are all easy. Suspension is firm enough to minimize body roll and keep the car composed nicely when on the highway.
Audi rates the A4 allroad at 10.2L/100km city and 8.3L/100km on the highway, for an average right around the 9.0L/100km mark. Our test observed fuel mileage slightly better than the estimate, seeing as low as 7.9L/100km even in extremely cold weather. Overall consumption after about 700km on this vehicle returned a commendable average of 10.4L/100km on premium 91-octane fuel. Curiously, the tank capacity is only 58L, which is a lot smaller than expected for a mid-sized station wagon.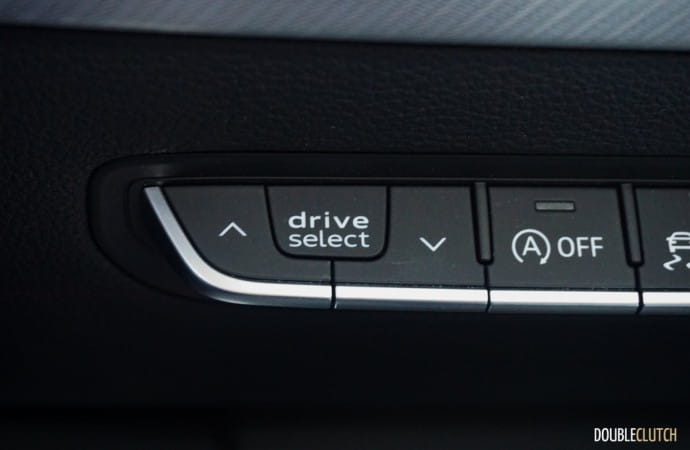 By no means is the A4 allroad a real off-roader, but the Drive Select does differentiate it from the regular A4 with an "Offroad" setting. This setting alters the all-wheel-drive system, suspension settings, steering, and transmission response for optimal performance when jaunting down that back road to the cottage. The A4 allroad has 23mm extra ground clearance over its regular counterpart, 32mm if on the standard all-season tires (our test vehicle rode on winters). The suspension has a little bit of extra travel as well, should you require it.
The interior of Audi's A4 allroad is an extremely pleasant place to be. Virtually identical to the A4 sedan, the materials are all top-notch and reflect the latest in Audi's design. Build quality is very good, and while not particularly exciting to look at, everything is ergonomically correct and exactly where you expect it to be. The dashboard layout is interesting; with a design that stretches the vents from the instrument cluster right up to the passenger side door.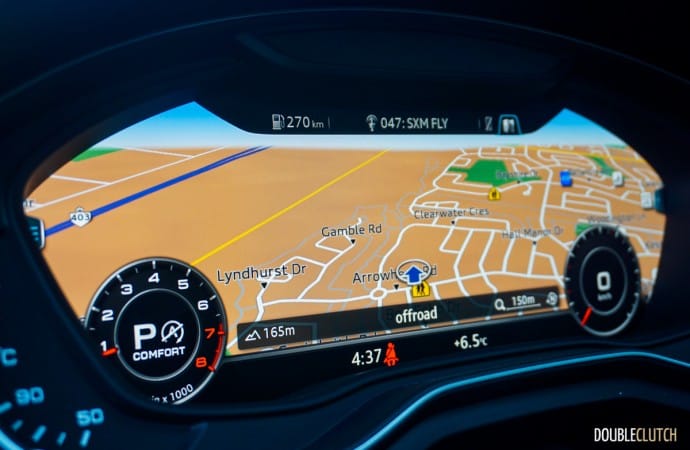 The instrument cluster features the latest version of Audi's Virtual Cockpit (reviewed here) with crisp resolution and all pertinent information right in front of you. There is also a dash-mounted screen controlled via the MMI controller, elegant to look at and simple to use. The two screens sync together nicely, and we found ourselves leaving the navigation map view on the main instrument cluster and the Apple CarPlay audio on the center-mounted screen.
Highlights with regards to technology include the addition of Audi connect for the first time in Canada. This uses an LTE module within the car to provide information such as Google-powered navigation (including Street View), news, weather information, and even fuel prices. It also incorporates Apple CarPlay and Android Auto, as well as a Bang & Olufsen sound system with a built-in Jukebox that reproduces audio with impeccable precision.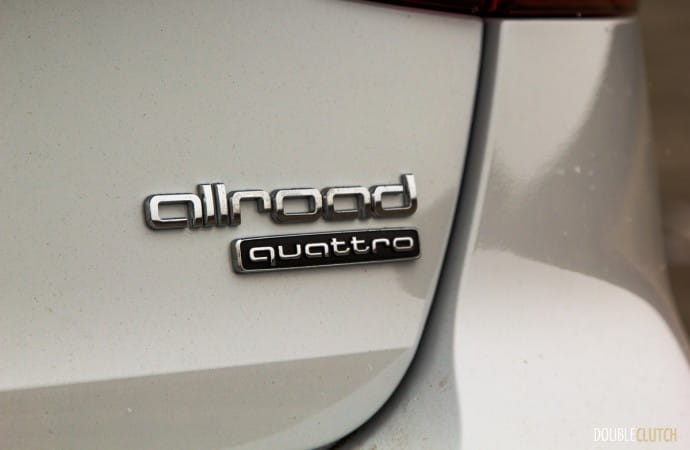 Audi prices the A4 allroad at $47,600 to start, which is a hefty premium over the regular A4's $38,500 base price. Our wagon was the top-trim Technik, which starts at $55,300. Already including most luxuries as standard equipment at this price point, there were a few additional boxes checked off. The Sport Package adds 19" wheels, aluminum inlays, and sport seats for $1,400. The Advanced Driver Assistance Package adds a bunch of driver aids including Audi pre sense and Traffic Congestion Assist, for $2,000. Audi connect is a standalone option at $520, a heads-up display is $1,000, and Adaptive Suspension is $1,000. The total sticker on our loaded test vehicle approached $65,000.
Boasting almost 60 cubic feet of cargo space with the rear seats folded, the 2017 Audi A4 allroad quattro is a station wagon of the best kind. It packs enough technology to keep millennials happy, along with the understated elegance of everything in Audi's current lineup. If you need a do-it-all vehicle that can truly do just about anything you could need, that remains unstoppable regardless of weather conditions, look no further.
2017 Audi A4 allroad quattro Gallery
See Also:
2017 Mercedes-Benz C 300 4MATIC