When it comes to open-top motoring, few nameplates have garnered greater brand recognition than the Ford Mustang Convertible. Since its inception in 1964, be it in coupe or convertible form, millions of examples of Ford's pony car have rolled off the assembly line, with every single one weaving itself firmly into the cultural fabric of America and the rest of the world. To this day, the Mustang remains a strong seller, and for this year, Ford is continuing on their success with the sixth generation model that was originally introduced for the 2015 model year. Recently, the DoubleClutch.ca editorial team spent a week with a 2017 Ford Mustang GT Convertible Premium, finished in Race Red and complimented with a Performance Package that's full of go-fast goodies.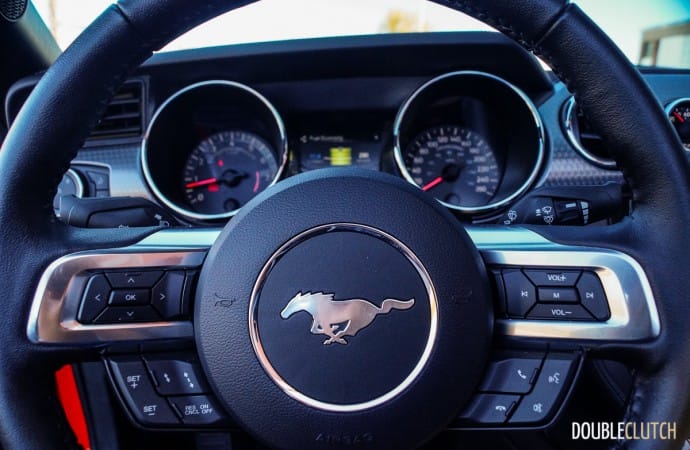 The Mustang GT Premium Convertible starts at a base price of $49,448, and is the top trim Mustang money can buy before getting into the realm of the Shelby GT350 (reviewed here) and GT350R. The Premium comes standard with heated and ventilated seats up front, a nine-speaker sound system (with subwoofer), SYNC 3 infotainment, and 18-inch alloy wheels. Mechanically, there's a limited slip differential, launch control, an electronic line lock for smoky burnouts, as well as Track Apps – which can provide countdown starts, in addition to measuring acceleration and lateral G-forces.
Options on this specific test vehicle included Equipment Group 401A, which ups the speaker count to twelve and adds Shaker branding, memory power driver's seat, HD Radio, and blind spot monitoring with cross-traffic alert. Adaptive cruise control is a $1600 standalone option, reverse parking assist sensors add $350, and adding navigation to SYNC 3 costs $800.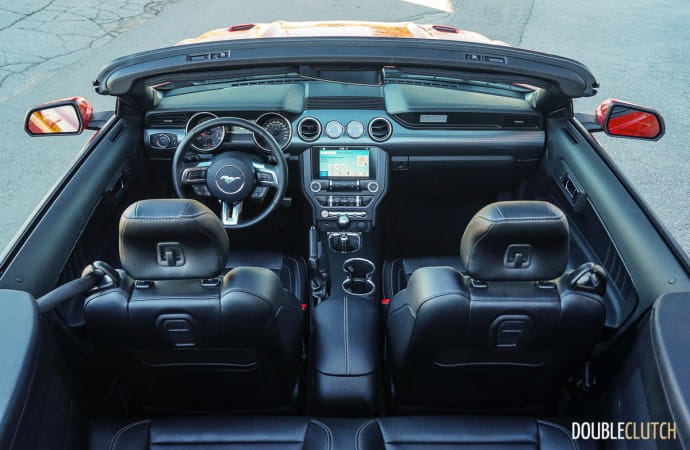 For most enthusiasts and Mustang aficionados, however, the big interest lies in the $3,700 GT Performance Package. This adds summer-only 255/40R19 tires up front, and meatier 275/40R19 rubber in the rear. The limited slip differential ratio is further shortened to 3.73:1 and is of the Torsen type, and the rear spoiler gets deleted. Below the surface, even more high performance parts are added, including a strut tower bar, under-body K-brace, larger radiator, larger front and rear sway bars, unique front springs, oil pressure and vacuum gauges, and front Brembo six-piston calipers on larger 15-inch rotors. After all is said and done, the as-tested price came out to $58,548.
To provide propulsion, the Mustang GT gets paired with a 5.0-litre "Coyote" V8 and a six-speed manual transmission (a six-speed automatic is available, but who wants that?!). Power output is a healthy 435 horsepower at 6,500 rpm, and peak torque is 400 lb-ft at 4,250 rpm. These numbers are given based on 93-octane fuel, so expect a little bit less if regular or mid-grade fuel is used. With its ample displacement and cylinder count, the five-oh pulls consistently strong throughout the rev range. It rewards drivers who dare to venture to the upper half of the tachometer with a great soundtrack and typical adrenaline rush that's defined American motoring for the last fifty-plus years.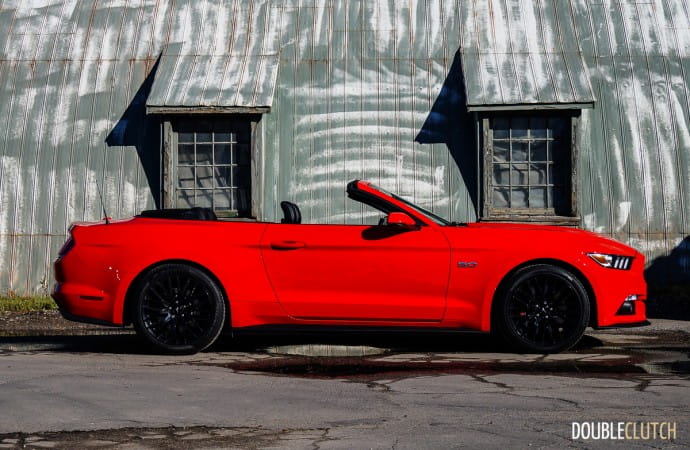 Once you drive the V8 version, there's little justification to even consider the 2.3-litre turbocharged EcoBoost four or 3.7-litre base V6 (reviewed here). Compared to its crosstown rival, the Chevrolet Camaro (reviewed here), the Coyote V8 is more refined, but isn't the same low-rpm torque monster as GM's 455-horsepower and 455 lb-ft 6.2-litre LT1 V8. One can expect the Chevy to walk away with the pink slip during a straight-line drag race against the Mustang.
Moving down the driveline, the six-speed manual transmission on the Mustang GT Premium Convertible was a pleasure to use, with short throws on the shifter and very positive, if not a bit notchy engagement. Clutch take-up was a moderately heavy, but still reasonably manageable in day-to-day driving. The 3.73:1 rear end shortens up the gears considerably – you'll be building revs quicker and upshifting sooner with this setup, especially when compared to Mustang GTs (reviewed here) without the Performance Package. Even with the big honkin' V8 and short gears, fuel economy remained respectable, all things considered. The manual convertible is rated at 16.7L/100km in the city, and 10.2L/100km on the highway. With a good amount of open road cruising, observed economy while on test was 11.4L/100km using premium fuel.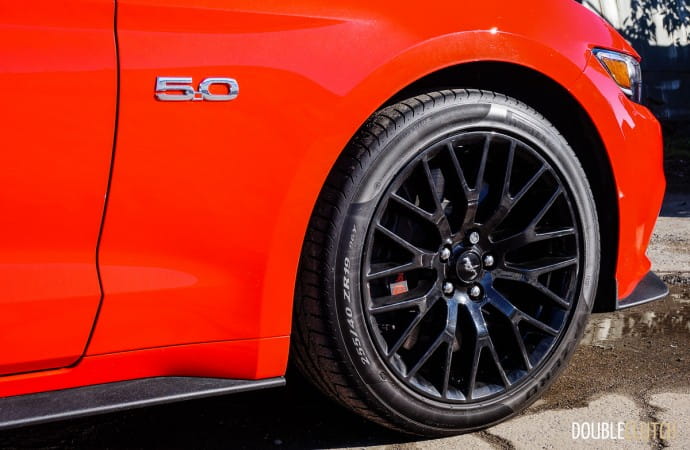 When it comes to driving dynamics and the experience on the road, the Mustang generally does not disappoint. It immediately makes itself known as a great grand touring cruiser that can eat up miles like little else on the road. The convertible roof operation is quick and easy, taking only a few seconds after manually releasing the latch above the driver's head. Wind noise and buffeting is kept to a minimum, and normal conversation with passengers won't be an issue.
However, as a convertible that's derived from a coupe chassis, rigidity isn't necessarily the Ford pony car's strongest suit, with some cowl shake and flex when going over larger bumps and undulations. Ride quality out of the Performance Package is reasonably good, and is right on the border between comfort and firmness. Handling response is also competent, but the extra weight of the convertible (just over 1700 kilograms) makes itself apparent in the twisties.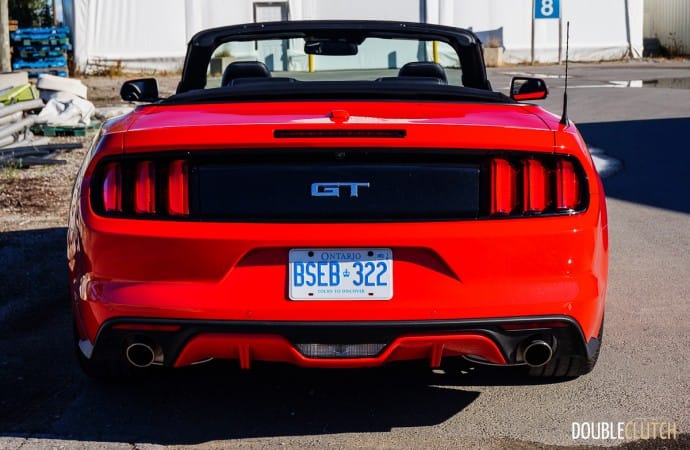 The GT convertible with Performance Package has the opposite problem of the V6 coupe tested last year. The base configuration had too little suspension for the great chassis, whereas the GT Performance Package convertible seems to have a little too much suspension for its chassis and curb weight. Bottom line – skip the Performance Package if you want the GT convertible, and enjoy the extra added comfort of a softer suspension. If you want performance, get the Performance Package on a GT coupe.
On the inside, the Mustang has a well-designed cabin, which has been par for the course in post-recession era Ford products. While there's plenty of hard plastics and somewhat cheap materials, they are laid out and shaped in such a manner that feels modern and inviting. The gauges are easy to read, and the controls are set up ergonomically well. As has been the case in the latest Ford products, SYNC 3 is wonderful to use, and is way more intuitive than the former MyFord Touch system.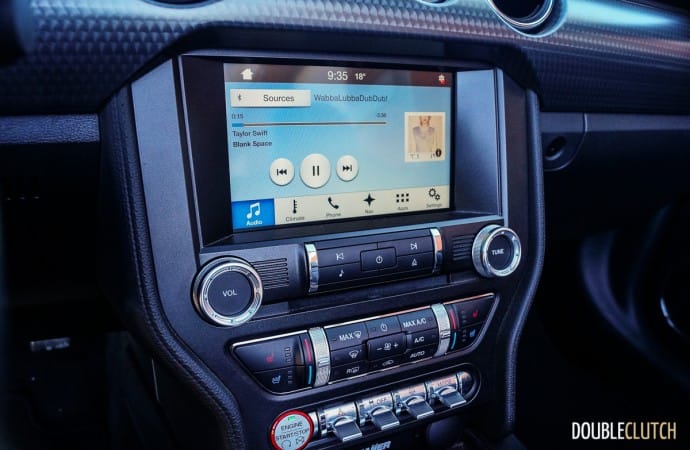 Audio quality out of the twelve-speaker Shaker sound system packs a decent amount of punch thanks to a trunk-mounted subwoofer, although clarity could still be improved somewhat. For drivers and front passengers, seat comfort is above average in the leather buckets. Rear passengers will likely find their quarters to be cramped, especially when sitting behind taller front seat occupants. This, however, is nothing new for a Mustang, and can still be a cool experience nonetheless, as long as the roof is down.
At the end of the day, the 2017 Ford Mustang GT Convertible is still very worthy of retaining its status as one of the most popular ragtops on the road. The potent 5.0-litre Coyote V8 keeps things extremely interesting, and the styling of the Mustang is as expressive as ever – there isn't really anybody who could ever consider the look to be bland. The Performance Package, while chock full of goodies that would make any car enthusiast drool, may be a little out of place on a convertible that's more suited to grand touring and long distance cruising. In any case, the Mustang Convertible very much lives up to the legacy of the original 1964 car – Ford will continue to sell a lot of them, and the North American car buying public will embrace it with open arms, just as they've done for more than fifty years.
2017 Ford Mustang GT Convertible Gallery
See Also:
2016 Ford Shelby GT350 Mustang