Like clockwork, almost every year, the entire compact sedan class is busy trying to one-up each other. In the past year, the single biggest player in the class was completely re-designed: the Honda Civic (reviewed here). It redefined the standard in this segment, by offering an astonishing amount of features and technology, innovative powertrains, and much-improved levels of refinement – almost comparable to cars in the entry-level luxury segment. How long can the Civic hold onto its #1 position?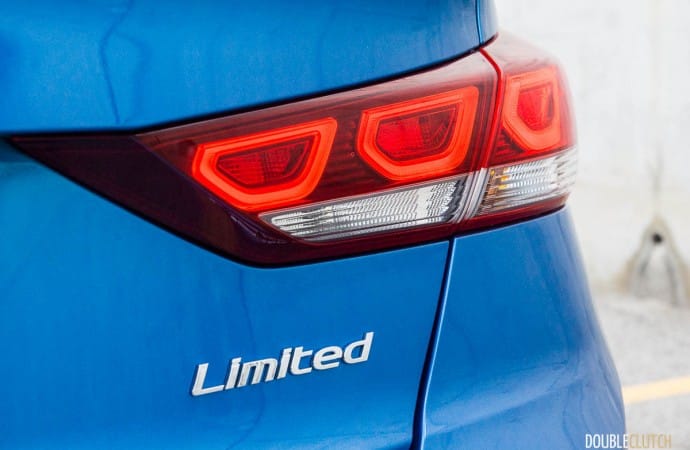 Hyundai, as always, has been hard at work, and was eager to have us sample the new Elantra. We've tried out the GLS trim (reviewed here), but this time, it's the Marina Blue 2017 Hyundai Elantra Limited that we picked up for evaluation. Curiously, the Limited is no longer the top-end trim – there is now an Elantra Ultimate that gets all the bells and whistles. Hyundai has been especially busy at the top-end of the market with their new Genesis luxury brand, but cars like the Elantra represent their bread and butter, and sell in much higher quantities.
Hyundai is a brand that doesn't really like to look at their past, but rather the future. I won't beat the dead horse that claim (for the thousandth time) that vehicles from the Korean conglomerate have come such a long way. The previous-generation Elantra was a strong seller, but I personally wasn't the biggest fan of its swoopy "Fluidic Sculpture" design language. It was a progressive look for its segment, but I was a little too busy for my tastes. It worked for some, but didn't quite work for others.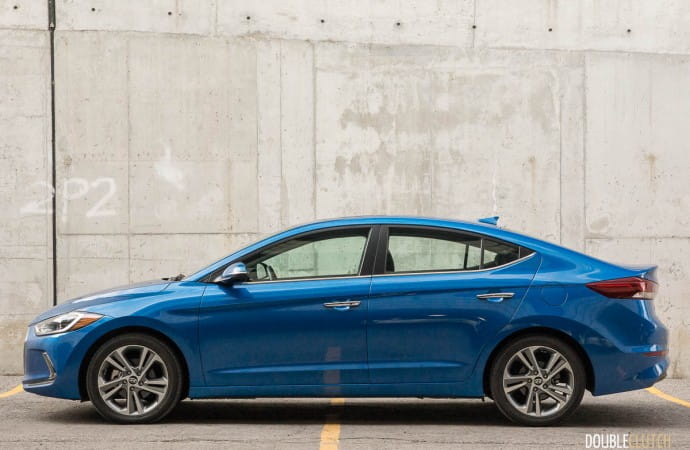 The Elantra, now in its sixth-generation, pares down the bolder design elements for a look that ends up being much cleaner. The side profile features many more straight-line design elements, and it's simply just not overdesigned as it used to be. Some may consider it more conservative, but in this class, conservative works. The design should also look better over the long-term, too. Halogen projector low-beam headlights are standard equipment, and the Limited trim gets you larger 17″ wheels. LED daytime running lights live in the front bumper and do a good job dressing up the front end. Overall, it's a smart and clean-looking car, and I think the 2017 Hyundai Elantra is now the best-looking choice in the compact segment.
Inside, the Elantra also echoes the refined and clean exterior design. Straight lines and simpler features are promoted, making for a cleaner look, and smart use of premium materials improves the quality feel. Up front resides a large 8-inch touchscreen that integrates Android Auto, but as of this writing, not Apple CarPlay. If you opt not to connect your phone to the car, the Elantra Limited features its own built-in satellite navigation system. Heated front and rear seats (of which the driver gets a two-position memory function), as well as a heated steering wheel are impressive and super-handy, regardless of the price point. Dual-zone climate control rounds-out the strong interior feature set. It beats the interior in the Civic in a few ways, but the Elantra gets bonus points for including a volume knob.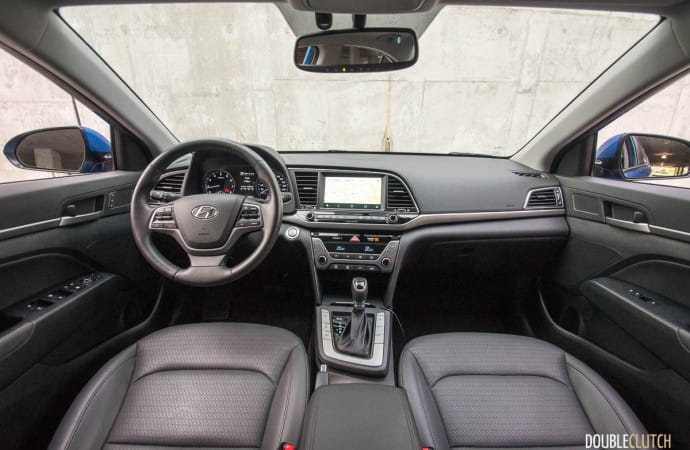 Under the hood, lives an updated version of the corporate 2.0L gasoline inline-four engine, codenamed "Nu". Curiously, direct injection is eliminated in favour of a more traditional multi-port injection strategy. This is paired up with the ability to run on a lean-burn Atkinson cycle, improving overall efficiency. These tweaks add up to modest power output numbers: 147 horsepower at 6200RPM, and 132 lb-ft of torque at 4500RPM. It's a refreshingly conservative take on the small gasoline engine, where other manufacturers are experimenting with turbocharging, in order to make up for a reduced displacement.
Direct injection delivers a number of benefits, and also exhibits several quirks – some that may affect long-term reliability. None of those items are here to complicate the Elantra's powertrain, which should bode well for long-term ownership. This power is mated to a six-speed automatic, sending power to the front wheels. A manual transmission is available, but only on the stripped-out base Elantra L (for now) – but you'll have to live without air conditioning and Bluetooth phone integration.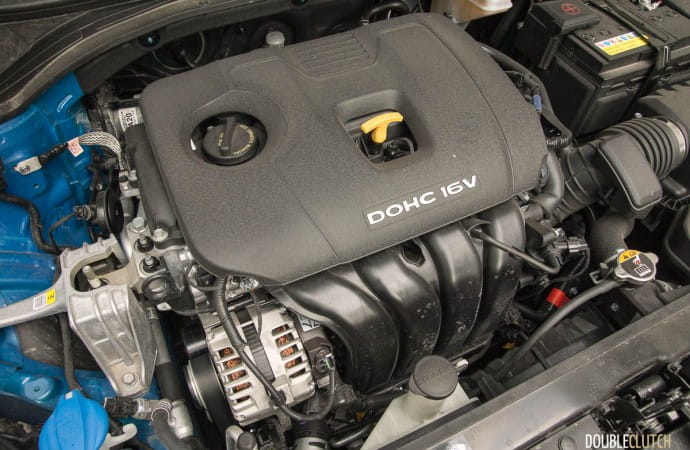 Behind the wheel, the Elantra does a good job delivering on a premium feel. Hyundai is proud of the SUPERSTRUCTURE that underpins the body structure. Utilizing lots of high-strength steel (forged in Hyundai's own steel mills), they can make the chassis stiffer, which allows the suspension to do its job without additional torsional forces acting upon it. Safety is also improved with the stronger structure. The ride is well-composed, and the steering feels about right for this class: in other words, highly boosted and fairly numb. Three different drive modes allow the driver to easily reconfigure throttle mapping and steering effort. Regarding that last item: the Sport mode just makes the steering heavier, but doesn't do anything for the feedback that reaches your hands. The Elantra is no sports car, but it doesn't really try to be one, either.
Efficiency is a high priority for just about everybody nowadays. Competitors like the Honda Civic manage to squeeze out impressive efficiency ratings, even with their new turbocharged motors. The Elantra does it with careful engineering of tried-and-tested technologies. Rated at 8.3L/100km in the city, 6.4L/100km on the highway, and 7.4L/100km in a combined cycle, it falls right in the middle of the pack. I squeezed out an impressive 6.9L/100km during my week of mixed driving. The Elantra will hold 53L of regular 87-octane fuel.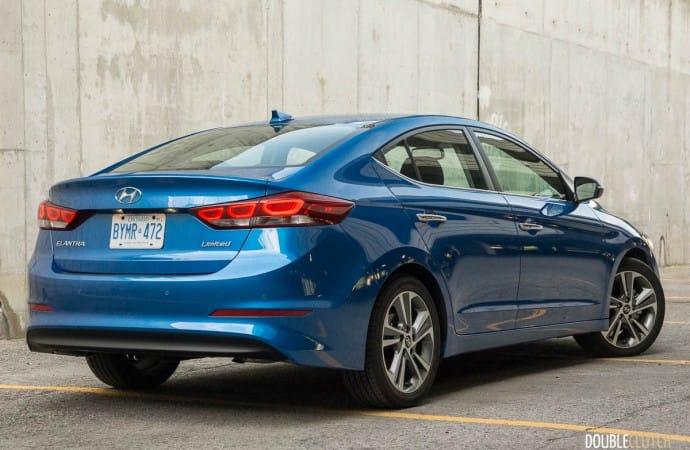 The Elantra plays in an extremely competitive field: you don't need me to say that again. A strong price point is as important, if not more important than fuel efficiency. A mainstream compact that finds itself on the expensive end of the spectrum may end up outside the budget of many prospective customers. That being said, the Elantra plays Hyundai's strong-value card very well. The base Elantra L starts at $15,999, but as mentioned earlier, does not include air conditioning or Bluetooth. There are many trim levels above it that add content, all the way up to the Ultimate, at $28,799. The Elantra Limited tested here rings in at $26,249, plus taxes and dealer fees.
It's a competitive price for a lot of features, but the rest of the field is competitive in their own unique ways. The benchmark Honda Civic comes with a somewhat polarizing design, but if you can stomach its look, you get a lot of features and more powertrain, for the money. The Civic, in its upper trim levels, gets a 1.5L turbo-four, which delivers quite a bit more horsepower and torque than the Elantra can muster. This is because Hyundai has chosen to stick to one engine choice for the entire lineup. I like the additional torque that Honda's turbo-four puts down, and their good CVT tuning makes the most of the power, while retaining similar fuel efficiency ratings. There's said to be a turbo plus six-speed manual combination coming, so more points to the Civic, when that becomes available.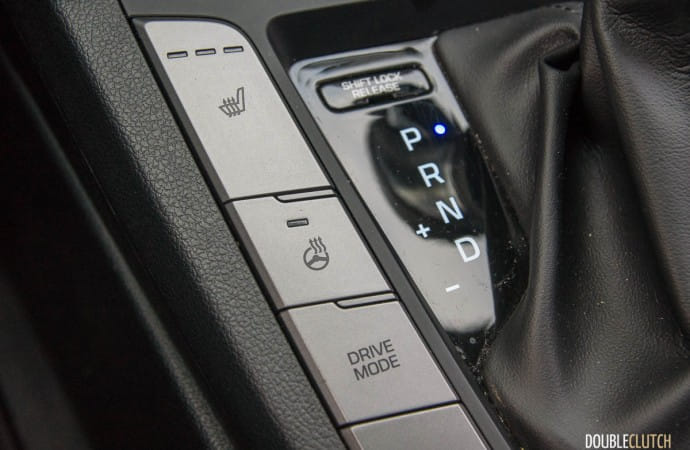 Honda is also strongly pushing their HondaSensing active safety suite; you can get it even on low-end trims, like the Civic LX. Hyundai does things a little differently: their active safety package only comes on the top-end $28,799 Elantra Ultimate. For comparison's sake, the fully-loaded Civic Touring costs less, at $27,155. It also comes with full LED headlights, as opposed to the slightly more pedestrian (but still good) HID low-beams on the Elantra. At this level, if you're looking for top-notch safety technologies, the Civic Touring does it for less, and still gives you more in other areas.
It comes down to your personal preferences. Between the Civic and Elantra, it's pretty hard to go wrong. I really like the way the Elantra looks, for its sharp fundamentals, and how cleanly it is designed inside and out, but I also like the Civic for its advanced powertrain and focus on safety technology. Like I said earlier, the HondaSensing suite has the ability to benefit more people because of its lower entry price. It is for this reason that I would pick the Civic, with HondaSensing. The Hyundai Elantra is a very close second, but it might as well be a tie, because of the differing priorities we all have when shopping for cars. Put these two right at the top of your shopping lists.
2017 Hyundai Elantra Limited Gallery
See Also: