Is the 2017 Genesis G90 a game-changer? In short, yes.
KELOWNA, BRITISH COLUMBIA – Remember when Toyota introduced their Lexus luxury brand, with the debut of the 1989 LS400? How about Nissan with the Infiniti Q45, or Honda with the Acura Legend? All three of these sub-brands were off to a slow-ish start but are now known to be some of the most respected luxury makes in the industry. Now it's Hyundai's turn – if you remember the Equus, forget about it. Hyundai already makes the Genesis luxury sedan, but it's not to be confused with what we're talking about here.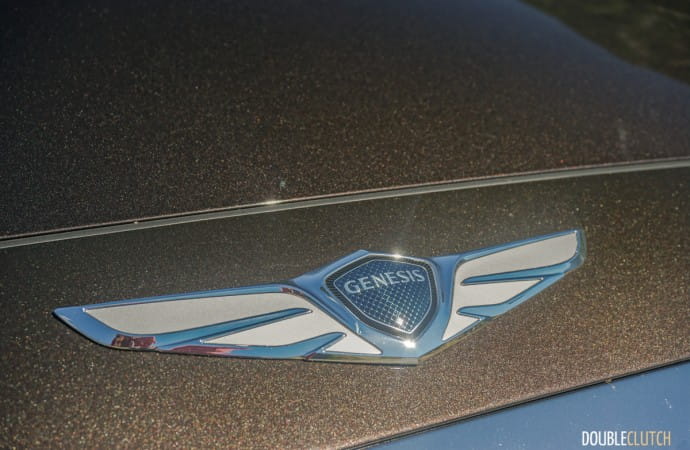 Confused? Allow me to explain; the vehicle we know as the Hyundai Genesis is soon to be re-branded "G80", the second-from-the-top model in an all-new brand. Hyundai Canada invited me to Kelowna, British Columbia for the launch of their new premium luxury division, "Genesis". The first product to debut under the new name is the 2017 Genesis G90, an unofficial 'successor' to the Equus (reviewed here). It cannot be reiterated enough that this is not marketed as a Hyundai, it's a fully new vehicle and should be the next Lexus LS400.
Genesis says that G90 is just the beginning of something huge – the brand is expected to have six luxury vehicles, from sport sedans to crossovers, by the year 2020. We anticipate that what's now known as the Genesis Coupe (reviewed here) and discontinued for the 2017 model year) will be repositioned into somewhat of a sporty four-door. Back on topic though, Genesis will be a distinctly different corporate entity under the Hyundai Motor Group, with a high level of priority towards customer service and providing the utmost convenience to clients. This will be possible with an appropriate tagline for the brand – "human-centered luxury".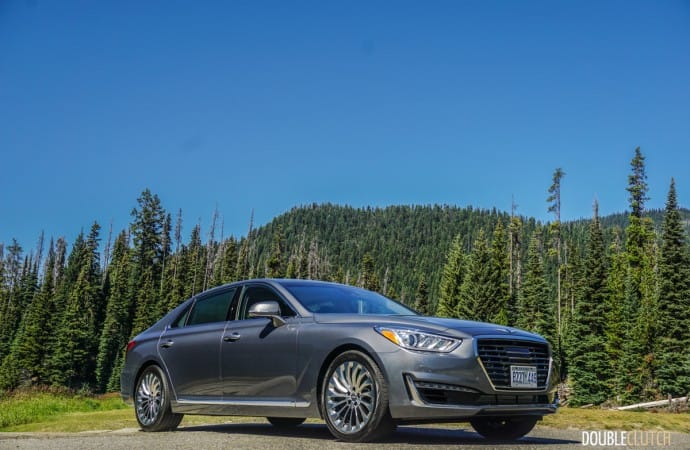 With Peter Schreyer as global Chief Design Officer for the Genesis brand, we are introduced to the G90, the new flagship vehicle. Using a design language unique to Genesis, the G90 is built on a completely bespoke platform. It uses the corporate crest grille, LED lighting front and rear, and very elegant proportions. Design elements include short overhangs and simplicity throughout make for a sharp sedan that I actually find more visually pleasing than the new BMW 750Li (reviewed here), which Genesis considers a direct competitor. 19" alloy wheels are standard equipment on Canadian models, along with dual exhausts.
The attention to detail inside the Genesis G90 is second to none. Along with a high level of standard features, the car uses impeccable craftsmanship using authentic materials, right up to par with the large German automakers. No plastic, synthetic leathers, or cheap bits are used within this car. The seats are made of fine leather, and the dashboard, door panels, and even headliner all feel up to spec for a luxury vehicle and certainly worthy of the price.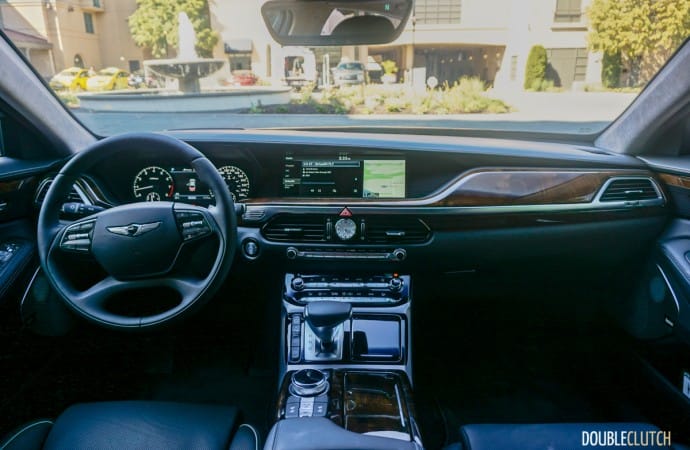 The steering wheel is familiar from the existing Genesis Sedan (reviewed here), now branded the G80, but that's where the similarities end. If someone were to put a piece of masking tape over the logo, most would be hard-pressed to not identify this car as a German flagship. The 22-way power driver's seat works to immediately find the perfect driving position, and the Pasubio Nappa leather is just to die for. Fun fact: Genesis benchmarked the seats from first class in the Emirates Airbus A380 during development. The rear seats do not recline on V6 models, but V8-powered cars get power-reclining units.
Infotainment is controlled via Genesis' new 12.3" touchscreen infotainment system featuring a high-resolution 720p display. The navigation system is an upgrade from existing Hyundai units, and also shows buildings (and not just main landmarks). There is a 9.7" full-colour heads-up display that's capable of pulling up information from the driver assist systems. When the time comes to park your G90, the full surround-view camera system will be a welcomed aid, because let's face it – this thing is big.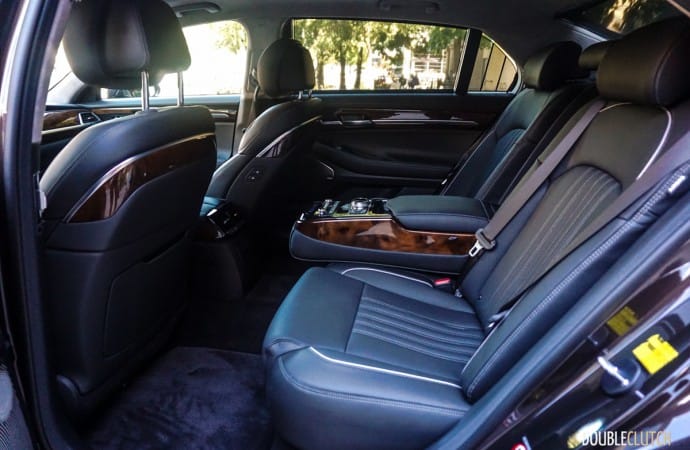 Powering the Genesis G90 are two engines unique to Genesis. A familiar sight is the 5.0L Tau GDI V8, offering 420 horsepower at 6,000RPM and 383 lb-ft of torque at 5,000RPM. Brand new for this vehicle is the 3.3L twin-turbo GDI V6, which pushes 365 horsepower at 6,000RPM and 376 lb-ft of torque between 1,300 and 4,500RPM. Both models only come in all-wheel-drive across the Canadian market, and the HTRAC all-wheel-drive system can split torque between the front and rear with more versatility than the BMW xDrive system (reviewed here).
What we found particularly remarkable is how much the car feels like it shrinks at higher speeds. Despite being a full-size luxury sedan, the G90 tosses about with minimal understeer in hard cornering. Ride quality is very smooth, with multi-link independent suspension and electronically controlled dampers. The car does handle decently well for something of its size, but the ZF-sourced suspension bits ensure that ride quality is very, very smooth and actually pretty adaptive. When driving spiritedly, the car comes alive and feels firm, whereas when in a high-speed highway cruising situation, it provides pillow-like comfort.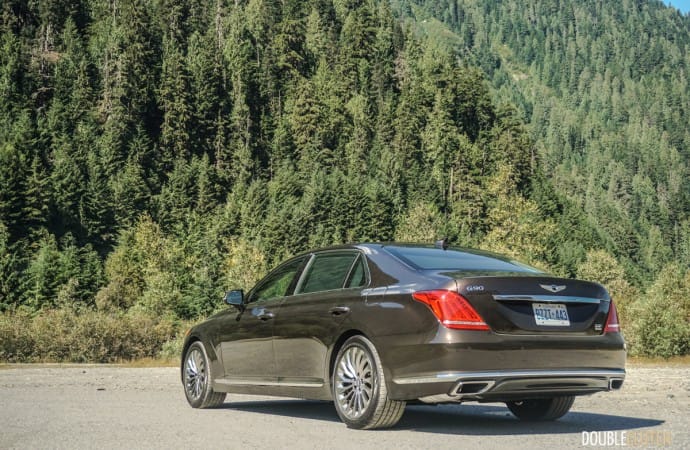 The "SMART" drive mode takes some time to learn your driving style, and adapts the car's damping, engine/transmission, and steering to the driver. It also analyzes road conditions and works in a truly intelligent manner. We pushed the car through some intense twisties in both the "Sport" and "Eco" settings, and there was noticeable body roll even in the most athletic setting. Of course, this isn't a car that most will buy for this purpose, and in its element the G90 behaves beautifully.
On the driver assist side, Genesis Smart Sense is standard equipment on all G90 models. This includes pedestrian detection, autonomous emergency braking, blind spot detection, adaptive cruise control, and lane keep assist. All of these are now expected from both luxury and mainstream automakers, but on the G90, they actually work very well. We were able to test out all of these features (except for the emergency braking) on our long drive route, and the adaptive cruise control and lane keep assist worked surprisingly well, including bringing the vehicle to a complete stop during traffic situations.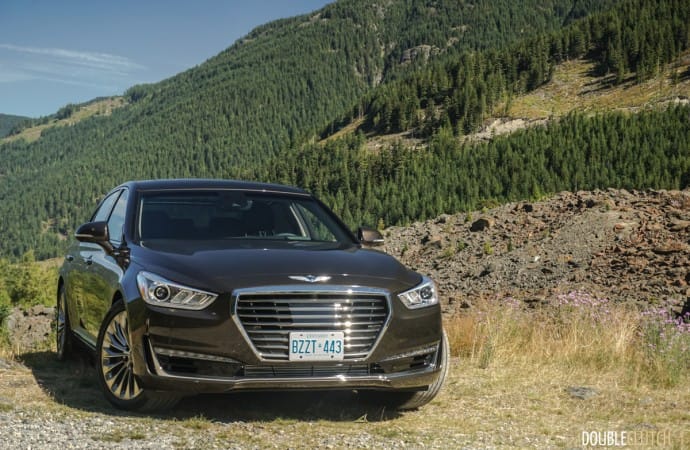 The G90's body structure and all of these safety gadgets on board mean the Genesis G90 has earned a Top Safety Pick Plus from the Insurance Institute for Highway Safety (tour here). Not only will this car be a groundbreaker from a design, technology, and fit/finish perspective, it will keep occupants safe in the event of a collision. It doesn't stop at the plethora of airbags, the entire chassis and body have been built in a manner to ensure rigidity.
Something innovative that the Hyundai Motor Group plans to introduce is "Genesis At Home", a unique sales and service experience that allows you to test drive, purchase, and arrange for service all from the comfort of your home. This will ultimately let buyers buy their vehicle online, and the Genesis dealership experience will bring a loaner vehicle to the client's home and take your vehicle for service. For five years or 100,000km (whichever comes first), Genesis will offer complimentary scheduled maintenance, a courtesy vehicle, 24/7 roadside assistant, and map updates along with the comprehensive warranty. This is a brand-wide service and not dealer-specific.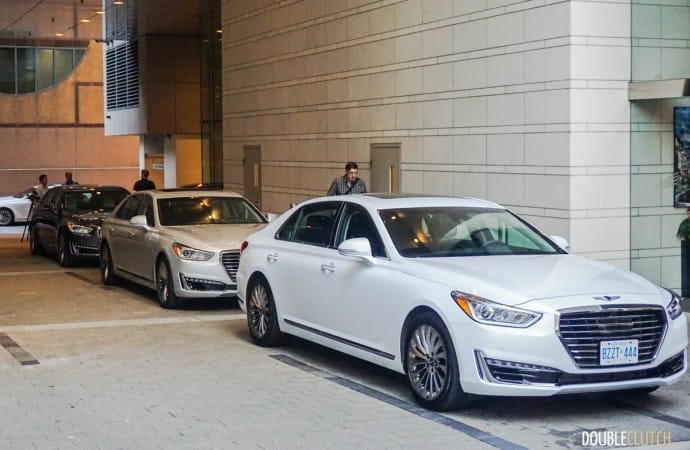 Is the 2017 Genesis G90 a game-changer? In short, yes. Those who were around in 1989 to witness the aforementioned Lexus debut will find themselves in a déjà vu situation. This is a brand that, if marketed properly, has the potential to play with the big kids. In an industry with cutthroat competition from Germany, Japan, and even the United States, Genesis' biggest challenge will be isolation from what the "Genesis" name used to be, a model of Hyundai car. The innovative sales and service experience, and strategic marketing are a decent start, and I have full faith in this hot new brand's ability to globally succeed. Pricing is not yet available for Canadian models, but will be set closer to the fall as Genesis ramps up for sales.
First Drive: 2017 Genesis G90 Gallery
See Also:
Road Trip: 2015 Hyundai Genesis 3.8