For those who work hard and play harder, the luxury pickup truck segment tends to be an appealing one. These trucks can be on a job site from Monday to Friday without skipping a beat, yet can still make it home in time for the weekend trek up to the cottage, complete with family and boat in tow. Advancements in ride quality and chassis design have done wonders for ride quality, and the latest in powertrain technology have also helped in the fuel economy department. Quiet, spacious, and well-equipped interiors mean that today's high-end pickups aren't what your grandfather used to drive. Fiat Chrysler's entry into the ring is the 2016 Ram 1500 Laramie Limited, and they sent over a 4×4 Crew Cab example finished in Granite Crystal Metallic for evaluation.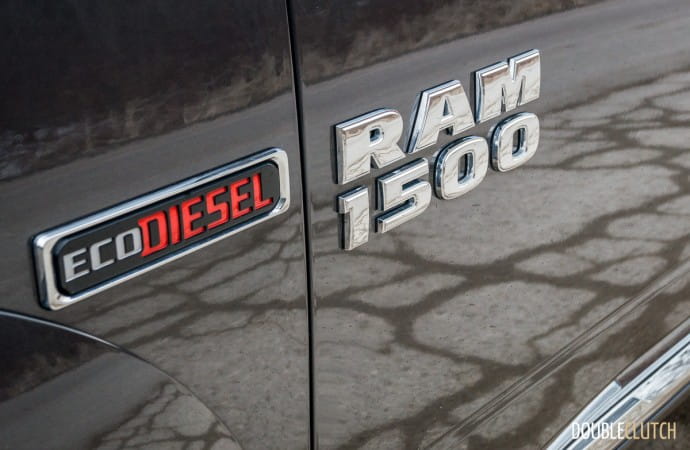 With a unique grille with large "RAM" insignia, the back end of the Laramie Limited features a badge that's even larger. There will be absolutely no mistaking what vehicle you're driving down the road, and everybody will be entitled to your opinion on pickup trucks: RAM. Some may find this to be a bit tacky, but others may end up liking the big chrome fashion statement. Starting at $66,495 with the 3.0-litre diesel V6, standard features include four-corner air suspension, spray-in bed liner, 20-inch alloy wheels, as well as an 8.4-inch UConnect touch screen navigation and multimedia system. Options on the test vehicle included chrome bumpers, a Class IV towing package with brake controller, soft tonneau cover, and a power sunroof.
A 3.92:1 rear axle ratio (upgraded from 3.55:1) and a limited-slip differential round out the options, bringing the as-tested price to just over $74,000. While this seems like a significant sum of money, competitors such as the Ford F-150 (reviewed here) and the Chevrolet Silverado can rack up similar numbers just as easily. Oddly enough, although the front and rear turn signals were of the LED variety, the headlights made do with conventional halogen projectors. At this price point, high-intensity discharge (HID) or LED lights should be standard, especially at the top trim level.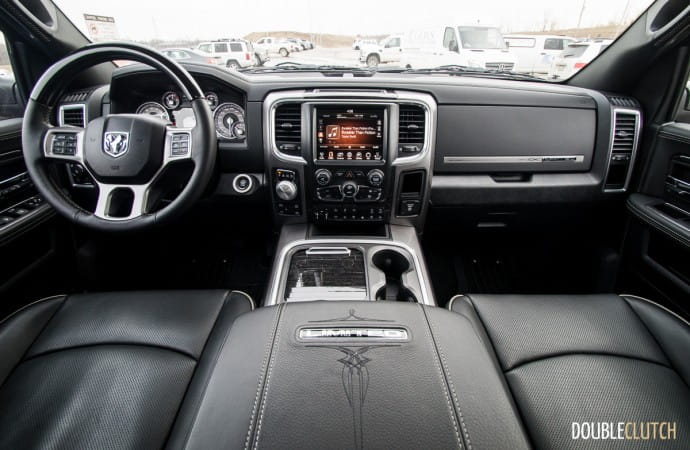 For many, the pièce de résistance for the Ram 1500 will be the 3.0-litre EcoDiesel V6 sourced from VM Motori, an Italian subsidiary and diesel expert under the Fiat Chrysler umbrella. Power output is 240 horsepower at 3,600 rpm, with 420 lb-ft of stump-pulling torque at 2,000 rpm. This is compared to 395 horsepower at 5,600 rpm and 410 lb-ft at 3,950 rpm as found in the gasoline 5.7-litre Hemi V8. While there's a large disparity in the horsepower numbers between the two engines, the ample supply of torque means that the Ecodiesel is no slouch.
Interestingly enough, this diesel is a bit rev happy around town, and doesn't quite have the torque monster feel common to many oil burners. Instead, it feels like a slightly noisier gas engine that packs more of a midrange punch. Even so, noise, vibration, and harshness (NvH) are tightly controlled and unsuspecting passengers may not even know it's a diesel. The VM Motori mill is light years ahead of yesterday's diesels in terms of refinement, and the eight-speed automatic transmission is buttery smooth and seamless in its operation. Drivers will have absolutely no problem when it comes to integrating the EcoDiesel into everyday life.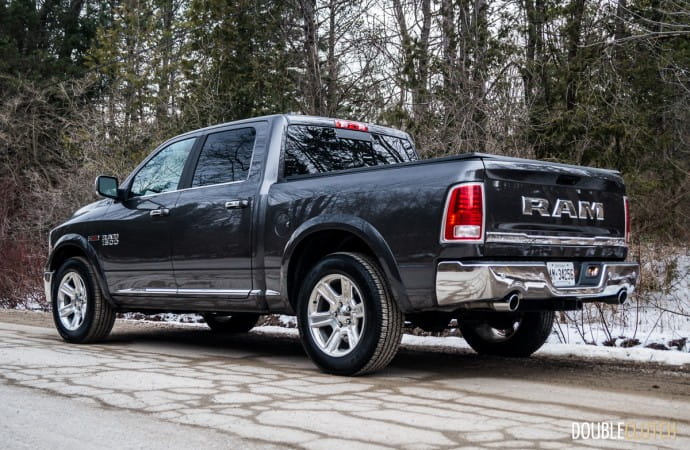 When it comes to fuel economy, diesel reigns supreme over gas, and the Ram 1500 is no exception. The diesel V6 is the most efficient version of the Ram available, and in 4×4 form, it's rated for 12.1 L/100km in the city, and 8.8 L/100km on the highway. Mixed driving during the week on test resulted in observed consumption at 9.6 L/100km. These numbers are approximately twenty-five percent better than a similarly equipped gas V8-powered Ram 1500, and as a $3,850 option, prospective buyers will need to do some math to determine if the diesel is worth it.
Crunching the numbers (and excluding the time value of money), those who will put twenty to thirty thousand kilometres per year on their Ram will need four to six years to recoup the extra initial cost. This is based on today's fuel prices of about a dollar per litre for either gas or diesel, and if prices return to $1.30 per litre, the payback period drops to three to five years. These numbers also neglect the incremental cost of diesel maintenance, which includes special synthetic oils, heavy-duty filters, and topping up diesel exhaust fluid. Thankfully, the Ram 1500 has an oil change interval of 16,000 kilometres or twelve months, whichever comes first.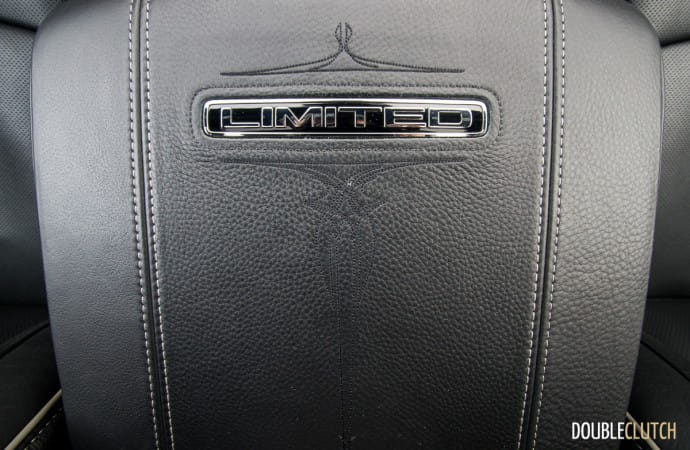 With good fuel economy to boot, the Ram 1500 will also tow and haul a small village's worth of stuff. For EcoDiesels coming in 4×4 Crew Cab with the shorter five-foot-seven inch box, payload capacity is 690 kilograms (1,520 pounds), and towing capacity is 3,905 kilograms (8,610 pounds). The Laramie Limited includes four-corner air suspension as standard equipment, which guarantees a level ride height when heavily loaded, and also results in fantastic ride quality. The ride height can also be adjusted from a set of buttons on the centre stack, with raised off-road and lowered entry/exit settings available at low speeds. On the highway, the ride height is automatically lowered to achieve better aerodynamic performance while still maintaining a cloud-like ride.
On the inside, the Ram 1500 Laramie Limited fully plays it up to match the overstated exterior. Stitching on the door panels, centre console, and seatback pockets (which are leather satchels) are all embroidered in a fancy, almost pinstripe-like fashion. Some may find this to be a bit tacky, and the good news for them is that the stitching is not included on the lower trim levels. The leather seats are large and comfortable, with both heating and cooling up front. Fiat Chrysler's well-designed UConnect 8.4 multimedia and navigation system is standard equipment on the Ram's top trim level, and this meant that smartphone pairing via Bluetooth was easy and reliable.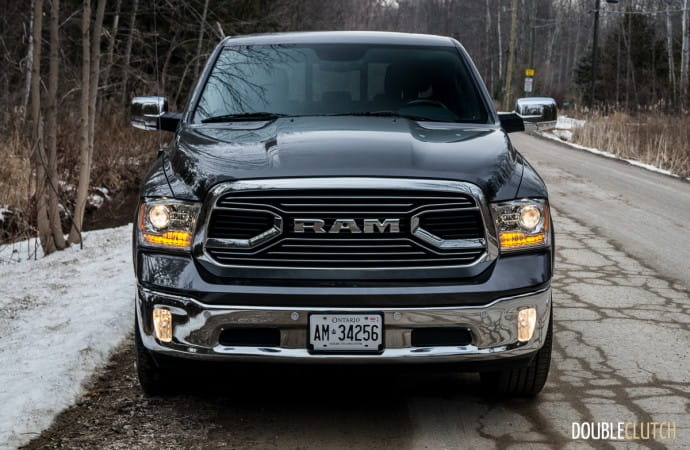 Voice command worked fairly well, and paired phone text messages were easily composed using a series of pre-set responses. Audio quality from the optional Alpine system was a high point, and particular kudos goes to the driver who was in the Ram prior to DoubleClutch.ca: the XM Satellite Radio was configured to pop up live game scores for the Toronto Raptors, and had the option to go directly to XM's NBA coverage at the touch of a button.
At the end of the day, the 2016 Ram 1500 Laramie Limited is a truck that excels at both service and leisure, and quashes the perception that pickup trucks are only basic work tools. While many can do without the chrome and stitching accoutrements and save some cash, prospective buyers who wish to have all the bells and whistles will find a solid contender in the Laramie Limited. They'll also be able to save some money at the pumps with the availability of the VM Motori diesel. As a perennial strong seller in the Canadian truck market, the Ram 1500 should have no problem in continuing in its competitiveness against the likes of Ford F-150, Chevrolet Silverado/GMC Sierra, Toyota Tundra, and Nissan Titan.
2016 Ram 1500 Laramie Limited Gallery
See Also: