I'm a bit of a sucker for convertibles; in fact, I've always owned at least one. Though driving with the top down is often more of an inconvenience than anything else, those few perfect moments when the weather, setting and mood are all just right can be driving bliss. For me, the extra costs, maintenance and weight associated with having a convertible top are all well worth it for those few moments. The problem we sun-loving convertible fanatics face here in Toronto is that those perfect moments can be hard to come by. That's why it's so important to have the right convertible, and not just a mediocre car with a ragtop and not something so impractical that it's only going to end up sitting in the garage. A convertible that will always be ready to throw the top back when the right moment presents itself.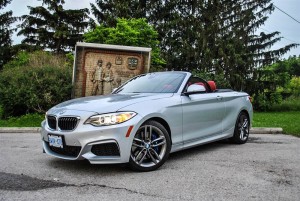 Fortunately for me, just as the weather was finally starting to get properly warm, BMW handed me the keys to a 2015 BMW 228i xDrive Cabriolet in Glacier Silver Metallic on Coral Red Dakota leather – just as it's pictured in the online brochure. Everything about the appearance of the Baby Beamer has been done just right. The short overhangs, muscular curves and wide stance give the car an unmistakably high-performance look. However, the typical BMW design characteristics remain present and lend a business-like class to the overall appearance.
It gets even better as my particular test car came loaded up with all the fun performance options that I would have wanted it. The M-Sport Line package ($2000) includes gorgeous 18" light alloy wheels wrapped in Michelin Super Sport tires, Sport seats with adjustable bolstering, an extra aggressive front fascia with the M aero kit, as well as some unique trim bits. To support its muscular appearance, my test car came with the M Performance Package ($1200), which adds adaptive suspension and sport steering. Lastly, my tester was equipped with the M Track Package, which includes massive M brakes that not only look great, but perform well enough that BMW will increase the car's electronically limited maximum speed.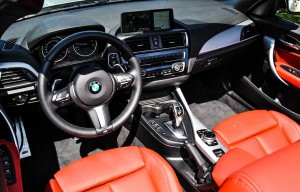 While the 228i Cabriolet starts at a very reasonable $45,200, adding the performance goodies, the red Dakota leather ($1500) and the Premium Package ($3,695) brings my as-tested price up to just a touch under $58,000. That puts this baby Beamer up into a price range where it has some very serious high-performance competition. I'd love to recommend foregoing the pricey Premium Package, but it includes some features that would really obviously be missing in a car like this, such as power seats, a rear-view camera, Sirius XM radio, navigation and some other gadgets. I'd have expected most of these additions to be standard if I am buying a premium convertible like this.
Giving credit where it's due though, the ConnectedDrive infotainment and communication system, as in all BMWs, is excellent. Even with my limited experience using the system, I found it extremely easy and intuitive to navigate, and the screen is crystal clear. The overall interior is pure BMW, with plenty of top quality materials and impeccable fitment. My only gripe about the interior is the shiny hard plastic used on the a-pillars.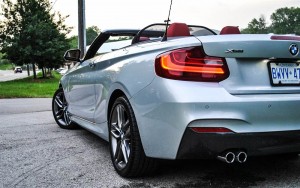 Pricing aside, what everyone really cares about is how this upscale cabriolet drives out on the open road. The interesting part of this particular car is that despite being loaded up with all the high-performance bits, it's still a 228i. This means it's equipped with the base 2.0L turbo charged 4-cylinder and supported by BMW's 8-speed Steptronic transmission. The ZF 8-speed automatic does a phenomenal job using the car's 241hp with lightning quick shifts and its intuitive ability to keep the car in the right gear for every situation. The transmission's excellence is sadly slightly let down by the 2.0L, which does occasionally suffer a delayed throttle response and offers only a very weak sounding exhaust note. For me, part of a great convertible is listening to a glorious exhaust note as you accelerate with the top down, and unfortunately that's missing from the 228i.
The 241 horsepower is plenty for the car and its published 0-100km/h time of 5.9 seconds supports the fact that the 228i is absolutely no slouch. As far as excitement goes, the little BMW is actually a lot more subdued than I would have imagined when looking at it. The brakes are incredible and the adaptive suspension transforms the car from a soft cruiser to a true corner carver with the push of a button. That said, the 228i is an excellent cruiser or daily driver, but don't expect a hardcore sports car. During my week with the BMW, one of my colleagues was testing a Scion tC. We briefly met up for a short drive and sitting in the tC, bouncing around on the stiff suspension, rowing my own gears and listening to its little engine yell with fury made it feel a lot sportier than the BMW.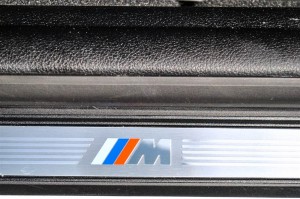 Now here comes the surprise- that subdued relaxing character is what I absolutely love about this car! A convertible like this isn't about being the fastest thing around a track or going the hardest through the twisties; it's about enjoying the ride each and every day. BMW has been building convertibles for decades now and it really shows that they know what they are doing. This is a car that I could commute in, day-in-day-out, no matter the weather and be in perfect comfort. Should I wish to drop the top and get some sun as I go about my daily routine, the push of a button opens the top in about 15 seconds and the car is ready to deliver convertible bliss.
Interestingly, the top can actually be operated at up to 50km/h, which is pretty amazing and can help you really make the most of your convertible experience. BMWs have also had a button that controls all 4 windows at the same time for a while now. It may seem a little excessive, but it's incredibly convenient and I love it. Top down, there is minimal wind buffering in the cabin, and putting the windows up and installing the rear wind blocker can make it very comfortable on a cool night. With the top up, there is no wind noise, rattles, leaks or any other distractions. Also impressive is the efficiency of the 228i. I kept the car in its comfort setting for about 80% of my driving, which consisted mostly of rush hour commuting, and averaged 9.0L/100km on premium fuel. That's a very palatable number for a commuter like me.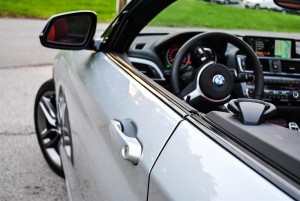 The BMW 228i Cabriolet gives you the fun and style of a world-class ragtop without having to give up the practicality and comfort of a coupe. It even packs BMW's xDrive all-wheel-drive system!  Trunk space is adequate and not impacted by the folding top, the rear seats offer enough head and legroom to keep an average-sized adult comfortable for a short ride, and as a driver, you still get all the luxuries and conveniences of a BMW. I was lucky enough to get plenty of sunshine during my week with the cabriolet, and as I write this two days after dropping the car off, I already miss it dearly. Unlike a lot of the weekly test cars, this one quickly earned its place in my driveway.
2015 BMW 228i Cabriolet Gallery
See Also:

Are you sick of paying for gas, week after week? Even with the very reasonable fuel mileage of this BMW 228i Cabriolet, premium fuel isn't exactly cheap right now. Schick is giving readers a chance to drive free for an entire year! Visit wesetyoufree.ca or follow the contest Twitter account for full contest details! DoubleClutch.ca is proud to provide our support to this exciting opportunity.