The Hyundai Veloster has always been somewhat of a styling controversy on wheels. Some (like myself) love its swanky, hip lines and high-tech interior, while others think it's trying too hard and aren't a fan of the fun little hatchback from Korea. We tested a loaded-up Veloster last year with the tech tidbits and found that despite its capability, it needed a bit of a power boost. Hyundai complied, and sent us a 2014 Hyundai Veloster Turbo with the 6-speed manual transmission to play with for a week.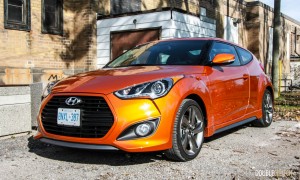 Our editor actually had the chance to drive this exact Veloster on a closed course at Hyundai Canada's annual track event, and came back raving about how tossable it was. The thing is; the Veloster Turbo doesn't exactly compete with hot hatches/sedans like the Subaru WRX or the Ford Focus ST. It's right in line with the likes of the Mini Cooper S and the Honda Civic Si. Its mannerisms are very reminiscent of the Civic Si, except it's a bit different; here's how:
Under the hood of the Hyundai Veloster Turbo lies a 1.6L turbocharged 4-cylinder engine. It puts out 201 horsepower and 194 lb-ft of torque. Whereas the regular Veloster is available with a dual-clutch transmission, the Turbo is only available with either a 6-speed manual or a 6-speed automatic. At DoubleClutch.ca, we're purists, so the automatic is rarely our choice. Luckily, Hyundai seems to agree with us, because our tester came to us packing three pedals. On acceleration, you can actually hear the turbocharger spool. This sound mated to the confident exhaust note of the Veloster makes for a particularly rewarding drive.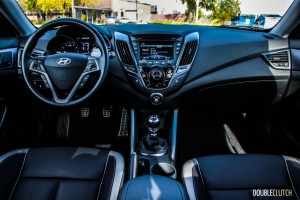 If you expect the Veloster Turbo to be a fire-breathing hot hatch, you will be disappointed. It's actually a great little car though; throttle response is pretty good and turbocharger lag is minimal. The steering is very good, if not a little numb, but the car handles great when pushed near its limits. What I really like about cars like the Veloster Turbo and even the Scion FR-S is that rather than being overloaded with horsepower that will never be used, they can actually be pushed a little bit without doing anything illegal. The 6-speed manual transmission is excellent and not as notchy as I found the one in the Accent to be.
The Veloster may have a turbocharger and a bit of oomph to it, but it's still a small, light, 4-cylinder hatchback at the end of the day. Therefore, the fuel economy reflects this. Hyundai rates it at a combined 8.5L/100km, with highway numbers dipping as low as 7.0L/100km. I used it on my mostly-highway commute with a few spirited backroad runs. After all, we're at the cusp of autumn where nice driving days are almost gone for the year. I was able to get a decent 8.0L/100km in combined driving. The Turbo can actually get away with regular-grade fuel, but I discovered it performs optimally on 91-octane.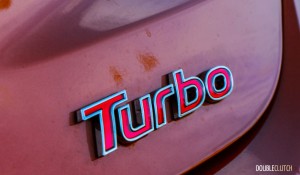 Being a bit of a gimmicky car (this is a good thing), the Veloster packs a few little points that other automakers haven't really implemented yet, at least at this price point. The most obvious is the lack of a rear door on the driver's side. This also means that there are only three switches for power windows on the driver's door, and definitely takes a little bit of getting used to. Also, the engine start/stop button is located dead smack in the middle of the center stack, beneath the climate controls. I actually rather like this setup; it makes the car appear to be a piece of technology, like an iPod of sorts.
The Veloster Turbo only really has one option – matte paint ($1,000). Other than that, everything is standard with the turbocharger. Notable features include a panoramic sunroof, 18" alloy wheels, a 7" touchscreen with navigation and a 6-speaker stereo, Bluetooth integration, a limited-slip differential, and a reverse camera. Six airbags are also on board to ensure maximum safety for all occupants. The seats are cloth with leatherette bolsters and are heated, as is the leather-wrapped steering wheel. All Veloster Turbos also come with the proximity key and push-button start system.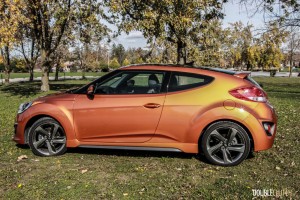 This is definitely a car for the technophile. In this day in age when everybody has a smartphone and it's perfectly normal for a six-year old to walk around with a $750 iPad, this car fits right in. I think the 2014 Hyundai Veloster Turbo finds its sweet spot with the young urban dweller who loves technology as much as he/she loves driving. My test car comes in at $26,749 before any fees or incentives, and its "Vitamin C" paint job allows it to stand out in the best way possible. I would love to have one in my garage, and I really hope the Veloster inspires other manufacturers to take risks as well.
2015 Hyundai Veloster Turbo Gallery