An entirely new kind of Mustang.
For the first time in history, Ford has debuted a completely different kind of Mustang. One with no manual transmission, no V8 thunder and no whiff of peeling out of a Burger King drive-through. Not only is this one all-electric, it's also a coupe crossover and it puts a twist on a historic Mustang nameplate. Say hello to the 2021 Ford Mustang Mach-E.
From the outside, the Mustang Mach-E is an interesting mix of styling elements. The traditional Mustang low nose and short rear end are all there, as are the tri-bar tail lights and pronounced haunches. The lower front fascia shares similarities with that of the current standard Mustang, while the headlights are shaped more like the units fitted to 2015-2017 Mustangs. However, that's where similarities largely end. As the Mustang Mach-E is all-electric, it doesn't require a big upper grille. A simple recess accented by a chrome halo does the trick for all models without the GT designation. For GT and GT Performance Edition models, a faux-grille is added with a smooth surface finish to aid aerodynamics. Furthermore, while the Mustang Mach-E looks like a coupe SUV, the rakish roofline is actually largely an illusion. Look closely, and the blacked-out roof follows a more traditional trajectory while the body-colour faux-roofline contributes to the swoopiness of the rear end. How's this for an oddball feature: the Mustang Mach-E doesn't actually have door handles. While there are little stalks to help pull open the front doors, the actual exterior release is done by a button on each door. Simply press it and the door pops open a few inches, enough to grasp the edge and pull it open. While this is great for aerodynamics, it's sure to be a pain for those who dislike fingerprints on paint or those who get their car rust-treated. Imagine the horror of tracking rust treatment fluid trapped in the door jambs all over the paint and interior.
This potential for unceremoniously dirtying up the interior is a real shame, as the Mustang Mach-E's cabin is both interesting and modern. The dashboard is dominated by an enormous 15.5-inch touchscreen that thankfully retains a volume knob for cranking up the tunes. The screen itself is powered by a new version of Ford's Sync system, now with an embedded 4G modem for data communication and over-the-air updates. It displays more information on the main screen in its aim to minimize hunting through submenus and it features a voice-activated digital assistant system with customizable wake phrases. The dashboard itself consists of a variety of interesting materials including what looks like ruggedized speaker cover fabric that's retro and modern at the same time. As there is no central tunnel, the centre console is tiered and appears cavernous while the centre rear-seat passenger is treated to a flat floor.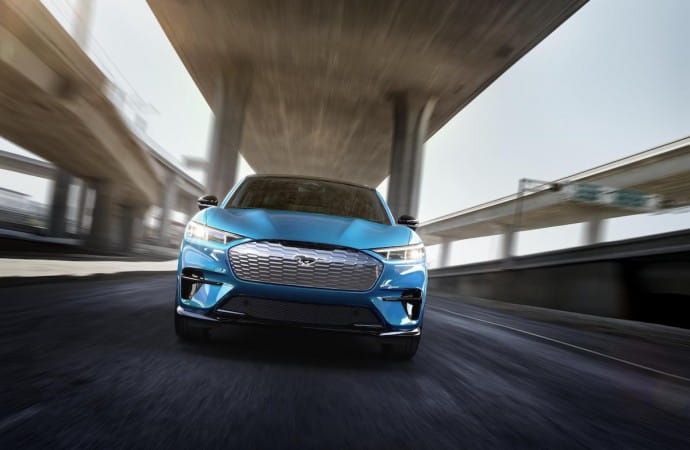 To paraphrase Henry Ford, you can have the Mustang Mach-E with any type of propulsion you'd like, as long as it's all-electric. That being said, customers really do have their choice of a variety of battery packs, motor outputs and drive configurations. The standard Mustang Mach-E is available with either a 75.7 kWh battery pack or a 98.8 kWh battery pack in either rear-wheel-drive or dual-motor all-wheel-drive. The extended-range rear-wheel-drive model is targeting a range of at least 475 kilometres on the EPA cycle and is expected to be able to juice up 76 kilometres in ten minutes when plugged into a DC fast charger. To fulfill the speed expected from the Mustang Mach-E GT, Ford has sought to equip it with a zero-to-sixty miles-per-hour time of under four seconds, while the Mustang Mach-E GT Performance Edition is expected to do the zero-to-sixty MPH dash in the mid-3 second range while making an estimated 459 horsepower and 612 lb.-ft. Of torque. To make the Mustang Mach-E GT Performance Edition handle and stop, Ford has employed the use of MagneRide dampers and Brembo's new Flexira calipers, which are said to have the clamping power of fixed calipers and the dimensions of a floating caliper.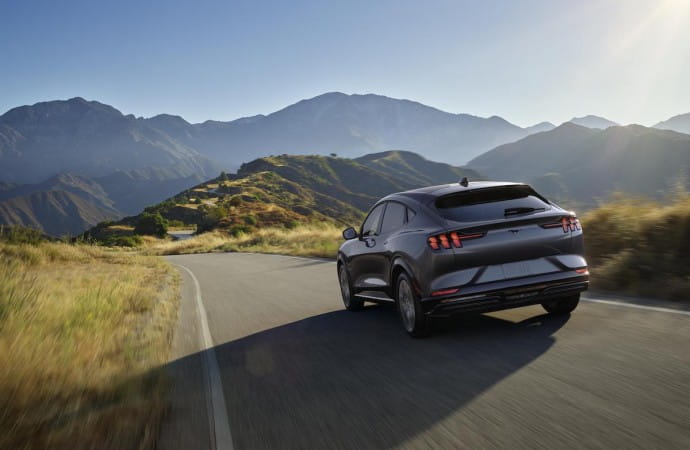 Canadian pricing for the 2021 Ford Mustang Mach-E will start at $50,495 for the standard-range rear-wheel-drive Select trim and escalate to $82,995 for the GT Performance Edition trim. Deliveries of the standard Mustang Mach-E will start in late 2020, while the GT Performance Edition models will follow in the spring of 2021.