The 2024 Lexus UX 250h is a perfectly fine vehicle. Some may even consider it nice; the UX is comfortable, easy to drive, and great on gas. Except there's now a problem.
The UX has been around since 2018 as Lexus' littlest sport-ute. Though not the official party line from Lexus, it's basically the spiritual successor to the CT hatchback, albeit crossover-ified with a slightly taller ride height and hints of body cladding. The UX even shares its underpinnings with most of Toyota's small cars and cute-utes, including the Prius. And there's the problem.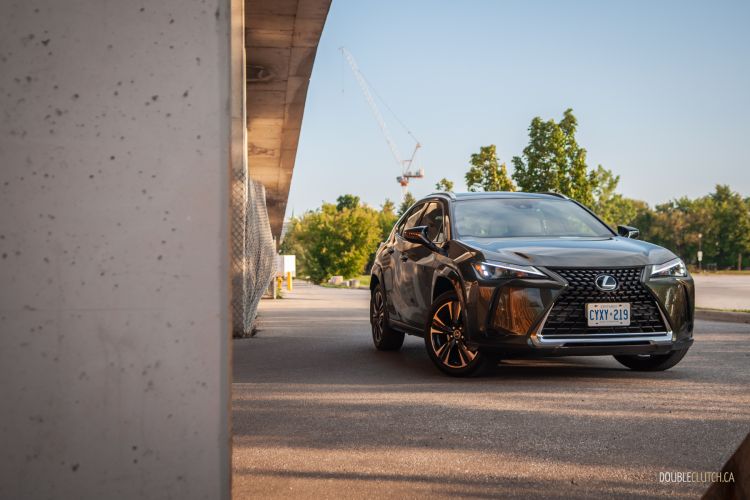 In the first few years of its life, you probably could've justified the UX as an efficient but punchier, more upscale, and much prettier alternative to the Prius sitting in the Toyota side of the showroom floor at the time. But today, the Prius is legitimately good — it's more powerful, more efficient, and genuinely good-looking inside and out — and a loaded Prius costs a lot less than a loaded UX.
When the newest Prius is so friggin' good, is the UX's existence justified? Well, that depends on your outlook in life. Are you a glass-half-full, or glass-half-empty kind of person?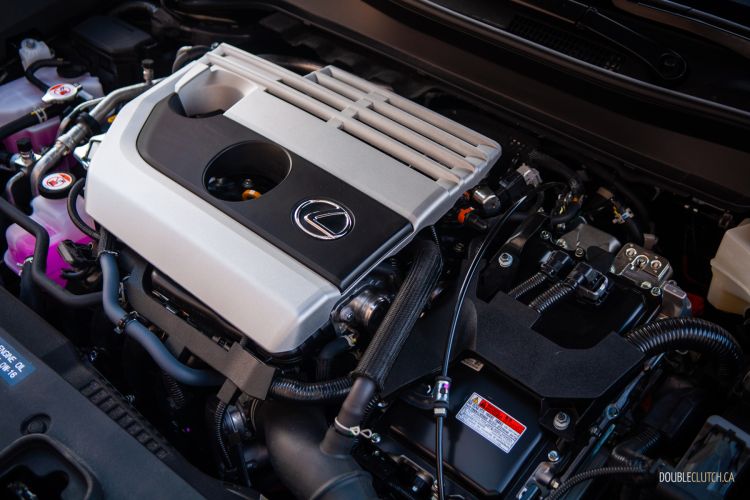 Following a mild update last year, all UXes have been hybrid-only. It starts with a normally aspirated 2.0L four-cylinder engine under the hood, rated at a modest 143 horsepower and 133 pound-feet of torque on its own. That's augmented by two electric motors and a 1.4 kWh battery pack, working out to a combined 181 hp, although Lexus doesn't publish a combined torque figure. Your only transmission option is a CVT, and part-time all-wheel-drive is standard. It's an interesting setup, as long as you're not caught in nasty weather on the highway — rather than a driveshaft, the UX uses a third electric motor to drive the rear wheels when you need the extra grip, but only up to speeds of about 70 km/h or so.
The UX gets on about as well as you'd expect. With 181 ponies on tap and about 3,600 pounds to motivate, the UX is hardly a hot hatch, but it's punchy off the line at a stoplight, and there's enough kick to execute most merges and passes on the highway without thinking twice. Steering is numb and light, but accurate and working in tandem with its small footprint, navigating the UX through tight spots is a cinch. Ride quality is excellent; the UX absorbs bumps, potholes, and most other imperfections very well, and wind and road noise are well-hushed. My only knock is the CVT. It's unobtrusive when left to its own devices, but mashing the skinny pedal coaxes a coarse soundtrack out of the UX's gas engine that's rather unbecoming of a Lexus.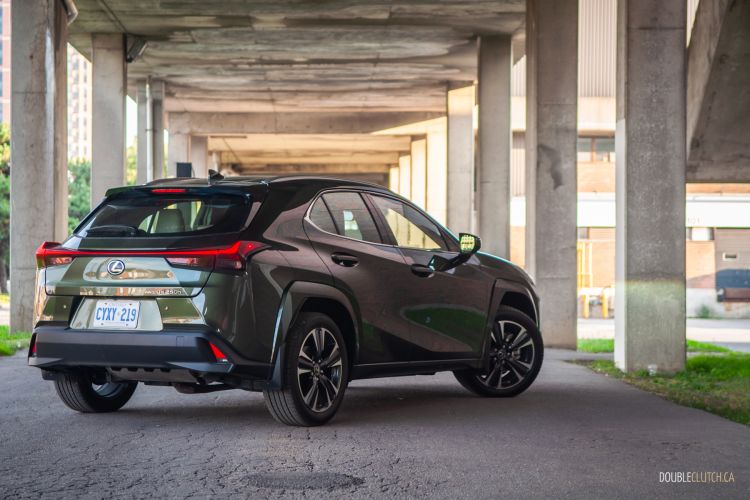 Fuel economy is quite good, but there's an asterisk. On paper, the UX can do 5.7 L/100 km city, 6.2 highway, and 6.0 combined. Yes, it's thirstier than Toyota's other small hybrids, but I beat the official numbers, averaging 5.5 L/100 km over mostly rush-hour highway commutes. The Prius is more efficient — I squeezed 5.0 L/100 km out of it over similar conditions — but the UX is frugal nonetheless.
It's clear that the relationship between the UX and the Prius is very much a case of "everything you can do, I can do better." So what does the UX do better? Style-wise, you no longer need to wear a paper bag over your head to drive a Prius, but the UX has always been handsome. Up front, the thin headlights and spindle grille actually work here — or maybe I'm just finally used to the grille. When the sun hits this tester's Nori Green paintwork just right, the creases and folds pop nicely, and a lightbar spanning across the hatch finishes off the rear end. Opting for any of the three F-Sport packages adds more aggressive styling, two-tone paint, and a handful of other tweaks.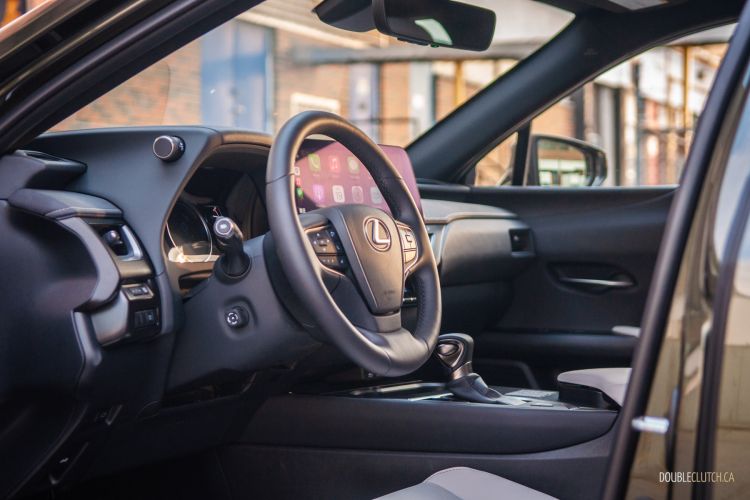 Inside, the UX's cabin is lovely, as long as you spend your time up front. The seats are comfortable, the mostly digital instrument cluster is easy to read, everything is logically and intuitively laid-out, and mercifully, Lexus uses a conventional shift lever and physical switchgear for the climate controls. The twist-knobs flanking the instrument cluster binnacle are a neat, LC 500-inspired touch, and our tester's 12.3-inch touchscreen infotainment — complete with wireless Apple CarPlay and Android Auto connectivity — is a night-and-day improvement over Lexus' previous touchpad-based system.
But I do have a few nit-picks. Visibility could be better; the thick A-pillars make checking for pedestrians challenging, and if you still shoulder-check when changing lanes — as you should be — the even-thicker C-pillars create sizeable blind spots. Out back, the UX is tight; with the front seat adjusted for my completely average, five-foot-nine frame, I could barely sit behind myself. Cargo space measures 484 litres with the rear seats up and expands to 1,231 with them stowed, but it's the load floor that'll get you. It's quite high due to the placement of the UX's battery, so loading heavier cargo or Costco-sized grocery runs can be challenging for some.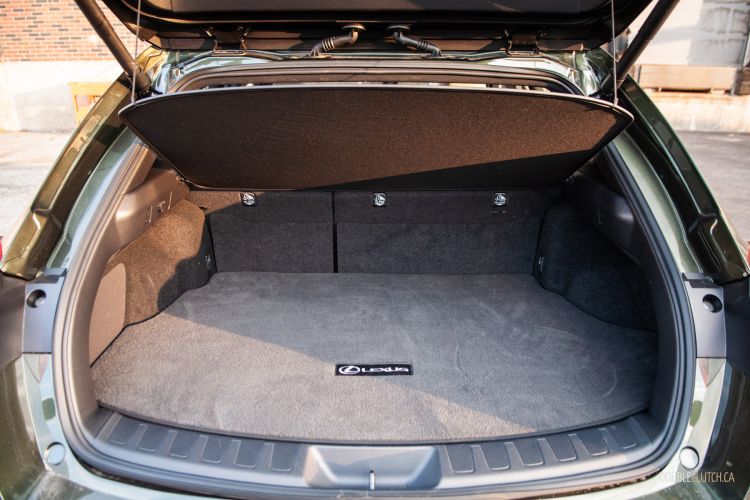 On price, you certainly pay for the Lexus badge. The UX starts at $42,310 for the base Premium trim, while this particular tester was equipped with the $4,800 Luxury package, bringing the as-tested total to $47,110 before fees, taxes, and all that fun stuff. For that price, the UX is fully loaded with Lexus' full suite of driver assists, plus bells-and-whistles that should really be standard, like a power liftgate, the aforementioned 12.3-inch touchscreen, and memory seats. It's not an insignificant jump over a top-spec Prius, which tops out at a hair over $42,000.
So, all this begs the question, are you a glass-half-full, or glass-half-empty kind of person? If it's the latter, there's not much of a case to be made for the 2024 Lexus UX 250h. It's all the new Prius' fault — it's more practical, efficient, just as good-looking, and costs much less. But I'm a glass-half-full kind of person — the UX's interior is lovely as long as you sit up front, plus its well-mannered on the road, and more importantly, the UX's compact footprint and still-efficient powertrain make it a great option for city dwellers who don't always need a back seat. In a way, because the new Prius is so good, I'm actually looking forward to the next UX — and that's something I've never said that about any Lexus crossover.
See Also
2023 Lexus NX 350h Ultra Luxury