Motorcycling comes with a soundtrack of its own — the bike firing up, the engine revving as you climb up and down the gears, and the wind in your helmet as you barrel down the freeway. These can all be lovely sounds and music to many ears, but sometimes you need a bit more to listen to, or you're also riding with a group of friends. For those "sometimes," it sure comes in handy to have yourself a pair of speakers and a microphone in your helmet, and the Cardo Packtalk Edge is quite possibly the best combination that fits in your helmet.
Having recently entered into the helmet communicator market, Cardo has made a point to pick up the slack existing players have let hang. For starters, they've clearly made a point of making a headset that's not just about talking to your riding buddies, but one that's also focused on music. With JBL speakers coming standard on the Packtalk Edge, you get solid sound quality directly out of the box.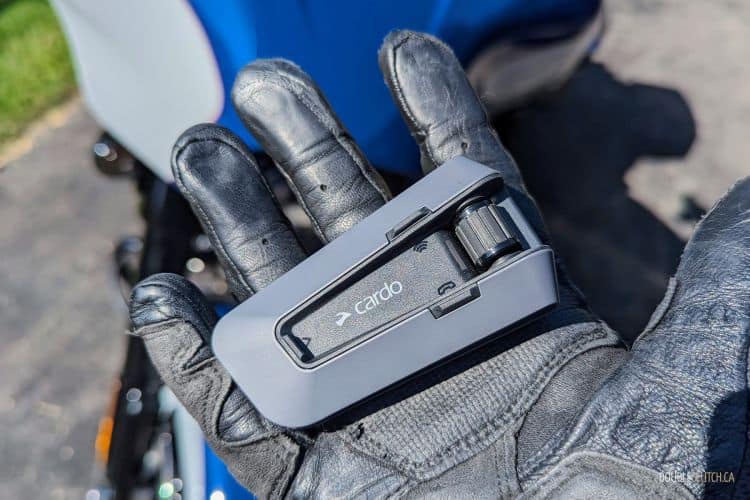 They've also taken their own approach to the control scheme, implementing a volume roller that doubles as a button, along with three more buttons for media, phone, and connectivity functions. The result is a well thought-out, ergonomic configuration that not only becomes intuitive after your first ride, but is also quickly identifiable while wearing your gloves.
Unboxing the Packtalk Edge, you'll find everything you need to install for just about any helmet out there: Two different mounting attachments — a universal clamp, and a 3M adhesive pad that adheres to helmets that are "flat" enough — plus the aforementioned JBL speakers, two different microphones (one for modular or 3/4 helmets, and the other for fixed full-face), velcro pads to attach it all, the Packtalk Edge controller itself, and lastly the magnetic dock that slides into the mounting attachment once its fitted to your helmet. It's a sleek kit that feels premium overall.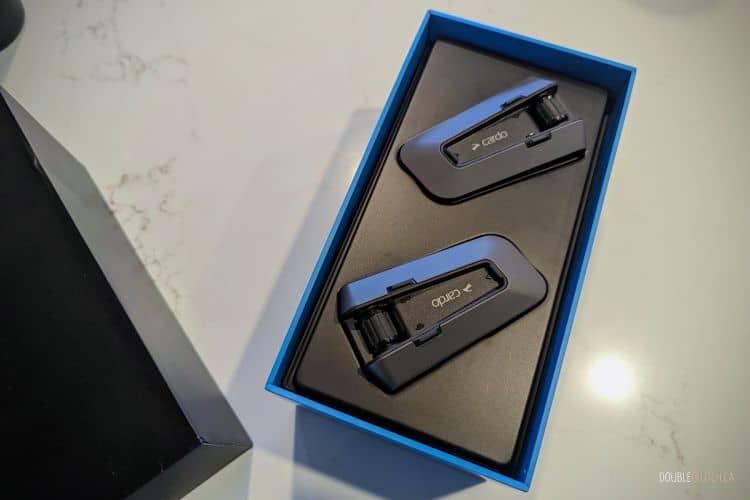 For me, installing the Packtalk Edge went smoothly and it fit onto to my AGV K6 helmet without much trouble. After removing the liner, I stuck the velcro mounting points for the speakers into the alcoves that already existed in my helmet, and fixed the gooseneck mic to the sidewall; I prefer having a mic I can move around, in case having a vent open interferes with how well I can be heard. Next, because the K6 is a bit too concave for the 3M pad to properly adhere, I attached the universal clamp mount, which easily slid between the shell and core.
Then, I attached the speakers, routed the wires, and cleaned everything up. I found cutting a small piece out of the helmet's trim allowed the wires to pass through without any friction or resistance, once the dock was fixed into place. Lastly, I slapped the controller onto the side of my helmet and let the "air mount" magnet take care of the rest. This is one of my favourite parts of the Cardo setup — not only does it secure the controller safely to the helmet and make it easy to remove for charging, but it feels so damn cool to snap this onto your helmet and go.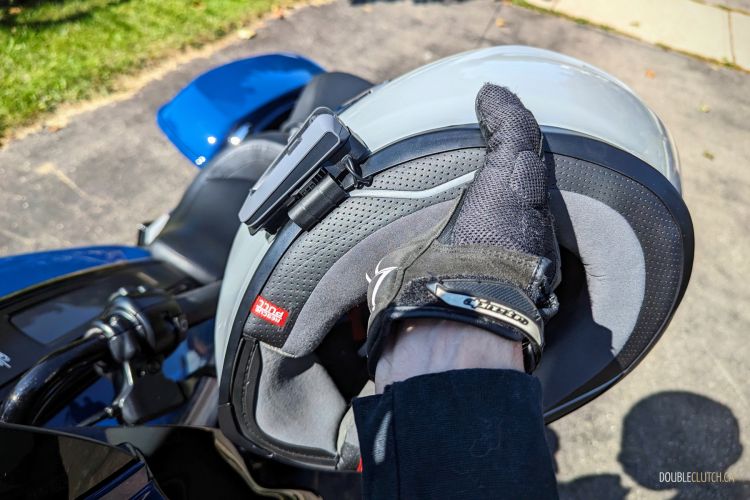 Once I set up all the hardware, I downloaded Cardo's app to sync up my phone and update the headset. This went relatively smoothly, but I had to fiddle around with my Bluetooth settings a few times to get a consistent connection and to complete the update. After the initial formalities and setup, it was smooth sailing. The app lets you configure your sound profiles, pair up intercoms, set phone book favourites, and radio presets, but I haven't felt a need to use it much. Cardo recently added the ability to record your rides, which I'll be sure to check out in the future, but for day-to-day use, the controls on the unit itself take care of everything I need.
I was pleased with the easy installation and setup, but as soon as I took my first ride with the Packtalk Edge, I was blown away. I was finally able to actually listen to my music again above 90km/h — it really made me wonder why I ever used anything else. The JBL speakers hold up really really well at speed, and I was able to clearly hear my music during some very spirited acceleration without even setting the Packtalk Edge to full volume, which is something I haven't experienced in a long time.
The voice functions also work extremely well. The units quickly pair to each other, and chatting with a passenger or in a group comes through loud and clear. As an added bonus, you don't have to toggle in/out of your music during a conversation, making the user experience totally seamless. For your riding buddies that haven't yet made the switch to Cardo, you can still use a universal intercom, but I found the Cardo's Dynamic Mesh system to provide clearer audio for conversations. Phone calls worked well for me, and during some longer conversations on the road, the folks on the other end of the call had no idea I was blasting down country roads.
Cardo hit the nail on the head with the Packtalk Edge's interface, robustness, and audio quality. After a couple of weeks riding with it, I've only had to charge it once, too. This is hands down my new favourite piece of riding gear, and what I would consider an essential piece for every modern motorcyclist's kit. Starting at about $525 CAD, the Cardo Packtalk Edge is is worth every penny, and as of this writing, you can get one at 20 per cent off from most retailers in Canada, making the deal even sweeter.
See Also