The 2023 Volkswagen Jetta Highline is pretty vanilla, and I'm here to say that's not a bad thing. Vanilla has an interesting history: It was originally used by the Aztecs in what we now know as Mexico to sweeten the bitter cacao bean in a beverage that's not too far removed from what we now call hot chocolate, before being brought over to Europe, where its popularity spread quickly. The French grew their own vanilla in Mauritius, and had the inspired idea to use it in a relatively new delicacy that the Italians were tinkering with, called ice cream. 
Centuries later, vanilla remains one of if not the most popular flavours of ice cream in the world, and it has the unique benefit of working with everything. Every dessert is better with a scoop of vanilla; not so much the case with Rocky Road. A really, really good, traditional vanilla ice cream is exquisite, with the unique flavor of the beautiful vanilla plant serving to accentuate the richness of the cream and mask the salinity that allows ice cream to stay icy.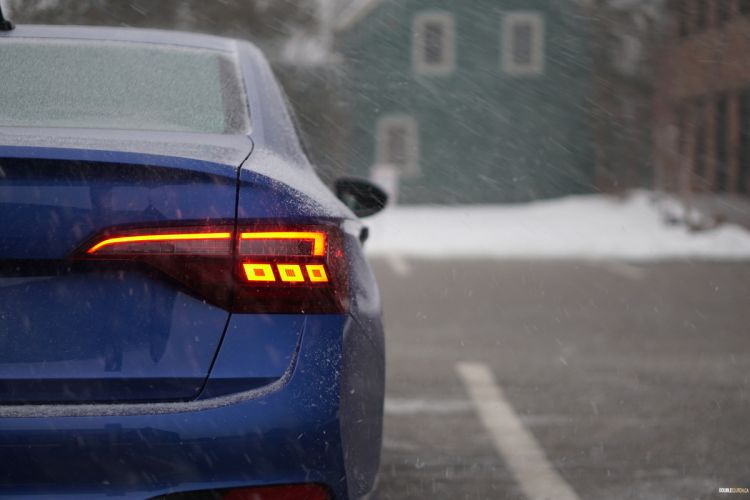 Despite this, the word vanilla carries a negative connotation with it. Plain. Dull. It's almost a sin to walk up to a gelato bar and order vanilla, like you're admitting to everyone within earshot that you're boring. I don't like this idea; sometimes that's all you want.  Moreover, it's one of those staple foods that's simple on the surface but very tricky to master, like a cheeseburger, fries, or scrambled eggs. Any idiot can make scrambled eggs, but it takes serious talent to nail scrambled eggs. The Volkswagen Jetta is a rolling machination of this idea; it's a simple idea executed incredibly well. This is how you do unfussy without being uninspired.
The Jetta soldiers on largely unchanged for 2023, still enjoying a mild facelift and powertrain update from '22. Its distinctly German exterior design remains crisp and contemporary, and the machined face 18-inch wheels and "sport" bumpers on our Highline model make it look more upscale than it actually is. Our tester's beautiful Rising Blue Metallic paint looks fantastic under any lighting, and is a wonderful break from the drab neutrals that cloak everything else on the road.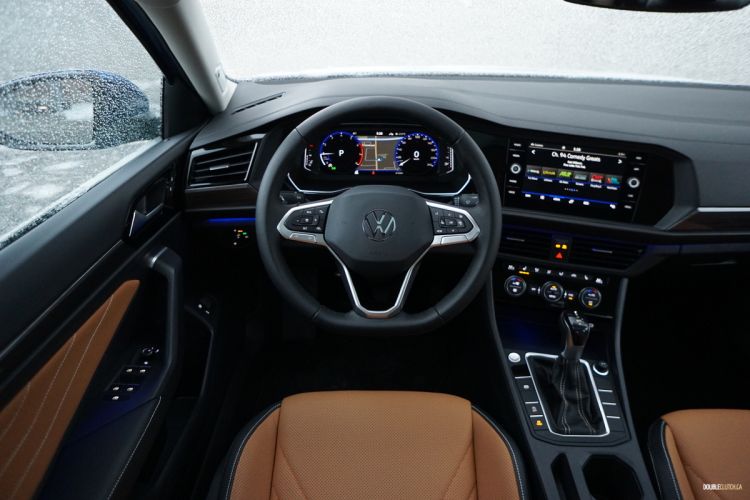 Said blue paint contrasts wonderfully against the Vulcano Brown (that's not a typo) leather seats in our Jetta's tasteful, thoughtfully laid out cabin space. While the Jetta is classified as a compact sedan, is decidedly un-compact inside, boasting an abundance of head, leg and knee room in the front and rear, along with what is easily one of the largest trunks we've ever seen in any size of car. The Jetta is blessed with a relatively low waistline and small-ish pillars, resulting in very good sightlines; you could easily make do without the backup camera.
The backup is camera is crisp and high resolution, and positioned smartly to avoid being fouled by inclement weather – the week we had with our Jetta was nasty weather wise, and the Jetta's delightfully overpowered heated seats and steering wheel were a welcome reprieve from the inclement weather that hounded us. The rest of the technology in the Jetta is generally effective and well thought out, with only the infotainment behind the 8-inch touchscreen beginning to show its age; the navigation's search function can be intermittently hopeless.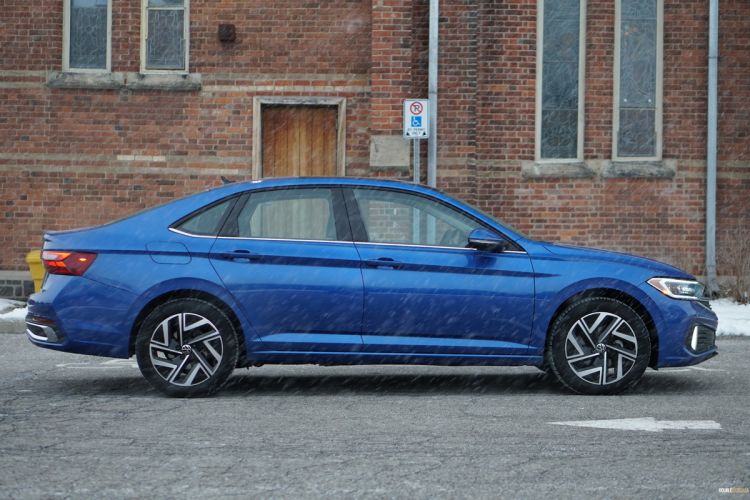 Not hopeless is the Jetta's driving experience, which circles very neatly back around to vanilla. I'll be the first to concede that it's unremarkable, but it succeeds at its mission of being quiet, comfortable transportation. Wind and road noise are hushed, the transmission is seamless and dutifully responsive in manual mode, and the ride quality is outstanding for what's supposed to be a compact commuter car. All the driver controls are light and linear, easy to read and easy to approach. It's not the most engaging drive in the world, but that's forgivable; if that's what you wanted, you'd opt for a spicy-spec Jetta GLI for not much more. 
That separation from the sporty GLI is one of the Jetta's greatest strengths. In an era where it feels like everything has to be sporty, the Jetta Highline doesn't even try to do that, and it's all the better for it. The little 1.5L turbocharged engine is impressively smooth and refined, and returns phenomenal efficiency; we recorded an average fuel use of 6.7 L/100km, narrowly beating VW's own estimate and handily outdoing a number of much more costly hybrids.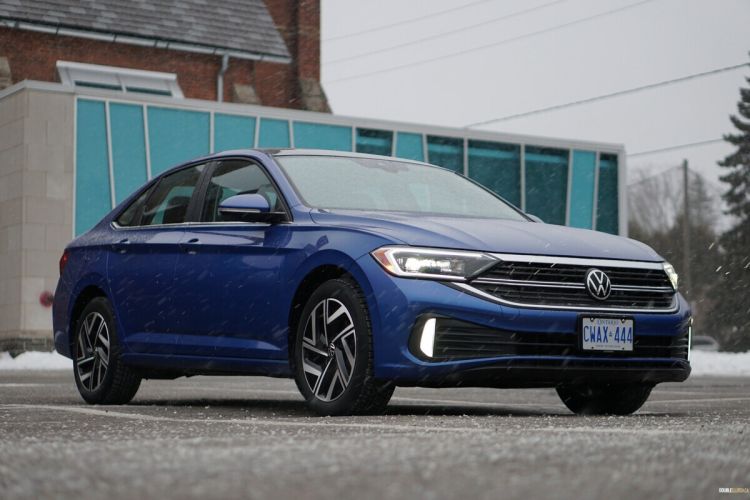 In an era where the average new car price is over fifty thousand dollars, our fully loaded Jetta Highline at $31,295 represents a fantastic value. It's comfortable, quiet, refined, drives well, is absurdly spacious and efficient, and by now is a well proven platform that you can count on to go the distance. Just like vanilla ice cream, the 2023 Volkswagen Jetta Highline is a well executed basic recipe that you can count on to remain relevant for many years to come.
See Also: