Remember around 2008-ish, when there was a weird trend towards cars that looked like cute refrigerators? There was the Scion xB, and the larger Honda Element, and then Nissan starting importing the previously Japan-only Cube, and then Kia gave us the Soul in 2011. That trend has since retired and most of those vehicles have been put out to pasture, but the Soul persists. It still sells pretty well, and it sells uniquely well in Canada – we're apparently big fans of funky fridges. We apparently like these quirky cuboids so much that the 2023 Kia Soul EV Limited is a rare Canadian exclusive, the Americans just have the Niro EV in this segment.
The Soul EV makes a lot of sense – honestly, a surprising amount of sense. Usually when you shoehorn an electric powertrain and battery into what was a dedicated gas platform (especially one as old as this one), you have to make some major compromises in battery or cargo capacity (usually both), and the finished product suffers. The Soul's boxy silhouette allows it to be a uniquely excellent EV without any notable sacrifices being made. The only real sacrifice that we can detect, is that it is largely void of the very here-and-now styling that comes with most EV's. It's ironic that the Kia Soul, which was deliberately designed to be cute, and quirky, and distinct, and offered in a range of bright, eye-catching colors, is the stealth option for EV buyers.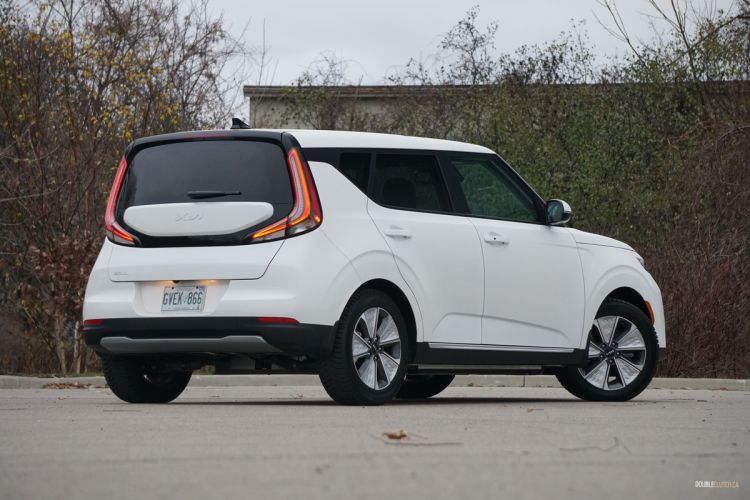 The only giveaway that the Soul is an EV is the charge door on the front bumper, the (tiny) blocked off grille, and the unique diamond pattern wheels. There isn't even any badging to indicate its electrified motivation, it just says Soul on the back. If you're thinking about an EV but don't want to flaunt it for whatever reason, this is the one. Come to think of it, that baked-in modesty is probably why the Soul EV is reserved just for us; we tend to like that sort of thing. With the all-new and much more modern Niro on the horizon, the Soul has very slowly been getting trimmed down, and while we've heard nothing to confirm it, we're starting to think Kia's beloved little box isn't long for this world.
Despite all of that, the Soul EV remains an excellent little vehicle and a compelling option, at least for the time being. It shares the same powertrain with the Niro, which means it has a 201 horsepower motor paired with a 64kWh lithium-ion battery, good for up to 383 kilometres of range. It doesn't sound like a lot of power, but its 291 foot pounds of twist are more than enough to gleefully roast the front tires if you're feeling like a hooligan, and it's one of the quickest Kias you can buy right now. Kia doesn't offer a one-pedal mode on this, instead offering their usual paddle selectable-regen function, with the option to stop the car completely by holding the left paddle. It's a little odd but it does work, and it's a reasonably effective stop-gap for those that still want the usual ICE creep – these are probably the same people that would want a stealth EV in the first place.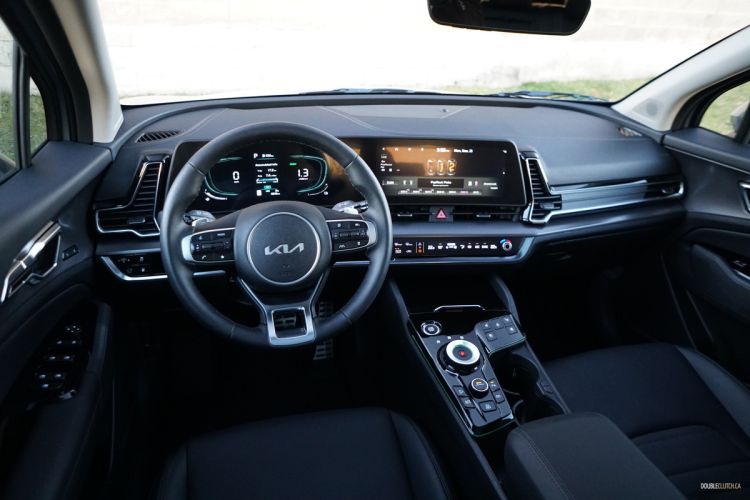 The interior space is pretty stealthy too, skewing away from the hyper-modernity that dominates EV interior styling. It looks like the same Kia Soul we all know and love, with the same practical control layout, the same 10.25" touchscreen, and the same generous head, leg, and cargo space. Visibility is great, build quality is terrific, and ergonomics are good – in a lot of ways I prefer the Soul's button layout to the new-gen Kias capacitive control scheme. Our Limited trim tester came decked with seats that are leather, powered, heated, and ventilated, a heads up display, and a thumping Harmon Kardon sound system. It may be a little dated, especially next to its futuristic stablemates, but it remains a nice, well thought out place to sit. 
The same charm that makes a "regular" Soul fun to drive persists in the EV, albeit in a slightly different fashion. It's one of the more flickable EVs available, and its low center of gravity created by its 600 pound battery pack gives it fairly impressive handling and balance, Steering is well gauged, throttle response is linear, and the brakes, in typical last-gen Kia/Hyundai fashion, are a little too sensitive and will require you to recalibrate. It doesn't have the blistering pace of some of the more premium electric offerings, but in and among its price point pals, it's easily one of the more entertaining options. It's plenty quick and tossable, and it's quiet and comfortable otherwise, betrayed only by slightly higher-than-average road noise.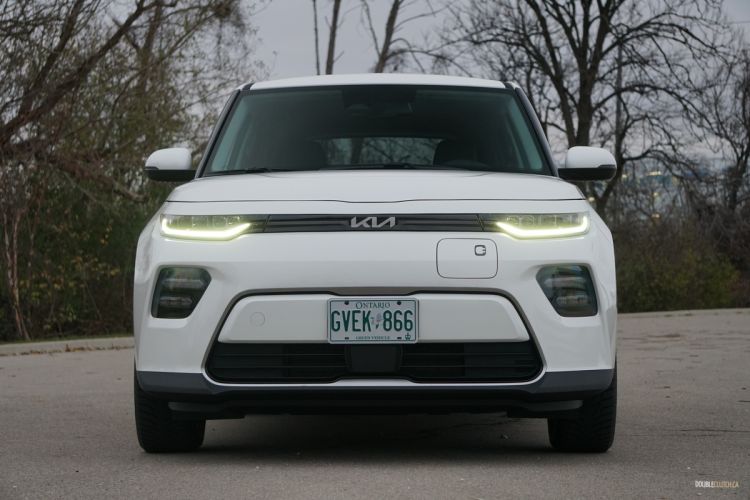 Overall, the aging 2023 Kia Soul EV Limited with its very modern powertrain remains a very viable option for those looking to quietly enter the EV market. Its greatest trick is looking and feeling very much like a normal car; a lot of EVs feel like EVs, they feel like a gimmicky technology exercise, like a rolling cellphone. The 2023 Kia Soul EV feels very much like a normal car that just happens to be electric, and it's so much better for it. The only real sticking point is one Kia is apparently already aware of (as evidenced by them not selling this in the US) – the $51,995 price tag. Well equipped and well executed as it may be, the Soul has always been known as a cute and quirky economy option, and at that price point, it's a bit of a tough sell next to its more in-vogue rivals. Either way, the subtle Soul EV is a treat that'll just be our little secret.
See Also: