The Merriam-Webster dictionary defines "overkill" as an "excess of something, such as a quantity or action, beyond what is required for a suitable purpose." With more than 800 horses on tap, not to mention the kind of acceleration that goes from zero to licence suspension in the blink of an eye, I define "overkill" as the 2022 Dodge Challenger Hellcat Redeye Jailbreak. Every bit of this car is far beyond what is required for any suitable purpose — unless that purpose is to coax pure joy out of most people.
The best part is, you don't even have to be behind the wheel or riding shotgun to experience that joy. You could be the Charger SRT-8 driver who gave me a thumbs-up at the gas station. You could be the kid in the minivan sitting crawling beside me in traffic, looking over with an ear-to-ear smile. Or, you could be the dude waiting for the bus who basically lost his mind after I gave this big, dumb car a couple of revs.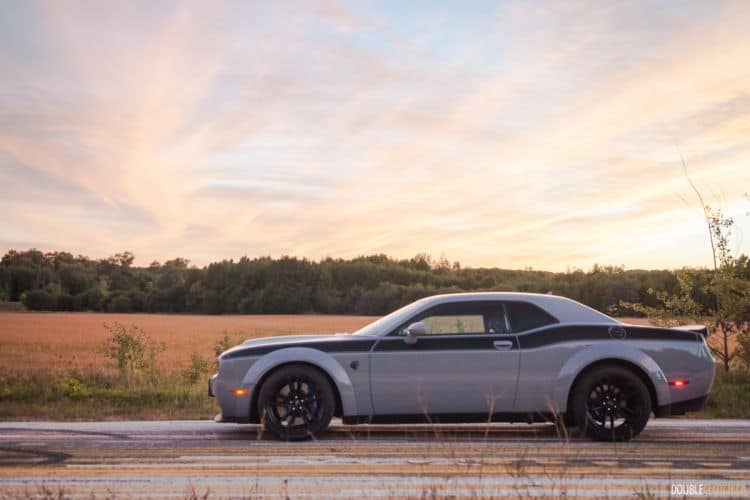 It doesn't matter who, where, or how old you are. The Hellcat will make you smile, giggle, laugh maniacally — or a combination of all three — simply by existing. And that makes it so much harder to believe our time with the Hellcat is almost up.
By now, you already know what the Hellcat is all about. It's been seven years since Dodge "fixed" the Charger and Challenger's inevitable aging by throwing more horsepower (and, in all fairness, a nicer interior) at the problem. Turns out, that's a pretty effective solution: almost instantly, the Hellcat duo became the darlings of enthusiasts and gearheads pretty much everywhere.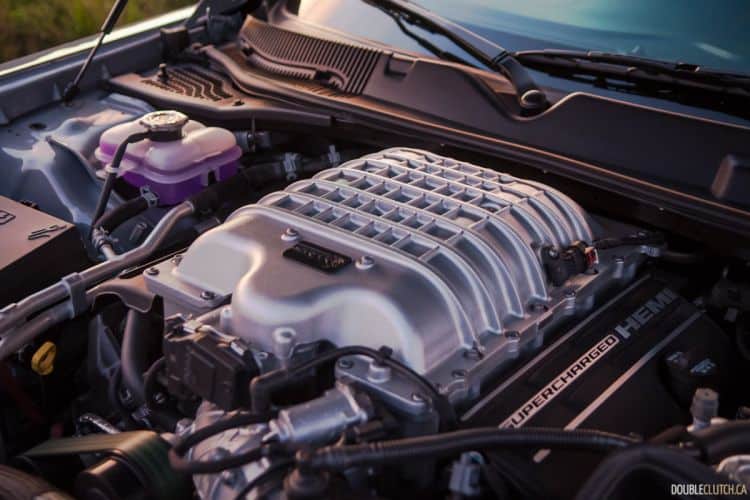 But time waits for no Hellcat, and the send-off to this excessive and endearing behemoth is already underway. Next year, Dodge will wrap up Challenger (and Charger) production with a handful of "Last Call" models available in seven different flavours. There's a replacement coming in 2024, too — it'll be electric and make fake engine noises. Oy vey.
But if you can't wait 'til next year for a Last Call car, or fake engine noises aren't your thing, Dodge is letting you whip up your own somewhat special Hellcat with the new-for-2022 Jailbreak package. In a nutshell, for an extra $1,295 on top of the Redeye's bottom line, Dodge will let you spec various colour combinations, options, and graphics previously exclusive to other trim levels. Things can get pretty wild and questionably tasteful, but our particular tester definitely errs on the subtle side.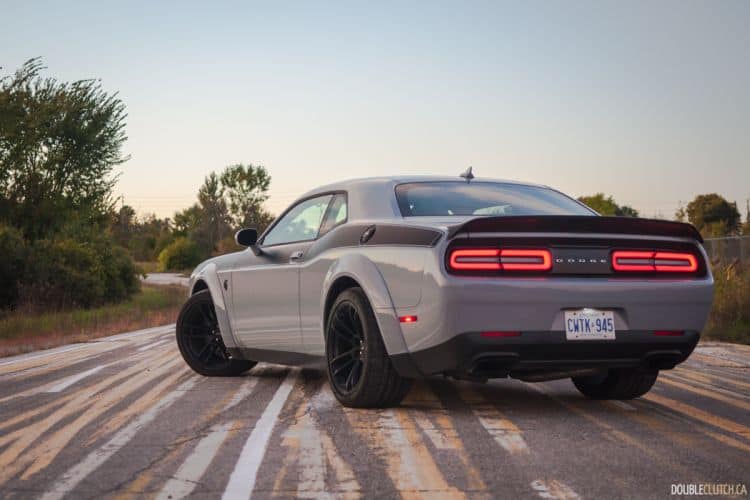 Oh, Dodge also throws in an extra 10 horsepower with the Jailbreak, because the Redeye obviously isn't powerful enough. The 6.2-litre supercharged V8 puts out 807 hp (versus 797 in the standard Redeye) and 707 pound-feet of torque. An eight-speed automatic is your only transmission option, but that's OK because the Redeye takes off like a bat out of hell: most buff books peg the 0-60 mph (96 km/h) run at about 3.5 seconds, the quarter-mile run at just under 12 seconds, and with enough road, you'll top out at 326 km/h. 
Beyond the spec sheet, the Redeye is simply as batshit as you'd expect. Double-tap the remote start button on the red key fob and the car snarls awake. Drop the hammer in an underpass with the windows cracked, and the sound hypnotizes you as certain speeding thresholds loom. Drop the hammer when you're first in line at a traffic light, and the 305s out back will break loose for a sec, even with stability control fully on. You'd have to be a fool — or a professional driver on a closed course — to turn it off.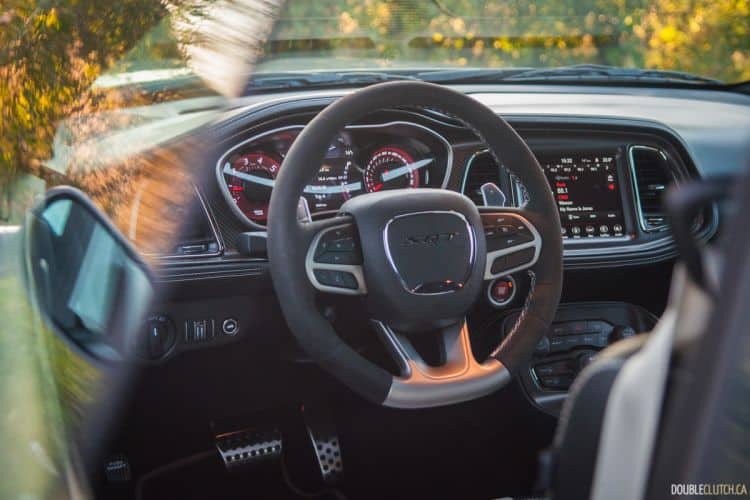 No surprise that the Redeye is a hooligan of a car, but it can be surprisingly mellow, to a certain extent. The clever eight-speed automatic, generous torque, and easy steering make traffic a breeze. The snarling exhaust that roars in the tunnels also fades into the background when you settle into a steady cruise. The Challenger Demon-derived chassis tweaks, adaptive suspension and 305s all around that give this car a rambunctious attitude also keep the ride relatively smooth over bumps, potholes, and other gnarly bits of road — but the car will tramline in heavy rain thanks to those 305s. Hey, I didn't say it was perfect.
As a habitual scavenger of used manual Challengers in online classifieds, I can honestly say the interiors of the early cars — roughly 2009 thru 2014 — is a dealbreaker. The 2015 rework also added a new interior, but seven years is a long time for something to stick around in the automotive world, so the Redeye's cabin is starting to feel a little dated. But fit-and-finish is decent, the chunky-looking front seats are comfy, the back seat is surprisingly roomy and the trunk is practically a cave, and the Uconnect infotainment is as intuitive as ever. There's even buttons and knobs for the volume and A/C — but you have to dig through the touchscreen to heat up the seats and steering wheel. Can't win 'em all, but the whole layout is functional and nice enough.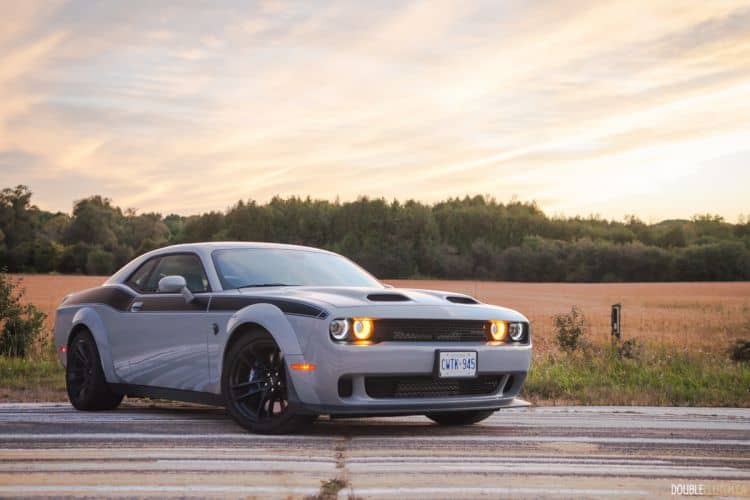 They say you can't buy happiness, but you can buy horsepower, and that's kind of the same thing. With that in mind, let's get down to brass tacks: you need to start with $81,265 for a base Challenger Hellcat, then you need to fork over another $27,295 for the Redeye fixings and the widebody flares, plus another $13,915 in various other options. That brings the as-tested price of our Redeye Jailbreak tester to $122,475 before fees, taxes, and all that other fun stuff. Truth be told, that's a lot of money in the world of performance cars: that's C8 Corvette, base 911, Boxster Spyder and/or Cayman GT4, F-Type, M3 and M4, LC 500, or MX-5 Miata with a Flyin' Miata V8-swap-with-a-bunch-left-over-for-tires kind of money. 
But none of those cars put out 807 horses. The 2022 Dodge Challenger Hellcat Redeye Jailbreak is excess and overkill in every sense of the word, but is that such a bad thing when the Hellcat is so good at making complete strangers smile? Hell no!
See Also: