SAN DIEGO, CALIFORNIA – Remember the Kia Niro? The little crossover hybrid/EV thing Kia launched in 2016? You probably don't, it's okay. It was a good little car, but its bland styling failed to make much of a lasting impression. For 2023, Kia has redesigned the Niro from the ground up, added some much needed visual flare, and they're gonna move a lot of them. We were invited to test drive the new 2023 Kia Niro in southern California, and having piloted two variants through the rolling hills and twisting canyon roads from San Diego to their design centre in Irvine, we're inclined to agree with their thinking. 
This time around, looking at them is actually pretty memorable. The Niro gains a whole lot of spice by borrowing a lot of design cues from the 2019 Habaniro concept car, which itself was inspired by cool sneakers and mountain bikes. The chief designer really liked the contrasting colors and angular designs, so he went with it and baked them into the Niro. This can be seen in the distinct lighting design and the contrasting body accents, most notable of which is the functional "airblade" that frames the rear doors and C-Pillar.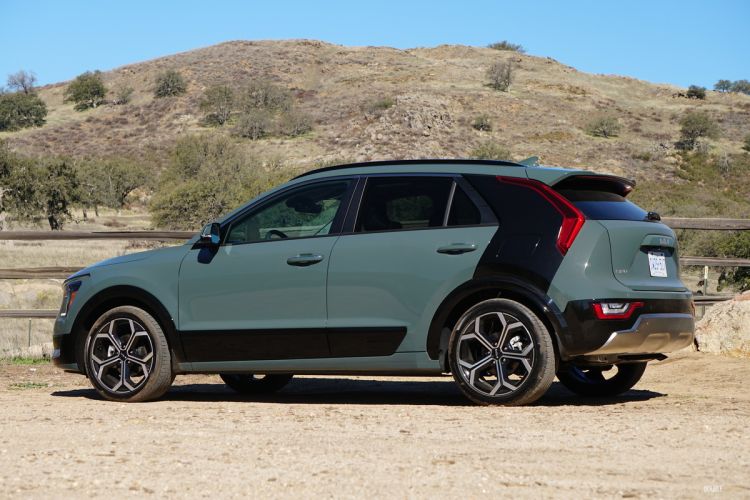 Kia's gone very ambitious with this platform. It is all new, and it is the only architecture in the world designed from the beginning to accommodate a gasoline hybrid powertrain, a plug-in hybrid, and a dedicated electric powertrain. It's an impressive balancing act, as typically you have to compromise one to benefit the other, but by being mindful of those packaging options from day one, nothing gets sacrificed.
Kia's plan is to appeal to existing Kia customers and capture new buyers from other brands by offering so many different powertrain options at an accessible price point – and preliminary data from a limited run of pre-orders shows they're succeeding. Whether you go mild hybrid, full electric, or somewhere in the middle, they want to be flexible in letting you choose how far you wanna put your foot through the doorway to electrification.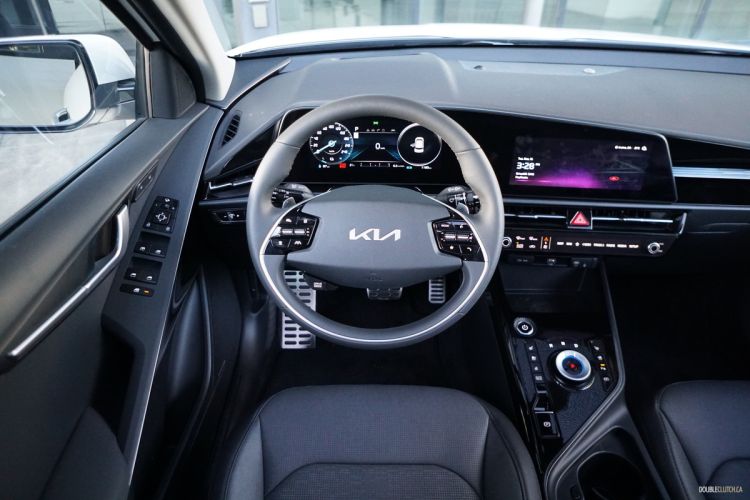 We started our drive with the Niro HEV, the conventional gas hybrid model. We were greeted by a fresh new interior design, which borrows heavily from the EV6 to great effect. It looks slick, clean, thoroughly modern, and feels of quality. The sharp looking capacitive control strip with the dual-mode media and climate dials from the EV6 makes an appearance here, and we found it generally worked well enough, if maybe not the most intuitive setup in the world. The cabin is bright and airy, and the boxy greenhouse lends itself to excellent visibility and generous front and rear passenger room, with commodious cargo space too. Overall it's a well thought out space that punches above its class.
Kia's gone to great lengths to improve refinement and NVH levels, with more strategically placed insulation and an acoustically laminated windshield. The Niro is quiet and comfortable, with minimal wind noise and low road noise. The chassis tuning is very impressive for this sort of vehicle, as it demonstrated excellent composure and balance through the twisting canyon roads, and commendable comfort over the more off-beaten paths we ventured through. All driver controls feel good, with direct, well weighted steering and linear pedal responses, and with a surprisingly low curb weight of ~3,200 lbs, it's more flickable than you'd expect.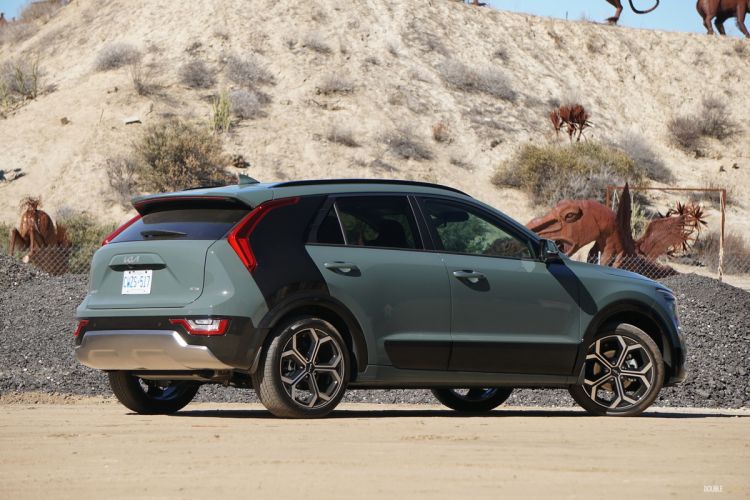 The only letdown of the driving experience is the powertrain, and I'll add the caveat that there's nothing really wrong with it. It's designed first and foremost to be efficient, and it excels at that, as we observed 6.1L/100km, and that's with a lot working against it, including elevation, hilly terrain, and a heavy right foot (Kia says it should average 4.8L/100km).
In slow traffic it effectively mimics an EV, being silent and smooth, and it even remains fairly refined when the gas engine quietly kicks itself on to deliver more power. That's the rub – there isn't any power. The 1.6-liter GDI four cylinder pairs with a small electric motor to deliver a combined 143hp, which is perfectly adequate for a little commuter car, but there were definitely times where we'd have the skinny pedal matted and it felt like no one was home.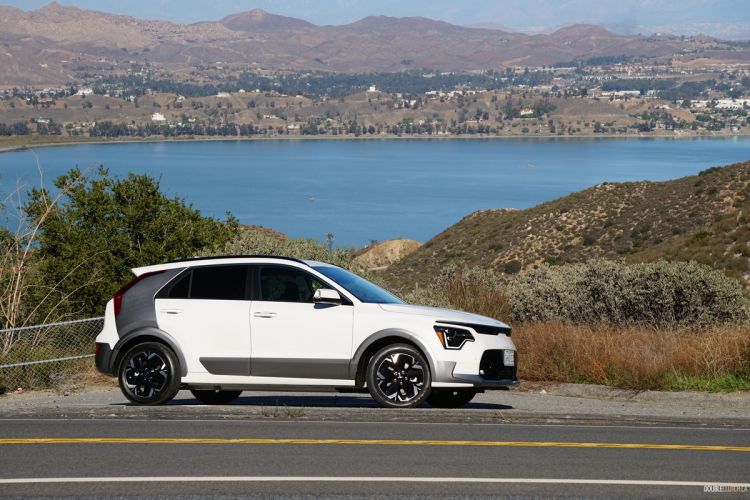 For the second leg of our journey through the mountainous roads of Ortega falls, we were at the helm of the Niro EV, the dedicated electric model. For as much as the hybrid does a good job pretending to be electric, it's no match for the real thing. With 201 horsepower available and an overall driving range of 408-kilometers, it moves along much more eagerly than the HEV, and of course it's totally seamless and silent.
The added weight of the 64.8 kWh battery is offset by a low center of gravity, and as such the chassis demonstrates handling similar to the lighter HEV model, trading in a little bit of tossable playfulness for a more on-rails feel. The EV's sport mode leans into this feeling, as it quickens the steering and ups the effort substantially, making for a more engaging, substantive experience.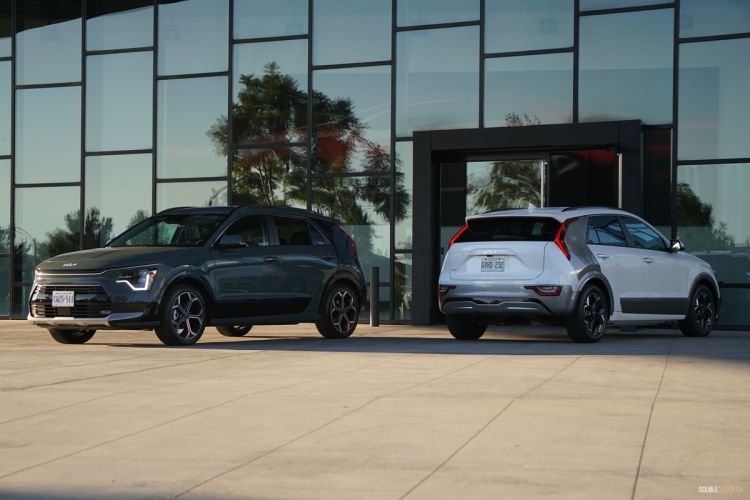 Overall, we came away impressed with the 2023 Kia Niro. It's handsome, comfortable, practical, efficient, and comprehensively equipped. Pricing starts at $29,995 and $44,995 for the HEV and EV models respectively, add about eight grand for the fully loaded variants of either one, and they should start arriving at dealerships in Q1 2023. The Niro PHEV plug-in hybrid was not available for this event, but it slots in right between the other two at $37,995 and should do 50 kilometres before having to tap the gas engine. 
See Also: