Somehow, someway, the Toyota Crown sedan managed to survive 67 years and fifteen generations without making much of a splash here in North America. All that is about to change however, as the all-new sixteenth generation 2023 Toyota Crown returns to Canada after a 50-year hiatus, replacing the sophisticated but often forgotten Avalon as the brand's full-size sedan.
Other than its overall size, the Crown shares almost zero resemblance with the outgoing Avalon. The top-of-line Toyota Crown Platinum in front of us today sports a radical raised design that is almost SUV-like, 21-inch wheels, and a two-tone black and red treatment that drew plenty of attention and controversy along the way. Say what you want about the styling though, we applaud Toyota's decision to resist the urge to turn this into another SUV, and simply try to reimagine the sedan to appeal to a new group of audience.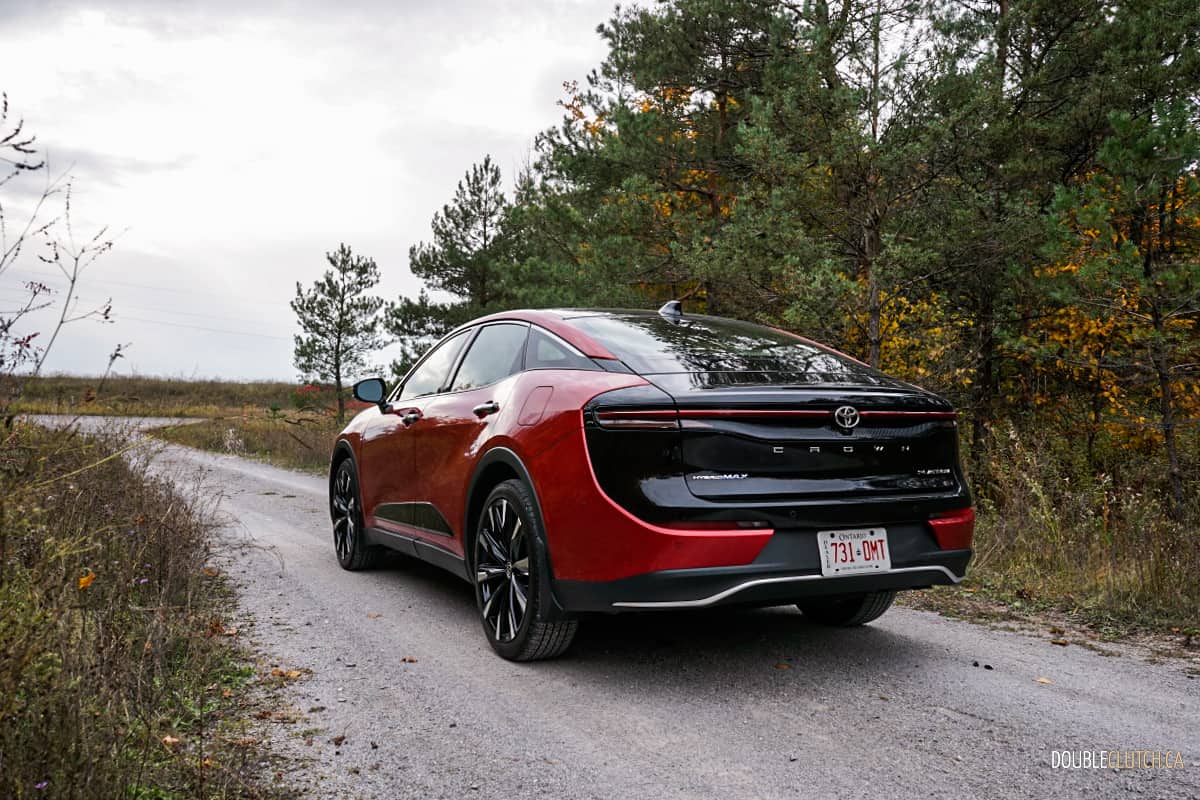 Just like the Toyota Venza and Sienna, the tried-and-true V6 option is no longer an option on the new Toyota Crown, opting for an all-hybrid lineup across all three trim levels. The base XLE and mid-trim Limited getthe standard 2.5-litre naturally-aspirated hybrid engine, while the Platinum trim gets an jolt through Toyota's new HYBRID MAX powertrain – a 2.4-litre turbocharged four-cylinder engine with a front electric motor that produces 340-horsepower and a healthy 400 lb-ft. of torque. All Toyota Crown models are all-wheel drive with the top-trim Platinum getting a full-time electronic system instead of the on-demand one in the rest of the lineup.
With that much power on tap, the Toyota Crown Platinum is quite quick off the line and we appreciate  its silky-smooth power delivery rather than a forceful experience. Just like most of Toyota's hybrid products, the Crown's driving dynamic is rather uneventful, shifting its focus on delivering a comfortable ride. Much like most unwanted noise, road feel is isolated from the cockpit, but at least it is willing to turn thanks to the Platinum's standard adaptive suspension system and the rigid TNGA-K platform.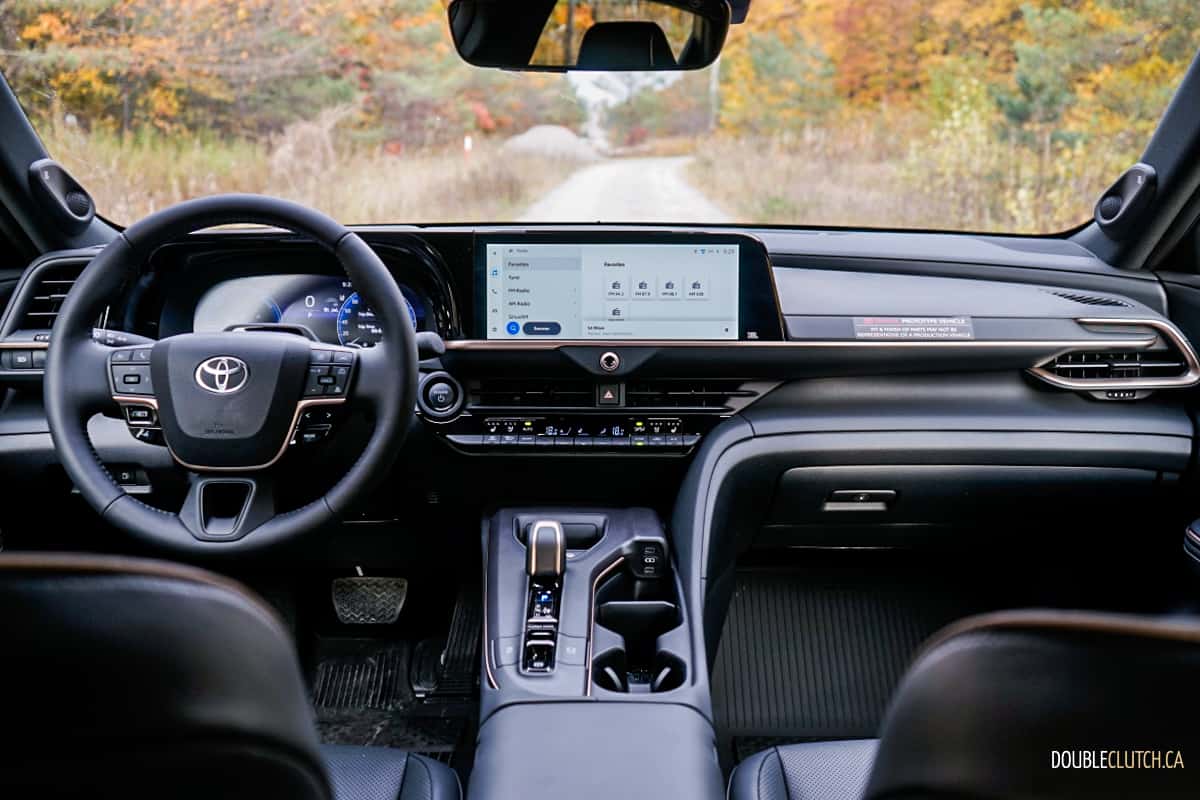 Moving on inside, the 2023 Crown manages to charm with its simple yet elegant interior design. The interior is accented by gold trims that looks rather pleasing and not at all tacky, and the rest of the cabin is high quality as well. The seats are wide and comfortable for four occupants but the headroom on the rear seats was surprisingly tight due to the raked roof design. A fixed panoramic moonroof is standard on the Limited and Platinum trims to make for a bright and airy cabin.
A standard 12.3-inch touchscreen houses the all-new Toyota Multimedia infotainment system. Usability is improved with more intuitive layout when compared to the outgoing operating system, and there is standard wireless Apple CarPlay and Android Auto capability. The Limited and Platinum trims come with an eleven-speaker JBL Premium Audio System and plenty of charging options to keep the devices going.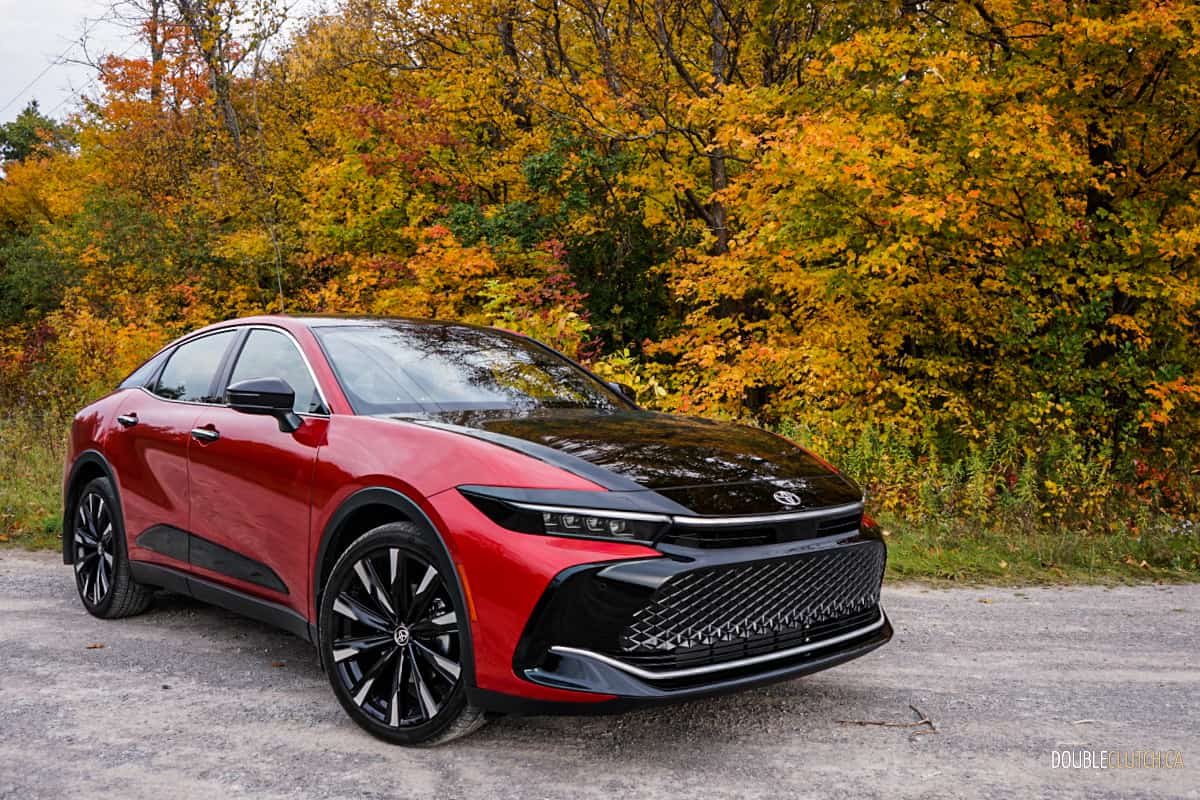 All Toyota Crown models come with Toyota Safety Sense 3.0 driver assistance technology, which includes radar-guided cruise control, lane recognition, lane departure alert with steering assist and lane tracing assist, automatic high beams, blind spot monitoring, rear cross traffic alert, and collision mitigation systems.
Pricing starts at $45,590 for the Crown XLE and moves to $50,990 for the Limited, with the range-topping Crown Platinum at $59,990. It finds itself in an ever-shrinking segment as most full-size mainstream sedans have been replaced by crossovers and SUVs, but that might work towards its advantage as there simply are not many comparable options. The 2023 Toyota Crown can also appeal to those looking for that all-weather confidence but prefer to have it in a more traditional sedan design, thanks to its standard all-wheel drive and the additional ride height.
See Also:
2021 Toyota Avalon Limited AWD