It's been a few years now since Lincoln redesigned their flagship SUV, the Navigator. It's a body-on-frame, luxury people mover that offers seating for seven, all of the frills that the Lincoln marque offers, and flashy looks to rival the Cadillac Escalade. As far as American full-size luxury haulers go, these two are the kings. Our managing editor Nick Tragianis recently got married, and we thought to ourselves that there would be no better vehicle to lug a bunch of people around in style than this 2022 Lincoln Navigator Reserve.
The Ceramic Pearl paint on our Navigator tester looks top notch in any lighting, and the stylish LED accent lighting throughout the truck, including the lit Lincoln badge on the front grill, is all class. While it may be a bit gaudier than some would like, the Jeep Wagoneer and Lexus LX 600, are no less loud in their presentation. The Navigator's overall proportions are pleasant in both lengths (Navigator and the extended-wheelbase Navigator L), though it does appear a touch slab sided and blocky, while the Escalade pulls off a more modern, futuristic look.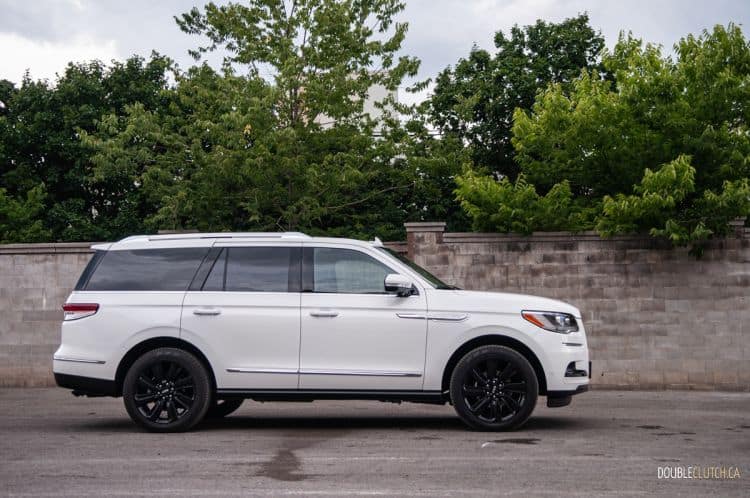 All models of the Navigator are powered by a twin-turbocharged 3.5-liter V6 that's shared with its fraternal twin, the Ford Expedition. It's now good for 440 horsepower at 5,850RPM and 510 lb-ft. at 3,000RPM. While we've always been fans of the meaty naturally aspirated 6.2-liter V8 in the General Motors full-sizers, there's a compelling argument to be made for the boosted V6. It has gobs of torque, sounds good, and feels peppy. It does feel like it's running out of breath when passing at higher speeds, but that's just a characteristic of a V6 in an SUV the size of a house.
The 10-speed automatic has been vastly improved since its inception, and this transmission is a joint venture between Ford and GM. It skips gears quite a bit on normal acceleration, but is rarely confused and does its best to keep RPMs down and maximize fuel economy when cruising. A 5.5-second sprint to 100km/h is no easy feat for a 6,000-pound SUV, but the Navigator does it with grace.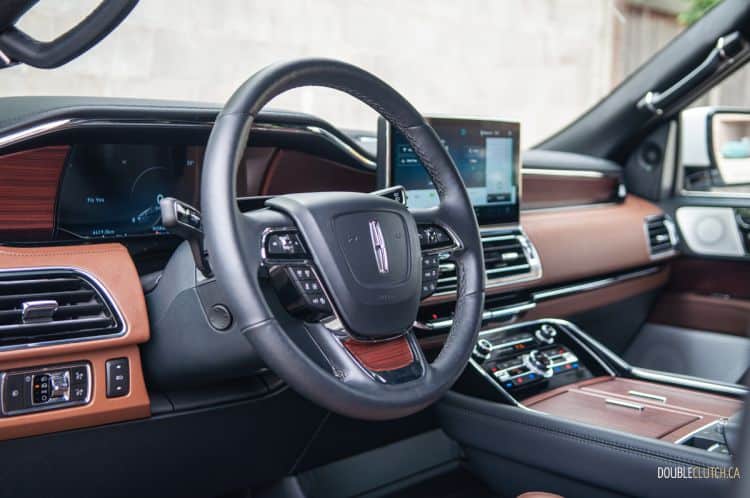 Ride quality is always an important factor for us when road testing these massive SUVs, and the Navigator is strictly satisfactory in this department. The big 22-inch wheels on our tester definitely make the ride jarring, and there are plenty of secondary motions noticeable by second and third-row passengers that can cause nausea. My colleague Zack recently experienced this exact sensation in an Expedition, and described it as a repeated wallow after large potholes and road imperfections. The big boys from GM are superior in this regard.
Fuel efficiency is rated at 15.2L/100km in the city and 10.8L/100km highway, for a combined 13.0L/100km. We did a bunch of driving around in urban settings, with plenty of gridlock traffic and idling. We observed 14.5L/100km running on 91-octane premium fuel, about average. We have run the Navigator on longer highway hauls before and haven't faced difficulties beating the highway ratings, so we know there's plenty of capability there.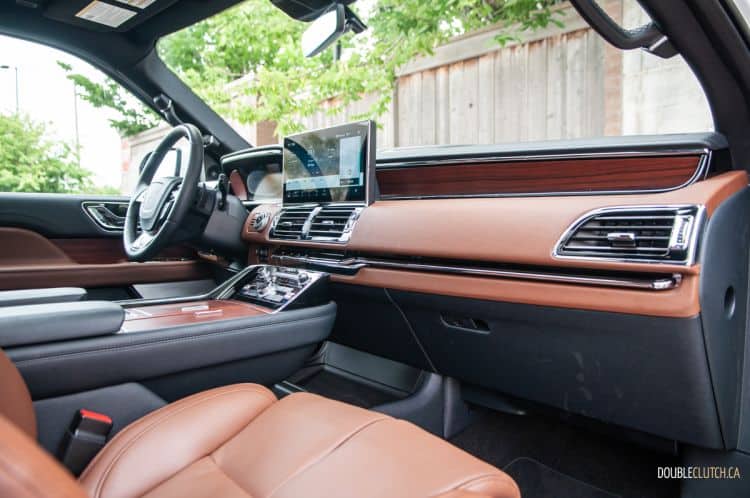 Where the Navigator does reign is the interior. Its beauty may be skin deep in some places, but it's mostly scrumptious. The large 30-way adjustable Perfect Position front seats are like large recliner chairs. They don't offer much in the way of support, but are plenty comfortable for long hauls, and offer heating, cooling, and a massage feature. The cabin is leather lined, with a large console between the two second row chairs, but there is a lot of piano black plastic all over. It's prone to dust, fingerprint, and scratches, and our 3,000-kilometer tester had plenty of wear already visible.
A massive 13.2-inch touchscreen houses Lincoln's infotainment hub. Apple CarPlay and Android Auto connectivity is offered wirelessly, along with a 5G hotspot, wireless charging, and a 14-speaker Revel sound system. The top-trim Reserve model does offer a 28-speaker Revel Ultima 3D stereo that sounds simply marvelous. As far as the infotainment goes, it's a re-skinned version of Ford's SYNC 4 system and is fairly good, though we'd prefer more hard buttons for major functions.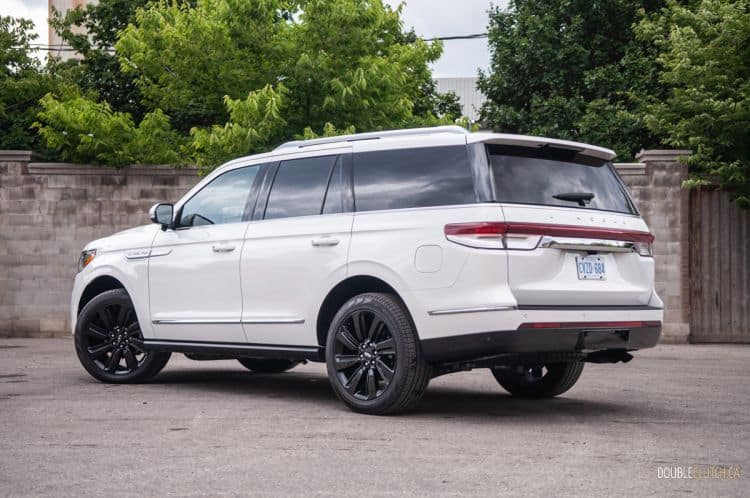 Adaptive driver technology on board includes blind spot monitoring, a rear-view camera, rear cross-traffic alert, autonomous emergency braking front and rear with pedestrian detection, and more. Our tester was also equipped with Ford's latest version of adaptive cruise control and lane-keeping assist, which effectively makes for a semi-autonomous driving experience. It's fairly good, though still needs a bit of refinement to hit the level of GM's Super Cruise. Ford's next-generation BlueCruise system is now becoming available on the Navigator under the name ActiveGlide.
Adding onto the base price of $108,300 for the short-wheelbase Navigator, our tester added the Reserve Luxury Package. This adds ambient lighting, Perfect Position seats, 28-speaker Revel system, lit star on the grille, and more. Adding a few other options on, our as-tested sticker came to just over $120,000. This brings the Navigator in line with the likes of the Escalade, Jeep Grand Wagoneer, and even import rivals like the BMW X7 and full-size Range Rover.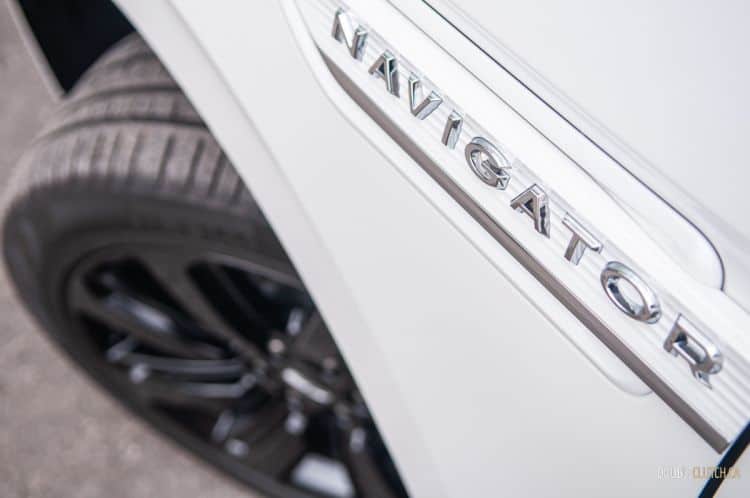 There's definitely still a market for the 2022 Lincoln Navigator Reserve. It's not without its flaws such as the ride quality and plastics in the cabin, but the overall package is exemplary. While the Continental sedan has been discontinued due to lack of demand, the Navigator continues to sell consistently based on the image and overall quality. If you're looking for an American luxury SUV to hurl down the interstates with authority regardless of conditions, this is one of the best choices available.
See Also:
2021 Lincoln Navigator Reserve