Minivan buyers are a confusing bunch. On one hand, they rave about their minivan's practicality at a moment's notice, yet they never want to be seen in it. You would also hear complaints about the fuel inefficiency and the lack of luxury appointments when compared to the sea of crossovers. To overcome these shortcomings, Stellantis offered up the 2022 Chrysler Pacifica Hybrid Pinnacle – a plug-in hybrid model with what Chrysler boasts as the most luxurious interior and as the most tech advancements in its class.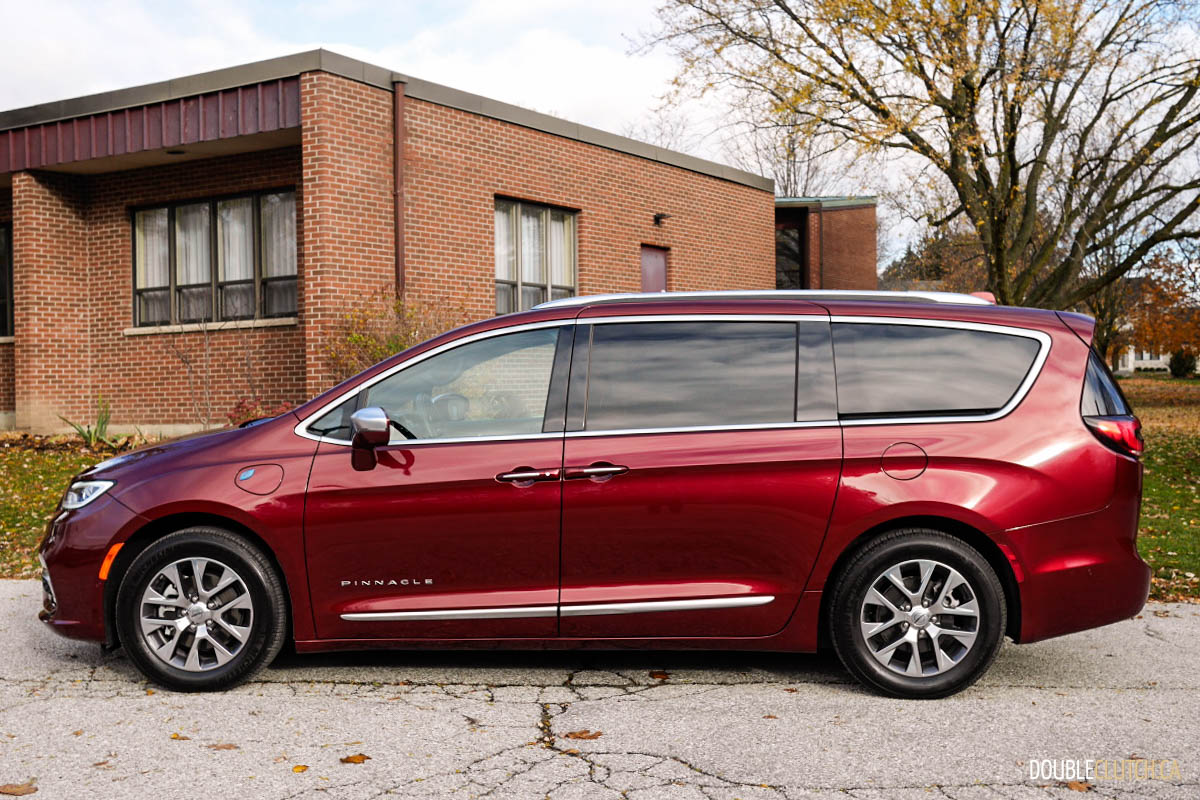 The Chrysler Pacifica has been around since 2017, and received a facelift in 2021 that gave it fresh styling all around. Interestingly, Chrysler has kept the pre-facelifted styling on the lineup as the more affordable Chrysler Grand Caravan –an unusual formula but one that has worked very well for the brand. The Pacifica features the right proportions for a minivan and we like its sophisticated looks, particularly the taillight design. Chrysler designers cleverly disguised its bulbous rear end by making the D-pillars appear skinnier and overall the Pacifica is quite a pleasing vehicle to look at.
The Pacifica Hybrid pairs the tried-and-true 3.6-litre Pentastar V6 engine with a 16-kWh battery that allows it to drive on electric power only for up to 51-kilometre and to have a combined total drive range of 835 kilometres. Horsepower is rated at 260 and the Pacifica has no problem moving along, especially with the help of the electric motor. It is a smooth powertrain when it is on either full electric or gasoline power, but we felt that the switchover is rather abrupt which put a damper on the driving experience.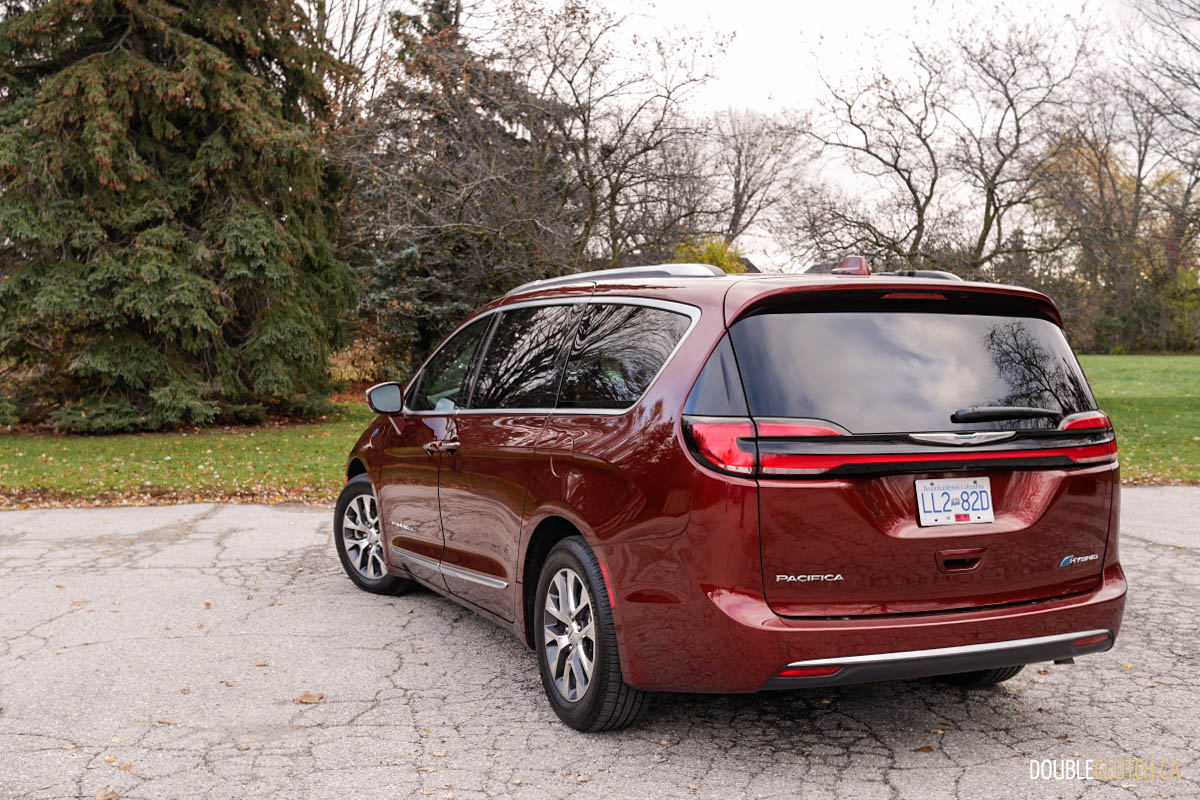 During our road tests, we also experienced a hard time getting the Pacifica Hybrid to stay on pure electric power despite having a full charge – yielding a thirstier 11.2L/100km. According to the National Resource of Canada's official fuel economy guide, the Pacifica Hybrid consumes about 8.0L/100km, with little difference between highway and city driving.
We attributed this to the cold weather we had and expect a regression over time. Fuel tank capacity is rated at 62.4 liters for the Pacifica Hybrid, and it is worth noting that this version is not recommended for towing. Need to tow a watercraft or trailer along for the journey? The regular gas model will do 3,600 pounds.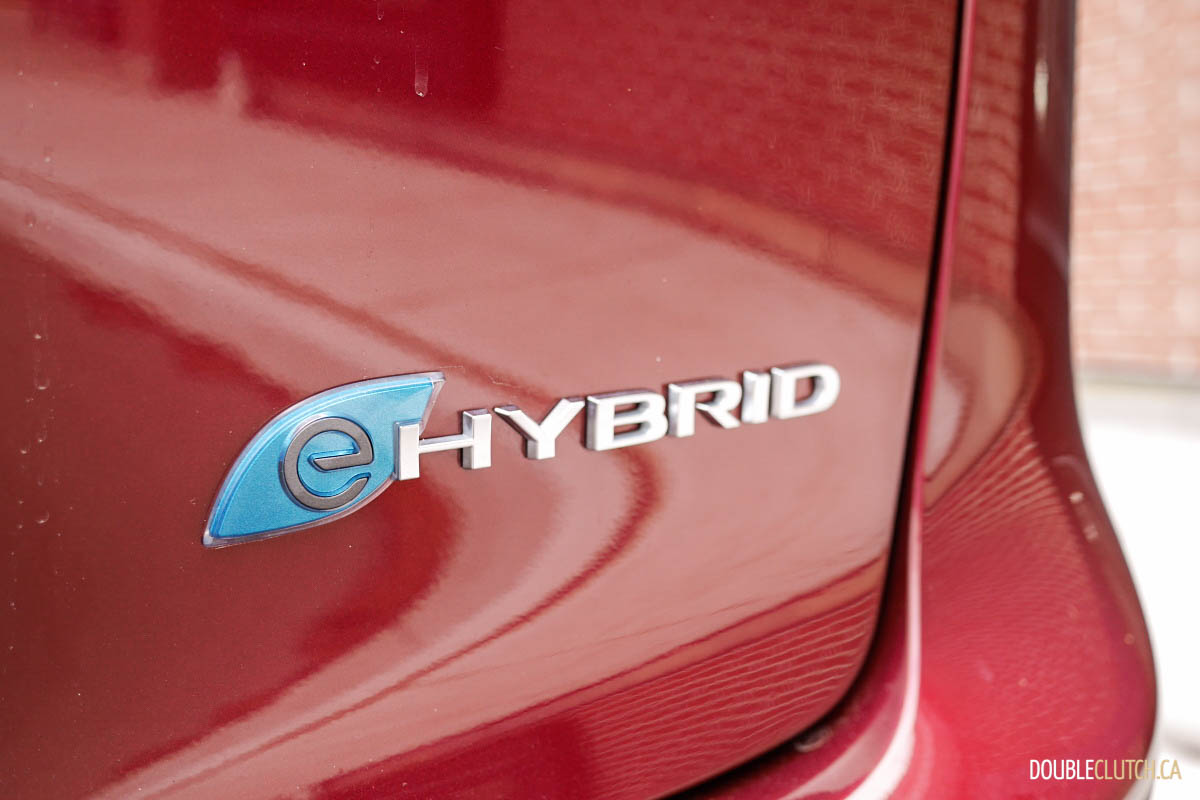 The interior of the Chrysler Pacifica Hybrid Pinnacle is a nice place to spend time. It is not luxury crossover good, but definitely belongs in the upper echelon of minivans. The premium quilted caramel Nappa leather seats are comfortable with heat and ventilation in the front, and the two-tone interior adds a level of sophistication. There are soft touch materials on most frequently touched surfaces, and the cabin is laden with lots of useful cubbies. The Chrysler Stow 'n Go seating configuration is still one of the most ingenious solutions to passenger and cargo versatility and there is an available bagless vacuum to make cleaning up easier.
Interior space in minivans are always excellent and the Pacifica Hybrid is no exception. There is plenty of space in all three rows, and the oversized windows help set a bright and airy atmosphere for adventures ahead. Contrary to popular thinking, the Pacifica is actually quieter in the gas-engine mode as the motor carries a notable whine, but either way is a comfortable tourer for long road trips.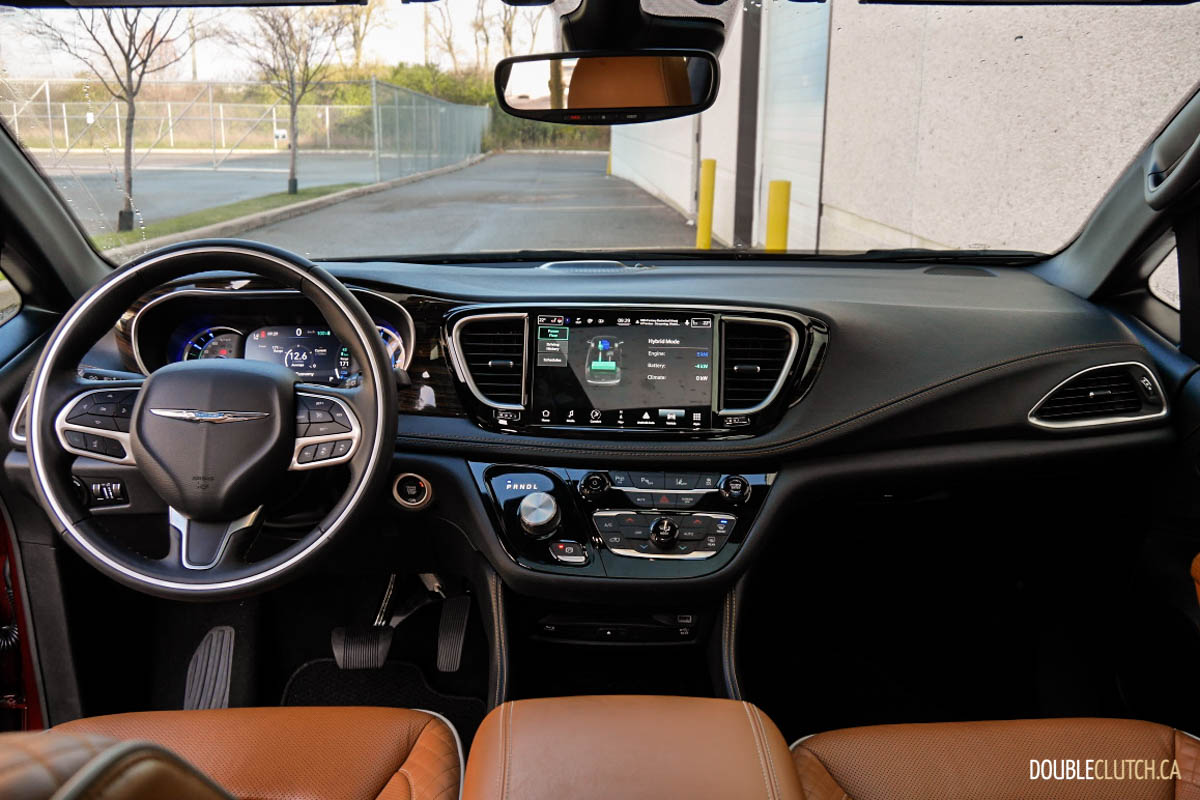 The Pacifica features UConnect 5 infotainment that is easy to use through the 10.1-inch touchscreen. Resolution is quite good and we particularly liked the image quality of the reverse camera. Wireless Apple CarPlay and Android Auto is supported and there are up to 12 USB ports as well as wireless charging.
New for 2022 is the ability to connect using Amazon Fire TV, thus creating a whole new video streaming experience for the front (when parked) and rear occupants. We also like that there is a Blu-ray/DVD player and a Harman-Kardon 20-speaker surround sound system for an easy and enjoyable home theatre experience.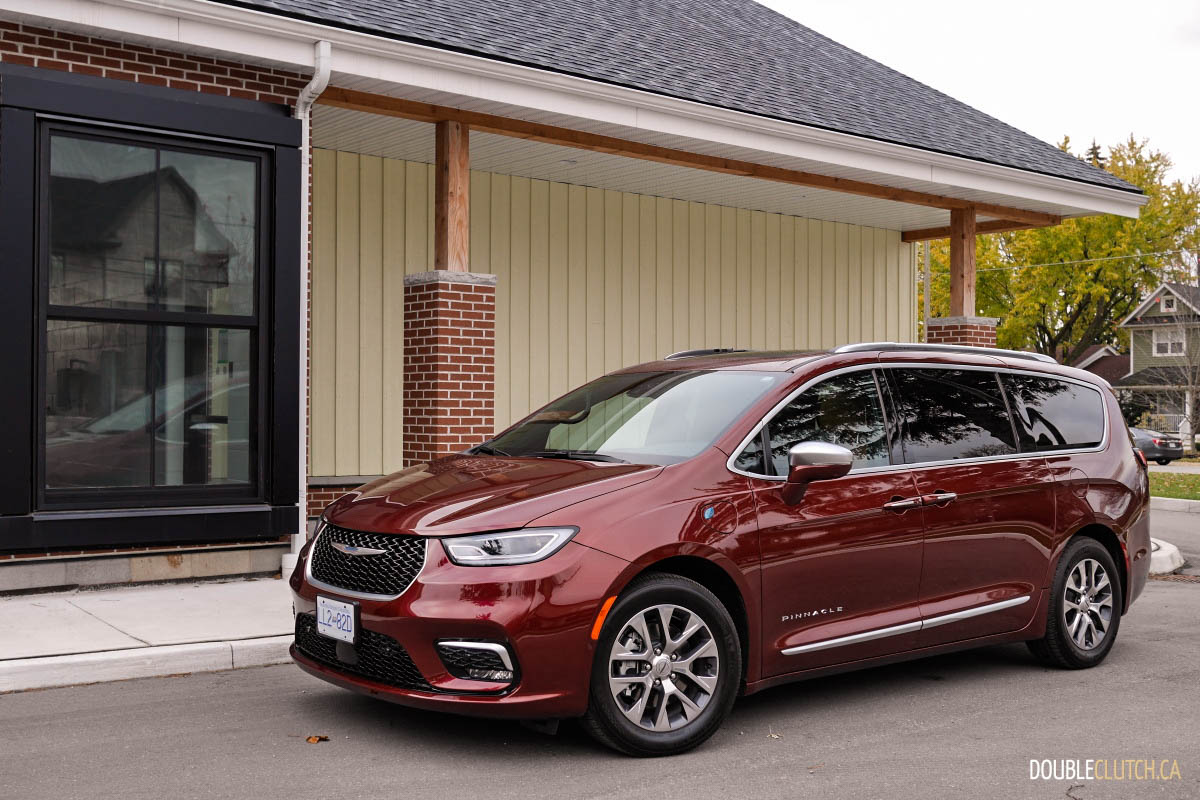 In order to keep its occupants safe, the 2022 Chrysler Pacifica Hybrid Pinnacle features a full suite of driver assistance features including Adaptive Cruise Control with Stop and Go, 360-degree camera, Blind-Spot Monitoring and Rear Cross-Path Detection, Forward Collision Warning with Active Braking, Lane Departure Warning with Lane Keep Assist, as well as a host of parking assist features.
At an all-inclusive sticker price of $59,995, the 2022 Chrysler Pacifica Hybrid Pinnacle is very competitive with the other hybrid minivan in the market – the Toyota Sienna. The Pacifica Hybrid, being a plug-in model, offers the additional benefit of electric drive range, and even without that we still much prefer the Pacifica Hybrid's creamy V6 engine over the Sienna's four-banger layout. The Pacifica also feels more luxurious inside, but the Sienna is the one to have if fuel economy is an absolute priority.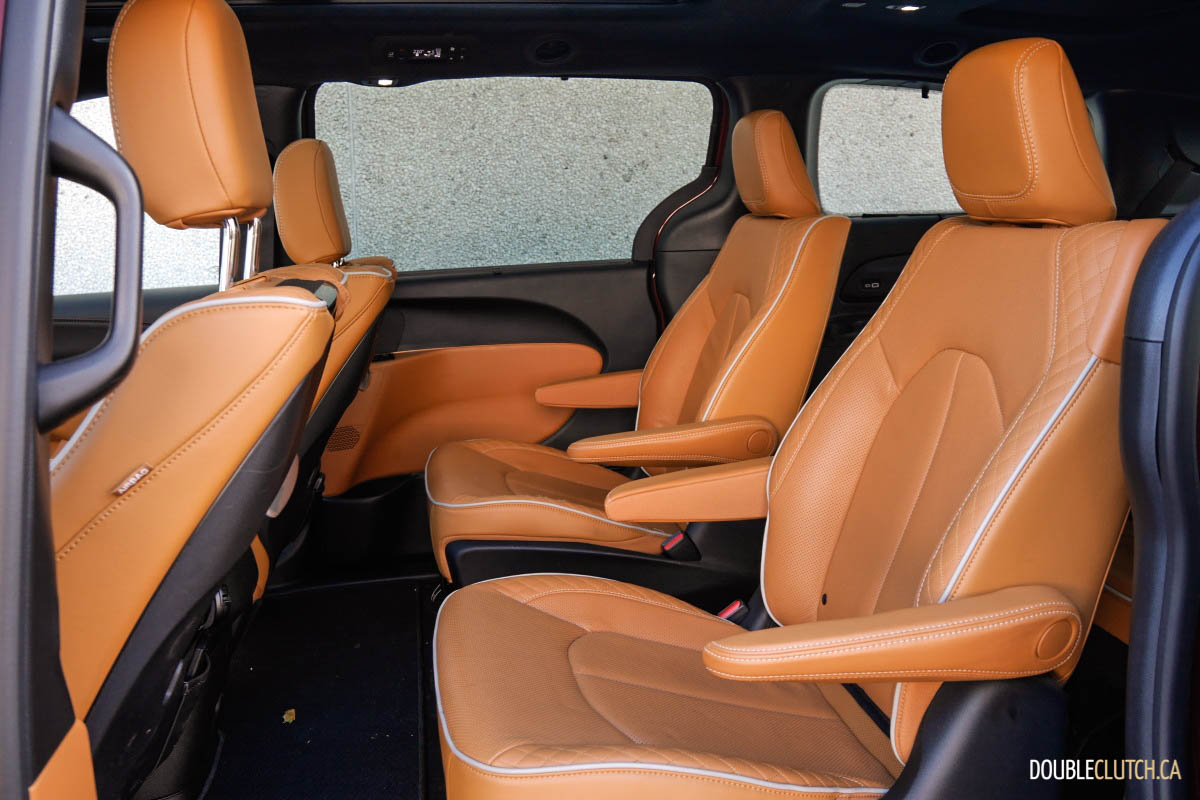 The 2022 Chrysler Pacifica Hybrid Pinnacle is not without compromises, but neither are crossovers. The well-appointed cabin and unbeatable cargo versatility offer clear advantages over most SUVs and crossovers in the same price range, and it is genuinely a good place to spend long road trips in. It is not a game changer by any means, but rather a good reminder of why minivans exist and its sophisticated overall package should not make any owners feel self-conscious showing up in one either.
See Also: