For 37 years, it's been the archetypal super sedan and today I have the revered E39 BMW M5 vs. F90 M5 Competition standing before me. Both have four doors, both have eight cylinders, both can lay waste to their rear tires in short order and both are made for continent-crushing backroad-thrashing high-speed exploits. However, that's about where the similarities stop.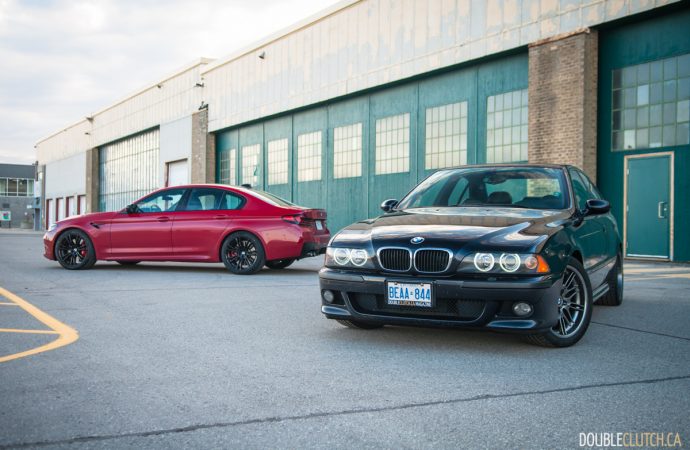 Let's start with the old one, an immaculate example right out of our editor-in-chief's garage. From a visual perspective, it's as restrained and stylish as an Armani jacket. The crisp conservative lines by Joji Nagashima are tasteful, elegant and timeless. The kidney grilles are well-proportioned, the silhouette is traditional and every element has a clear purpose. The M5 continues this restraint with just a handful of flourishes separating it from a standard 5-series. Aside from the badge on the back, all the M5 got was a slightly larger lower grille at the front, a set of classy multi-spoke wheels, some blacked-out chrome trim and four exhaust tips.
Pull on the door handle and before you even set eyes on the interior, you'll notice that the door itself seems to weigh almost as much as an entire Mazda Miata. The E39 was among the last ridiculously overbuilt BMWs and it really shows. Inside, there's lots of high-quality leather, dense carpet, well-damped switchgear, legible analog gauges and tasteful dark metallic trim. The seats are designed more for comfort than for track days, so a level of bolstering is sacrificed for overall comfort. That's okay because they add to the grand touring vibe.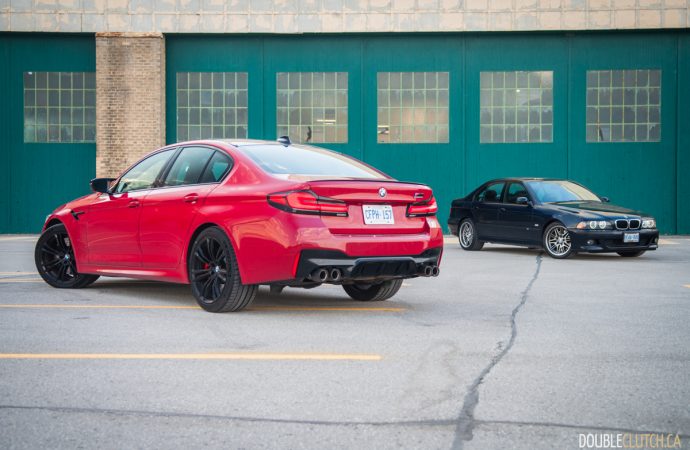 If you're into cars, you may have heard the E39 M5 referred to as the best sports sedan of all time. On the surface, that title almost doesn't seem right. Sure, Alex Roy may have used one to set the coast-to-coast record and Clive Owen thrashing one about with Madonna in the back are as iconic as Marilyn Monroe's mole, but some of the engineering underneath seems downright pedestrian.
The steering is a recirculating ball setup, and the aluminum suspension arms aren't technically anything special. The front suspension is a fairly rudimentary MacPherson strut design and monoblock calipers are nowhere to be found. As any good chef will tell you though, it's not always about exotic ingredients but rather how it all comes together.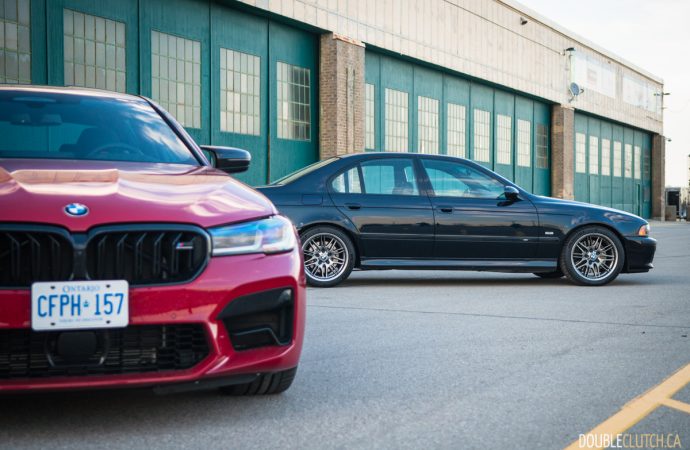 See, tuning all the components of a car is an art all its own and in the late 1990s, BMW was absolutely untouchable at it. There's a reason why the 3-Series has largely been considered the benchmark compact sports sedan for the past 46 years. The E39 M5 was a product of an obsession with bushings and throttle maps and alignment so deep it burned. When it hit the streets, it changed the automotive landscape forever.
Slide the unusually tall gear knob into first, gingerly let out the clutch pedal and it's off. It won't take long for drivers to discover that the E39 M5 is everything they say it is and more. The steering that's vague and aloof at low speeds tightens up and communicates new feel once at a proper pace. The chassis is even better than the steering, with an unflappable neutrality that can be coaxed into progressive oversteer with enthusiastic application of the driver's right foot. While body roll is kept reasonably well in check, the ride is still unbelievably comfortable. There's so much here to enjoy and that's before we get to the E39 M5's party piece.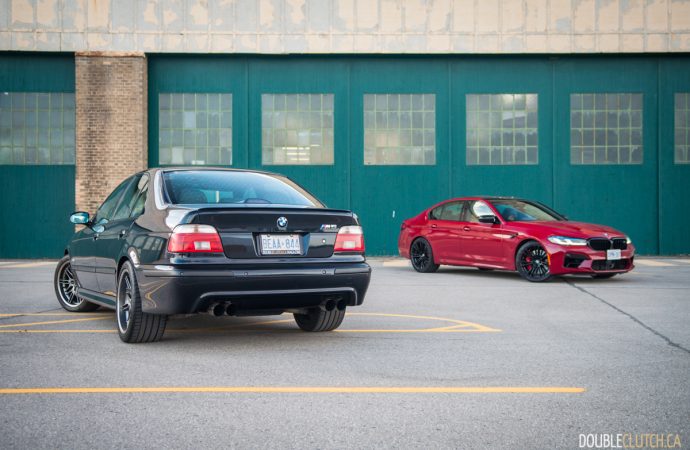 Blip the throttle in neutral and the 4.9-litre S62B50 V8 rips to the red end of the tach like a tiger to the end of its leash. This 394 horsepower quad-cam naturally-aspirated engine with individual throttle bodies is still savagely, shockingly potent. At 2,000 RPM it sounds like an old-school muscle car. At 7,000 RPM it sounds like a mountain lion on PCP coming to tear your face off. Plant your foot hard down and the highway speed limit will arrive in less than five seconds.
If you find yourself on an unrestricted stretch of autobahn, keeping your foot on the loud pedal will take you all the way to an electronically limited top speed of 250 km/h. If someone's been cheeky and disabled the top speed limiter, this old-school legend is good for north of 300 km/h. That's still fast today. Unlike most cars of today though, power goes exclusively to the rear tires and the only gearbox available is a proper six-speed manual. No flappy paddle nonsense here.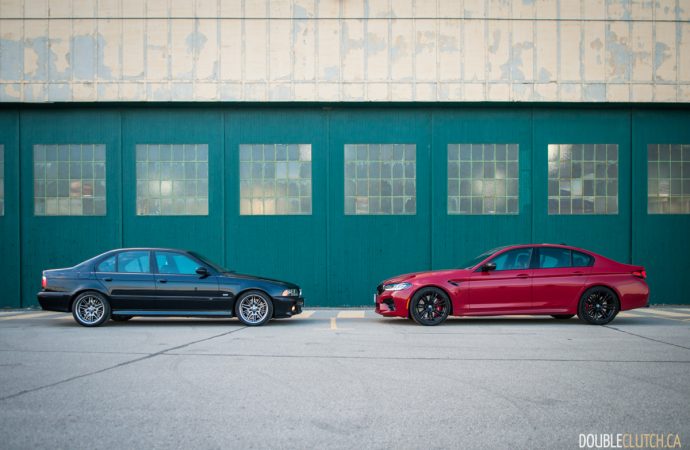 If the E39 M5 is fast, the 2021 M5 Competition is a scud missile with license plates. Put your left foot on the brake, dial up the right settings for launch control, mash the throttle and once the digital cluster gives you the okay, sidestep the brake pedal for 0-60 in under three seconds. That's Lamborghini Huracan territory. While the V8 in the Competition is smaller than the old car's at 4.4-litres, it packs two turbochargers. Total output is 617 horsepower and 553 lb.-ft. of torque which makes its way to the ground through ZF's eight-speed automatic and a four-wheel-drive system that can disable power to the front wheels for smoky closed-course shenanigans.
What's more, many suspension components are aluminum, the calipers are monoblock units and the dampers are adaptive. The latest and greatest driving technology, absent from the old car, is well and present here. And yet, something seems to have been lost in translation. It certainly isn't capability, though. There's more grip on tap here than ever before, cornering speeds are higher and there's multi-stage stability control as a go-fast safety net. The steering is a rack-and-pinion unit that's far quicker than in the old car, the brake-by-wire system offers immense, easy to modulate stopping power and the whole package hides speed even better than the old car.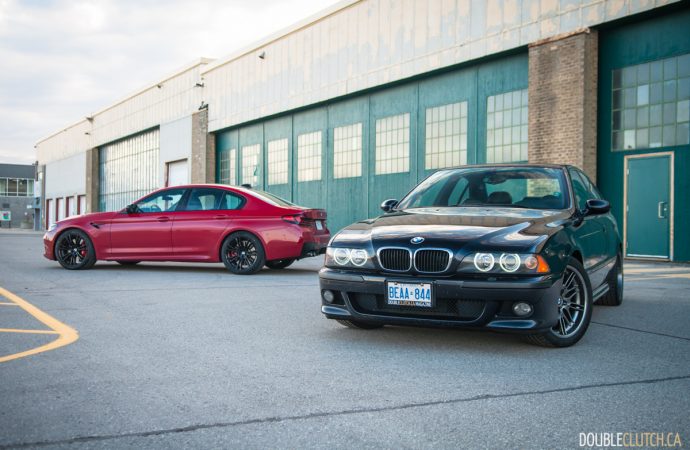 However, there have been some compromises. Part of what makes cornering speed so high is stiff suspension. With a stiffer rear anti-roll bar, solid ball joints taking the place of some rubber bushings and even stiffer engine mounts on tap, the syrupy ride quality of the old car has been replaced with a granite feel that really makes occupants aware of bumps and powertrain vibrations. Then there's the steering.
There really isn't much feel from the electric rack, so it can be difficult to know exactly what the front end is doing. Minute camber changes in the road are smothered by a digital haze. What's more, although there's still plenty of noise it's now rather indistinct. The operating crescendo has been replaced with monotonous shouting and programmed-in exhaust pops. It all adds up to a car that's ruthlessly quick but not particularly eventful.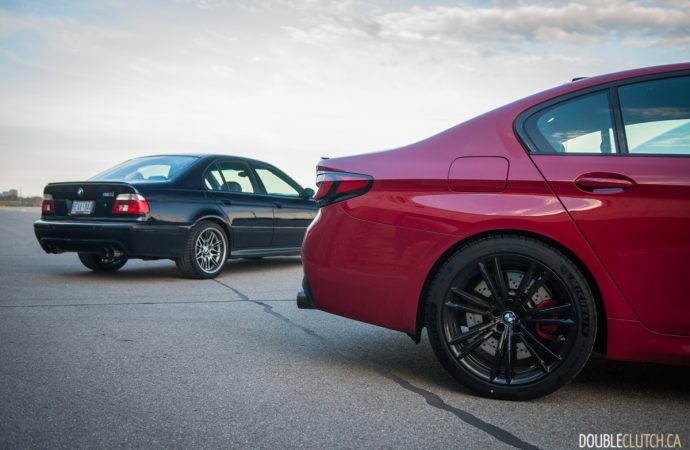 That's not to say the new car isn't pleasurable though. In the right environment, it will give you that genuine fast car adrenaline rush. It looks good too, rocking a restrained evolution of Chris Bangle's lookbook with intriguing lines and complex curvature working together to create fantastic visual drama. The enormous grilles required to feed vast amounts of air through the heat exchangers appeal to my inner child while four real exhaust tips feel as sincere as an incandescent light bulb in an LED world.
A standard carbon fibre roof lowers the centre of gravity while adding a healthy dose of visual bling and the presence of blacked-out trim (Shadowline in Bimmer-speak) is both a pleasant nod to past M5s and a big styling trend of the moment.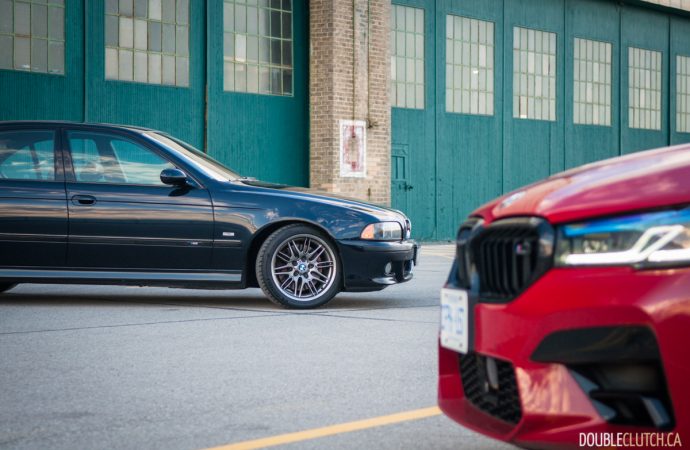 On the inside, minimalist design meets spaceship tech. While the general dashboard design is as conservative and restrained as on any car for serious executives, flourishes like telekinetic-style gesture controls, vibrant ambient lighting and preset buttons that display stored information when you run your finger over them give off a sense of otherworldly wonder. Laser headlights turn night into day and a configurable digital instrument cluster eliminates the risk of pixel burn-through.
There's also proper seat bolstering to keep my beanstalk figure from flopping about in the seat and factory Apple CarPlay to prevent me from having to break out my CDs. While I do enjoy the simplicity of the old car, there's something lovely about the excess of modern convenience. There's plenty of leather in the new car too, with contrasting stitching adding an extra dose of visual pop.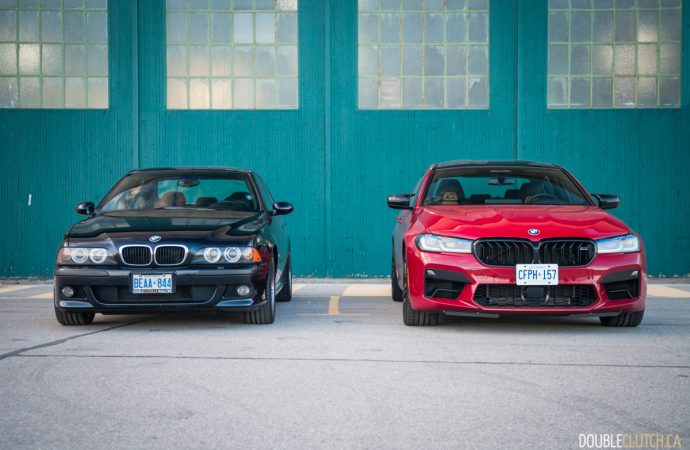 So there we are, then with two very different ways to make an M5. The old one, a faithful mechanical companion with a Labrador Retriever spirit ready to enable backroad bliss or whisk you away to Mont Tremblant in comfort. The new one, a futuristic robot of speed raised on a diet of Nürburgring laps and Rammstein ready to help you set a new personal best at Mosport.
While I'd be lying if I said I didn't love the E39 M5 more, I can't deny that the new one is a seriously impressive machine capable of keeping up with modern supercars. Yet despite their differences, there's one big thing that hasn't changed between the E39 BMW M5 vs. F90 M5 Competition. The M5 is still the blueprint for how to build an astonishingly fast gasoline-powered executive sedan.
See Also:
2021 Mercedes-AMG E 63 S Wagon