We've finally reached that point where electric vehicles are both affordable, and just about as normal to drive as their gasoline counterparts. Volvo has been pushing the EV agenda hard enough that most of their models are now available in a plug-in hybrid configuration, for those who can foot the cash for the top trim levels. This is the 2021 Volvo XC40 Recharge P8, the brand's first full electric vehicle. It's also a subcompact all-wheel-drive crossover with plenty of upscale bits to boot.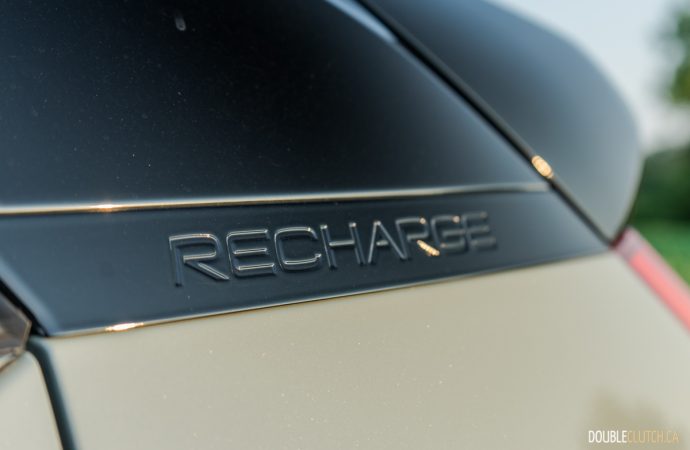 The XC40, in gasoline form at least, has established itself as one of the best choices in the small crossover game. Volvo's exceptional ergonomics mean it's easy to get in and out of, there's enough space for most small families, and it's just generally handsome. The small two-box profile is flanked with just lovely LED lighting all around, and the Recharge model does little to differentiate itself from the standard gasoline version. The gas door is replaced with a charge port, and "Recharge" badging is subtly seen along the C-pillar, but that's about it.
Two electric motors power the all-wheel-drive XC40 Recharge, and deliver a combined 402 horsepower and 486 lb-ft. of torque. Despite its 4,700-pound weight, this thing is stupid levels of fast. Volvo claims a sub-five-second sprint from 0-100km/h, which is more than a second and a half faster than the regular XC40. Merging onto the highway at full blast rearranges occupants' organs, as the XC40 Recharge hauls with more zest than just about any other mainstream electric vehicle.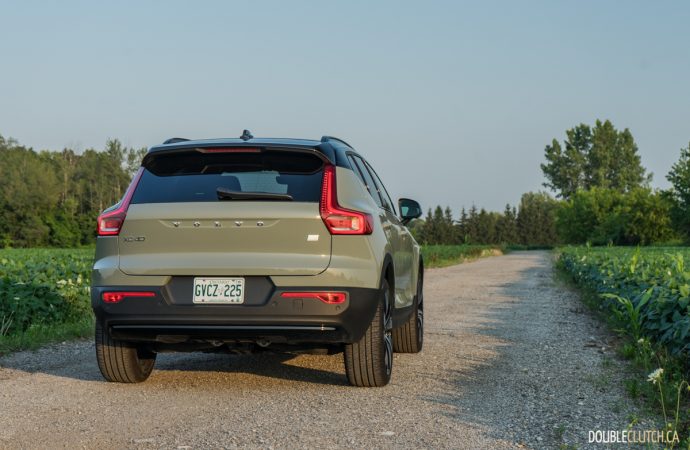 This urgency comes on right from a standstill thanks to the instantaneous electric torque delivery, but there is a tiny bit of hesitation seen in the first split-second. It's hard to pinpoint, and many of our fellow scribes didn't feel this at all, but the slight touch of lag is definitely there. It doesn't matter though, because even though the XC40 Recharge is exceptionally fast, what's most impressive is just how easy it is to drive and how normal it feels. The regenerative braking, or one-pedal driving, can be disabled and it behaves just like a regular car – just quieter and smoother.
A 78-kWh battery lives under the cabin, meaning the center of gravity is very low. The result is 335 kilometers of range in ideal situations; those living in colder climates should expect a 30% loss in below-freezing temperatures. We were able to get at least 300km out of a charge, and our Level 2 home charger was able to recharge the Recharge (ha!) in seven hours. Those with access to a DC fast charger will be able to accomplish this task in under an hour, but unfortunately, the infrastructure for this is severely lacking.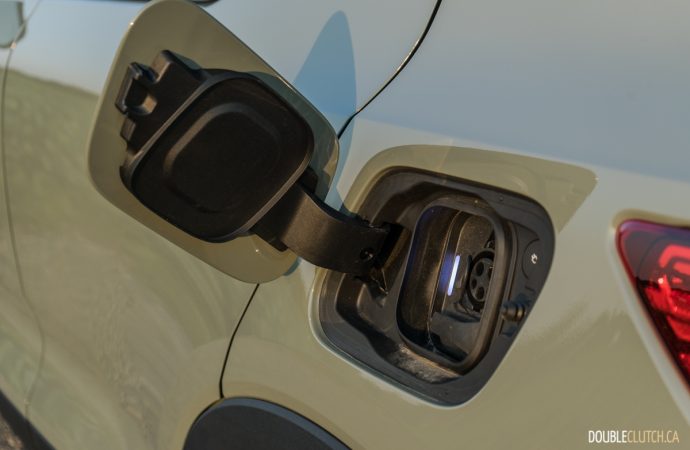 Ride quality in the XC40 is quite good, and the staggered tire setup helps minimize body roll and ensure maximum control. The small crossover handles well and feels nicely balanced through corners, with little in the understeer department. Steering feel is light, though the amount of weight transmitted can be adjusted artificially. One thing to note is that unlike most electric vehicles currently on the market, especially in this price range, the XC40 Recharge does come with all-wheel-drive as standard fare.
The interior is standard issue Volvo, with very comfortable seats front and rear. Adult passengers can sit in the back seats with plenty of headroom and legroom. Smaller families should have no issues transporting little ones, with all of the necessary hardware for easy child seat installation. There is no start/stop button, as the XC40 Recharge will be ready to go as soon as the driver puts their foot on the brake. Once you've parked the vehicle, simply lock it and walk away, and it will put itself to sleep.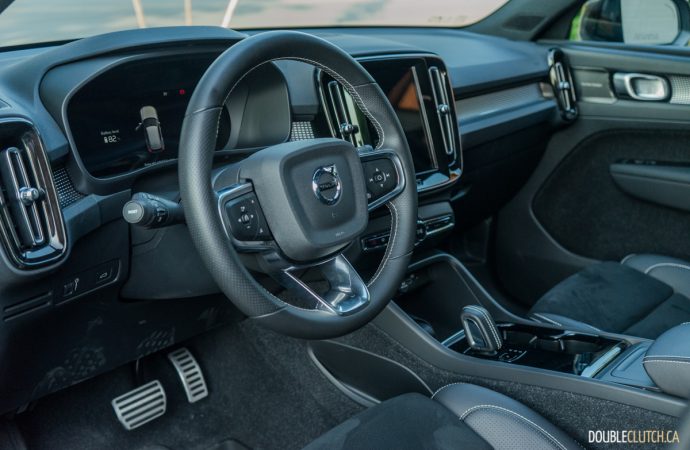 What is different here is the infotainment system, a fully Google-based interface that will be familiar to anyone using an Android phone. It has plenty of convenience features and plenty of gimmicks. However, Apple users are out of luck as early production models do not have Apple CarPlay. Another unfortunate omission is a real world range indicator – the XC40 behaves like the latest MacBooks and only offers a percentage of charge remaining, leaving driving range to an estimate.
Cargo capacity in the XC40 Recharge is 452 liters if you need to haul rear passengers, but fold the seats down and this number grows to 1,328 liters. There's very little space compromise over the regular XC40 T5, and there's also a cubby under the hood for small objects. Plenty of accessories are available for styling, including red floor mats, unique mud flaps, and other things for personalization.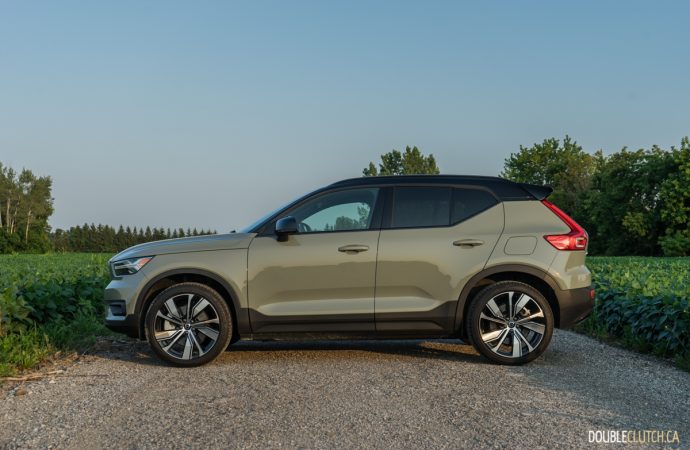 Pricing starts at $64,950 for this model, and Canadians will want the $1,000 Climate Package adding heated rear seats and steering wheel. An Advanced Package adds a 360-degree camera, Intellisafe Assist, and a few other bits. The wonderful Bowers and Wilkins sound system available elsewhere in Volvo's lineup is not available, but we do recommend spending the $1,250 for Harman-Kardon. Effectively, $70,000 will buy a loaded XC40 Recharge. If you want a little bit more styling and less practicality, consider its cousin, the Polestar 2, which is exactly the same beneath the skin.
The 2021 Volvo XC40 Recharge P8 is one of my favourite new cars this year. This is a seriously practical crossover that's the right size for most Canadian buyers. It provides immense levels of versatility, and allows use of the green-vehicle license plates that allow Ontarians to skip traffic jams, to some extent. It's also not wildly expensive, so if your lifestyle is compatible with a fully electric vehicle, this might be the one to get.
See Also:
First Drive: 2021 Volvo XC40 Recharge