Ford's F-150 has been one of the best-selling vehicles in North America for over forty years now. With every generation, Ford brings some sort of new innovation to the popular light-duty truck to one-up its main rivals, General Motors and Ram. The latest model is completely redesigned, but still carries forward on the same platform. After spending a week in this 2021 Ford F-150 Lariat PowerBoost, it's very apparent that this is a lot more than just a mid-cycle refresh.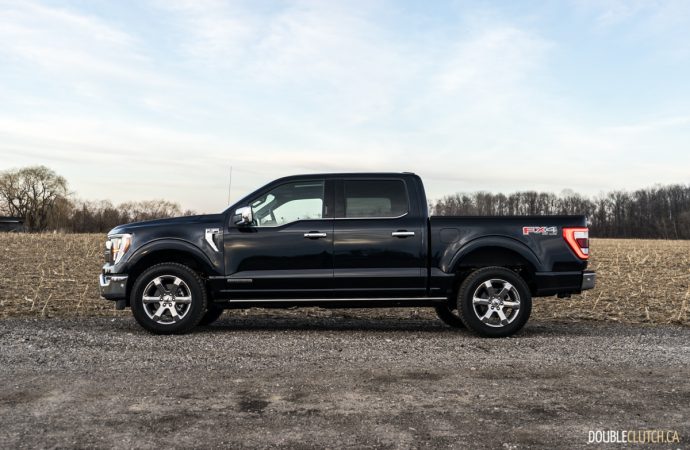 Despite being the mid-range Lariat trim, our F-150 test vehicle's interior was simply marvelous. The pictured interior combination is a two-tone brown and black, with the centerpiece being a 12-inch infotainment system housing SYNC 4, Ford's latest operating system. Materials are surprisingly nice for a mainstream truck that's not at the Limited, Platinum or King Ranch levels, and the clever shifter that folds out of the way to make room for a functional table is quite nifty. For those who are wondering, the shifter only folds out of the way if the vehicle is parked.
Other pleasant touches on the interior include a massive center console, plenty of cupholders, and enough cubbies to swallow up all of your daily carry items with ease. The seats are superb and the driving position is excellent, with a panoramic view of everything around the vehicle. We had this truck during the first nice week of spring, so the power sliding rear window combined with the big sunroof was a welcomed touch. In SuperCrew configuration, the rear seats have enough space for three full-sized adults to fit comfortably.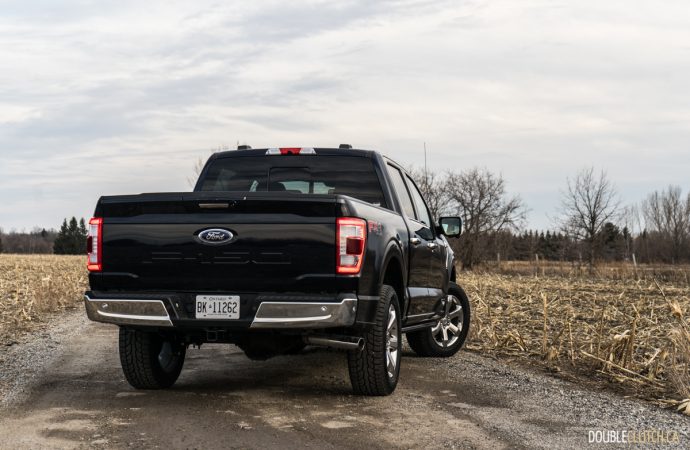 Hybrid models, which Ford calls "PowerBoost", is equipped with a 7.2-kW version of what's called the Pro Power Onboard system. This allows the F-150's motor to act as a generator providing up to 7,200 watts of electricity. This 240V outlet is capable of running all of the electricity on large fifth-wheel trailers, or even charge an electric vehicle. Yes, we do understand the irony here, but the capabilities of this setup are unlimited. Lower powered versions of this system are available on standard gasoline variants of the F-150, but only the PowerBoost gets the full-jam 7.2-kW generator.
Under the hood, powering the generator and the rest of the F-150, is a hybridized version of the familiar 3.5-liter twin-turbocharged EcoBoost V6. It hooks up to a 35-kW electric motor and is a dedicated hybrid. This combination puts out 430 horsepower and 570 lb-ft. of torque, and is currently the only hybrid in the light truck segment. The PowerBoost isn't quite as proven as something like Ford's 5.0-liter V8, but for those who do a ton of city driving with their truck, it's a good option.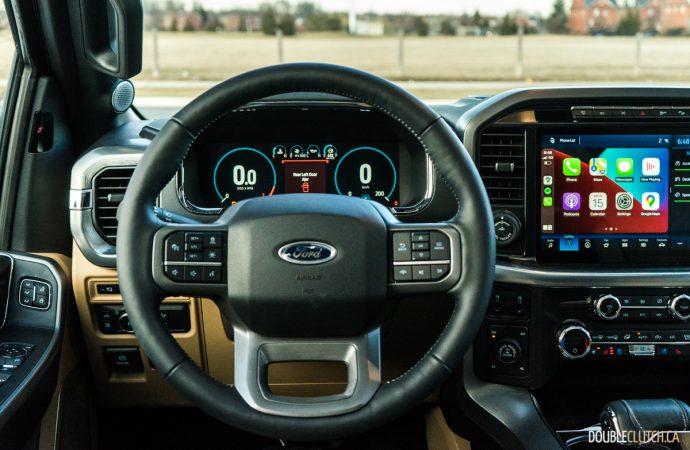 Power is more than adequate, though the F-150 PowerBoost doesn't exactly feel "fast". It's torquey and eager to merge onto highways, but the transition between coasting on electric mode and the gasoline engine kicking in is pretty clunky. The 10-speed automatic transmission is also good at keeping the truck in top gear when cruising on the highway, but again, transitioning from "Reverse" to "Drive", or vice versa, had our tester produce some concerning noises.
That said, ride quality is some of the best in the segment, if softness is what you're after. The Ram 1500's four-corner air suspension is the only example that beats the F-150, which doesn't have any sort of air spring setup. The leaf-spring rear axle does get a bit unsettled on dirt, gravel, or massive potholes, but that's very normal. There are also some secondary motions over bumps at highway speed that can make sensitive passengers a bit nauseous. The hybrid F-150 can also tow up to 12,700 pounds with a maximum payload of 2,120 pounds, which is more than enough for most buyers.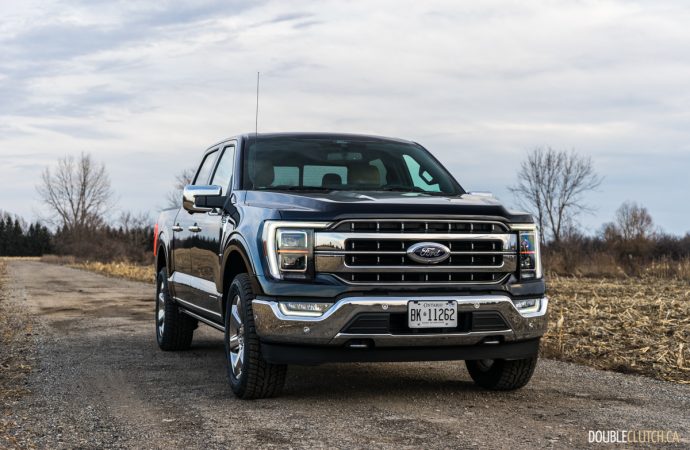 When looking at a hybrid, even a pickup truck, one of the considerations is fuel economy. We observed this F-150 kicking into electric mode very often, and our 583-kilometer test actually had the on-board computer saying 136-kilometers were done on electric power. Ford suggests 9.8L/100km city and 9.7L/100km highway, but we weren't able to get anywhere close to this. Our result was 13.0L/100km in mostly city driving, with a couple of longer highway runs for testing purposes. The massive 115-liter tank means plenty of driving before fuel stops.
Pricing is, as expected for a half-ton truck, is all over the map. The base XL model starts at $31,429, and this Lariat with the SuperCrew cab configuration starts at $61,945. Our test vehicle had a series of options including power running boards, the full hybrid powertrain, Co-Pilot360, panoramic sunroof, 360-degree camera, on-board generator, B&O sound system, and more. With nearly $20,000 worth of options on board, our fully loaded truck came to $81,765. Despite this being a brand new model, we're already seeing significant incentives on dealer websites across the country, so expect to pay less than this.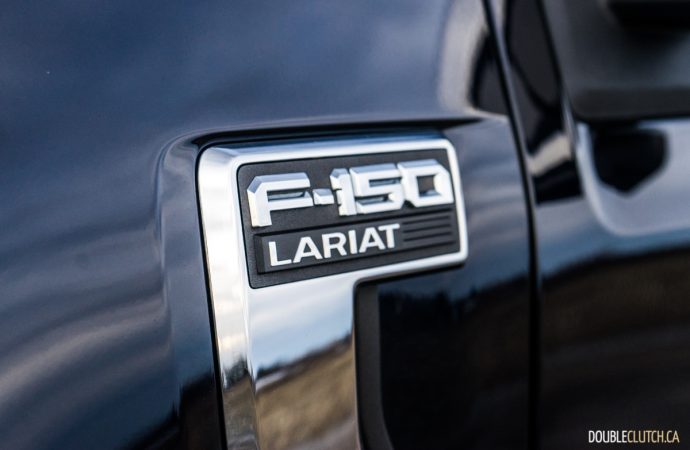 As far as the competition is concerned, now is a very good time to buy a half-ton pickup truck. The Ram 1500 was redesigned in the last couple of years, and so were the Silverado and Sierra. All three major brands now offer diesel options, as well as V6 and V8 gasoline versions. The F-150 is the only one that offers a hybrid, so if city mileage is important to you, this is really the only place you can look. Those who don't need their truck to be a truck all of the time will want to look at the Ram 1500, and long-term reliability sticklers will want to look at the GM twins.
The 2021 Ford F-150 Lariat PowerBoost is a fresh take on an old favourite, but pleasantly surprised us in every way. It drives extremely well and has a kick-ass interior. We do wish the observed fuel economy was better, but this may also be due to our tester having less than 300km on the odometer at the time of pickup. This mid-cycle refresh really is a lot more significant than it seems, because it has transformed this oldie back into a real goodie.
See Also: