Here's something wild. If the current Nissan Frontier were a person, it could legally buy M-rated videogames. That's right, it's been 17 years since Nissan's current mid-size truck rolled into the spotlight at the 2004 North American International Autoshow in Detroit. Now though, there is a new one that promises more style, more features and more modernity.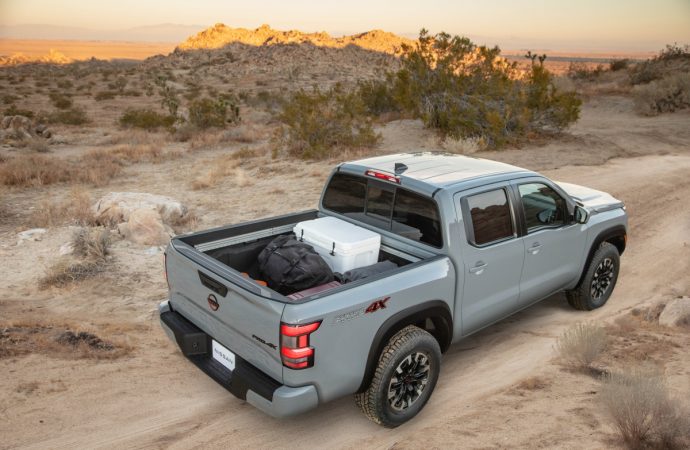 Looking at the 2022 Nissan Frontier, it's immediately clear that this is a more rugged, more macho design than the rest-of-world Nissan Navara that many speculated the new Frontier would be. Square haunches, a blunt nose and high ground clearance give the Frontier a bulldog stance that Nissan says is inspired by the iconic Hardbody pickup truck of the 1980s and 1990s. Indeed, the very vertical grille and squared-off front lights trace their lineage back to that iconic old-school pickup truck, but there's a lot more modern Titan than old-school Hardbody going on here. That's certainly not a bad thing though, as it imbues the new Frontier with a handsomeness that's likely to attract buyers.
On the inside, the 2022 Nissan Frontier undergoes a thorough redesign while still keeping a few things that work well in the current model. There's still a rubberized tray above the infotainment screen for wallets and trinkets, the dashboard is still quite slim and the four-wheel-drive selection knob is still placed in roughly the same spot. Otherwise, it's essentially completely different. Gone is the clever upper glovebox, replaced with a panel that incorporates premium stitched materials. Gone too, are some of the massive swaths of hard-wearing but cheap-feeling plastic, now largely replaced by nicer soft-touch stuff. Adding to the nicer materials are extra sound insulation measures including improved rear carpet and acoustic laminated front side windows. It seems that even in the rough-and-tumble mid-sized truck world, premium aspirations are still very much in style.
In terms of in-cabin tech, Apple CarPlay and Android Auto connectivity is accessible via either the USB-A port or the USB-C port in the centre console. The standard infotainment screen is an eight-inch touchscreen affair, while a larger nine-inch screen is available on higher-trim models. Crew cab models also gain USB charging ports for the rear seats and higher-trim models gain two 120-volt, 400-watt household outlets, one in the cab and one in the bed. For more critical driving information, a seven-inch digital screen sits between the analogue speedometer and tachometer to display everything from ambient air temperature to the status of the four-wheel-drive system. Nifty stuff.
Curiously enough, Nissan chose to debut the new Frontier's powertrain on the last year of the current model. Although still all-new to Canadians as we never received a 2020 or 2021 Frontier, this means that the all-new powertrain is technically a carryover item. Funny, isn't it? What some may not find so amusing is that there's no manual gearbox offered on the new Frontier. The old one's robust six-speed was a key selling point but now consumers must settle for a nine-speed automatic. On the plus side, there should be plenty of power on tap from the Frontier's 3.8-litre V6 engine, 310 horsepower and 280 lb.-ft. of torque to be precise. Interestingly enough, four-wheel-drive now comes standard on all Canadian Frontiers. Those seeking a basic, two-wheel-drive truck for fleet purposes may want to look elsewhere. For those who are keen to venture off the beaten path, ticking the box for the Pro-4X trim level adds Bilstein dampers, a locking Dana rear axle, three steel skid plates and all-terrain tires. Peak towing capacity when properly equipped is 6,490 lbs, a bit disappointing when you realize that the current Frontier can tow up to 6,720 lbs. That being said, the new addition of trailer sway control should make towing with the new Frontier a lot more relaxing.
Pricing for the 2022 Nissan Frontier hasn't been announced yet but expect Nissan to release more details closer to its on-sale date in summer 2021. With a promising blend of style, tech and power, it'll be one to watch in the reasonably hot mid-size truck segment.