Even in an automotive landscape that has been absolutely dominated by crossovers and SUVs of all shapes and sizes, Nissan seems to think there is still a necessary void in the market for the subcompact sedan. It's an interesting stance, bringing out this new affordable little car while every single rival has now been axed from production. This is the new 2021 Nissan Versa, available only in sedan form, and sold in both the Canadian as well as the United States market. We were invited by Nissan Canada to take a whirl in it and see how this new model stacks up in a wildly changing 2021.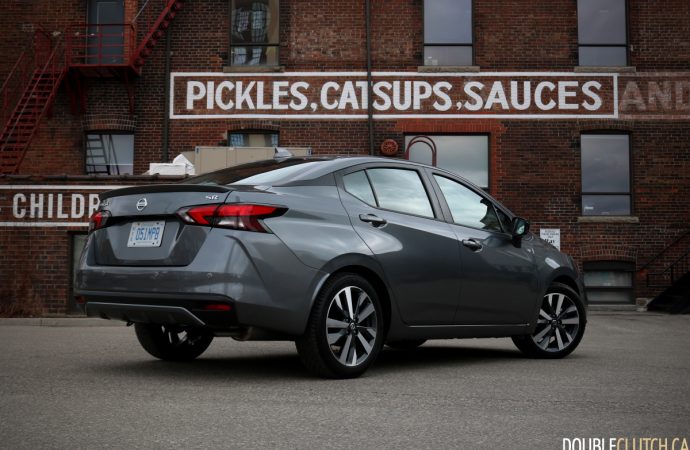 It's not a particularly handsome thing, with a massive rear overhang and almost frumpy styling from the rear three-quarter view. From the front, the Versa looks fine, but is very obviously an economical subcompact and does nothing to hide this fact. The 17-inch alloys on our loaded SR model are a nice touch and while the Gun Metallic paint is a bit drab, Nissan does offer snazzier Electric Blue and Scarlet Ember options. A lip spoiler on the decklid and LED headlights here tidy things up.
Every Versa gets a 1.6-liter naturally aspirated inline four-cylinder engine. It outputs 122 horsepower at 6,300RPM and 114 lb-ft. of torque at 4,000RPM. This engine can be paired to a five-speed manual transmission (not six), or in the case of our tester, a continuously variable transmission. The latest applications of Nissan's CVT are some of the best ever, with no annoying buzzing on acceleration. It's not fast by any means, but the Versa has enough low-end grunt to get off the line and zip around urban centers with ease.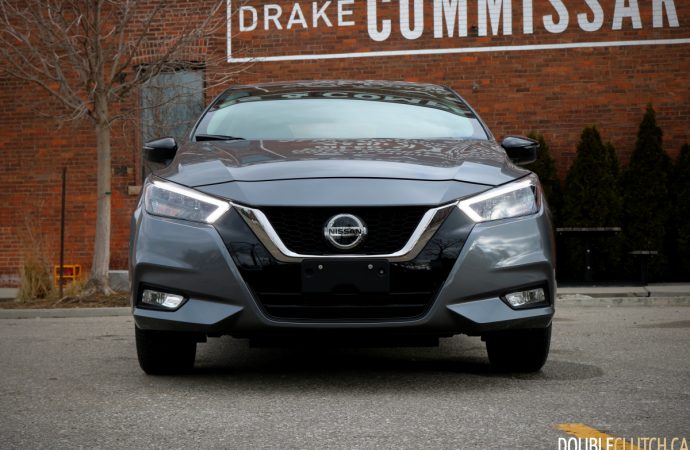 On the highway, things get a little bit more interesting. The torsion-beam rear suspension with means the back end remains unsettled and bouncy, but a stabilizer bar helps minimize body roll during on-ramps and corners. It's front-drive only, obviously, but with a good set of winter tires we have no doubts in the Versa's ability to get around through a Canadian winter. Steering is light and the chassis is agile, and this honest little Nissan's personality is a friendly reminder of how digital and disconnected many cars have become.
Nissan rates the Versa's fuel economy with the CVT at 7.4L/100km city and 5.9L/100km highway, for a combined 6.7L/100km. The manual transmission model drinks a bit more fuel, at 8.6L/100km city and 6.7L/100km highway, at 7.7L/100km combined. The tiny 41-liter tank obviously only requires 87-octane regular fuel, and the overall driving range is enough to satisfy most buyers.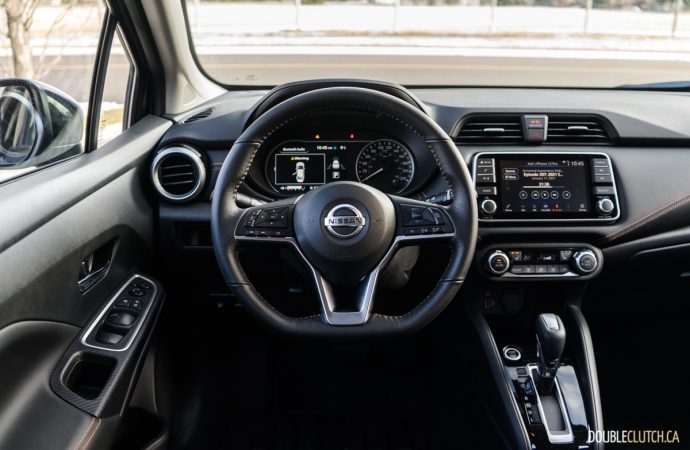 The Versa's interior is a sea of plastics, but that's not a problem at the sub-$20,000 price point. The sport cloth seats on our SR have orange accents to them, and this is a nice touch as opposed to standard, boring black. The instrument cluster has a digital side to it that can either display a tachometer or other pertinent information, and buyers have to step up to the $19,498 SV for Apple CarPlay, but this also adds blind spot warning and heated seats. The seven-inch touchscreen is also only available at the SV and SR trims.
Of course, the first thing that buyers in the subcompact class ask for is pricing, and the Versa is about where expected. The base model starts at $16,498 and comes with a five-speed manual transmission. It still offers Lane Departure Warning, a rear-view camera, Intelligent Emergency Braking, and High Beam Assist. Going to an automatic transmission starts at $17,998, and this adds automatic headlights and an intelligent key. Our top trim Versa SR was $20,998 and adds LED headlights, 17-inch wheels, remote start, and a rear spoiler. No heated steering wheel is available on any trim level, which is a glaring omission for the Canadian market.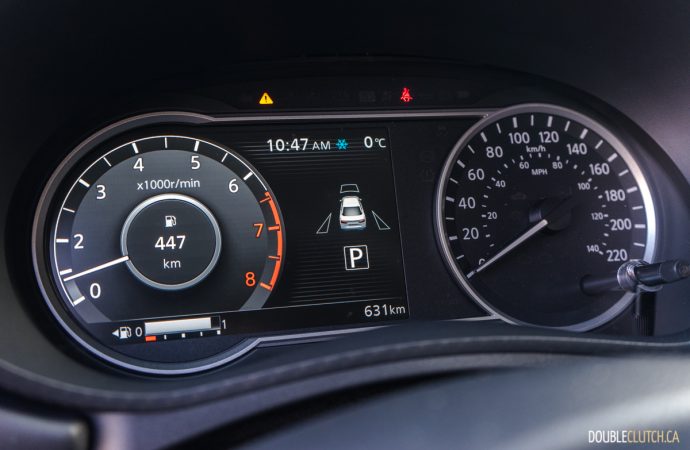 At $20,998, the top-trim Versa is dangerously close to the $21,150 Toyota Corolla L CVT, and within $1,000 of the $22,090 Corolla LE, which is similarly equipped, and a larger, more substantial car. Entry-level automatic models of the Honda Civic and Nissan's own Sentra are also similarly priced, so the real value in the Versa is the base S with the CVT, at $17,998. This combined with aggressive financing rates will be sure to appeal to former buyers of cars like the Hyundai Accent, Kia Rio, and Toyota Yaris.
The new 2021 Nissan Versa is only available in sedan form and is the only subcompact sedan left that's currently for sale in North America. It's a bold move, but it also doesn't cost Nissan Canada very much because it's a global model available in many other markets. The price point makes it about $2,000 cheaper than the slightly taller Kicks, but the Sentra S Plus at $20,798 makes it a close battle within the Nissan dealership itself. With seriously competitive models like the new Sentra and Rogue, it's no longer a battle to get consumers in the door.
See Also: