There's no point in fighting it anymore; consumers keep buying sport-utility-vehicles, so the manufacturers keep pouring endless money and effort into their development, like this 2021 Alfa Romeo Stelvio TI Nero.  Enthusiasts like me, might as well mop up our tears and quit daydreaming about a world that could've been, where the sun shines every day and the pointlessness of luxury crossover SUVs is erased by sport wagons; that world doesn't appear to be happening anytime soon.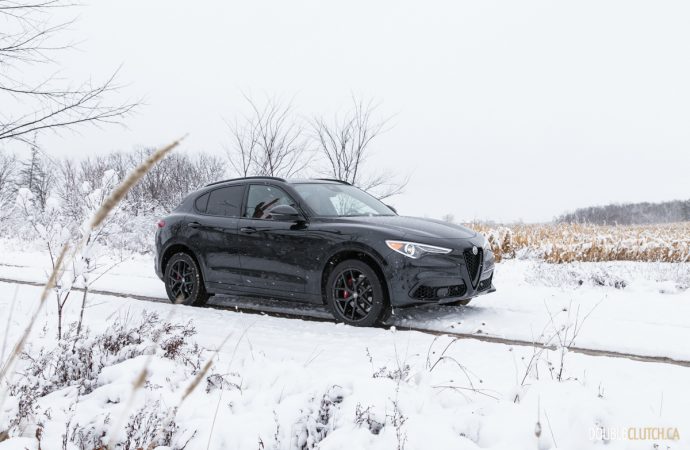 So, painting on my best, forced smile, I'll begrudgingly admit that some of these damned things are actually pretty good fun to drive.  And while there are obscene, ultra-performance variants from each of the European brands that are capable of decimating all but the most exotic sports cars, they cost accordingly vast sums of money.  For well under the six-figure price ceiling, there are a few stand-out choices to remind us that SUVs can be used for thrills and not just trips to Whole Foods.
Alfa Romeo claims that everything it produces is aimed at driving aficionados, and in my experience, that's true. There's personality in Alfas that makes the driver recognize there's something special – something way beyond a machine simply for human conveyance – that gives enthusiast drivers hope in an SUV world.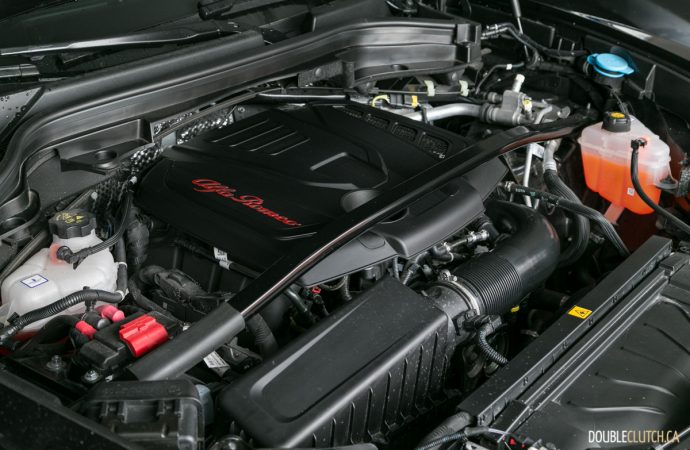 Beneath the surface, the Stelvio shares plenty with its cousin, the Giulia sedan.  Motivation comes from the same 2.0-litre turbocharged four-cylinder engine, similar to most of its competitors, but Alfa churns out a notable 280 horsepower and impressive 306 lb-ft of torque from theirs.  While the power output is shy of the Range Rover Evoque or Velar (between which the Stelvio nestles in terms of size and cost), its torque tops all in the four-cylinder class.
Following a whisper of lag while the turbo winds up, the Stelvio puts its standard all-wheel-drive traction to good use and launches the 1,818 kg (4,000 lb) crossover forward with significant swiftness.  Alfa claims the Stelvio will reach 60 mph from a standstill in 5.4 seconds, and I have no reason to doubt that figure.  Likewise, at highway speed, the Stelvio isn't wanting for passing power.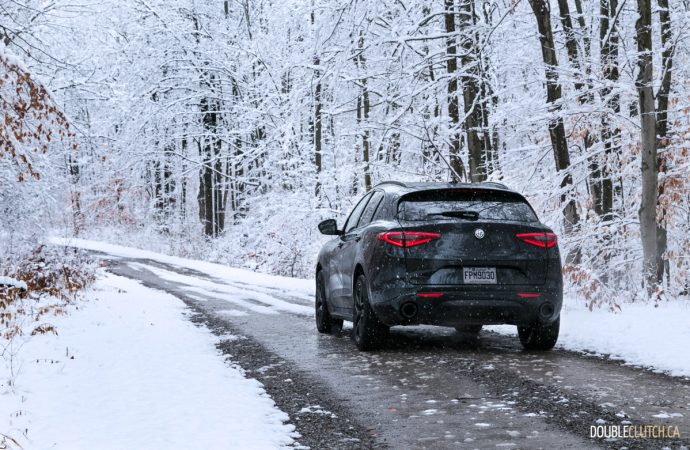 There are three different drive modes available and in the most sporting, D (Dynamic) setting, the throttle response becomes crisper and gear shifts quicker.  I spent much of my week driving around in this mode instead of the default N(Natural) or A (All-weather), despite the latter being the most appropriate for the snowy weather. Dynamic mode is the only one that doesn't catch the 8-speed automatic slacking on its job of snapping off quick shifts and holding revs when needed for the type of spirited driving the Stelvio urges.
Alfa Romeo utilizes the same all-wheel-drive system as Maserati that defaults to rear-wheel-drive propulsion, until slippage is detected, at which point it redirects up to 50% of the engine torque to the front wheels.  Experimenting with the Stelvio on different surfaces (dry pavement, gravel and snow), it produced great traction and control in all settings, despite sporty, Continental, three-season tires.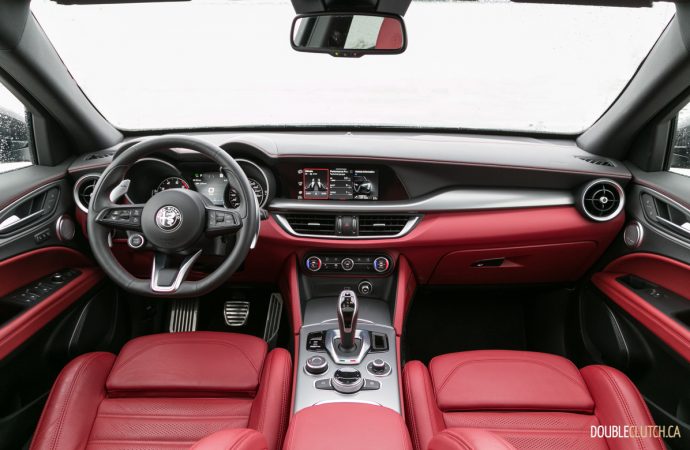 The Stelvio's braking is capable of hauling the car down from speed quickly, but the brake pedal requires a surprising amount of pressure and its feel is not as progressive as I'd like, resulting in a brief moment of "Yikes! Where are the brakes?" before they grab hard.  I'd prefer more initial bite and a linear application of braking power.
While the Stelvio's power helps it to stand out in the class, what really sets the Alfa apart from its SUV peers is its handling.  While a comparable machine from one of the German carmakers would be highly capable, none provide the same level of communication and liveliness through the steering that the Stelvio does.  Its steering is very quick, resulting in immediate reactions through the wheel, but it's also sharp, without the on-centre numbness so prevalent in other modern cars, especially SUVs.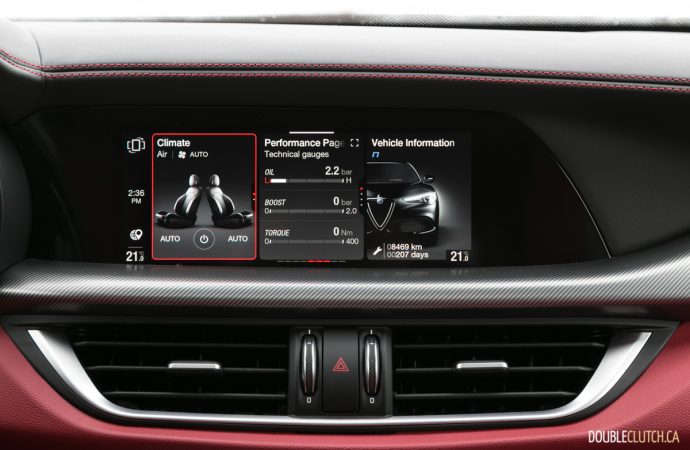 The result is a luxury crossover that truly feels as much at home on a wild Sunday drive over twisty back roads as it does running errands in town.  Perhaps more so, in fact, since the ride is rather stiff over rough urban roads, compounded by the minimal bump-absorbing sidewall of the performance tires wrapped around the optional (and gorgeous) 20-inch wheels.
Beyond the firm ride, Alfa's sport utility is otherwise quite comfortable, with my tester equipped with a $4,000 Customer Preferred Package that includes the stunning red leather-wrapped sport seats that reinforce the Stelvio's performance pretenses.  They're firm, but not overly-so, and the bolstering is particularly aggressive, feeling like a firm bear hug around the driver's ribs.  They're adjustable too, so if owners indulge in a little too much fettucine alfredo, they can be made a little less confining.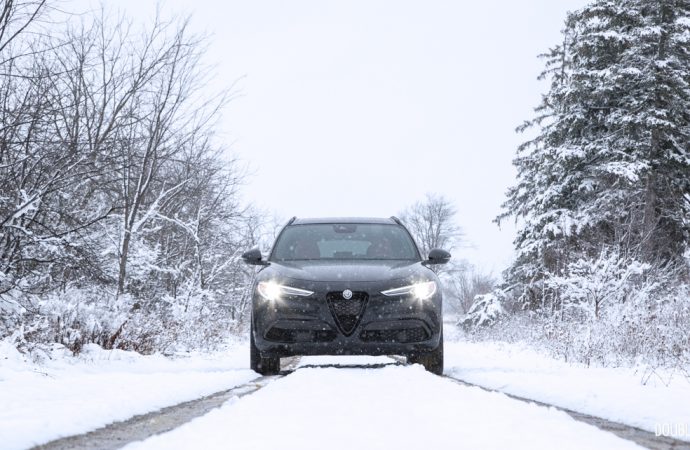 The driver faces a pair of big, round, traditional gauges for each the speedometer and tachometer with white script over a black background.  They're housed under a double-hump binnacle that harkens back to classic Alfa sports cars, and I'd happily take this over the current trend of having a dash-wide expanse of digital screens.  There is still a screen for the infotainment system, of course, but it's a modestly-sized 8.8-inch system nestled into the central dash, that's also controlled by a tedious rotary dial controller between the front seats.  The driver can select a display that shows three small windows, five even smaller windows or a single window for whichever function is desired (ie. radio, navigation, sport gauges).  CarPlay and Android Auto are well-integrated.
Sound from the Harman/Kardon sound system is quite good (and the front glass is now quieter thanks to new lamination), but the lack of a tuning knob definitely got the ire of your writer, a serial channel surfer. Rear seat passenger space is decent and on par with the class.  A pair of adults will have good head- and leg room, but a third rear seat passenger will make things cozier.  The large, dual-pane sunroof helps to brighten the rear seat area.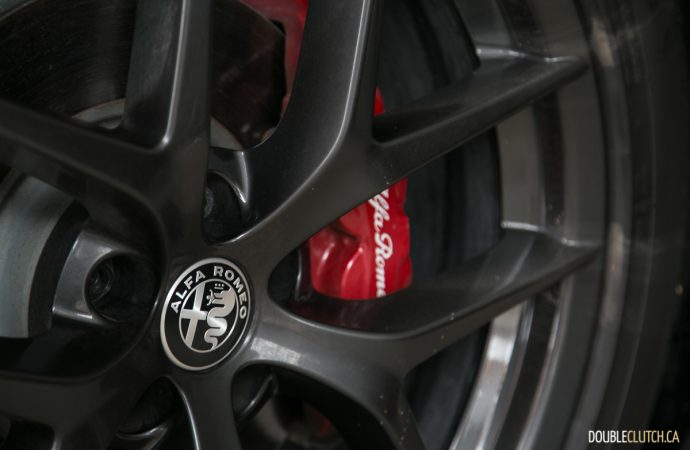 While the roof line has a pronounced downward slope and the rear hatch is raked dramatically, the Stelvio is not quite as compromised as the burgeoning (and hideous) group of crossover coupes from the German brands.  As a result, the Alfa's cargo area is slightly more spacious than, say, a BMW X4 or Mercedes GLC Coupe, particularly with the Stelvio's split-folding rear seats down, creating a 1,600 L cargo hold.  A $450 option group that includes a cargo net, adjustable tie-down rail system and a household plug-style outlet improve the Stelvio's utility further.
Beyond its engaging driving mannerisms, the Stelvio's next-best feature is its appearance.  In Nero Edizione like my tester, what little bit of chrome found on a typical Stelvio is painted black, along with black-painted wheels, and in this case, the sparkling Vulcano Black Metallic body, it transforms one of the sexiest sport utes to a properly sinister-looking one.  All week long, I found myself looking back over my shoulder at it after I'd parked it, which is a sign of an attractive design.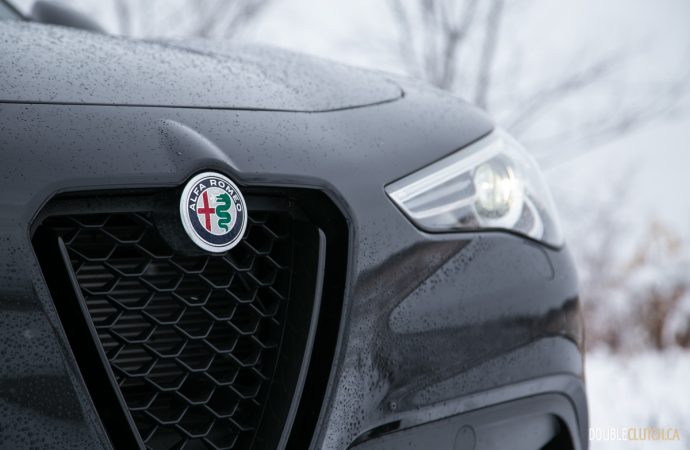 Despite small and mid-sized crossovers dominating the roadways and parking lots these days, it's fun driving one as rare as the Stelvio.  For perspective, since Alfa started selling these here a few years ago, the total number sold equates to less than the number of Audi Q5s sold in three months this year alone. Buyers in the luxury sport utility segment have ample choice, and few are making the decision to pick a Stelvio.  While the limited dealership network is surely playing a big part in that, it is a shame that more folks aren't willing to take a chance on Alfa Romeo's beautiful crossover offering.  The Stelvio is not only a stand out visually, but its driving dynamics and performance are rewarding benefits, too.
With a starting price of just over $56,000, The 2021 Alfa Romeo Stelvio TI Nero AWD offers decent value in the four-cylinder segment, especially given its power. Optioned up as our tester was, this Stelvio closes in on $70,000 before taxes, putting it up against more powerful six-cylinder variants from BMW and Mercedes.  Still, for buyers believing they need an SUV, there's no harm in wanting to stand out from the herd, nor to want an engaging driving experience.  For those folks, the Alfa Romeo Stelvio is well worth a look and a test drive.
See Also: