It was only two years ago when Hyundai released the Kona, hitting the market as a 2018 model with its polarizing design. Since then, it has been winning the hearts of many with its honesty; a subcompact crossover that doesn't pretend to be the all-conquering SUV. Hyundai makes it clear that the Kona is aiming to make life easy and exciting for urban dwellers. This is the 2020 Hyundai Kona 1.6T Ultimate; two years into its production cycle, we conducted a mid-cycle review to see how it's is stealing so many hearts.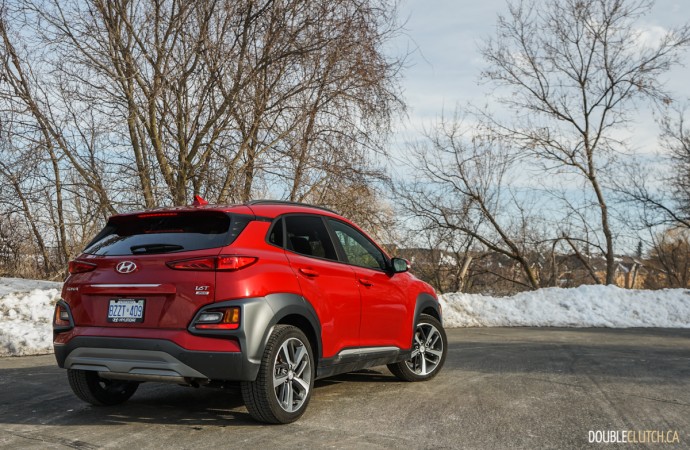 There is no doubt the Kona draws the most attention with its looks. And let's be honest here, they're not for everyone. It is quirky with excessive body cladding extending around the headlights and rear bumper. The headlights have a split level design with independent LED daytime running lights. The front fascia reminds me of the famous E. Honda with his manly eye shadows with thick cladding around the headlights. Like E. Honda, the Kona also has a big squat in the back with the design features accentuating the rear end. Overall, the Kona has small hatchback proportions with a bold design which make for a striking design.
The interior is typical Hyundai which emphasizes functionality over quality. It is packed with features and creature comforts, but hasn't been executed with the highest quality materials. This does not mean the Kona is poorly put together; in fact it is solidly built with no unwanted squeaks or rattles. The design and ergonomics are very good with all controls easily accessible. The console design is very pleasing to the eye with coloured highlights around the vents, shifter and seating. However the interior is essentially hard plastics everywhere.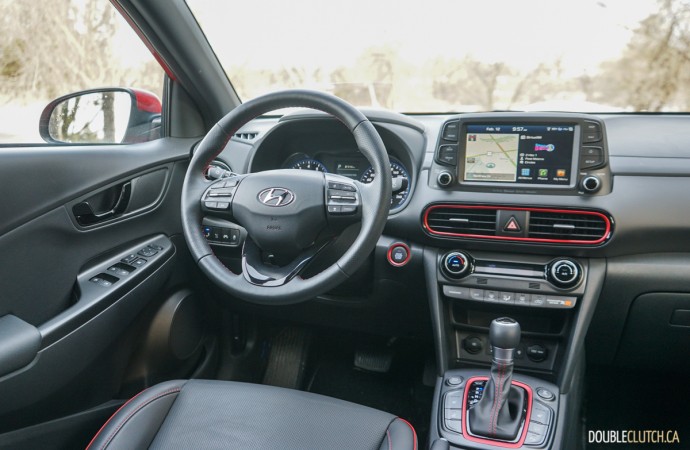 Our tester being the Ultimate trim, is equipped with up-market amenities such as a heated steering wheel, leather seating, proximity key and Infinity audio system with extremely user-friendly touchscreen infotainment supporting Apple CarPlay and Android Auto. A retractable heads-up display is a serious rarity in the class, and when all of these features come together, the Kona is very well equipped for its sticker price and within its segment. Front passengers will find ample space, though rear legroom isn't the best – typical for a subcompact crossover. The cargo area can hold 544-liters with the seats in place, and 1,296-liters with them folded.
The little Kona has a gutsy engine jammed into its frame. Our tester is equipped with the optional 1.6-liter turbocharged inline four-cylinder, pushing 175 horsepower at 5,500RPM and an impressive 195 lb-ft. of torque from 1,500 to 4,500RPM. Power is sent to all four wheels using a seven-speed "EcoShift" dual-clutch transmission. The gearing makes good use of the fat torque band, resulting in effortless highway acceleration and a satisfying surge accompanying throttle inputs. However, there is some lag from the transmission when setting off from a stop. The traditional torque converter six-speed automatic in naturally aspirated trims is much better in this regard.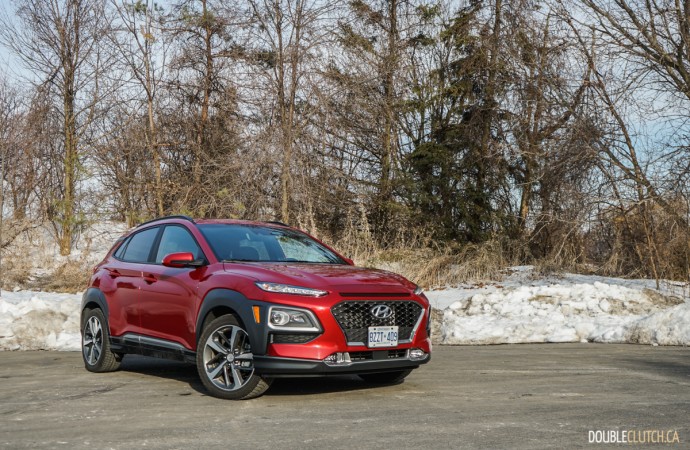 In a small package like the Kona, efficiency is expected. Hyundai Canada rates it at 9.0L/100km city and 8.0L/100km highway, with a combined estimate of 8.6L/100km. Through excruciating commutes in Toronto's rush hour, our week came in at 9.1L/100km on regular-grade fuel. In our testing of the 2.0-liter engine, we observed about 0.5-0.8L/100km better, so if you really don't care about the added torque of the turbo, the 2.0 may be worth a look as it will very easily suit the needs of most buyers.
One of the highlights of the Kona's personality is the sharp handling with zippy response and quick steering. This combined with the small overall footprint of the crossover means maneuvering tight areas is a piece of cake. Even at highway speeds, the Kona feels stable with good on-center feel. However, while sharp in its reflexes, don't expect communicative steering, which is typical for Hyundai and rather lifeless.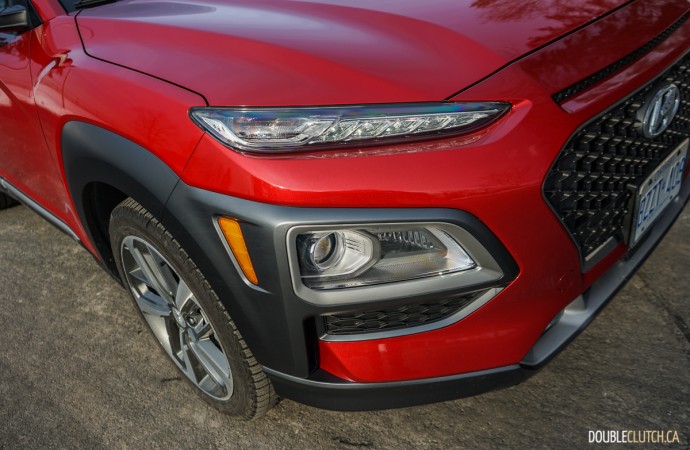 The Kona's added ride height over, say, an Elantra (reviewed here) means there is a bit of body roll, however it's very well controlled. Unfortunately though, the problem here is that to achieve the impressive handling of the Kona without adaptive dampers results in an unnecessarily stiff ride, amplified by the up-sized wheels on our Ultimate trim tester. A car that's meant for conquering the city core should be able to handle rough city streets with a bit more grace. While highway cruising exhibits excellent damping with no unnecessary body movements, urban crawling isn't quite as good.
Value is the name of the game for Hyundai's current crossover lineup, and the Kona is no exception with an impressive list of interior amenities and safety features. Our test vehicle combines all-wheel-drive with a suite including active forward collision avoidance, lane departure warning, lane keep assist, blind spot warning, and rear cross traffic alert. Standard adaptive cruise control here really drives home the fact that value is a high priority, especially when available at a price point below the $30,000 mark.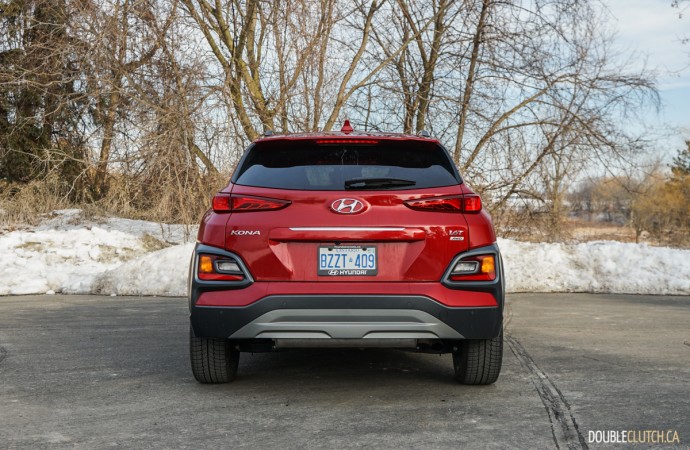 At its starting price of $21,249, the proposition of the Kona is fantastic, and if you do require all-wheel-drive, the Essential AWD sits at a very reasonable $23,249. Our Ultimate test vehicle here came in at $32,249, which is a bit higher than the top trims of rivals including the Honda HR-V and Mazda CX-3 (reviewed here). The Toyota C-HR and Nissan Kicks come in at lower prices, however neither offers all-wheel-drive. The new Kia Seltos (reviewed here), the Kona's sister vehicle, will be the hot contender for the Kona to battle this year.
After spending some time with this 2020 Hyundai Kona 1.6T Ultimate, we can see why it has achieved such great results for the past two years. It has no issues attracting buyers with an honest delivery of features over the competition. Despite its compromises (firm ride, somewhat loud and plasticky interior), the Kona redeems itself with inspiring handling and power, and a comprehensive list of safety features.  The Kona comes in as a complete package that makes the young urban lifestyle enjoyable.

See Also:
2020 Mazda CX-30 GT AWD
First Drive: 2021 Kia Seltos
2019 Nissan Qashqai SL AWD