AUSTIN, TEXAS – When the Stinger was released, it showed the world that Kia was ready to take on established players in the premium market. In 2019, Kia released the Telluride (reviewed here), which consumers and critics fell in love with. Sadly for its competitors, it became one of the fastest selling vehicles in the segment and has been awarded several major automotive awards across North America.  Kia invited us out to Austin, Texas to get first crack at the 2021 Kia Seltos. After time behind the wheel, it's obvious that Kia has another winner on their hands that will give competitors heartburn.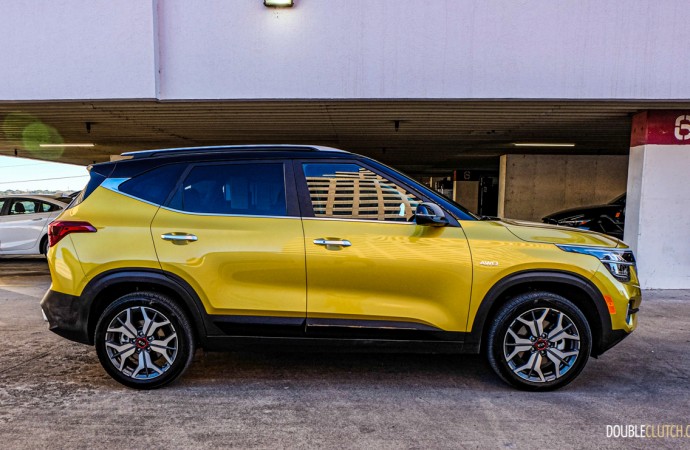 First and foremost, Kia Canada states this is not a re-skinned version of the Hyundai Kona (reviewed here).  Though they share drivetrains, everything else is all Kia and as a current owner of a Kona, I can confirm that this is 100% true. Kia has made great strides to ensure that this is not a simple rehash of a current product on the market. The exterior of is eye catching and handsome, with a sophisticated and rugged design. The traditional Kia tiger-nosed grill is here and stands out proudly to anyone wondering who makes the Seltos. LED lighting is used in all around, and looks sharp. While American models get a spunky contrast paint roof option, Canada gives that up in favour of an optional sunroof.
On the inside, the Seltos has a mix of hard and soft materials. Extra thick padding covers the door armrest and center console, and the dash has some soft-touch leather going across, while the rest of the console is covered in hard plastic. The steering wheel is leather-wrapped and feels great in your hands. The top-trim SX model gets full leather seats as standard equipment, which is a great touch. The Seltos exceeds its major competition with interior space; my 6'3 frame had no issues sitting behind myself with ample space to tuck my feet in.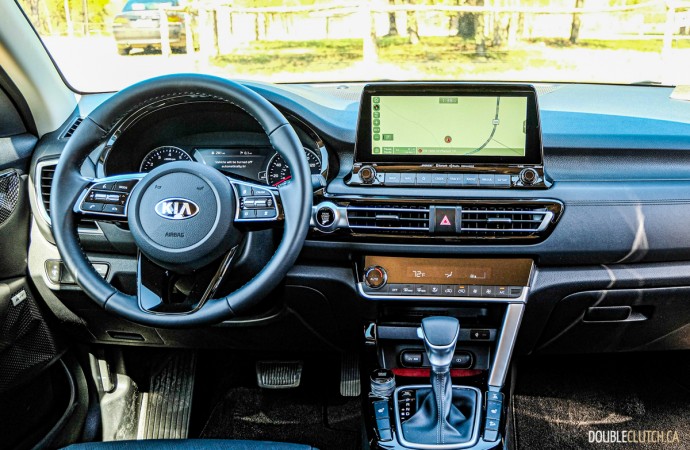 The rear seats can also recline, something that virtually no competitors offer. The Seltos offers class-leading cargo volume, with 742 liters of capacity behind the rear seats. The seats can be folded down to get access to 1,778 liters of space. For comparison, the new Mazda CX-30 gets 572-liters, the Honda HR-V has 688, and the Hyundai Kona can hold 544-liters of stuff.
Kia's corporate infotainment system is standard, with a 10.25-inch screen compatible with both Apple CarPlay and Android Auto. It's fantastic to use and is a benchmark in the segment. An eight-speaker Bose sound system is also on board and sounds pretty good. Upper trim levels get a digital seven-inch display in the instrument gauge cluster, along with headed and ventilated front seats, a heads-up display, remote engine starter, and heated rear seats, a first in the subcompact crossover segment.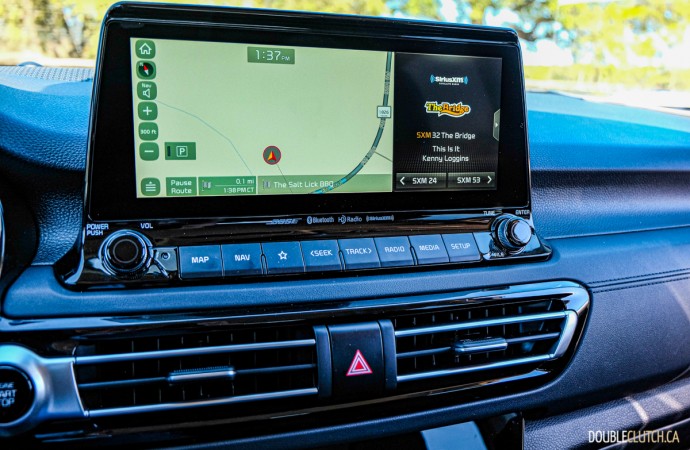 The majority of Seltos models sold will get a 2.0-liter Atkinson-cycle inline four-cylinder, offering 146 horsepower and 132 lb-ft. of torque. This engine can be had with both front and all-wheel-drive, though the optional 1.6-liter turbocharged four-cylinder with 175 horsepower and 195 lb-ft. of torque is all-wheel-drive only. The turbo-four is punchy, effortless and while it can barely be considered "quick", it'll do just fine for both urban and highway drives. The dual-clutch transmission (on turbocharged models) has been improved significantly over previous models. It performs extremely well in stop and go traffic with no confusion, and provides the correct downshift for passing at highway speeds.
All-wheel-drive examples of the Seltos get an independent rear suspension versus the front-driver's torsion-beam setup. Our tester SX model was compliant on some of the roughest roads around Austin, and handled twisties and on-ramps with confidence not normally seen from crossovers in this segment. Kia has added high strength steel to the sides of the Seltos, in order to ensure body flex in the cabin is minimized. Not a squeak or rattle can be heard on the interior, though some wind noise is definitely evident at highway speeds.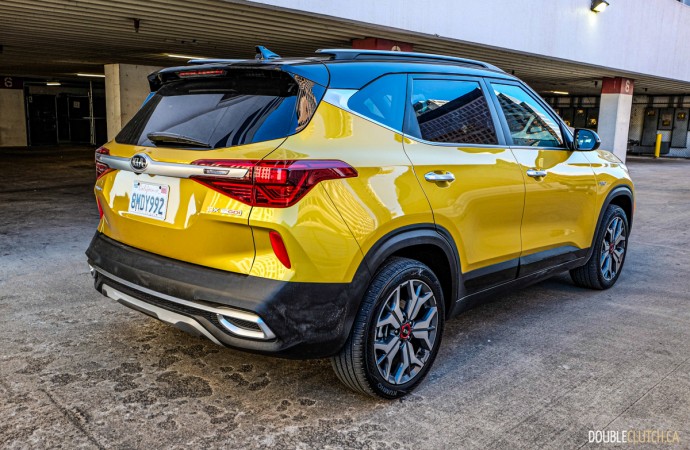 Safety features that go above the norm have not been ignored.  Kia has included a Rear Seat Reminder, a Safe Exit Assist (warns of oncoming vehicles in the blind spot before opening doors) and Lane Follow.  Blind Spot Collision Warning and Rear Cross Traffic Collision Alert are also standard. Fuel economy on the turbocharged Seltos is rated at 9.4L/100km city, 7.9L/100km highway and 8.7L/100km combined, with all models rated to run on regular 87-octane fuel.
Kia has taken their time to enter the subcompact crossover segment, while most rivals have been on the market for some time already. The advantage here is that they've had ample time to observe what has and hasn't worked for the competition, ensuring they can deliver a product consumers want. With the 2020 Kia Seltos, they've taken some of the best aspects of their complete family of crossovers and sprinkled in some new style. The result is a crossover that challenges the best in the market, giving buyers exactly what they've asked for.

See Also:
2018 Hyundai Kona 1.6T Ultimate
2020 Kia Soul GT-Line Limited
2019 Nissan Qashqai SL AWD