Many automakers are gradually increasing the number of SUV offerings compared to traditional sedans. Keeping up with the trend, Mazda has released yet another crossover, the all-new CX-30. This is a compact crossover that slides right in between CX-3 and CX-5 models. Is the CX-30 a unique enough model to attract new shoppers? It feels like Mazda maybe taking a page out the Subaru's textbook in offering lifted versions of their hatchbacks. We have the top of the line 2020 Mazda CX-30 GT AWD for a week to see what the fuss is all about.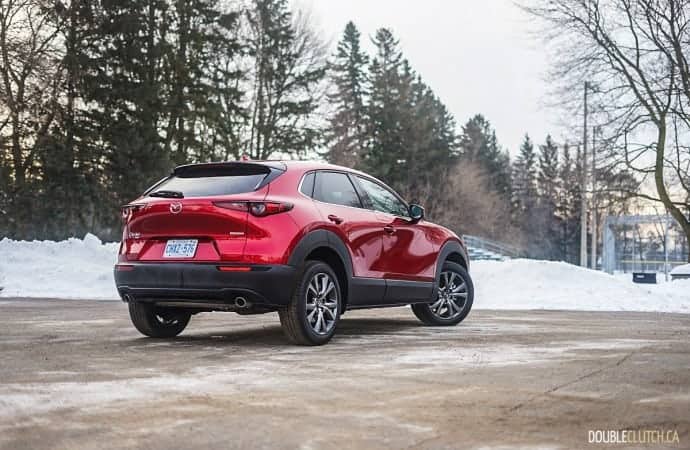 The CX-30 is the second vehicle to adopt Mazda's latest Kodo design language using graceful yet energetic lines, emulating the flow of water or effects of wind. The front end features Mazda's signature front wing with aggressive headlights for a sleek and bold look. The CX-30 has smooth lines without any angular or hard creases; all the panels are rounded and organic. At first glance, one might think it's just a lifted Mazda3 (reviewed here) with more plastic cladding for a rugged look. Looking at the rear of the CX-30 you will see big differences, with sloping windows and a wider stance. Mazda does a great job in creating a coupe-like silhouette with the proportions of an SUV. The CX-30 has a very unique and contrasting design that's sleek but also rugged and functional.
The interior layout is surprisingly driver focused. The gauge cluster is accompanied by a pair of wing like vents angled towards the driver. The passenger is served with a set of more discrete vents directly ahead. The dash is an organic multi-tier two tone design with very clean uncluttered look. The use of black and brown for a minor contrast trimmed with brushed aluminum results in an interior we would expect from a luxury brand. Buttons are kept to a minimum with controls split between the dash and transmission tunnel. Most impressive is the lack of hard plastics used in the cabin. The doors, dash and center armrest are all lined with soft supple leather. There is not one piece of the interior that feels poorly assembled.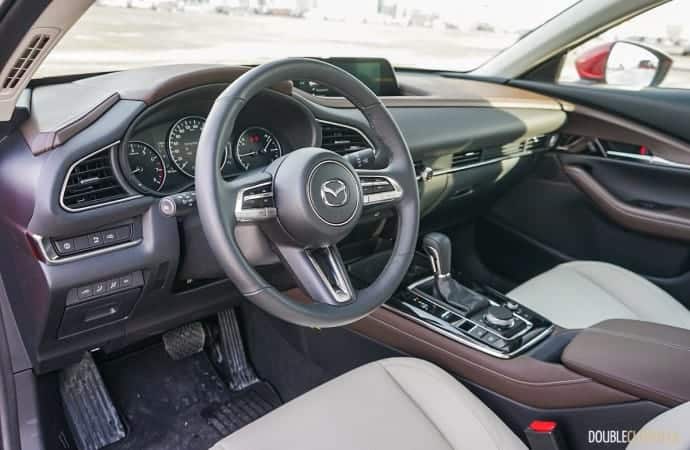 Ergonomics are excellent as well with an excellent driving position. Despite being a crossover, drivers won't feel like they are sitting on the chassis, but rather connected to it. The seating is very comfortable with supple materials. Rear seating position is excellent as well with good headroom. However, legroom for adult passengers is a bit tight, with just enough room for my 5'11 frame. Cargo capacity is a very useful 572-liters behind the rear seats, which also fold down. The opening to the cargo area is adequately wide for easy loading of large items.
The infotainment on the CX-30 is very clean and simple with a vibrant 8.8-inch center display and a central controller. This is reminiscent of Apple products which are very straightforward; easy to use but with minimal available customization. If you are used to operating out of your phone, you can connect via Android Auto or Apple CarPlay. Your tunes are amplified via a 12-speaker Bose audio system for immersive listening. This system is adequate but will not go out of its way to impress any audiophiles.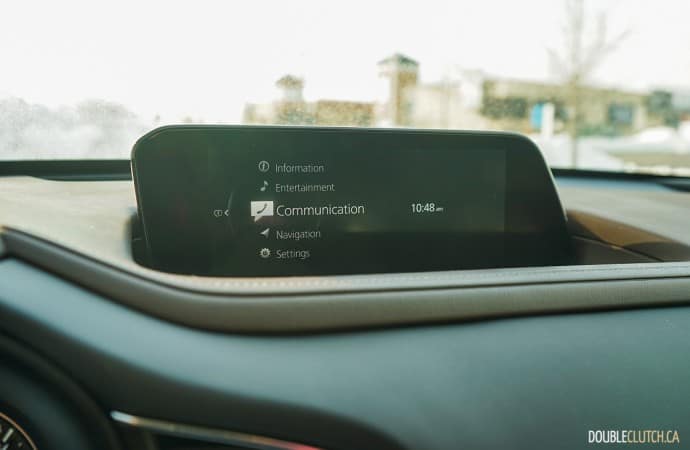 Driving the CX-30, you immediately feel the DNA of Mazda; it is surprisingly agile and sharp. Steering is quick and direct but also light enough for ease of use. Despite the higher ride height, body roll is kept in check. The car actually goads you to throw it into corners. It has a rawness and character that reminds me of the MX-5 (reviewed here). The combination of the handling with engine and exhaust notes make the CX-30 a joy to drive. The addition of i-ACTIV all-wheel-drive ensures stability in all conditions.
The CX-30 GT is powered by a SKYACTIV-G 2.5-liter engine with cylinder deactivation. It produces 186 horsepower at 6,000RPM and 186 lb-ft. of torque at 4,000RPM. What jumps out immediately is the amount of low-end torque. The way the engine revs and sounds is also very similar to the MX-5 which makes for a very enjoyable experience. The engine is paired to six-speed automatic transmission which is responsive enough. The wheel-mounted paddles are responsive to downshifts but noticeably slower on upshifts with a delay. Overall, it's a peppy drivetrain that gets the job done.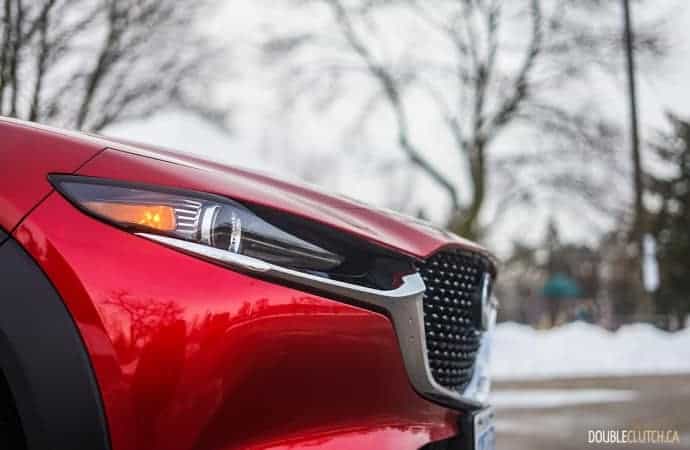 Mazda's SKYACTIV engines are better known for efficiency. With the help of cylinder deactivation, the CX-30 is able to achieve fuel consumption ratings of 9.5L/100km city and 7.4L/100km highway. Our week of testing was mainly city crawling, but despite this, average consumption resulted in a very reasonable average of 9.9L/100km. The cylinder deactivation tech is stealthy but really helps the CX-30 sip gas in certain situations.
NVH is evidently something that Mazda has focused on, and therefore refinement is better than expected. The car has a Sport mode button that doesn't do much other than holding gears longer. However, the CX-30 is still perfectly capable of handling two different personalities without fancy mode selections and adaptive dampers. Drivers can have a spirited drive when you want or just relax and putt around town smoothly if so desired.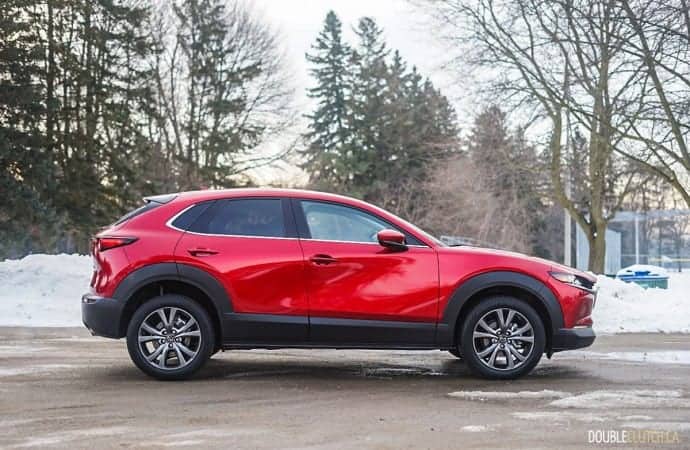 The Mazda CX-30 also comes equipped with suite of driver assistance which they call i-ACTIVSENSE. This includes driver attention alert, radar cruise control with stop and go, lane departure warning, lane keep assist, Smart Brake Support and blind spot monitoring. Along with all-wheel-drive and the added ride height, the newest Mazda is a go anywhere vehicle for the adventurous consumer.
The all new CX-30 is priced slightly higher than the CX-3, starting at $23,950. Our GT with all-wheel-drive starts at $33,850, plus $450 for the premium paint. The CX-30 is positioned to compete with compact crossovers such as the Honda HR-V at $24,290 or the Subaru Crosstrek at $23,795. The Honda offers more utility but arguably less style and can't compete with the Mazda in terms of interior design. The Subaru offers an established safety reputation, but falls short in terms of interior quality and design. The CX-30 offers the sleekest looks and interior; crucial considering this market is full of young buyers who want to drive in style.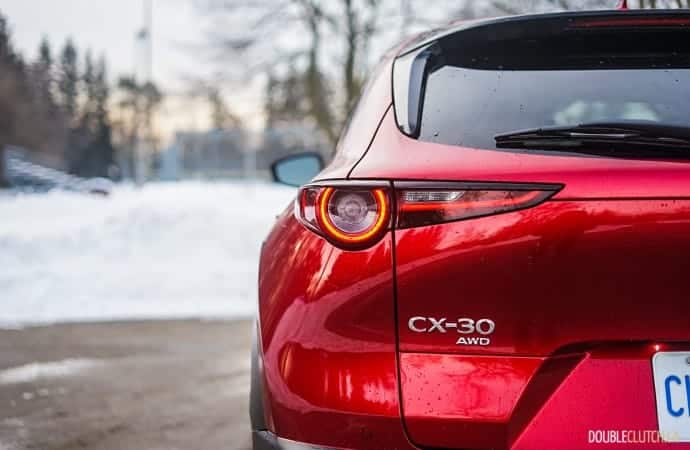 It is clear Mazda needed the CX-30 to grab a share from this really big pie. The CX-3 is too small and impractical to be competitive, frankly. Fresh out of the gate, the 2020 Mazda CX-30 GT AWD is a winner in my books. Mazda focused on style, interior quality and driving enjoyment without much sacrifice to practicality. It has the tech buyers want, and truly difficult to find fault with. Mazda has done a great job finding a gap in their product line and filling it with a quality product. This isn't just a lifted hatchback, but a thoroughly designed product with excellent attributes.

See Also:
2019 Mazda3 Sport GT
2020 Mazda CX-5 Signature Diesel
2019 Mazda CX-3 GT AWD