During a time where crossover manufacturers are launching various hybrid, plug-in hybrid (PHEV), and electric vehicles to suit changing consumer demands and ever tightening emission regulations, Mazda curiously pulled a page out of the old recipe book and launched a diesel engine option for their popular crossover, bringing in this 2020 Mazda CX-5 Signature Diesel.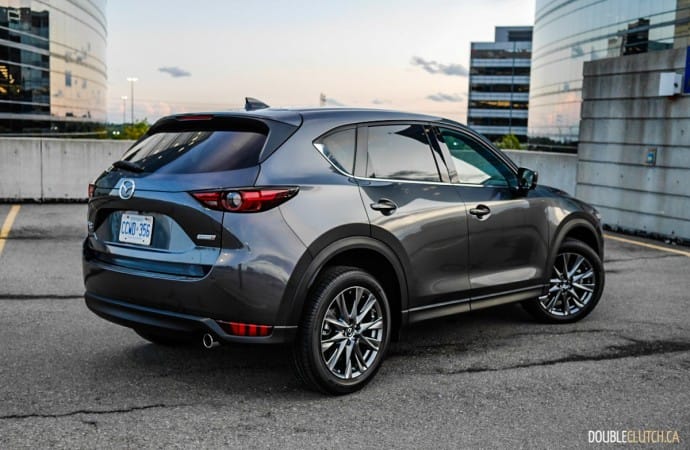 We had a chance to review the top of the line CX-5 Signature with the potent 2.5-litre turbocharged engine (reviewed here) earlier this year, and were impressed with its interior appointments and overall handling. The tall gearing ratios negated much of its power advantage over its competition. This 2020 model is also in Signature trim; this time equipped with the optional diesel engine, to evaluate whether it is worth a whopping $5,000 premium over the gasoline model.
The optional diesel powerplant is Mazda's latest SKYACTIV-D engine that displaces 2.2 litres, with a power output of 168 horsepower at 4,000 RPM, and torque of 290 lb-ft. at 2,000 RPM. The latter figure is of particular importance here as we observed plenty of low-end torque to get the CX-5 going, though it naturally runs out of breath at high RPMs given its combustion source. The Skyactiv-Drive six-speed automatic transmission is improved from the gas configuration. The gear ratios are shorter and more suitable for city driving, but the shortfall to that is a short sixth gear that hovered around 2,500 RPM when cruising at highway speeds.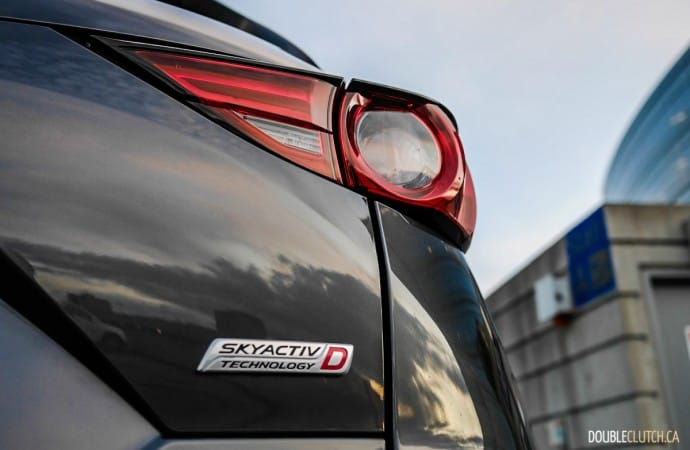 A common complaint for diesel engines is an increased level of noise, vibration, and harshness that is felt inside the cabin. We noted no such complaint for the CX-5, with impeccable smoothness. There is some clatter and noise at idle, but this motor is considerably smoother than diesel engines of the past. Noise on light acceleration is only marginally coarser than the previous generation's gasoline model, and is right up there in terms of refinement with BMW's four-cylinder engines.
One of the main advantages of the CX-5 has always been the handling, and this version is no exception. The steering is communicative, with excellent weight and good turn-in feel. Body roll is kept to a minimum during cornering, though at highway speeds, we observed a slight instability as the CX-5 had a tendency to dart around a bit. The famous "zoom zoom"slogan may have been retired, but the spirit lives on with the Mazda3, MX-5, and CX-5 as they each represent the top handling choice in their segments. The Toyota RAV4 (reviewed here), with the new TNGA chassis, is a close competitor in the handling department, but we prefer the steering feel in the CX-5.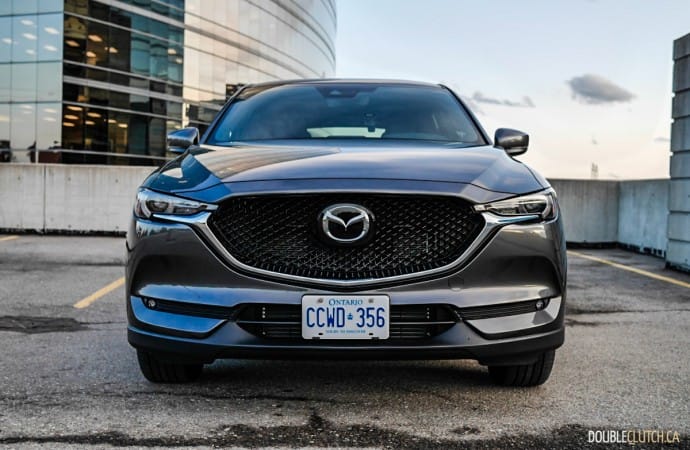 While fuel consumption is always a topic of interest for many car buyers, for the CX-5 diesel, it could mean a make-or-break factor since most opt for a diesel for perceived savings at the pump. Unfortunately, this is where the CX-5's diesel engine falls short of expectations. On paper, its 8.9L/100km city, 7.9L/100km highway, and 8.4L/100km combined fuel consumption rating is only slightly better than the 2.5-litre gasoline engine with cylinder deactivation technology (9.3/7.6/8.5L/100km respectively).
Combined with the fact that, at the time of writing, diesel prices were more expensive than gasoline, there are no real financial gains to be had with the optional diesel powertrain. During our real-world testing, we were pleasantly surprised when we observed a much better fuel economy of 7.8L/100km for our week of highway-heavy commute, and an impressive 6.4L/100km highway jaunt into rural Ontario.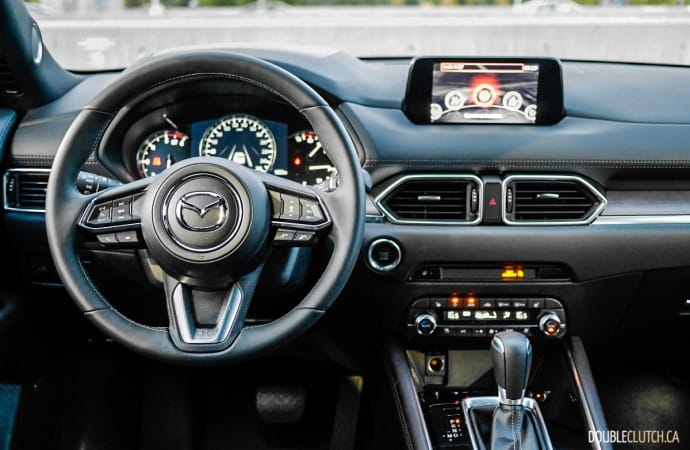 Aesthetically, there is no difference between the gasoline and diesel models, except for a SKYACTIV-D badge on the tailgate. Similar to the Mazda3 (reviewed here) compact sedan and hatchback, the Machine Grey Metallic CX-5 carries Mazda's KODO design language, and its aggressive design is a refreshing look in a class of boxy looking crossovers. The 19-inch gunmetal wheels look fitting for the sophisticated looks, and we did not notice any decrease in ride comfort with this wheel size.
Interior appointments are also a strong suit of Mazda, as the CX-5 features a simplistic and elegant design. Materials are excellent and a step above other mainstream crossovers. We particularly appreciated the richness of the Nappa leather wrapped seats. The 10-way power-adjustable driver's seat is supportive, and the CX-5 GT and Signature trims get ventilated front seats as well as heated front and rear seats for added all-weather comfort.  Thanks to the sloped front hood, outward visibility is great, and there is good head and legroom for the front occupants.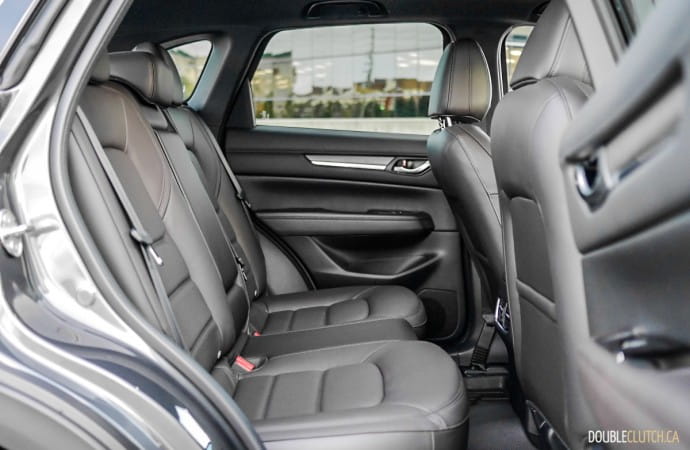 Rear passengers will feel a little pinched with limited legroom, and the rearward sloping roofline means any taller than a six-foot frame will feel a slight sacrifice in headroom. Cargo volume is measured at 875-litres, which is ample for most families but it trails the likes of Honda CR-V (reviewed here) and Toyota RAV4 (both measured at 1,065 litres).
Infotainment is delivered by the Mazda Connect system, using a seven-inch screen on the centre console. Drivers can enter commands using the rotary dial located beneath the shifter, and they will use plenty of it. As we noted, adjusting many basic features such as changing radio stations requires digging through several sub-menus. The good news is that the system supports both Apple CarPlay and Android Auto, so drivers can get by without spending too much time fiddling. Audiophiles will be delighted to hear the excellent quality of the Bose ten-speaker sound system with Centerpoint 2 Surround and AudioPilot 2 Noise Compensation.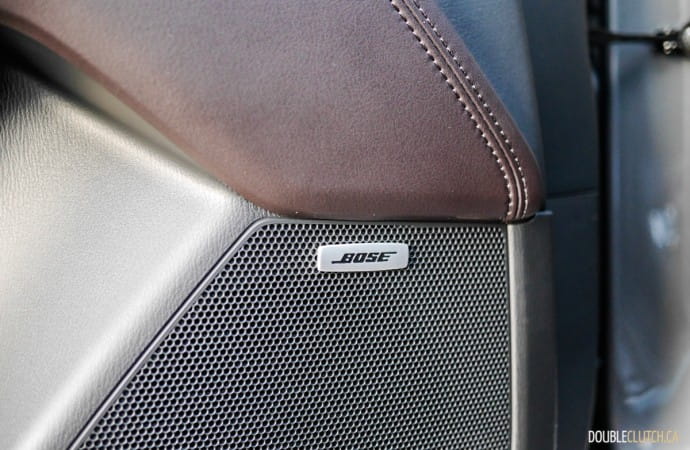 Mazda's i-ACTIVSENSE safety system is onboard on all CX-5s, and includes Advanced Blind Spot Monitoring, Rear Cross Traffic Alert, Smart City Brake Support, Traffic Sign Recognition, Mazda Radar Cruise Control with Stop & Go function, Forward Obstruction Warning, Land Departure Warning, and Lane-keep Assist systems. The Traffic Sign Recognition system is particularly smart as it integrates seamlessly into the head-up display unit, displaying a visible red stop sign logo ahead of the driver that works even in nighttime driving conditions.
Pricing with the optional diesel powerplant starts at $45,950, an increase of $5,000 over the gasoline version. Add $300 for the paint job, and we have our as-tested price of $46,250, significantly more expensive than most of the mainstream crossovers in the Canadian market. Given the fact that the diesel engine is not necessarily any more frugal than the 2.5-litre turbo engine, environmentally and economically, we simply do not see the merit for opting for diesel.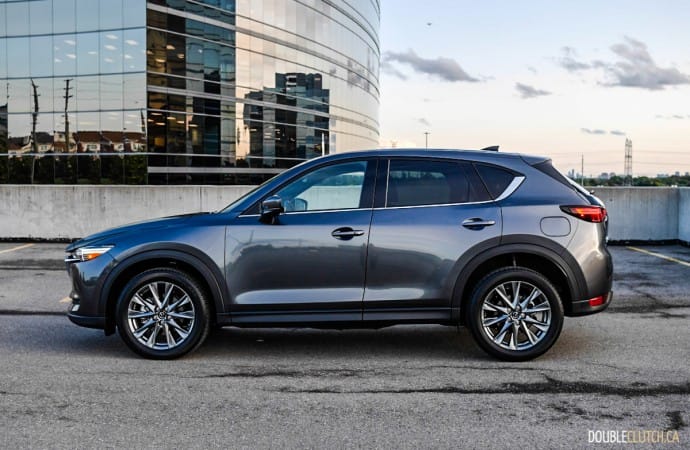 We feel that it would make more sense if the diesel option is available on lower trim levels such as the GS, instead of limiting it to the top-of-line Signature. This would allow it to be more competitive in pricing against other crossovers in the segment. What hurts the CX-5 Signature diesel even more, is that the Toyota RAV4 Hybrid Limited AWD exists, and it pretty much does everything the CX-5 can while costing nearly $4,000 less and consuming less fuel.
In a vacuum, the 2020 Mazda CX-5 Signature with the optional SKYACTIV-D diesel engine is a great crossover. It is far better than most diesel engines in the mainstream segment, and would be our top choice for anyone who is specifically looking for a diesel-powered vehicle. For anyone else, we recommend not making the splurge and staying with the competent 2.5-litre turbo engine, or looking at newer hybrid options for the best fuel economy. As the old saying goes, 'a day late, and a dollar short'; this basically sums up the CX-5 diesel.

See Also:
2019 Mazda CX-5 Signature
2020 Kia Sportage EX Tech AWD
2019 Toyota RAV4 Hybrid