Car guys are always discussing hypotheticals, and this often translates to spending endless hours on the local classifieds and manufacturers' online vehicle configurators. A common one of these hypotheticals is which car would we opt to drive daily, year round, if cost were no object. Answers like the Mercedes-AMG E 63 Wagon (reviewed here) remained popular, but then Porsche decided to launch the Panamera Sport Turismo. A long-roof version of the gorgeous sedan, this 2019 Porsche Panamera 4 Sport Turismo E-Hybrid is nothing short of a dream machine with enough practicality to enjoy year-round.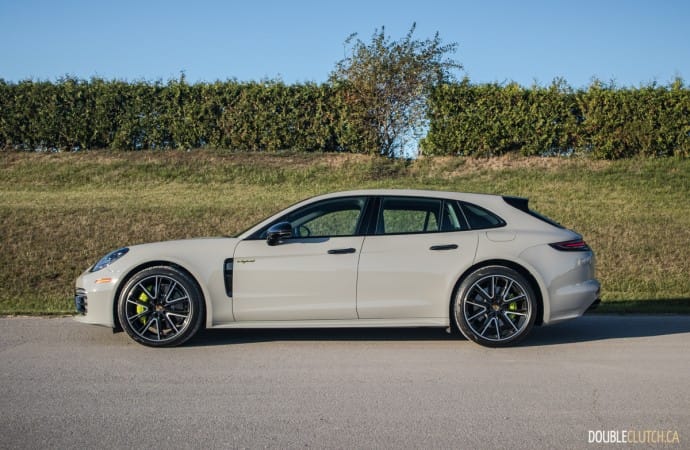 The Panamera is based on the MSB platform, which stands for "modular standard drivetrain". MSB is also shared with current Bentley models such as the Continental GT and Continental Flying Spur. First things first – the Panamera Sport Turismo looks like nothing else on the road today. It's immediately identifiable as a Porsche product, with the subtle beauty of their current design language. Our test vehicle was painted in "Chalk", a $3,370 option that in my eyes is completely worth the cost of admission. It's expensive, but this colour is subjectively stunning. This is complimented by the 21-inch Exclusive Design wheels, which are black gloss ($6,270).
Aside from the Acid Green brake calipers, charge port door, and E-Hybrid badging (also accented in green), there isn't much to visually differentiate this model from the regular variant. This is part of the Panamera's appeal, and we love it. Under the hood lies a 2.9-liter twin-turbocharged V6 which alone is good for 330 horsepower. It's hooked up to a 136-horsepower electric motor between the gasoline engine and transmission, and this pushes a total output of 457 horsepower at 6,000RPM and 516 lb-ft. of torque at just 1,100RPM. This will bring the Panamera 4 E-Hybrid to 100km/h from a standstill in 4.6 seconds.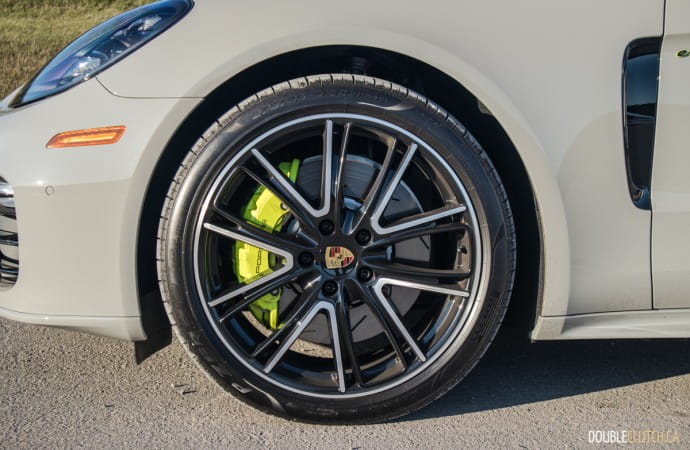 A 14-kWh lithium ion battery makes for a reasonable EV-only range. We observed about 21km in our testing. If the battery is fully charged, the vehicle defaults to E-Power mode, which will utilize its battery until it's almost fully depleted. We opted to use the Hybrid Auto mode for optimal efficiency, where the Panamera still focuses on as much EV-driving as possible. Drivers can either maximize use of the gasoline engine to regenerate charge for the battery, or save EV power for later in the drive when it can be used optimally. The system works imperceptibly, and is one of the most seamless hybrid setups out there, not compromising the vehicle's legitimate Porsche credentials at all.
Rather than a CVT as seen in most other hybrid applications on the market, Porsche has employed the latest eight-speed version of their benchmark gearbox, PDK. This dual-clutch setup allows for lightning fast gear changes and also excellent noises from the optional sport exhaust. When kept in "Sport" or "Sport+" settings, the Panamera doesn't feel slow by any means, and it's worth pointing out that these power and torque numbers are higher than those in the GTS (reviewed here). The all-wheel-drive system is torque-vectoring, and makes for a sharp handling vehicle no matter how you cut it.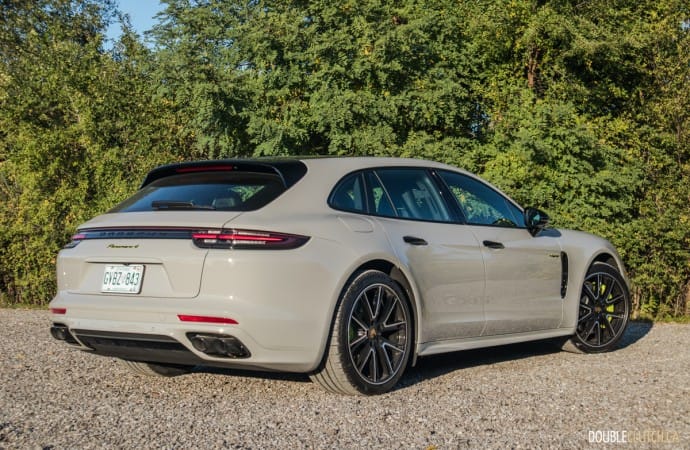 The Panamera is nothing short of sensational as a highway cruiser, with unmatched road manners and excellent suspension tuning. As with every Porsche we have tested, there are no squeaks or rattles over bumps, and it's extremely planted at all times. While handling is exceptional for a 5,000-pound vehicle, what's remarkable is that there's still some steering feel retained. Response is good, and everything tightens up nicely in the sportier settings. It's nowhere near as crisp as a conventional hydraulic steering rack would be, but as far as electrically assisted modern setups go, this one is pretty darn good.
Fuel efficiency for this car really depends on how you use it. The EV-only range means if you're only commuting short distances and have access to charging at home and work, it's theoretically possible to not use fuel at all. Driving it as a hybrid and not doing much charging, we managed to observe 10.4L/100km, more than acceptable for a vehicle with these power figures. The 80-liter fuel tank makes for considerable driving range without needing to refuel, and as expected, 91-octane premium is the minimum grade required.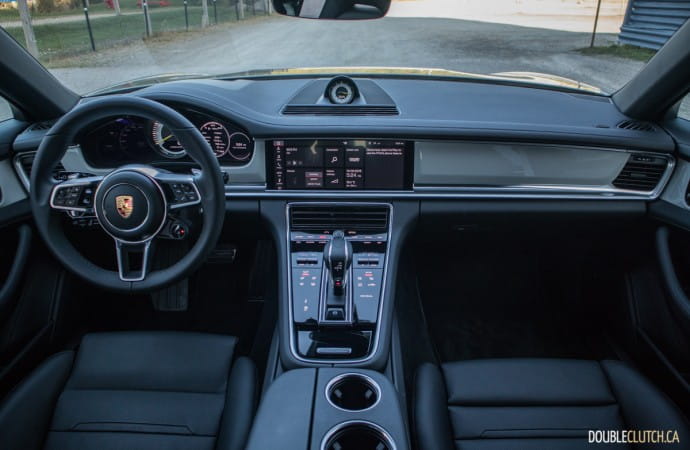 The Panamera's interior is a delightful place to be, and is well-designed and easy to understand. Fit and finish is excellent, and there are no visible panel gaps. The 14-way powered front seats are very comfortable, with excellent support and one of the best seat ventilation system around, despite it being a bit on the loud side. We wish the seats had adjustable headrests, as the fixed units won't work for everybody. Rear seat legroom is fairly good, and visibility is also a strong suit of this body style.
A 12.3-inch touchscreen with Porsche Communication Management (PCM) supports both Apple CarPlay and Android Auto, and is one of our favourite touchscreen setups around. We wish there were some more hard buttons for obvious functions such as track skip, and there are some confusing menus, but overall it's a great layout and the display is top-tier. There are digital displays in the instrument cluster as well, controlled using the steering wheel controls. It all comes together nicely and the Panamera does a great job of providing all pertinent information quickly and easily.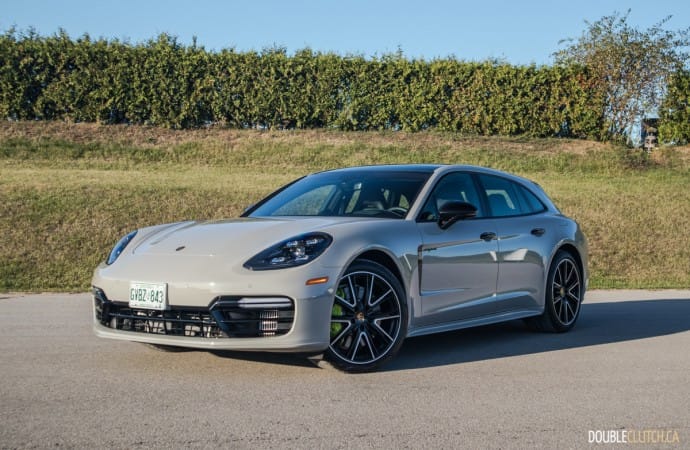 Porsche Cars Canada prices the Panamera at $99,300 to start, and the E-Hybrid at $117,800. Opting for the Sport Turismo brings this number up to $122,800. Our tester added options such as the aforementioned paint and wheels, a Sport Exhaust System ($4,400), sunblinds for the rear windows ($560), interior accents in Chalk ($2,470), illuminated door sills ($1,160), and a few more things. The most noteworthy package is a Premium Package Plus ($7,140) that adds soft close doors, Comfort Access, lane change assist, Bose sound, and power 14-way seats with ventilation. The total sticker before taxes and fees comes to $167,165.
At this price point, the Panamera E-Hybrid doesn't really have any real competitors, especially in Sport Turismo form. The faster variants in sedan form have competition in the form of the Mercedes-AMG GT 63 S 4-door and BMW M5 Competition (reviewed here), but none of those vehicles offer a fuel-sipping hybrid variant. This works significantly well in the Panamera's favour, because while it's a very low volume model, it stands out on both uniqueness and straight enthusiast passion. The 2019 Porsche Panamera 4 Sport Turismo is one for the books – it has quickly become one of the most desirable cars available today.

See Also:
2018 Mercedes-AMG E 63 S Wagon
2019 Porsche Cayenne S
2019 BMW M5 Competition