SAN DIEGO, CALIFORNIA – Harley Davidson was kind enough to invite us to sunny San Diego for the international press ride of the 2020 Harley-Davidson Full Line. Harley continues their push to be on the cutting edge, and trend setting side of things in the motorcycle world. The all-new 2020 Low Rider S is a part of the Soft Tail family, and with its blacked out finishes it's obvious that this isn't your typical Harley. From the Touring line, we have the Road Glide and Ultra Limited that get some nice cosmetic changes to cater to the taste of riders who prefer to spend their time on the pavement rather than tediously polishing chrome.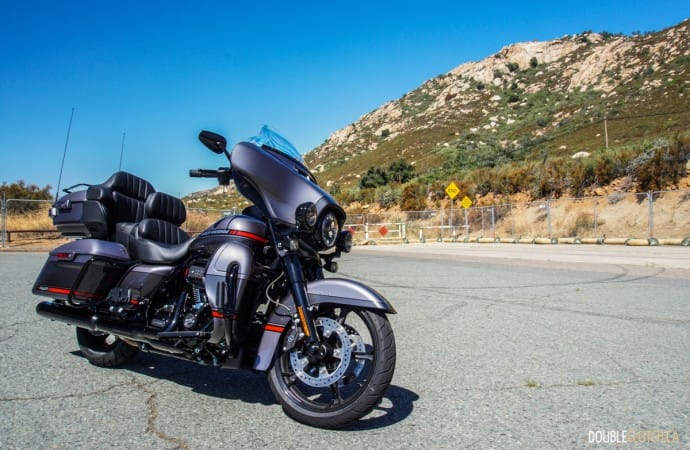 Lastly, the CVO Limited, CVO Street Glide and for the first time a three-wheeler is added to the CVO line, the CVO Tri Glide.  Harley Davidson is also rolling out their new H-D subscription-based connect service allowing you to connect to your motorcycle with your phone via LTE cellular network. With this service riders can track fuel level, range, tire pressure, odometer, tamper alerts, stolen vehicle tracking as well as service interval reminders remotely from the comfort of their home.
The new technology Harley is rolling out comes with many confusing acronyms, such as C-ELB, C-ETS, VHC, DSCS and RDRS. Corner Enhanced Electronic Linked Braking (C-ELB) works by evenly applying brake pressure to both wheels even if only the front brake is applied. The bike will automatically apply rear brake pressure and vice versa, making for smoother and more predictable braking action. Corner Enhanced Traction Control System (C-ETS) works by preventing the rear wheel from spinning and losing traction both when riding straight or cornering. It's configurable on select models with Rain, Standard and "off" settings.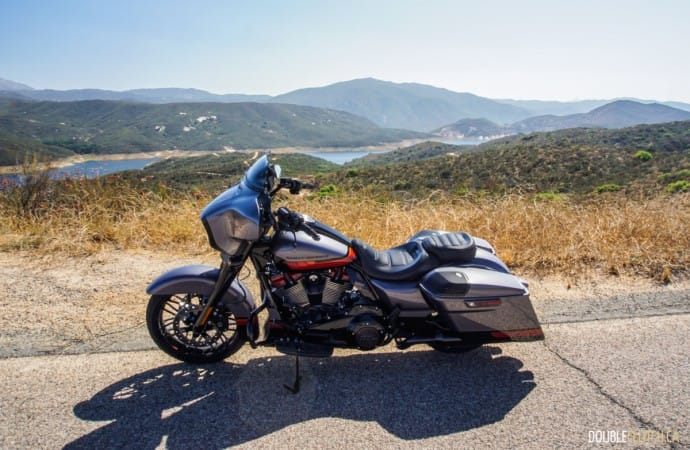 Vehicle Hold Control (VHC) is like a hill assist and works by keeping the brakes applied when wanting the bike to stay put while at a stop. This is applied by simply squeezing the brake lever harder than it took for you to stop, and that's it. Once the rider does this, the VHC system is applied and will continue to hold for up to five minutes, and can also reverse the effects if you wish to roll your bike back into a parking space. Drag-Torque Slip Control System (DSCS) works by automatically raising RPMs when aggressively downshifting, preventing wheel hop or locking up the rear wheel.
Reflex Defense Rider System (RDRS) is designed to help maintain maximum traction when accelerating, braking or cornering. It governs braking and traction to facilitate this, and allows riders to brake while cornering while minimizing the bike's instinct to stand up or low side while corner braking. This is accomplished with the use of a six-axis Internal Measurement Unit (IMU) that Harley Davidson collaborated with Bosch to create.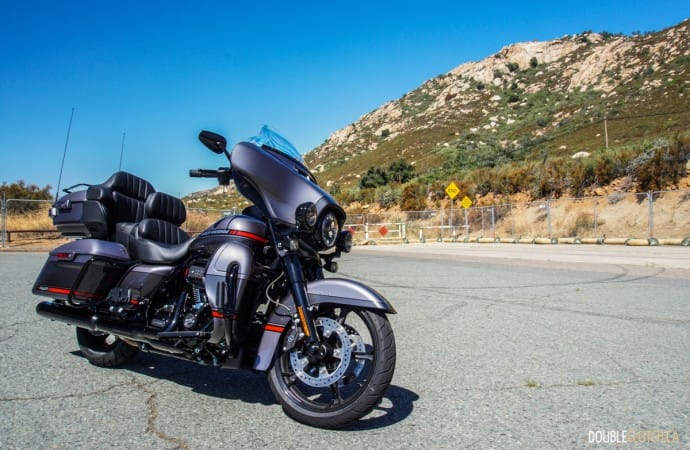 The 2020 Low Rider S has many cosmetic and mechanical differences over its counterpart, the Low Rider. The Milwaukee-Eight 114ci engine is the only one available, and is the second largest engine you can get from Harley Davidson. A steeper rake angle, dual disc front brakes, four-inch bar risers, matte dark bronze wheels and mid-controls are the more notable differences over the standard model. After some getting used to, the mid-controls helped with the ergonomics of the bike, and rendered my knees to be at the same height as my hips, and my knee bent past 90 degrees.Low speed maneuverability was decent in stop and go traffic thanks to the steeper rake angle. The solo seat has a high rear end to help keep the rider stabilized under hard acceleration, and the engine has more than enough torque to get you going in a hurry. Cornering lean angle is a rated 30.1 degrees both ways, and was ample for a bike of this nature.
The Road Glide Limited still retains its iconic dual Daymaker Reflector LED headlamps alongside some cosmetic changes including its fuel tank, paint, and Slicer II wheels among others. It has lots of storage, a comfortable riding position and loads of torque thanks to the Milwaukee-Eight 114. The seat is very plush and comfortable, and this bike even comes equipped with a "Boom!" Box infotainment system  that plays loudly and clearly regardless of the speed you're going. You can definitely put some miles on this bike fairly comfortably.  The Road Glide Limited starts at $32,599.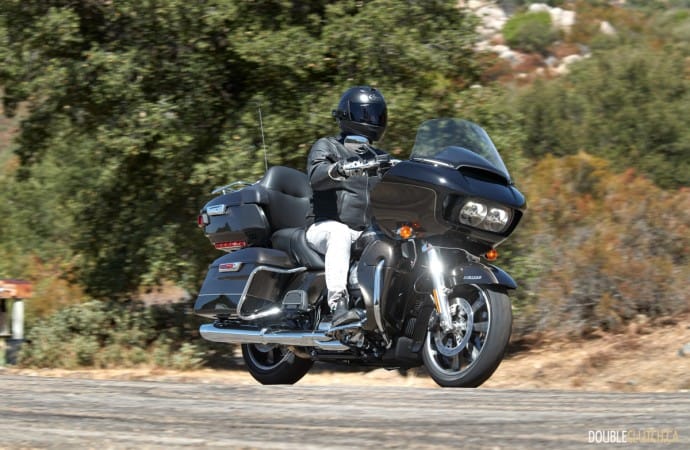 The Ultra Limited starting at $33,899 features a new black finish option that completely changes the appearance of the bike. A great riding position makes for an easy ride with next to no wind buffeting due to the Batwing Fairing and split-stream air vent that's easily opened and closed at the touch of a button. The Milwaukee-Eight 114 engine comes standard as well as heated hand grips and cruise control. The ergonomics of this bike are about as good as it gets, and with 13 different colour options, you'd be hard pressed to find a colour that doesn't suit your style.
All CVO bikes come standard with Harley Davidsons Milwaukee-Eight 117 engine with 125 lb-ft. of torque, roughly 3 lb-ft. more than the 114 engine. They all come with the Reflex Defense Rider System (RDRS), as well. The CVO Limited is really the ideal long-range touring bike that will keep you comfortable for hours and hours of riding. It comes with every feature you can think of, including heated seats and grips, rider back rest, heel-toe shifter and custom wheels to name a few. Highway cruising is a breeze, and cornering in the twisties was effortless. Riders can point the bike in the direction they wish to go and it will effortlessly follow. The CVO Limited retails for $53,799.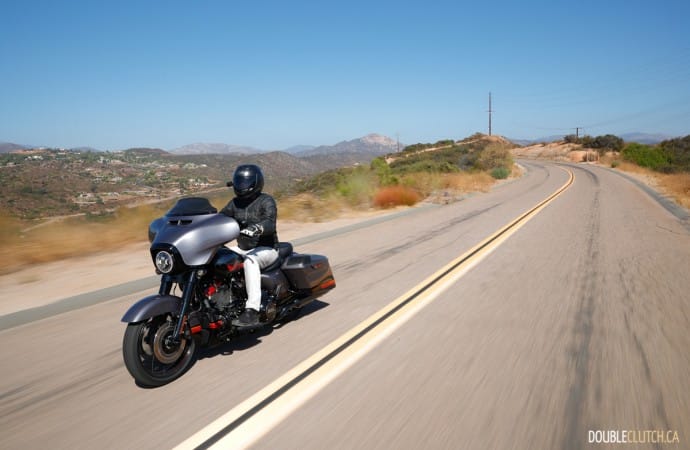 The CVO Street Glide at $49,799 is a hot rod bagger that gets attention whereever it goes. Even though it has hard case saddle bags, it's stylish and aggressive enough to make baggers look cool. The Street Glide is nimble in the corners and smooth on the straights. A high-performance suspension featuring dual bending valve front and emulsion rear suspension with adjustable pre-load will allow riders to tune the suspension to suit their needs whether you want it plush for comfort or tight for the twisties. This bike straddles the line of comfort and style. Three new paint options are available; Smokey Grey and Black Hole with 1970s race inspired graphics, Black Stardust Fade to Stormcloud and Premium Sand Dune Moonstone finish with peal topcoat.
Dealers kept asking Harley Davidson to add the Tri Glide to their CVO line for years. Harley listened, and now for the first time ever a three-wheeled bike is now available from this line. When on this trike, you think you're on a motorcycle, and you won't find a CVT transmission here. It still has a clutch and six-speed transmission like a traditional bike, and riders obviously don't have to fuss with trying to keep it upright when at a stop. Good storage, comfortable seats and a good riding position will keep you comfortable for long and short trips alike.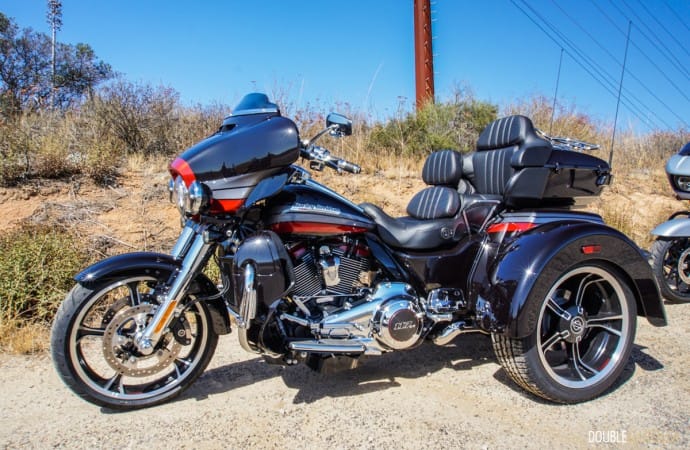 Comfort and attention to detail are ramped, including features like heated rider and passenger seats, heated grips, Tri Glide specific RDRS, and tire pressure monitoring system. The Kahuna collection of accessories is standard on the Tri Glide CVO and available as accessories on the other CVO models; they are very high quality and will really separate you from the rest of the heard. The Kahuna heated hand grips feel and look amazing; the exhaust tips have an ultra-premium look to them, and the floor boards are very comfortable and have just the slightest give to them to help dampen any vibrations felt from the road.
The Tri Glide's handling is comparable to something like an ATV; riders obviously can't lean into corners as they would on a traditional motorcycle, but that's okay. Most customers eyeing up a Tri Glide aren't concerned about how long they can scrape their pegs around a corner. The handling is tight enough and older riders who may not be able to deal with a regular motorcycle would able to enjoy the open road in style. The Tri Glide CVO comes with all bells and whistles that you'd expect to see on any CVO, and retails for $59,999.