Earlier in the year, we secured a long term test car thanks to Mazda Canada. For the entirety of this season, a 2019 Mazda MX-5 GS-P in soft top configuration has graced our garage for a few thousand kilometres of testing. Now, it's not the first time we've had an MX-5, but for this go around the block, things are a bit different: we're chasing a racing championship.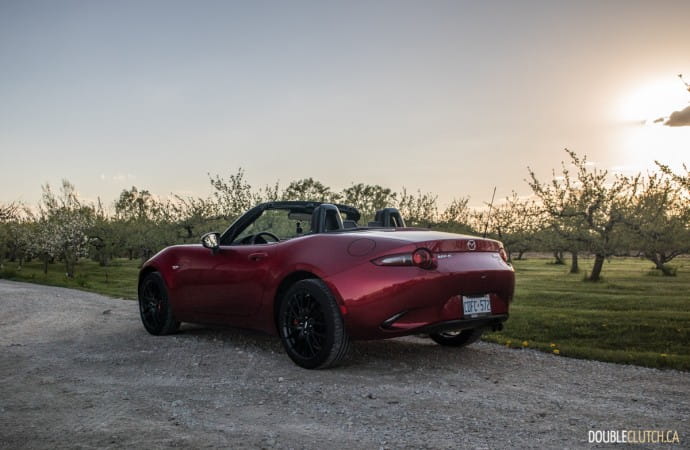 To be precise, the MX-5 is series registered to compete in the Push It To The Limit performance driving and auto-slalom series. PITL is a cheap form of legal motorsport – at a cost of $55 for each of the eight events run per year, you get a few runs around a pylon course in a parking lot that's wildly different each time, and lunch is even included. The lot is located in Milton, Ontario, and about 100 to 140 cars show up each event.
Cars are divided into different classes depending on drivetrain layout, horsepower, and modifications. Being that we weren't about to do a deep dive into mods on a car provided by Mazda Canada, the MX-5 falls in a class known as "A-Stock". It houses rear-wheel drive cars with displacement below 3.0-litres and with a horsepower rating of about 200 or less. Most of the peers in this class include the Subaru BRZ/Toyota 86 twins, and older MX-5 models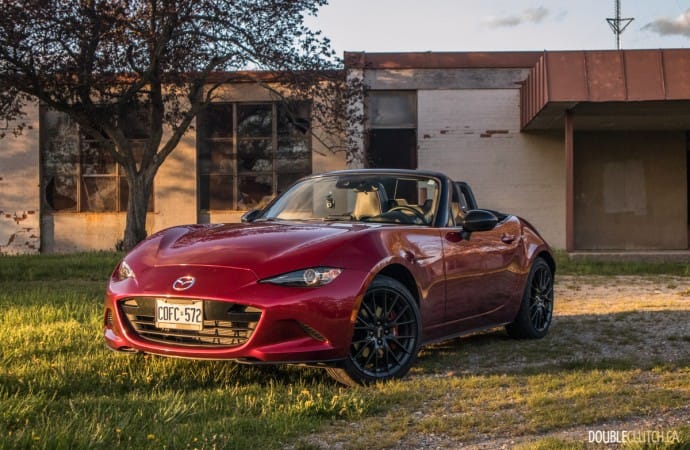 In A-Stock, any combination of wheels and tires is allowed, so we visited our friends at Burning Rubber Tire and Speed in Oakville, Ontario for a proper race setup. We slapped a set of 205/50R16 Bridgestone Potenza RE-71R tires on a set of 16×8-inch Konig Dekagram wheels, and beyond that, we were ready for action. The RE-71R is an extremely aggressive street summer tire, which warms up quickly and nearly instantly provides maximum performance.
With the 2019 MX-5 GS-P's Bilstein dampers, limited slip differential, and new 181-horsepower 2.0-litre engine, the results were immediate. After a few runs to get used to the car, it was very apparent that the sticky Bridgestone tires elevated the MX-5 to a whole new level, and as long as no cones were hit (they incur a two-second time penalty each), blisteringly fast times were set. More than once, amongst a field of over a hundred cars, the little Mazda recorded top ten times overall, beating out much faster and much more modified cars in the process.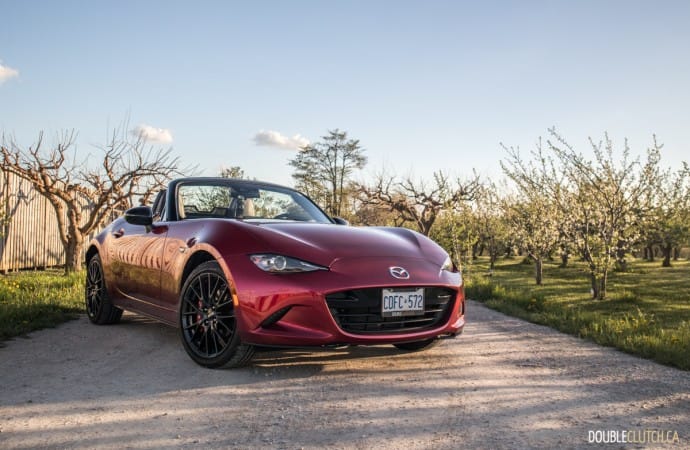 It would often be the second-fastest unmodified car, bested only by a 2018 Porsche 718 Cayman GTS! Much of it has to do with driver experience and ability, but there's no question that the car helped a ton in this case. Of the eight PITL events every year, points for classing are awarded on a best five out of eight events. After taking a third-place finish in the first event, five-straight victories happened after that, clinching the class for the year with two events remaining.
On the street, the updates for the 2019 Mazda MX-5 GS-P are a huge game changer. The suspension leans less, and the extra horsepower makes it a lot faster than it lets on. The higher 7,500RPM redline is a very welcome addition, and a reverse camera add a bunch of practicality as well. The next step in the PITL autoslalom series is to vie for the overall championship, which is a playoff "shootout" after the eighth event, where class winners get strapped into and compete with the same, predetermined car. In any case, we can't get enough of the 2019 model, which can easily be much more fun than cars costing many times its $41,750 price. It is absolutely the one to get!

See Also:
Long-Term Test Intro: 2019 Mazda MX-5
2019 Mazda MX-5 RF Club
2019 Mazda MX-5 GS Sport