The 2019 Suzuki GSX-S750A made its debut in Europe in 2011, and in North America in 2015. It was formerly known as the GSR-750, and was updated in 2015 when it came over to our market. While this bike shares the same engine as the previous generation GSX-R750 dating back to 2005, it has been tuned differently in order to gain more mid-range torque while sacrificing top-end power, making it a friendlier commuter type bike.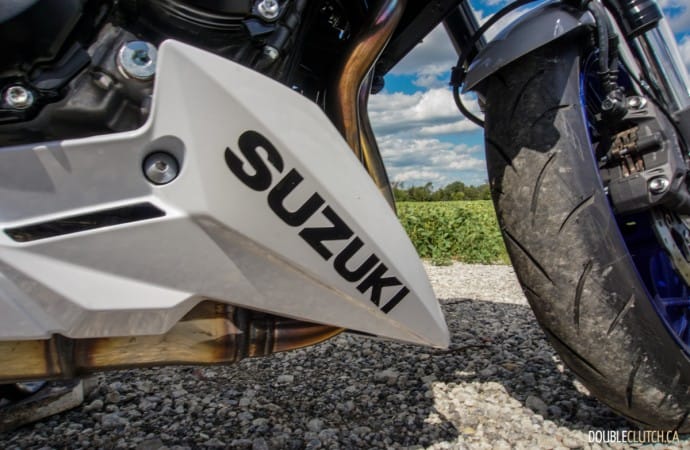 The aggressive styling that has much in common from its siblings in the GSX-R family, makes for an eye-catching and statement-making appearance that looks fast just sitting on its kickstand. There is crisp throttle response that is very smooth and predictable, and the power delivery is fairly linear and just continues to pull as the RPMs climb. You won't find any selectable power modes on the GSX-S750 like you would on the GSXR, and that's just fine. Because the power delivery is smooth and linear, you don't have the need to tame it down, while it remains snappy and agile. Suzuki does allow the rider to cycle through three progressive levels of their advanced traction control, as well as fully disabling the system.
With 114 horsepower on tap, the GSX-S is only 36 shy of its older brother, the GSX-S1000. It remains three-eighths of an inch taller, and for some bizarre reason, eight pounds heavier. The slightly odd riding position is not quite upright, and not forward biased like you'd see on a GSX-R. It seems to fall somewhere comfortably in between, making for an almost-familiar feeling giving even new a great amount of well-placed confidence.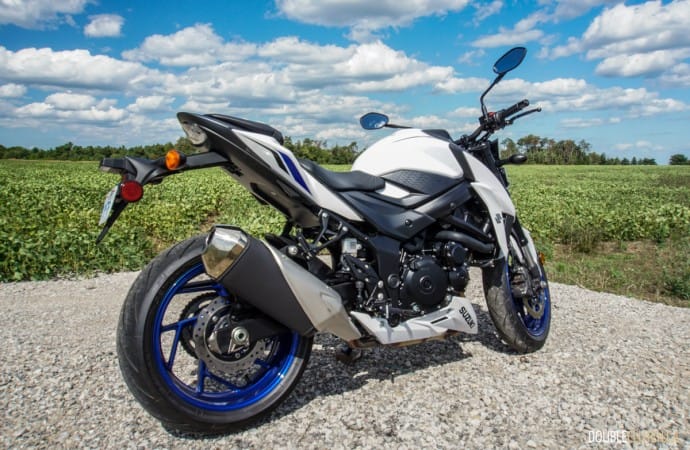 The comfortable riding position combined with the upright inverted KYB preload adjustable forks makes for a superbly nimble bike, allowing you to take tight corners at such low speeds. The low center of gravity also helps in the bike's cornering ability. We noticed little to no resistance when the bike is leaned down into a corner, and the same goes for standing it back up again on exit. You're also able to get quite a substantial lean angle on the bike, surprising considering most naked bikes have lean angles that are hindered due to the upright riding position.
Suzuki's low RPM assist is such a great feature that it really is a wonder why we haven't seen this become more standardized across more manufacturers. It practically makes stalling the bike a near-impossible scenario, working by raising the idle when the clutch is let out, and allowing the rider to start without even touching the throttle. This will take much of the learning curve out from new riders, but even still, the GSX-S750 remains a moderate machine not exactly suited for new riders.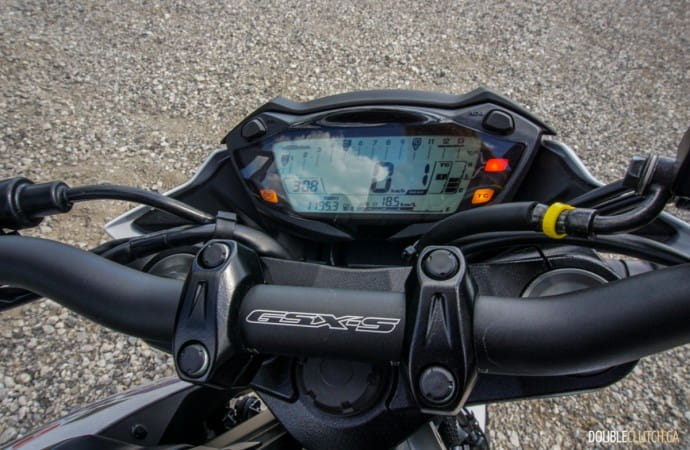 Having owned both 600cc and 1000cc supersports, I was mostly of the mindset that a 750cc engine was kind of a wasted market, bridging a gap that wasn't all that necessary. After spending some time on the GSX-S750A, my outlook has changed. The bottom end of the RPM range is very smooth and predictable, optimal for urban riding. Once you get above 5,000RPM the Suzuki comes alive, truly demonstrating the increased mid-range torque. The 749cc engine packs a lot of punch, more than I initially gave it credit for.
Nissin four-piston twin-disc front brakes are more than enough to handle whatever you need them to, as well as the Bridgestone Battlax Hypersport S21 tires. Suzuki and Bridgestone engineers have specially designed these tires jointly for the GSX-S750A application. Simply put, this bike has tons of stopping power with all of the traction you might need, and of course ABS comes as standard equipment in our market.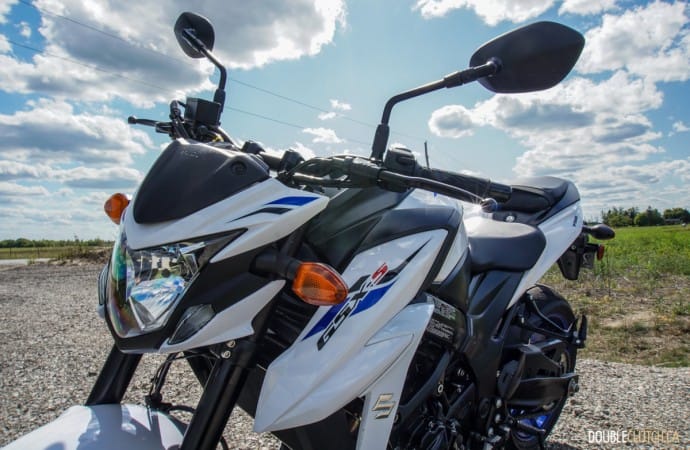 A grand total of three colour options are available in Canada; Metallic Triton Blue, Metallic Black, and the Pearl Glacier White with Blue that's pictured in this road test. The 2019 Suzuki GSX-S750A is an awesome bike that will put a smile on riders' faces even if they're seasoned veterans. The Canadian MSRP is $9,399, and it really is a lot of bike for the money.

See Also:
First Ride: 2019 Yamaha YZF-R3
2017 Yamaha YZF-R6
2018 Kawasaki Z900RS Cafe