Jaguar's Special Vehicle Operations (SVO), based out of Warwickshire, England, is tasked with creating the brand's halo and high-performance vehicles. Up against stiff competition, most from Germany, Jaguar do not usually compete well if you analyze based on numbers alone. However, we would argue that if you let the right side of your brain do the talking, the SVR brand can actually surprise you with the amount of emotion it can elicit. This is the big daddy from Warwickshire, the 2020 Jaguar F-Pace SVR; let's see whether it can win our hearts over.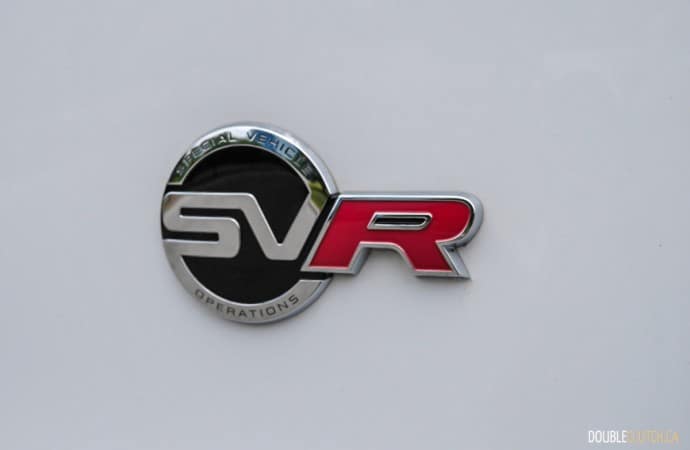 Wearing its iconic Jaguar badge up front with pride, the Fuji White paint helps the SVR look menacing. The LED headlamps look focused to ignite the path ahead, and the use of various gloss black grilles on the front fascia, hood, and fender adds a dash of sportiness to the athletic looking SUV. The F-Pace SVR shares a lot of styling cues that gives resemblance to the sexy F-Type (reviewed here) and the stunning looking XE sedan (reviewed here), especially when it comes to side and rear profiles. It is not a coincidence as they are all designed by the legendary Ian Callum and each represent some of the best designs in their respective segments.
The F-Pace SVR is powered by a 5.0L supercharged V8, producing a mind-blowing 550 horsepower and 502 lb-ft. of torque. Pedal to the metal, and the F-Pace SVR will go from zero to 100 km/h in as little as 4.3 seconds while making an intoxicating scream. Its sheer force feels at times unnatural as it does not just push you to the back of the seat, a result of its impressive acceleration ability and how planted it feels during its mad dash. Jaguar's advanced torque-on-demand all-wheel drive system manages to put power down to the ground with zero traction loss, and its eight-speed QuickShift automatic transmission, tuned by SVO, bangs through the gears crisply while the exhaust lets out a satisfying grunt with each shift.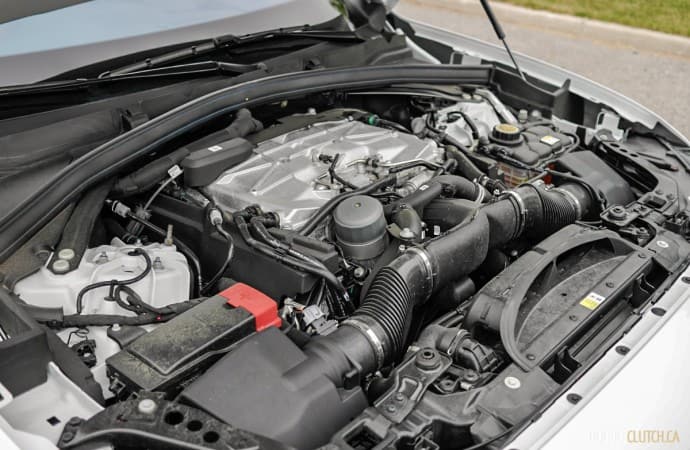 As great as the powertrain is, the exhaust system is where the money is with the F-Pace SVR, or any SVR model for that matter. Jaguar has equipped the F-Pace SVR with a Switchable Active Sport Exhaust system that makes a deep, thunderous note with any meaningful application of the gas pedal, as well as a series of addicting crackles and pops when you let off the throttle. Those who prefer more dramatic acoustics can set the F-Pace SVR's drive mode to Dynamic, and instantly adjust its exhaust mapping. This allows the exhaust to breath freely for deep, thunderous notes.
Setting the drive mode to Dynamic also sharpens up the throttle response, increases its steering weight, and stiffens up the suspension. While its steering response is sharp and precise, the F-Pace's bulk showed in the corners and understeer is easily noticeable. The 22-inch Pirelli Scorpion Zero all season tires are not enough to provide adequate traction to help the fast SUV navigate around bends quickly, and the oversized wheels also negatively impact the ride comfort. The good news is, if things do get out of hand, the F-Pace SVR's new 395-millimetre brake discs and the red four-piston brake calipers will pull the 4,564-pound vehicle to a halt almost immediately.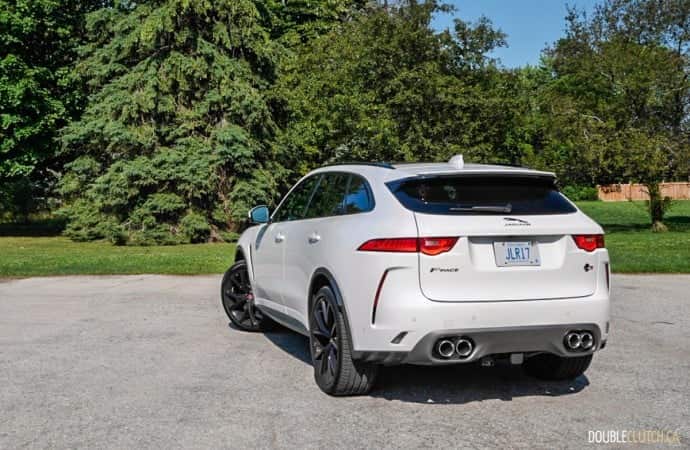 At the time of writing, Jaguar Canada has not published an official fuel economy rating for the 2020 F-Pace SVR. During our week with it, which consisted of a liberal enjoyment of the supercharged V8 engine and its awesome exhaust notes on a mostly urban setting, we observed an average of 14.4 L/100km. Given that it is only a 0.7L/100km premium over what we observed in the F-Type SVR and holds two and half times more people, we think that is more than acceptable. The fuel tank capacity is 82 litres, and premium grade fuel is required.
The moment you open the doors to the Jaguar F-Pace SVR, you are greeted to a pair of bright Pimento Red and Ebony two-tone bucket seats that look like they are taken straight out of a sports car. The seats are very supportive, although I find them a bit firm for my liking and would prefer to have more back padding for long road trips. Quality is excellent as with any Jaguar Land-Rover products; there is a good mix of leather and carbon fibre to dress up the cabin, and use of suede cloth in the headliner is a great touch that elevates the overall package. Despite the tall waistline, outward visibility remains excellent, but the optional heated windshield with its embedded heater lines is not something that everyone can live with.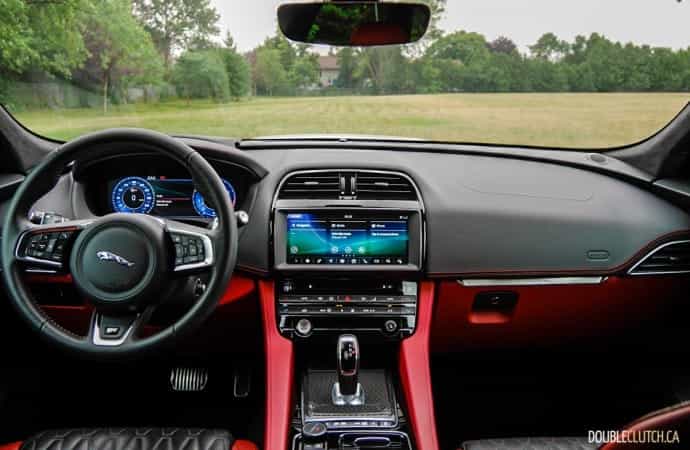 Jaguar's InControl infotainment system is easy to use and the shortcut keys on the bottom of the screen makes system navigation a relative breeze. The touchscreen's size and resolution could use an update though, as it lags behind many of its competitors. The F-Pace SVR comes standard with a 12.3-inch TFT digital instrument cluster, and our tester was equipped with an optional head-up display. Both the digital instrument cluster and the head-up display are vivid and highly customizable, the Jaguar's physical buttons on the steering wheel are welcomed features compared to Range Rover's clunky interactive steering wheel design.
Connectivity with Apple CarPlay and Android Auto is supported. We had trouble getting Apple CarPlay to launch consistently in our tester but that could be a one-off as we had not had the same issue with previous Jaguar products. The optional Meridian surround sound system is excellent and is well worth the $600 upcharge. Our tester was also equipped with the Driver Assist Package that gives it Adaptive Cruise Control, 360-degree camera, Blind Spot Assist, Rear Traffic Monitor, Park Assist, and Intelligent Emergency Braking systems.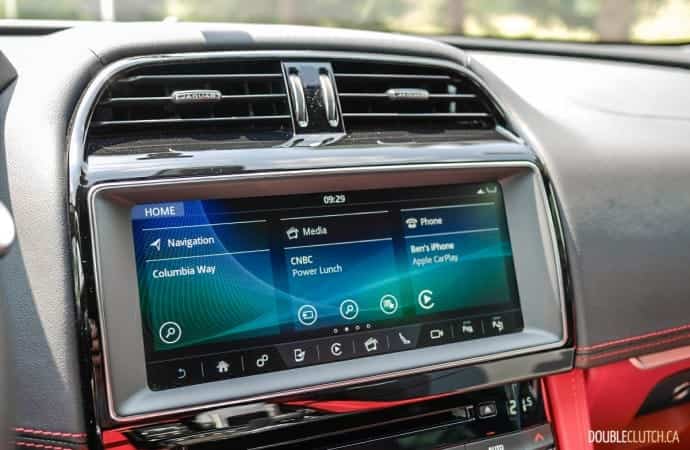 Pricing for the 2019 Jaguar F-Pace SVR starts at $89,900, and our tester was equipped with a long list of optional equipment that brings the as-tested total to $103,050. Price wise, it competes with the Porsche Macan S (reviewed here), Mercedes-AMG GLC 63 S 4MATIC+ (reviewed here), and the all-new 2020 BMW X3 M Competition, although they can all have a huge price variance depending how you load up its option sheet.
All of these go-fast SUVs from Germany can out-corner the F-Pace SVR, but the Jaguar wins on cylinder count, horsepower, and most importantly, how much emotion it brings out of its drivers. It is a special feeling every time you are behind the wheel of any Jaguar products from the SVO division, and the F-Pace SVR is no exception. The visceral experience it delivers is unarguable and the fact that you can take the whole family with it is simply icing on a very delicious cake.

See Also:
2019 Porsche Macan S
2019 Mercedes-AMG GLC 63 S 4MATIC+
2019 Jaguar F-Pace S