Buyers are moving away from regular sedans, coupes and wagons to all-things SUV and crossovers. The long, straight roads we have in North America and the brutal winter weather makes buyers give up car-like driving dynamics in exchange for all-weather confidence. To provide an alternative to the SUV as well as meeting the changing consumer demand, certain automakers offer taller riding station wagons that offer a combination of good handling, practicality, and winter capability.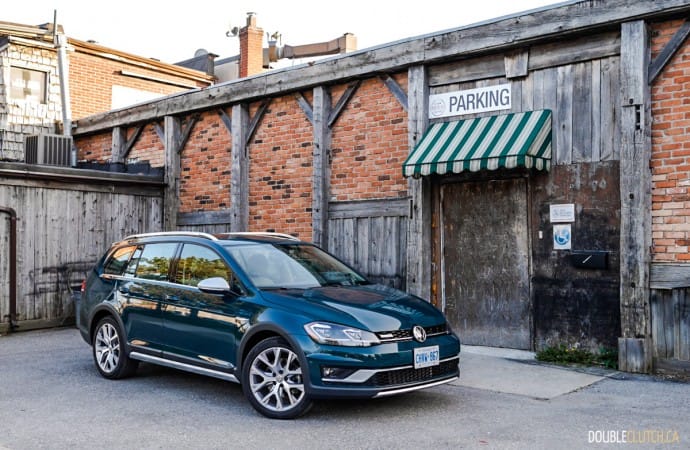 Manufacturers such as Subaru, Volvo, and Audi have been creating these jacked-up long-roofs  for several years and have continued to do so with current entries such as the Crosstrek (reviewed here), Outback (reviewed here), V60 Cross Country, V90 Cross Country, and A4 allroad. Volkswagen took a page out of this recipe book when designing the seventh generation Golf and created the Golf Sportwagen Alltrack, which we have for this week's road test.
The 2019 Volkswagen Golf Alltrack Execline is essentially a Golf Sportwagen with 0.6 inches of added  ride height, and some extra plastic cladding over the wheel well to make it appear more ready for the outdoor life. The example we have on hand is painted in a Peacock Green Metallic colour, which is absolutely gorgeous and is quickly becoming one of the favourites among our team. The car looks understated yet elegant, after all it is a Golf with an extended roof so there is no surprise here. The Execline features front LED head- and daytime running lights and a set of 18″ Canyon alloy wheels which add an extra splash of sportiness to the overall character.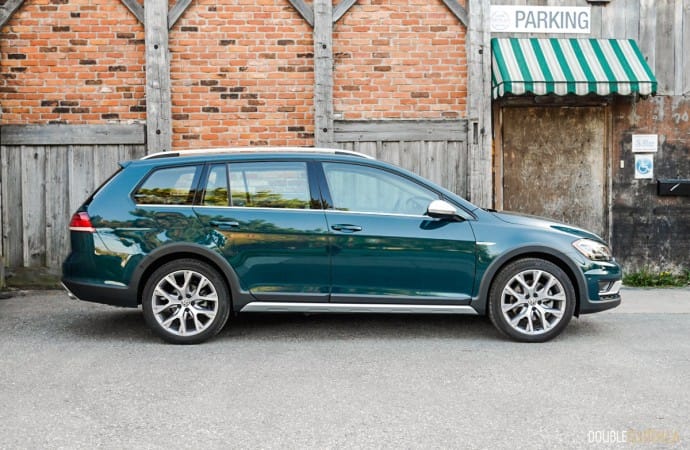 Nowadays, the public equates a car's winter driving capability to how many wheels it can drive, so it is assuring to buyers that the Golf Alltrack features Volkswagen's 4MOTION all-wheel drive technology. Power comes from Volkswagen's popular 1.8L turbocharged four-cylinder engine, producing 168-horsepower at 4,500 RPM, and 199 lb-ft. peak torque arriving at 1,600 RPM. While the 1.8T engine is good with most of its power arriving early in the rev range and turbo lag kept to a minimum, it does struggle to get the 3,421-lb Alltrack going quickly. Accelerating in traffic or merging on highway requires drivers to be more aggressive with throttle input and as a result, real-world fuel economy suffers.  The saving grace is that the six-speed DSG dual-clutch transmission is lightning quick, and those who prefer to row their own can opt for the six-speed manual transmission (reviewed here).
The Golf Alltrack's fuel economy is rated 11.1L/100km in the city, and 7.9L/100km on the highway. The big disparity between the two environments is evident as the Alltrack is most comfortable once it reaches cruising speed. We observed 9.8L/100km over our week of mixed commuting, which is fair for the size but there is certainly room for improvement. To make up for its average efficiency, the Alltrack accepts regular 87-octane fuel in its 55-litre fuel tank.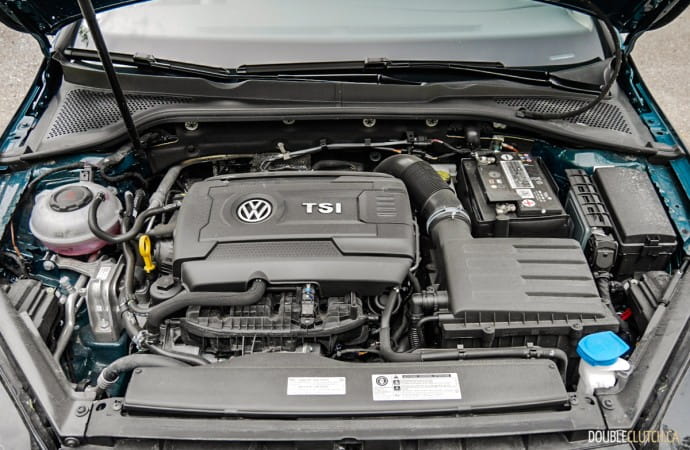 Even with its disappointing power delivery, the Golf Alltrack is still a good car to drive thanks to Volkswagen's excellent MQB platform that it is built on. Compared to similarly sized and priced crossovers, the Alltrack's handling is far more car-like. Steering is light but the car feels responsive and nimble. There is a Sport mode which changes the steering weight and throttle response, but we found the difference to be negligible. We have no doubts about the 4MOTION system's effectiveness given all of the other Volkswagen products we have sampled over the years. We had the chance to hustle the Alltrack on a frozen lake in closed course conditions this past winter and we came away very impressed with the behaviour of the 4MOTION system.
Much like its understated yet classy looks, the interior layout is equally simple and nicely designed. Everything is straightforward, with a real volume knob and shortcut keys around the eight-inch touchscreen and an easy to use dual zone climate control system underneath. The two-tone interior as well as the Execline specific Shetland (beige) leather seats looks sophisticated, although the material of the panels leaves a lot to be desired and reminds users of the Alltrack's economy roots.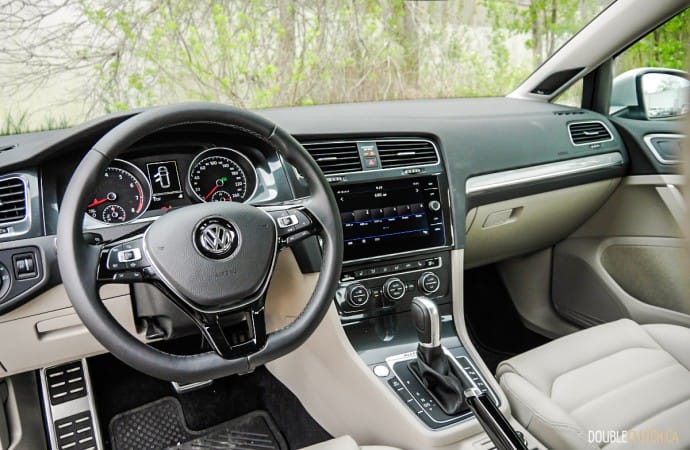 Visibility is excellent in the Alltrack, and the cabin feels particularly airy thanks to the large panoramic sunroof that comes standard on all trim levels. There is good headroom throughout the interior, however rear legroom is a bit shy for those taller than 5'10. The station wagon nature of the Golf Alltrack means there is an abundance of cargo volume, and it can hold an impressive 861L in the rear cargo area.
The eight-inch touchscreen infotainment system is responsive and easy to use. It supports Android Auto, Apple CarPlay, and MirrorLink integration. Our Execline model is equipped standard with satellite navigation, and also comes with a Fender premium sound system that offers excellent sound quality. Our tester was equipped with the optional Driver Assist package that includes Adaptive Cruise Control, Blind Spot Detection with Rear Traffic Alert and Lane Assist, Front Assist, Light Assist, and Park Assist and Park Distance Control.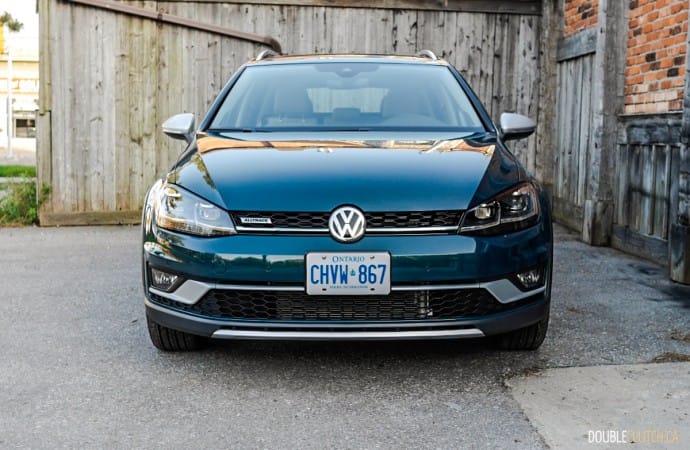 The Golf Alltrack starts at $31,200 for the Highline model with a six-speed manual gearbox, and our Execline with the DSG starts at an attainable price of $36,670. Add $1,750 for the Driver Assistance Plus package and the as-tested price is $38,420. Looking across the Volkswagen showroom, the Golf Sportwagen is $1,850 cheaper than our tester with the same specifications, and it also comes with a more basic Comfortline trim which starts at $27,300 with the same engine and a DSG transmission.
To sum it up, the 2019 Volkswagen Golf Alltrack Execline offers excellent practicality, good winter driving capability, and nimble, car-like driving dynamics in an elegant and modern looking package. It sounds like a winning formula, with the only caveat being that there is an equally excellent Golf Sportwagen across the showroom from it. The Sportwagen presents serious value for those who do not mind to forego the taller ride height and additional body cladding, and is one of the top choices in its segment.