PORTLAND, OREGON –It's about 10:30am on cloudy and slightly rainy morning in Portland, and I'm eagerly throwing my leg over what may be the biggest bike of the year, the 2020 Harley-Davidson LiveWire. If you haven't (by some complete and total fluke) heard of the LiveWire, it's the first fully electric motorcycle to be released by a major manufacturer. It's been in development since 2010 as "Project LiveWire", which was initially designed and engineered by five staffers that Harley tossed some seed money at, and it's grown immensely since then.
For an industry full of customers born and bred with gasoline in their veins, this marks a major milestone from what may seem like the least likely paddock. It's the first EV motorcycle I've ever ridden, and I want it to be great. I truly want this to pave the way for a new segment within the motorcycle industry.As I lean the bike upwards and flick up the kickstand I'm surprised at how "normal" it feels. I'd been expecting it to be sluggish to get upright, and about as heavy as a bagger, but at 550lbs it really isn't. It also helps that the electric motor is mounted at the very bottom of the bike, significantly lowering the centre of gravity. 
Looking at the switchgear on the handlebars, it's all the standard fare, not really any extra buttons than what you would find on any other Harley with an infotainment system these days. Despite this, I'm initially a bit confused about how to start the bike – Harley hasn't given me any instructions on how to operate this before putting me in the saddle, and I'm expecting this to be something different. But, it isn't. The bike hums to life with a gentle vibration as the lights on either side of the cluster pulse from yellow, into a solid green.
At this point, I'm a bit nervous to put any juice into the throttle and instantly utilize all 86 ft-lb of torque to send the bike out from underneath me and into the window of a restaurant directly in front of me. But, as I ease onto the throttle the bike gently pulls forward and I follow the other riders out onto the streets of Portland without any drama. As we make our way out of the city I'm feeling very, very strange. It's almost totally quiet.
Through some of the bumpier streets you can hear the suspension working, and the impact of road imperfections is certainly noticeable, but I wonder if that's all been simply masked by the sound of a combustion engine in the past. There's no clutch, no shifter, and no way for me to obnoxiously rev at every red light I encounter. It honestly takes some getting used to, because there's just that much less that a rider needs to engage with or think about while riding – no gear selection, no rev matching, no sweet spot to find on the clutch on takeoff. It's really just that damn simple.
Once we've reached the edge of town, we silently make our way into some twisties and I get a chance to push the bike harder and get a better feel for how much acceleration it can dish out. Only… I don't really want to. I'm feeling Zen, and I'm actually able to hear the music in my helmet without maxing out the volume for once. I roll onto the throttle hard, turning it about two thirds of the way. The bike pulls instantly. It's not bucking, or squirrelly, or unmanageable, but it is a surge of acceleration that is obviously always at its peak. This linear torque delivery is exhilarating in a car, but absolutely intoxicating on a motorcycle.
Even on the wet corners the bike is a charm to toss about – it feels planted and the throttle mapping is so predictable that I don't even feel the need to put it into rain mode. It's only a matter of keeping your wits about you and not doing anything stupid – the bike won't surprise you with a poorly matched downshift, or bad gear selection. Once you're used to it (which takes an hour, at most) you'll be humming through hairpins without a second thought.
Unsurprisingly my favourite mode is Sport, but it's got less to do with the tightened throttle response and dialed-back traction control – it's all about the regenerative engine braking. While Sport mode sets re-gen to only 80% of its output it almost entirely eliminates the need for any braking inputs while riding hard through twisty roads. Once you figure out how hard it kicks in, it's incredibly easy to time out when to roll off the throttle on corner entry. You can use modulation to slow yourself down without upsetting the balance mid-corner. I spent most of my afternoon without even touching the brakes, but when the re-gen braking wasn't enough, the dual-disc Brembos up front were more than ample when it came to hard braking.
Re-gen also does a great job of keeping the bike charged up. I managed to ride for about 10 minutes, spiritedly, and not see the battery drop even 1% of its charge. If you want even more range you can crank it to 100% using one of three customizable ride modes which let you change power, throttle, re-gen, and traction control with tons of precision.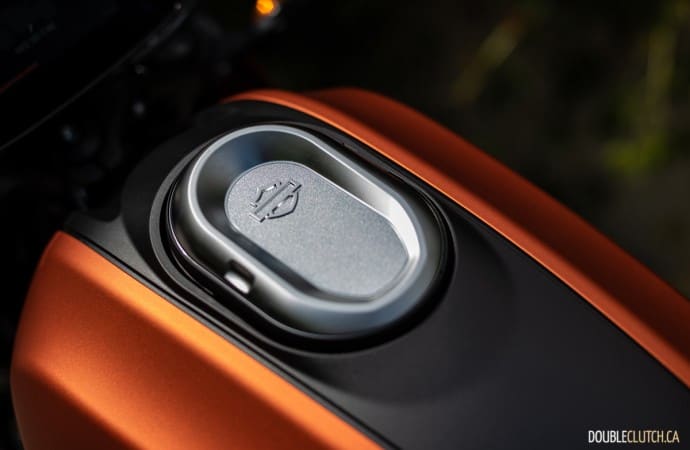 Speaking of range, this was my first major reservation or concern with the bike. Battery cells are big, and heavy, and even some of the best electric cars can't provide you with enough juice to eliminate range anxiety. Honestly, I was expecting at least one bike to run out of juice on this launch, and I was so pleasantly proven wrong. Not only did nobody run out of juice; I actually finished the day with 41% of battery remaining after riding hard for 62 miles, or 100 kilometres. The dash showed another 54 miles of range, but I'd wager that's actually a conservative estimate. Even in a pinch, Harley tells us that the bike can be charged from flat to 80% in 40 minutes on a Level 3 charging station.
The shortcomings on the LiveWire are few and far. The suspension is a bit firm, translating almost every road imperfection directly into the seat. This can be adjusted, and at launch you'll actually be able to calculate your suspension settings from within Harley's app. But without looking at a calculator, I can confidently say you'll want to soften up the rear end. The riding position was comfortable, but I did find myself a bit uncertain as to where to place my knees as a result of the narrow "tank". Lastly, there is a bit of additional input required on the bars when entering a corner and getting the bike to lean in. It takes a bit of getting used to, but it never became a hindrance.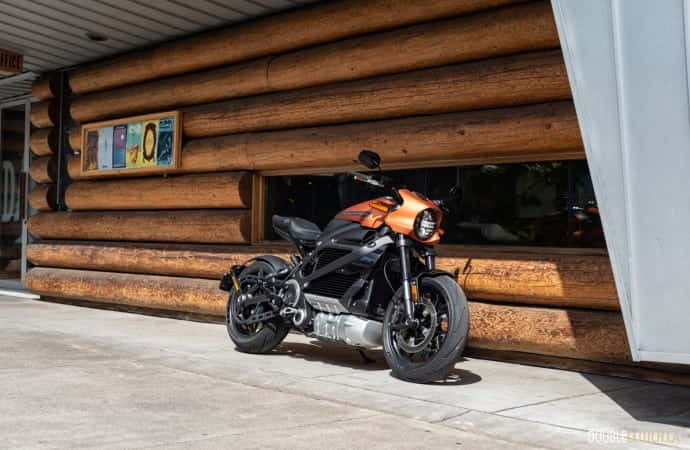 I went into this ride genuinely hoping for this to be a great bike; and enough to successfully expand EVs into the motorcycle market. I wasn't disappointed – my reservations about range were all but completely allayed, and silent riding grew on me far more than I anticipated. At $37,250, it's certainly a premium product, and not exactly accessible to many riders. But, neither was the first Tesla Roadster, and you'd be hard-pressed to go a day without seeing a Tesla on the road.
Will we see streets flooded with LiveWires and lineups at charging stations in the near future? Probably not, but this is the first proper step into electric by the bike industry. I think Harley's boot has landed with plenty of traction.