BOWMANVILLE, ONTARIO – This past weekend, Canada was honoured to be the first home in North America for the BMW M Festival. An event that's normally hosted in conjunction with the 24 Hours Nürburgring in Germany, it has previously also been held in Japan and South Africa. The M Festival is just more than a car show; it brought in thousands of visitors from around the world that have one thing in common – a genuine passion for the BMW brand and the legendary M cars.
The M Festival took place at Canadian Tire Motorsport Park in Bowmanville, ON, and we were invited to take a sneak peek at the event prior to it opening to the public. Upon my arrival at the track that I've become extremely familiar with over the years, I was actually surprised to see that it had been completely converted to represent the M brand, given the nickname "M Town". All of the signage, advertising and imagery was representative of BMW and the passion for performance that the brand represents.
Activities that visitors were able to take part in included track experiences with vehicles including the M2 Competition (reviewed here), M5 Competition and others. They had an off-road course set up with the X3 M40i (reviewed here) and X4, which weren't shy to get a little bit dirty while demonstrating features like hill descent control and the xDrive all-wheel-drive systems. A drift demonstration had professional drivers offering laps drifting in M4s equipped with the dual-clutch transmission, which was undoubtedly popular with visitors.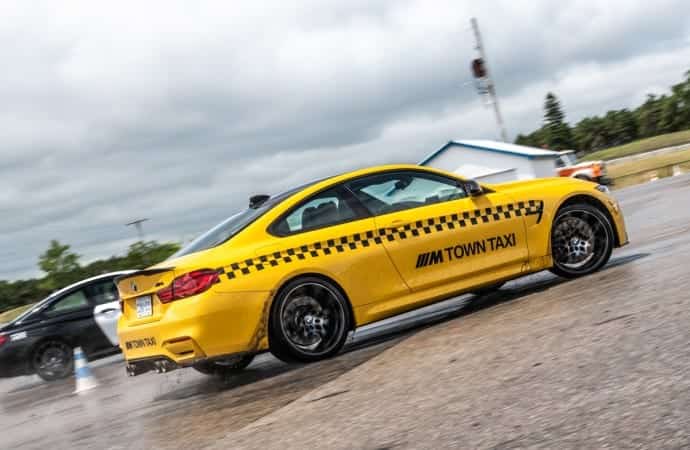 Playing with BMW M cars is great and all, but participants at the M Festival were given the chance to sign up and sit in "track taxis", specially prepped M5 Competition (reviewed here) models driven by professional drivers. These pros are able to take the cars to 10/10ths of their potential and really demonstrate what 600+ horsepower can feel like in a closed course setting. No matter how you look at it, the M5 Competition is one of the most ferocious performance sedans on the market, so it's a real treat to see it being driven the way it's meant to be.
It doesn't end at the track – the BMW M Festival was only accentuated by live music performances by the likes of Serena Ryder and Felix Cartal, among more. A Kids' Lounge was in play to keep the youngest of BMW enthusiasts busy while parents fawn over the cars, and an M Town Marketplace allowed BMW to sell branded merchandise of all sorts to fans. Lastly and perhaps most interestingly, BMW showcased a series of heritage race cars that quite literally took my breath away.
This festival had a bit of a personal touch for me, as I was lucky enough to partake in BMW's M Power Euro Tour a few years ago. This consisted of a European delivery of an M4 Competition Package from the BMW Welt in Munich, and a weeklong experience that took us through some of Europe's most spectacular roads and cities. This was a customer event, and I remained friends with a few of the couples that took the tour with me.
The most remarkable part of all was that a few of these friends actually flew into Toronto from all over the country; Vancouver to Nova Scotia, just to spend the weekend in the company of fellow BMW enthusiasts. These are people that own everything from classic M3s to new M2 Competitions and even an M4 GTS, and it's sheer passion that brings them all together to spend a weekend partaking in this festival.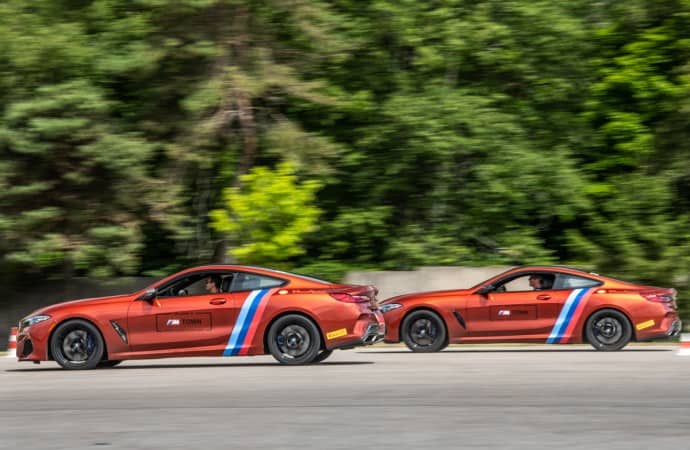 Thousands of tickets were purchased in advance, and then many more at the gate. Visitors who arrived were lined up for kilometers to get in and participate in the fun. The spirit around Bowmanville this weekend was among the highest it has ever been, and we're almost certain that Canada is just the gateway for the BMW M Festival to engage with North American fans.
Photos courtesy of BMW Canada & Lucas Scarfone
See Also: