I say that in the best way possible, because rather than bringing us a new generic crossover every fifteen minutes, they're shelling out high-horsepower muscle cars painted in wild colours, and selling every single one they make. In 2015, Dodge introduced the Hellcat variants of the popular Challenger and Charger, and blew the competition out of the water with a ground-shaking 707 horses under the hood (which has been bumped to 717 on the current model). Then, an 800-hp Demon was launched with an optional passenger seat, optimized for drag racing.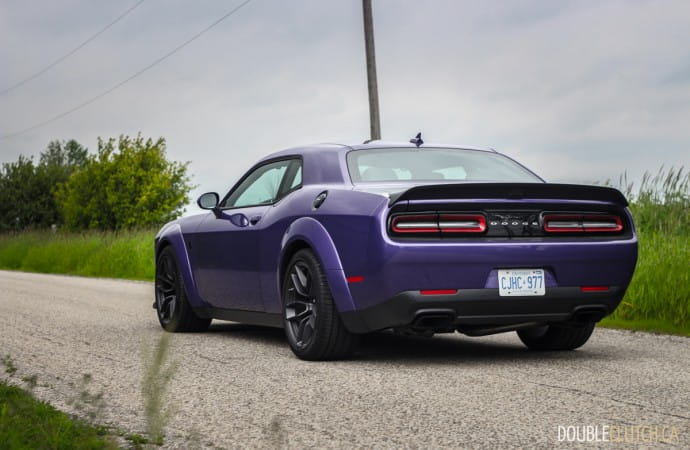 While the Demon was a limited-production model, the 800-horsepower club has become accessible to many more. This is the 2019 Dodge Challenger SRT Hellcat Redeye, painted in a delicious Plum Crazy Pearl and with the optional Widebody package. It's sinister to look at, and features 305/35ZR20 tires, wider fender flares, and Devil's Rim design 20" wheels. This just might be the beastliest car available for sale today, and that's before even realizing what's under the hood.
The Challenger has been on a new platform since its major redesign for 2015, when the "LY" platform was finally retired. As such, this new platform is much more versatile and can support the fire-breathing variants that it underpins. The Challenger is no longer a straight-line car, either. It may not carve corners with the delicacy of a BMW M2 Competition (reviewed here), but chucking it into a corner is met with a surprising amount of competence, and the performance tires help maintain grip. Of course, plenty of oversteer can be induced should you want to.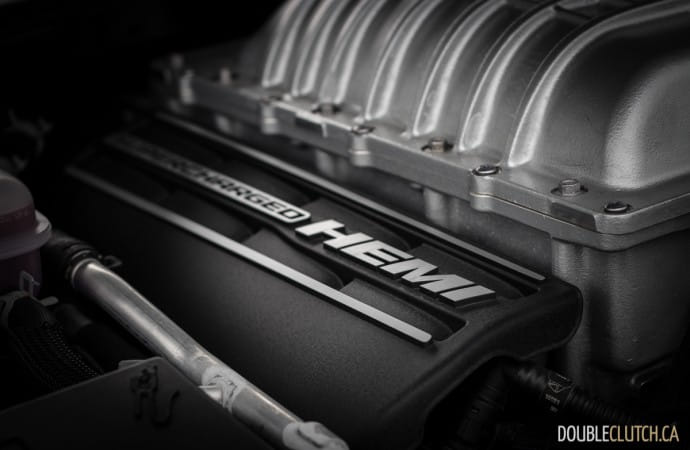 Under the hood of this monster is a supercharged 6.2L HEMI V8, an upgrade from the 6.4L in the regular Scat Pack (reviewed here). This V8 offers 797 screaming horses at 6,300RPM, and 707 lb-ft. of torque at 4,500RPM. The observant will note that this is 90 more than the standard Hellcat (reviewed here) with its measly 707hp number (717 for 2019). Power is available with the utmost immediacy, and the Redeye will want to tear your face off as it accelerates. This thing really is built for the track, because even at typical highway speeds, the Redeye is nowhere close to its limits.
The Redeye gets most of its go-fast bits from the Demon, which can make 840 horsepower when run on race gas. This purple brute gets the line-lock and launch control systems from its faster brother, and it's not like the engine is de-tuned, either. When both are running premium fuel, the difference in horsepower is just 11, which at this level is negligible. Dodge claims a quarter-mile time of 10.8 seconds for the Redeye, and we estimate that it can hit 100km/h in the 3.5-3.7 second range. These numbers are impressive, but even moreso once you realize its 4,500lb. curb weight.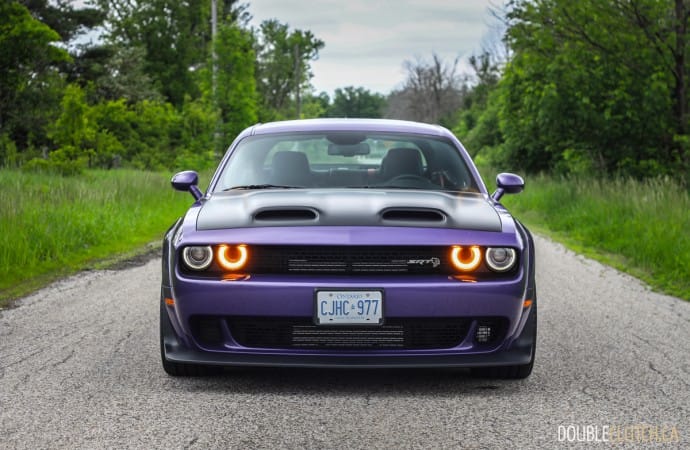 The last Hellcat we tested was equipped with a six-speed manual, which was a treat. Unfortunately, the one downside to the new 797-horse Redeye is that it's only available with an eight-speed automatic. I may be a manual transmission proponent, but after spending a week with this Challenger, I can't help but think that the ZF-sourced eight-speed, which is an excellent gearbox, is perfectly suited to it. The paddles are reasonably responsive, and with nearly 800hp on tap, I don't necessarily need to be bothered with rowing through the gears or worrying about a heavy clutch.
When perusing the SRT Performance Pages in the infotainment screen, we noticed the reading for the supercharger coolant temperature. This is beause SRT offers a Power Chiller feature, which uses refrigerant pushed into the intake. It uses heat exchangers in the supercharger to keep things cool when putting all of this power down. There is also an After-Run Chiller that does this after the car is shut off, ensuring heat soak won't be an issue.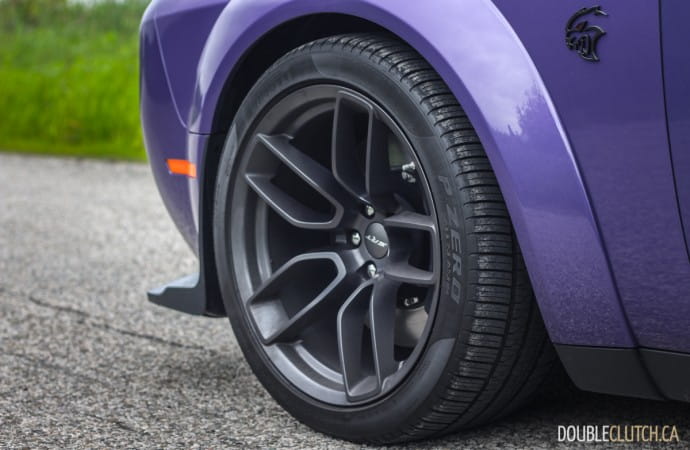 Grip is going to be the Redeye's biggest issue, and the factory Pirelli P-Zero all-seasons don't do it any favours. Fitting a more track-friendly tire such as the Michelin Pilot Sport 4S or even something more aggressive, like the Bridgestone RE-71R or Hankook RS4 would work wonders. Ride quality from the three-mode adaptive Bilstein dampers is surprisingly good, though not glass-like. The Challenger feels like a raw muscle car, and that's a very, very good thing. The exhaust roar is paired beautifully with the supercharger whine, which is a wonderful thing.
The Challenger has a very simplistic interior, which suits its retro style quite nicely. Some plastics are visible around the cabin, but the Laguna leather in our test vehicle was very nice and we can see it aging quite nicely over time. The analog gauge cluster is nice to look at, and has a central screen providing all of the pertinent information. The driving position is quite good, and out of all three of the muscle cars, the Challenger is easily the largest and roomiest. Even the rear seats will have no issues accommodating adult passengers.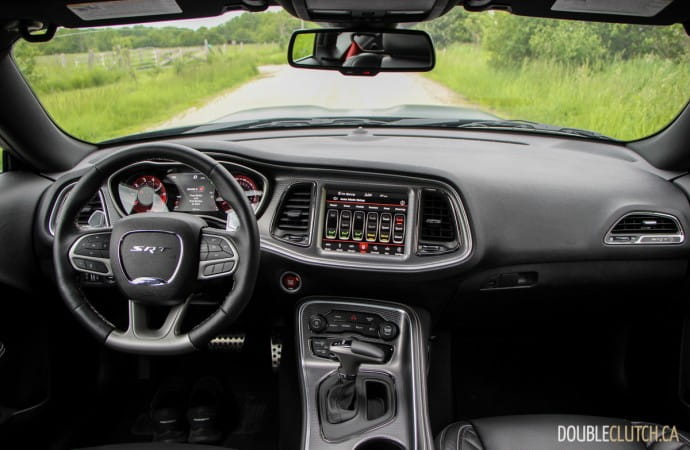 FCA's Uconnect 4C system is easily our favourite of all of the mainstream infotainment setups out there right now. It's incredibly easy to use and quick to respond; it's now even compatible with Apple CarPlay and Android Auto. The SRT performance pages in the Hellcat provide a plethora of customization and vehicle diagnostics that will be useful to those actually using this car for what it's meant to do. However, some of the frequently used controls, such as the heated/ventilated seats, should really be physical buttons rather than forcing drivers to dig through multiple menus.
It goes without saying that those looking at wide-body Hellcats don't exactly care about fuel mileage, but Dodge's ratings for the Redeye are surprisingly frugal. They suggest it can get 17.6L/100km in the city and 10.7L/100km on the highway, for a combined average of 14.5L/100km. It's no Prius, but for a V8 with a blower tacked onto it, that's not bad at all! Our test had a heavy mix of city and highway, and we averaged 19.4L/100km over about 600km of driving on the required 91-octane premium fuel.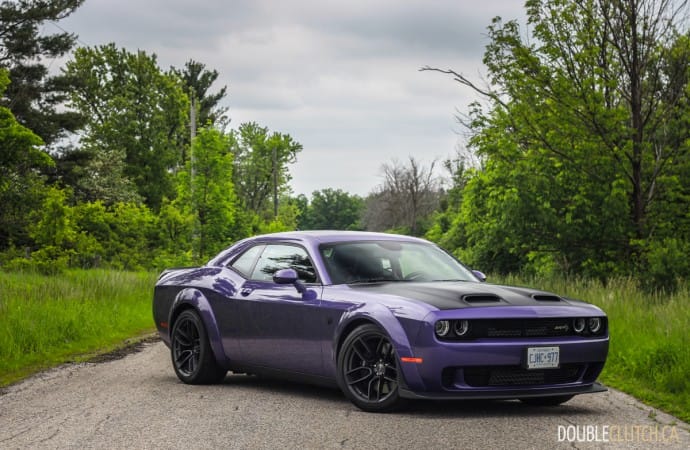 The Hellcat starts at $75,945, which is a reasonable amount considering the sheer power that it offers. Adding the Redeye package costs $18,000, bringing the starting price of this model to $93,945. Our test vehicle had just about everything including the $8,000 Widebody Package, Laguna Leather ($2,195), Plus Group ($2,300), power sunroof ($1,425), SRT Barracuda spoiler ($875), and Uconnect 4C ($770). The total sticker crests a wallet-lightening $114,000 before taxes and fees. For the record, this test vehicle is still cheaper than the Grand Cherokee Trackhawk (reviewed here).
While Ford's Shelby GT 350 (reviewed here) and Chevrolet Camaro ZL1 are out chasing track times and fighting over which is the more hardcore track weapon, it's refreshing to see SRT going down a different path. This is a car that's focused on brute power and the full retro experience, and it's something that the Challenger succeeds at. Literally nothing else out there short of hypercars offers anything close to 800 horsepower, so that alone puts the Redeye at an advantage.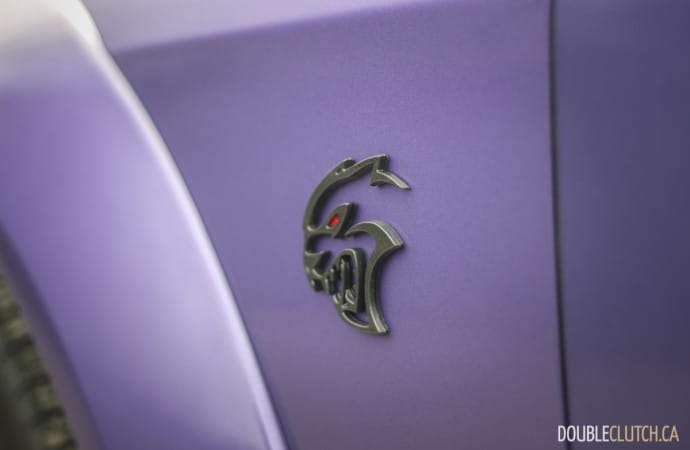 So, the rear seats are more comfortable than the Mustang and Camaro, and the Challenger also has the largest trunk of the three, which can only mean one thing. Those looking for a practical, family vehicle that can handle the weekly Costco run with ease should buy a Hellcat. The 2019 Dodge Challenger Hellcat Redeye is really unlike anything else on the road. When everything has gone electric and some level of autonomous, we will fondly remember the Hellcat, and the time when they were actually attainable for a reasonable amount of money.
See Also:
2018 Dodge Challenger SRT Hellcat Widebody